There are lots of benefits to owning a garage workbench. For starters, it provides you with a dedicated workspace, somewhere to clean out your car's spark plugs or do your other mechanic work in peace and quiet.
A garage workbench can also give you enough storage space for your tools and other important items that you need for your work from time to time. It offers you a safe place for all your valuable garage items.
If you're planning on getting yourself a workbench, then this garage workbenches review will give you all the help you're going to need, including a list of the top workbenches out there, plus an insightful buying guide.
Editor's Recommendation: Top Garage Workbenches of 2021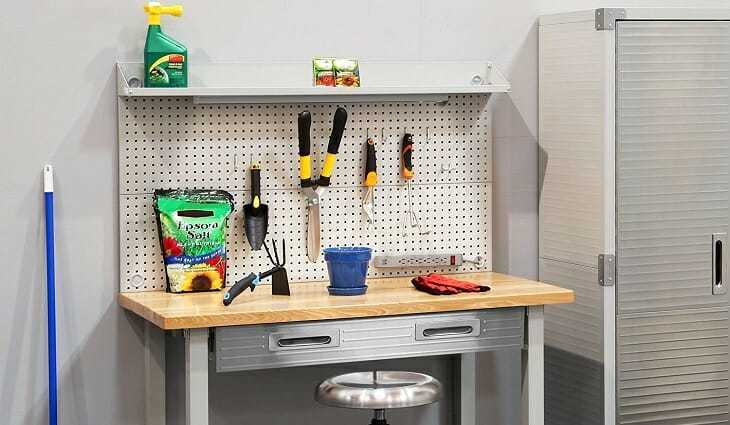 Summary of 6 Best Garage Workbenches
IMAGE
PRODUCT
FEATURES

1. 2x4 Basics 90164 (Best Overall)

Fully customizable using 2x4 lumber
Package includes all necessary hardware
Supports up to 1,000 lbs pr shelf

2. Gladiator GAWB66HWGG

Features a 1.5-inch thick tabletop
Supports up to 1,500 lbs
Backed by a 1-year & lifetime warranties

3. Olympia Tools 82-802

Strong and durable steel construction
Includes fluorescent lighting and 3 power outlets
Offers plenty of storage space

4. Seville Classic UHD20247B

Brightly lit steel workbench
Features stainless steel drawers
Includes a pegboard for extra storage space
Impressive 500-lb weight capacity

5. Homcom USB41

Simple but ingenious workbench design
Includes height-adjustable legs for customization
Flexible and multi-purpose design

6. Workpro 3302

Made using a strong steel frame
Includes upper and lower shelves
Has many extras like light, drawers, & pegboard
1. 2x4 Basics 90164 - Best Overall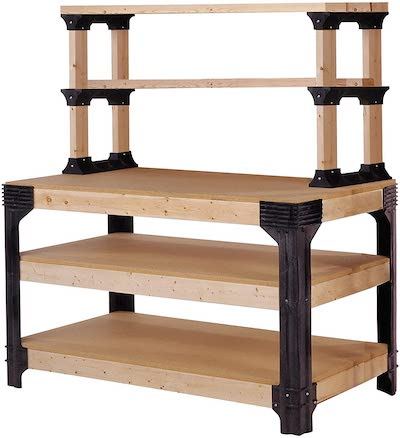 Weight Capacity: 1,000 pounds
Dimensions: 34.5 x 96 x 36 inches
This cool garage workbench is truly a great DIY idea. It's made by 2x4 Basics, a company known for creating different types of interesting furniture based on 2x4 lumbers. Just buy their hardware kit and some 2x4 stock, then you're good to go.
With this offer, you also get the hardware package at a good price, but the end design and look of the workbench depend on you.
The height is 36 inches and fixed but the length and width are both open to customization. You can extend the length up to 8 feet, the width up to 4 feet, and the workbench will support a weight capacity up to 1,000 lbs.
Its flexibility is the beauty of this workbench because it allows you to customize it to your unique garage space or to meet any special needs that you may have.
These hardware parts come from structural resin and are guaranteed tough, with 2x4 Basics backing its top-rated garage workbench package with a 2-year warranty.
The only drawback is that you'll have to do some work by yourself, and this is often a deal-breaker for some people. But if you are the DIY type or on the lookout for the best budget garage workbench you can lay your hands on, then this is it.
It needs a full assembly
The lumber is not included in the package

---
2. Gladiator GAWB66HWGG Garage Workbench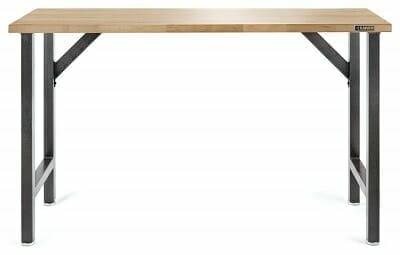 Weight Capacity: 1,500 lbs
Dimensions: 20 x 66.5 x 38.7 inches
If you just need a good garage workbench with no bells or whistles, then this offer from Gladiator is worth taking a closer look at. It's a simple and clean, but strong table, with a 1,500 lbs weight capacity.
What it lacks in style though, it makes up in finesse and expandability. The tabletop is a 1.5-inch hardwood with a UV-cured protective coating to shield it from all kinds of garage chemicals that could cause damage to it.
The legs get made from steel and each one includes a leveler that lets you adjust the tabletop horizontally by up to 1.5 to 2 inches.
Another interesting aspect of this workbench is that Gladiator makes lots of compatible products, which you can use to expand this workbench beyond its standard form.
Such additions include a caster-wheels package for creating a mobile workbench and different cabinets from Gladiator built to fit perfectly under this workbench.
In addition to being plain, another disadvantage of this workbench is its lack of flexibility in any dimension. You do get a 1-year warranty on the tabletop, plus a lifetime warranty on the legs though.

---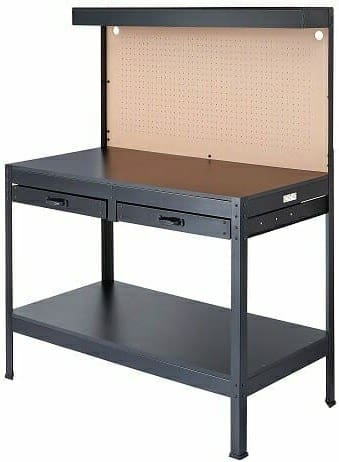 Weight Capacity: 220 lbs
Dimensions: 23.8 x 61 x 47 inches
Here's a perfect example of an integrated storage workbench and it really has everything you need to do your work comfortably and safely. Its first highlight is the 22.5-inch long integrated fluorescent lighting, which provides enough illumination for work.
The light shines from under its top shelf, which can safely hold items that are not too heavy, in addition to the workbench's bottom shelf.
Between this top shelf and the benchtop is a pegboard and it covers the entire width of the workbench, providing enough space thereby to hang all your tools.
You also get two drawers on ball-bearing sliders, so you have enough space for even more tools or important items. The entire workbench is well made, comes with an 80-inch power cord, and additionally offers 3 power outlets.
The single issue with this Olympia Tools workbench is its benchtop, which is a medium density fiberboard (MDF) and only offers a 220-lb load capacity as a result.

---
4. Seville Classic UHD20247B Garage Workbench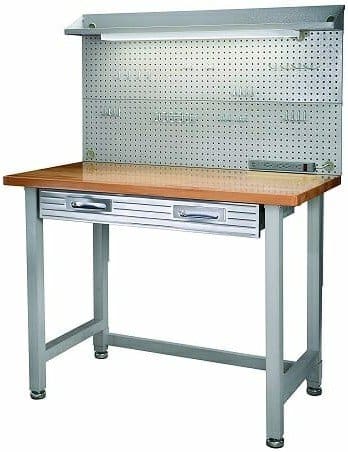 Weight Capacity: 500 lbs
Dimensions: 48 x 24 x 65 inches
Few workbenches are as impressive as this Seville Classic all-in-one workbench. It includes everything you need in one compact package, plus it's stunningly beautiful.
This workbench combines stainless steel, which gets used for the drawers, with heavy-duty steel, used for the frame, and a beautifully polished hardwood benchtop from beech to make one of the best garage workbenches with light.
A pegboard connects to the workbench to offer extra storage space. The pegboard is metallic and even comes with 23 hooks included. At the lower end of the pegboard is a power strip with LED display for all your power tool needs.
Although you could remove the pegboard and its upper cantilever shelf, this shelf houses a fluorescent light beneath it, giving you everything you need in one package.
On the downside, it lacks a bottom shelf, which is either good or bad, depending on how you work. Also, it's only the drawers that are stainless steel.

Seville Classic also makes this workbench in other colors, including Red and Satin Graphite. It comes with leveling feet, but you're free to exchange them with casters. The benchtop's weight capacity is 500 lbs.
It lacks a bottom shelf for storage
Only the drawers are stainless steel

---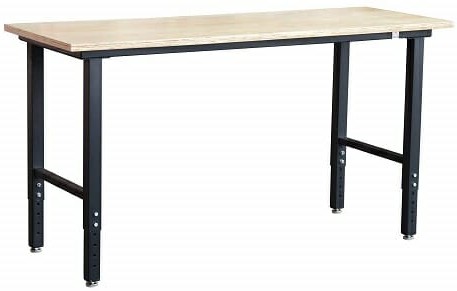 Weight Capacity: 330 lbs
Dimensions: 64.8 x 23.2 x 37.8 inches
This Homcom garage workbench is for those who love it simple and reliable. It offers you just a bare-bone workbench, made of steel and an MDF benchtop, plus you also get non-skid feet for a stable and safe working experience.
The steel frame is well thought-out and includes adjustment holes for changing the workbench's height. Benchtop height is a problem often faced by many handymen setting up their workbench.
Another big plus for this workbench is its large working surface, which even offers enough space for more than one mechanic to do work. Given this workbench's simplicity and large surface, you can also set it for different uses without any issue.
Its benchtop is a 1-inch thick MDF board and this is the one area that could get some improvements. MDF is great and it makes the table affordable, but it's also not as strong as hardwood, bringing this table's weight capacity to just 330 lbs.
A top level shelf or fluorescent lighting system would also be nice, but these would make the table lose its current low pricing.


---
6. Workpro 3302 Garage Workbench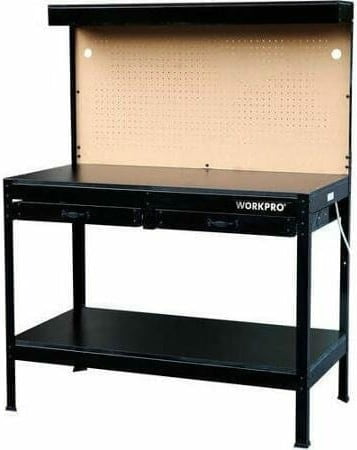 Weight Capacity: 220 lbs
Dimensions: 47.5 x 23.5 x 62 inches
The Workpro garage workbench with light is a 62-inch high workbench with a 35-inch high benchtop. It's made using a steel frame and particle boards.
This one is not for you if you're after a heavy-duty garage workbench, because it simply can't carry too much weight. If you're working with lighter or smaller materials on the other hand, then it's worth a try.
It's also perfect for those who want the best garage workbench with storage because it offers plenty of it.
You get a power outlet, a fluorescent light for improved visibility, and it comes with its power chord. There are also rubber feet to prevent skidding.
There are 2 shelves and a pegboard to give you all the space you need. Large tools can go on the pegboard, while smaller or more important items can go into the drawers. These drawers feature ball bearings, so they open and close easily.
Workpro could have done a better job here if the benchtop was from a much thicker particle board or even from a solid hardwood that's great for heavy-duty jobs. Additionally, the pegboard is from particleboard, so, it definitely won't last as long as those that are made from metal.
Uses a particle board for the benchtop

How to Buy the Best Garage Workbenches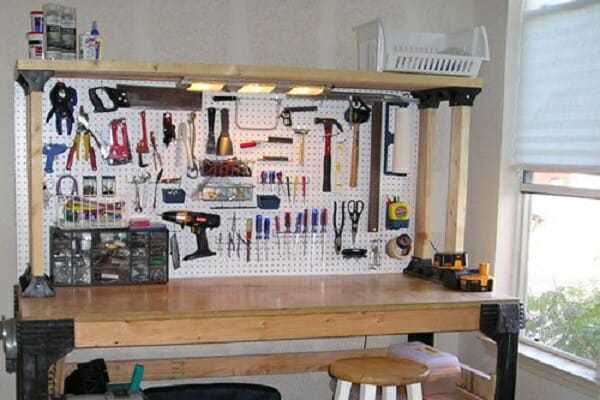 Although it might seem like a workbench is just a workbench, if you're planning to buy one though, then there're certain factors to consider, so you can make the right decision.
These factors that you need to find the best garage workbench are as follows:
1. Types of Garage Workbench
There are different types of workbenches out there, each designed to fit a particular job or offer tools that fulfill a specific function. With garage workbenches, we can narrow down these differences to find three major groups of workbenches. They include:
Stand Alone Workbenches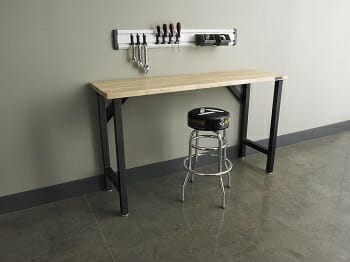 Stand Alone Workbenches
These are plain workbenches without extra features or functions. You simply get a tabletop on four legs and that's it. There're no drawers, no shelves, and no special functions in any way.
The advantage of this type of workbench though is their toughness, stability, and durability. With standalone workbenches, the goal is a dependable workbench that provides a safe and comfortable place to work.
Foldable/Portable Workbenches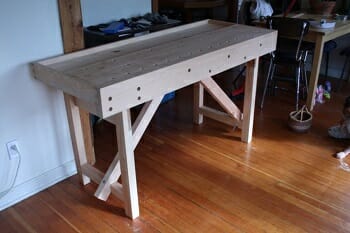 Foldable/Portable Workbenches
Some mechanics need a workbench that's easy to carry around from place to place, like working out in the drive, something to travel with, or saving space when working in a rather small garage.
These workbenches are usually smaller than the other types and this makes them portable. They'll also have one or more methods of further reducing their size to make them more portable. The goal here is neither comfort nor reliability, but portability.
Integrated Storage Workbenches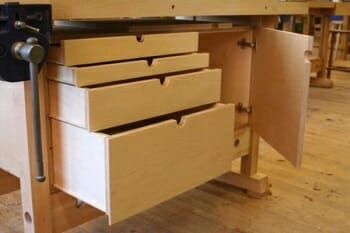 Integrated Storage Workbenches
With these kinds of workbenches, you get a standard workbench with a standard benchtop, plus extras. These extras are often anything that adds value to the workbench and makes it perfect for the kind of job you want it for.
You can expect shelves, drawers, pegboards, and other helpful features to arrange your tools or offer extra storage. There's no exact configuration for these types though, but the goal is to create a workstation which has everything in place.
2. Weight Capacity
Depending on the kind of work you're doing in your garage, the workbench's weight capacity might or might not concern you. If you'd be working with large or heavy parts, then a workbench with a high weight capacity becomes necessary.
You'll find workbenches with a weight capacity up to 3,000 pounds or more. Typical features of heavy-load bearing workbenches include a steel frame and legs. The tabletop should come from a tough material, with steel being the best possible option.
3. Storage
Unless you've already got some form of storage for your tools and important items, your best bet will be to get a workbench with some form of integrated storage space to help you in keeping organized.
There's no ideal system because every mechanic and his garage are different. So, while someone might prefer a workbench with overhead shelves or a pegboard, another might prefer a workbench with a drawer. It's left for you to make your choice here.
Read More: The Best Garage Storage System
4. Surface Options
Your workbench's tabletop is the part you'll probably see most of the time, so it should function well and you should like it too. Many materials can go on a workbench's surface and include solid wood, particleboards, plastic, laminate, and steel.
Wood tabletops are strong and adaptable, while particleboard tops are not as strong and ideal for light to medium-weight use. Steel provides the strongest and most durable of tops, while plastic and laminate offer lightweight and affordable tabletops.
5. Price
There's no single best price for a workbench. While you should expect to spend anywhere from just under a hundred dollars and upwards, the final price decision is yours alone to reach.
If you're on a budget, then an assembly kit, which is low-cost and lets you do some of the work might be the best garage workbench for you. Else, if money isn't much of an issue, then it's better to focus on the features that you really need in the workbench.
There's no shortage of extra features that can go on a workbench. You can either wish for a workbench on wheels or one that's stationary. A benchtop that includes some form of lighting, switch, electrical sockets, and many other helpful gadgets.
Conclusion
We've reached the end of this best garage workbenches review, and you should hopefully have found what you're looking for by now.
You've seen the best garage workbenches in the market, those with standard features, as well as the unique workbenches that stand out.
It's now your turn to make a choice based on your needs, your budget, and your personal desires. And as we're all different, there's no single best workbench. You just have to make a personal choice here.