Proper garage lighting is very important if you want to make the most of your garage space. Most garages lack enough openings to get enough daytime lighting and this naturally gets worse at night.
With correct lighting installed in your garage, you'll have enough light to work on whatever you wish, while everything appears brighter and is easier to see, including even the finest details.
Since there are so many offers out there, this garage lighting review focuses on providing you with the best offers in the market, as well as a buying guide to help you make the right choice.
Top Garage Lighting of 2021 by Editors' Picks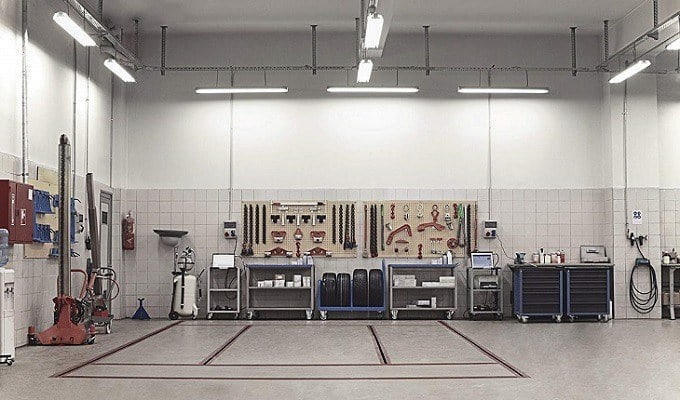 [toc]
Summary of 7 Best Garage Lighting Options
IMAGE
PRODUCT
FEATURES

1. Sunco SCSHOP6K (Best Overall)

The package includes 6 lights
Each 4-ft long light produces 4,100 Lumens
They are backed by a 7-year warranty

2. Barrina INWT504020650Bc

Pack of six lights
Offered at a very attractive price
Backed by a 3-year warranty

3. Hykolity FWR40W5K-1

High-intensity 3,700 Lumens output
Produces 5,000-Kelvin daylight
Comes backed by a 5-year warranty

4. Oooled 8595734548

Produces 4,000 Lumens of pure white light
The lights are linkable
Backed by a 5-year warranty
Includes ETL & Energy Star certifications

5. Striker Concepts 00342

An impressive 3,000 Lumens brightness
Motion-activated design for convenience
Simple and easy LED upgrade
Comes with a 3-year warranty

6. Luceco L36SLAG1XBP40

Shatterproof garage lighting
Delivers 3,600 Lumens at 4,000 Kelvins
Backed by a 5-year warranty

7. BBounder SH02-36-04

Package of four LED garage lights
3,600 Lumens of brightness
Rated lifespan of over 50,000 hours
1. Sunco Lighting - Best Overall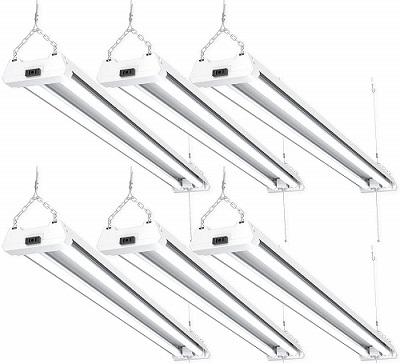 Lumens: 4,100
Power: 40 Watts
Color Temperature: 4,000 Kelvins
Lifespan: 50,000 hours
This Sunco Lighting is the best garage lighting offer overall on this list, and that's for many reasons. In addition to offering you the best LED garage-lighting system, there are actually 6 lights in the pack, which is more than enough for most standard fittings.
Each light is 4 feet long and uses 40 Watts of power to produce 4,100 Lumens of brightness. The light has a 4,000-Kelvin daylight color and Sunco also offers 5,000-Kelvin versions if you want it.
Things you may not like include not being able to install them on the wall and that 4,000 Kelvin isn't exactly pure white light, but it's still white enough.

Although these lights are very low-priced, they get manufactured to high standards. Sunco rates their working lifespan at 50,000 hours and backs the lights with a 7-year manufacturer warranty.
Another feature that sets them apart is their suspended installation. Each light comes with ceiling hooks, mounting chains, and suspension cables to hang it from the ceiling. Each light also features a pull-chain for a stylish On and Off switching.
Their suspension system does not allow wall mounting

---
2. Barrina INWT504020650Bc Garage Lighting Option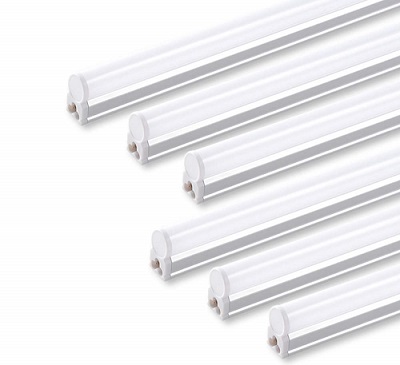 Lumens: 2.200
Power: 20 Watts
Color Temperature: 6,500 Kelvins
Lifespan: 50,000 hours
If you feel the previous offer isn't cheap enough for you and you want the best garage lighting for the money, then take a closer look here because Barrina has an interesting offer for you.
You get 6 pieces of 4-foot long LED lights for about $40, which means paying less than $7 per light. This is no doubt the ideal choice for anyone on a budget, but it does have its disadvantages.
The first disadvantage is its low light intensity, which at 2,200 Lumens per light is about half of Sunco's light offer. Its color temperature is also 6,500 Kelvins, which may just be a little too blue for certain people or purposes.
On the other hand, it offers a plug-n-play installation, the ability to link the lights together, and a 3-year manufacturer warranty backing it.
It has a comparatively low-Lumen output of just 2,200 per light
Its 6,500-Kelvin color may just be too blue for some people

---
3. Hykolity FWR40W5K-1 Garage Lighting Option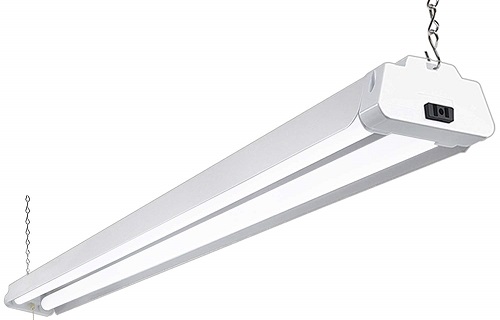 Lumens: 3,700
Power: 42 Watts
Color Temperature: 5,000 Kelvins
This offer is for a 4-ft long garage light from Hykolity. It might sound costly when compared to other lights on this list, but it comes with features which make it worth its price.
The offer here is for a single light, but Hykolity also offers a 4-pack of the same design. Each light produces 3,700 Lumens of light intensity at a 5,000-Kelvin daylight white.
Hykolity makes each light linkable and this means you can connect up to four of these lights together. The light also comes with a pull cord for easy On and Off control.
The major problem here is its relatively high price because this single light costs nearly as much as six Barrina lights.

Other mounting features include the option for flush mounting or with hanging chains, and if you choose the chains, you can further customize the length as you wish. Given different garage height differences, it's no doubt that this is one of the best shop light features for garages.
You also get a frosted cover for each light and this offers you both diffused lighting and protection for your LED light tubes, making it one of the best workshop lightings around.

---
4. Oooled 8595734548 Garage Lighting Option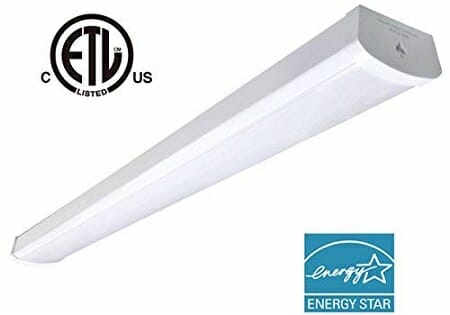 Lumens: 4,000
Power: 48 Watts
Color Temperature: 5,000 Kelvin
Lifespan: 50,000 hours
Oooled offers its 48-Watt LED light with its sleek design here. It's perfectly designed for flush-mounting and will fit into any modern or trendy shop perfectly.
What makes it the best LED-ceiling garage light though, is its 4,000-Lumen light intensity. While other lights may offer lower light intensities at a cheaper price, this one light offers you a complete 4,000 Lumens of pure brightness at 5,000 Kelvins of pure white daylight.
The downside is that you get to pay more and the light uses 48 Watts to generate this brightness.

You can also get a 4,000-Kelvin version if you want or select a 4-pack offer, Oooled promises a working lifespan of 50,000 hours and backs it up with a 5-year warranty.
Each light is 4 feet long and is linkable. It also features a wraparound cover for both aesthetics and for diffused lighting, so you can get that professional lighting experience for your shop.
Impressive 4,000-Lumen super bright lights

---
5. Striker Concepts 00342 Garage Lighting Option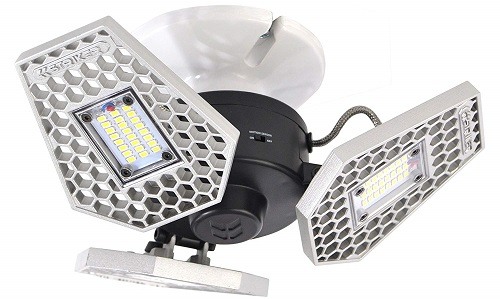 Lumens: 3,000
Power: 24 Watts
Color Temperature: 5,400 Kelvins
Lifespan: 50,000 hours
As Striker Concepts shows with this garage lighting idea, the best LED-light bulb for garages doesn't have to look like old fluorescent lighting with their long and slender tubes.
This one got designed to easily replace your old incandescent light bulbs and it comes with so many impressive features that its seemingly high price begins to look adequate. Simply unscrew the old bulb and screw it in and that's it.
It features a motion detection system that switches on with every movement, even in the dark. It then waits for 90 seconds after the last detected movement before switching off the light.
The downside is that you can't link many of it. This light is also relatively costly, but when you compare its features, then it seems worth it.

In addition to a beautiful aluminum design and housing, it delivers 3,000 Lumens of brightness at 5,400 Kelvins and it does this with just 24 Watts of power, which additionally makes it an energy-efficient LED garage light.
Easiest and fastest LED light upgrade ever

---
6. Luceco L36SLAG1XBP40 Garage Lighting Option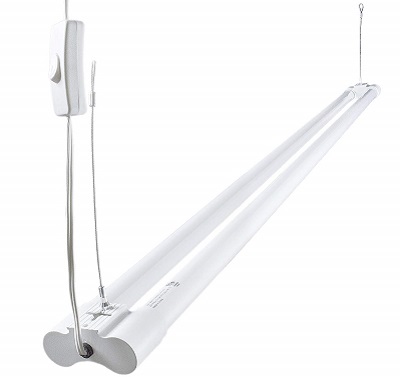 Lumens: 3,600
Power: 36 Watts
Color Temperature: 4,000 Kelvins Cool White
You can also choose a LED garage ceiling light with a modern and trendy look, which additionally produces an impressive 3,600-Lumen light output at a 4,000-K cool white color.
This light is 4 ft. long and comes with 2 bulbs made from shatterproof glass. This makes it safe for many types of work in which breakable light-bulb glasses pose a security threat.
The cons here include its rather cheap plastic look and the fact that it's not linkable.

It's easy to mount with its multiple mounting options and Luceco backs it with a 5-year warranty, giving you some peace of mind if you decide to invest in this light.
Modern and cool design with shatterproof glass
Produces 3,600 Lumens at a cool white 4,000 Kelvins

---
7. BBounder SH02-36-04 Garage Lighting Option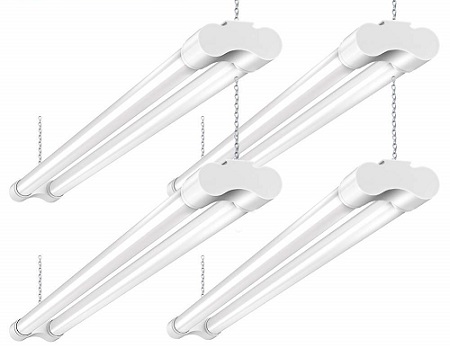 Lumens: 3,600
Power: 36 Watts
Color Temperature: 5,000 Kelvins
Lifespan: 50,000 hours
BBounder presents its 3,600-Lumen offer here in a pack of 4 lights. Each of the lights has two bulbs and produces 3,600 Lumens of intense brightness at a 5,000-Kelvin pure white color.
The 4-pack is a money-saving offer and is great for those on a budget. They are also energy-saving and will cut your electricity bills compared to fluorescents. This light will last longer than fluorescents as well, reaching over 50,000 hours or for about 23 years of working hours before needing a replacement.
Its installation is easy and hassle-free, offering both flush and suspended mounting options. BBounder backs it with a 5-year warranty.

How to Buy the Best Garage Lightings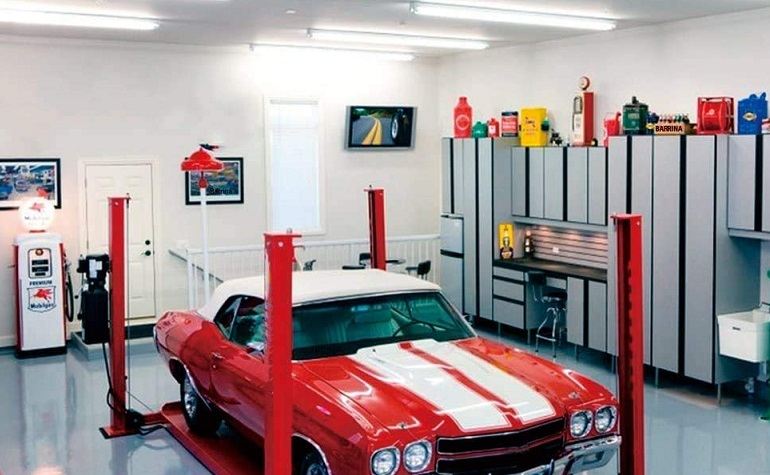 Garage lights have a technical background and this means that you'll need to understand some of these technical concepts if you are to choose the best garage lighting system.
The most important technical terms and their meanings are as follows, as well as other aspects of a garage light that you should pay attention to when making a choice.
1. LED vs. Fluorescent
These are the two major types of lights used in lighting up garages. Fluorescent lights were originally the first choice until LEDs came around.
The use of Light Emitting Diode or LED lights offer many advantages over the use of fluorescent lights and this gave rise to the increasing popularity of LED lights over their fluorescent counterparts.
Following are these advantages of LEDs over fluorescent lights:
Longer Lifespan. Typical fluorescent lifespans range anywhere from 7,000 to 15,000 hours while LED lifespans range from 25,000 to 50,000 and even longer hours. Their ability to last longer is a huge plus for LED bulbs.
Better Energy Efficiency. The LED technology is also better at converting electrical energy into light energy, thereby making LEDs more energy-efficient than fluorescents. LED bulbs are about 30% more energy-efficient than fluorescent bulbs.

Environmentally Friendly. If you care about the environment, then it may please you to know that LEDs are also more environmentally friendly than fluorescents. This is because they don't use toxic gases like mercury and phosphor that get used in fluorescent lights.
2. Size of the Garage
Most garages offer space for just one car while others offer much more space. This means that the lighting needs of each garage will depend on its dimensions.
You'll have to decide this one by yourself because you'll take the garage's size into consideration, as well as any external light sources and whether you need special lighting for a workbench or shelf, for instance.
3. Brightness
The term brightness is a measure of light intensity and it gets measured in Lumens. A more intense light-source has a higher Lumen rating and provides more visibility as well.
A good figure for most standard-sized garages is 4,000 Lumens. If you want brighter lighting, then it's best achieved with multiple light sources, as opposed to a single high-Lumen light.
4. Lifespan
All electric light bulbs and tubes die at some point but some last longer than others. LED lights generally last longer than fluorescent lights and most other light types like the incandescent bulb and its halogen and Xenon variants.
Read More: LED vs. Halogen vs. Xenon: Pros/Cons
You'll also find lifespan differences among LED lights, so you need to pay attention to that as well. A LED chip's durability is usually determined by its quality, which simply depends on the materials that it's made from and how efficiently it gets cooled.
5. Color Temperature
Every light source has what gets referred to a color temperature. This color temperature is a measure of the light's tint, or in other words, how warm or cool the light appears to an onlooker.
The color temperature gets measured in Kelvins, with lower Kelvin-values meaning warmer and higher values meaning cooler up to 12,000 Kelvins.
A candle gets rated around 1,500 Kelvins, while noon daylight is around 4,500 to 5,500 Kelvins and this is the range you should buy. You should only look for higher-Lumen lights if you have a specific purpose for it.
6. Energy Efficiency & Cost Savings
If you're concerned about cost, especially if you have to install and use many lights, then you should consider using LED lights because they use less energy than fluorescent lights and that means electricity cost savings.
7. Ease of Installation
Some garage light offers come as a package with more than one light and most of these packages offer connecting cables to make their installation easy. Some lights come with chains for hanging them while others come with mounting brackets.
You'll find light designs with nicely designed switches for On and Off control, while others will feature a pull-down chain for instance. No system is better than the other in this regard, you just need to buy what you feel comfortable installing and using.
8. Safety
Depending on the type of work that you intend to carry out in your garage, you may or may not need to make sure that your light fittings are well protected.
If you work with wood for instance, and if it's possible that a piece might fly off and hit the lights, then you should consider wrap around lights or any other type of light design with a protective cover.
How to Install Garage Lighting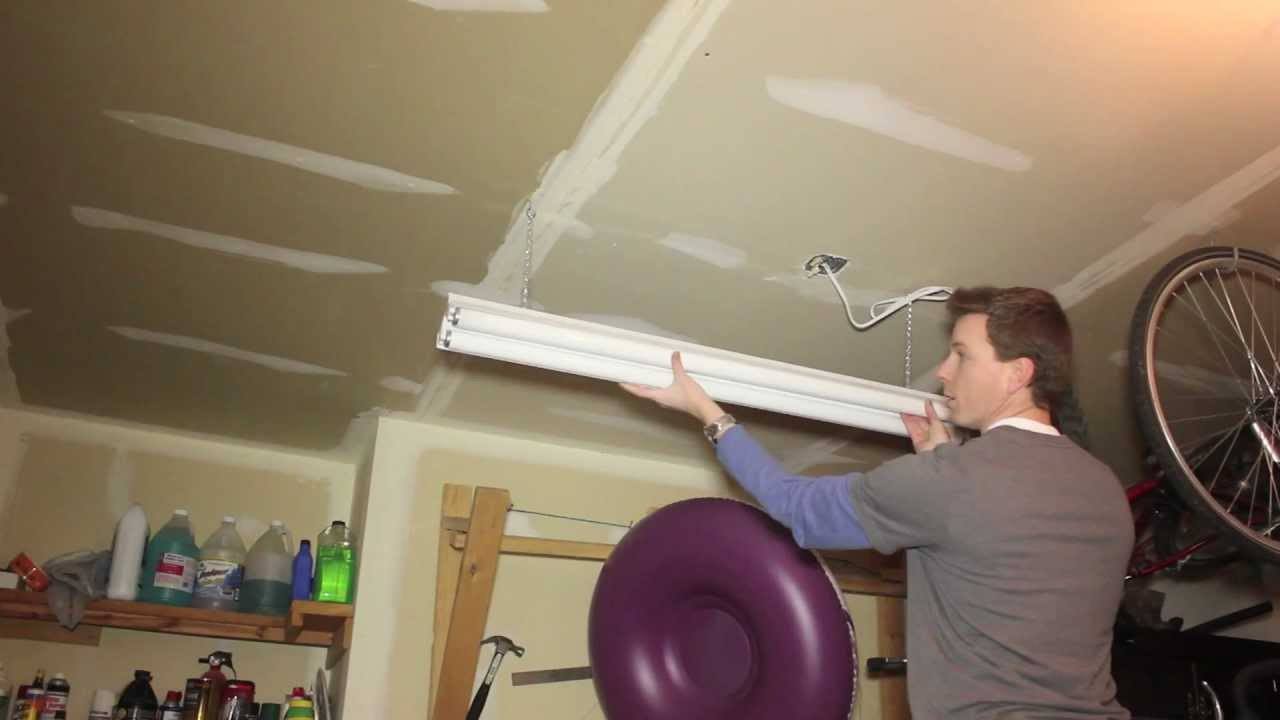 Installing your garage lighting by yourself is simple and straightforward if you'll pay attention to electrical standards and keep up a healthy level of safety.
The following guide will lead you through the steps necessary for successfully installing fluorescent or LED lighting in your garage.
You'll need:
A drill
A rubber-handled screwdriver
Rubber-handled pliers
Insulation tape
Step 1: Safety First
Electricity is dangerous and so, you need to be very careful when working with it. The first step you have to take here is to turn off your electricity from the main control switch.
This will protect you in the case of an accident. If there's a possibility for someone else unknowingly switching it back on, then place a notice or a warning there for prevention.
Step 2: Remove Old Fittings
You probably have old light fittings in your garage that you'd like to upgrade, so you should carefully remove it from there. Remove the bulb first, before unscrewing the rest of the fitting, making sure to avoid touching naked wires as you unscrew them.
Step 3: Measure & Position
Planning is very important if you want to do a great job, so plan exactly where you want the new light to come and then measure everything to make sure there's enough space and cable length to successfully install it.
The same goes for if you're installing multiple lights. You need to measure and check each light's position beforehand to guarantee a successful installation.
Step 4: Drill Holes
Your new light should come with mounting brackets or other hardware that fits its unique design and mounting style. Now is the time to drill holes for these hardware parts after the manufacturer's instructions.
Step 5: Mount the Light
Once the holes have been drilled, fix the brackets and make sure they are tight, then mount the light to them. If you're mounting multiple lights, then you should drill all the holes and install the brackets first before mounting the lights to any of them.
Step 6: Connect the Wires
The wires are the last things you need to connect, remembering to observe AC color codes. Simply connect black to black and red to red, or green/yellow to green/yellow for earth. If you're installing a package with multiple lights, then follow the instructions to connect them together.
Step 7: Test
No installation is complete without testing it. You should first carry out a visual inspection of the installation and if satisfied, you can then switch on your mains control switch and test your installation.
Conclusion
We have reached the end of this best garage lighting review and you've seen the different LED and fluorescent lighting offers out there.
You must have also realized that the style and size of your garage will help you to decide to a large extent, the ideal garage light fixture you should install.
It's your turn to reach a decision and make a choice based on your needs, on the type of your garage and how you plan to upgrade it, and of course on how much money you're willing to spend.