Helmets are a very simple but effective tool to protect your head from the elements and the asphalt. A helmet is the best protection you can wear, so it pays to take time to choose the best motorcycle helmet for yourself.
Asides from shielding your head from an unexpected crash, a helmet improves your riding experience by shielding you from the weather, loud noise, dirt, and bugs.
All helmets are not made equal, so you need to take your time to understand the different types of helmets out there, what they are for, and which one will best fit you.
In this motorcycle helmets review, you'll get a list of the top helmet offers in the market, along with a buying guide to make it easier for you to choose.
Top Motorcycle Helmets of 2021 by Editors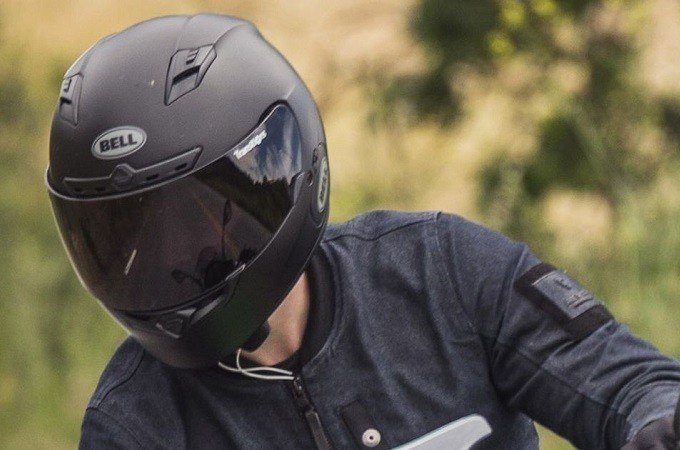 Summary of 7 Best Motorcycle Helmets
IMAGE
PRODUCT
FEATURES

1. Bell 7049224 (Best Overall)

Lightweight and DOT-certified motorcycle helmet
Available in 7 sizes and over 15 colors
Backed by a solid 5-year manufacturer warranty

2. Torc T55

Half helmet for vintage ride lovers
High-quality design and DOT approved
Features an integrated and drop-down sun visor

3. Yema YM296

Modern and stylish modular motorcycle helmet
Aerodynamic design with strong ABS shape
Adjustable ventilation system for your convenience

4. Conquer SA2015

Snell-certified helmet for races and more
Made from lightweight fiberglass
Features maximum airflow venting

5. ILM JK313-MB

DOT-certified motorcycle helmet
Aerodynamic design reduces drag and noise
Available in many sizes and seven colors

6. 1Storm HB-B89

DOT-approved modular helmet
Offered at a low and attractive price
Includes double visors and six air vents

7. AHR MX

Lightweight off-road helmet
Comes with a DOT-approved safety rating
Ideal for ATVs, dirt-biking, and motocross
1. Bell 7049224 Qualifier - Best Overall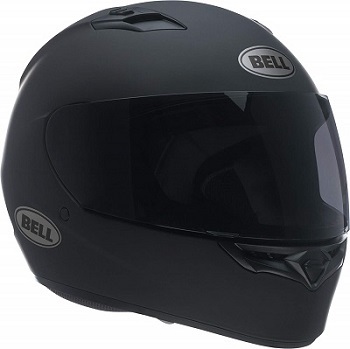 Style: Full face
Size: X-Small to XXX-Large
Material: ABS and Polycarbonate composite
For a top-rated motorcycle helmet that comes at a great price, this Bell Qualifier offer is hard to beat. It's made using a Polycarbonate and ABS composite, which makes it strong and lightweight.
Bell offers this helmet in seven sizes, ranging from X-Small to Small, Medium, Large, X-Large, XX-Large, and XXX-Large. It's also available in over fifteen designs and colors to meet your preference.
This helmet also features a ClickRelease system for the shield, which makes it fast, easy, and a completely tool-free shield swap process.
For the downside, the helmet comes with a clear shield only. So, if you want the tinted shield such as in the picture, you'll have to order that optionally. The helmet is DOT-certified anyway and Bell backs it with an impressive 5-year manufacturer warranty.

---
2. Torc T55 Adult Half Motorcycle Helmet
Style: Half
Size: X-Small to XX-Large
Material: ABS plastic
Not everyone loves a full-face helmet, especially fans of classic motorcycles and others who love to recreate that vintage look.
Torc offers this T55 for anyone who wants a good motorcycle helmet that reminds of the good old days. It's DOT approved and features a drop-down internal sun visor.
You can get it in any of six sizes including S-Small, Small, Medium, Large, X-Large, and XX-Large. Torc also offers different versions with different artworks, so it's left for you to choose here.
Keep in mind that half helmets are not the best for speeding or dirt-biking, but if you love cruising with a vintage bike, then there's no better helmet to get.

---
3. Yema YM296 Motorcycle Helmet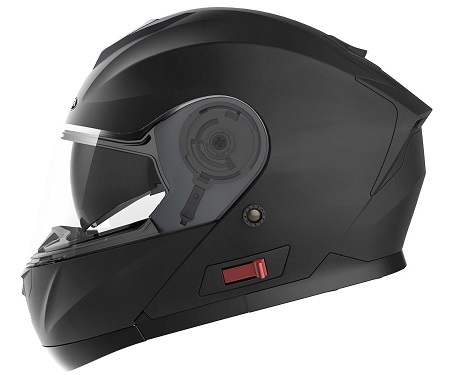 Style: Modular
Size: Small, Medium, Large
Material: ABS plastic
Yema is a large Chinese maker of a range of helmets and this offer is one of the best motorcycle helmets for those who want the flexibility that a modular helmet offers.
It comes with a clear outer visor and a tinted inner one for the sun. Switching off the inner visor is also possible and easy. You get inner liners and pads as well, so the helmet is as comfortable as possible.
In addition to its aerodynamic design, Yema also includes an adjustable ventilation system, so you can adjust the airflow inside exactly the way you want it.
One downside is that the helmet is only available in Small, Medium, and Large, but you get a tough ABS shell, a reinforced chin strap, and a quick-release buckle.

---
4. Conquer SA2015 Full Face Motorcycle Helmet
Style: Full face
Size: S to XL
Material: Fiberglass
This Conquer SA2015 helmet offers you the very best. It lets you enjoy the features of top-brand helmets and a still reasonable price.
Made using lightweight fiberglass for the shell, it's also Snell-certified and this makes it one of the safest motorcycle helmets out there and gives you the confidence that you need for those high-speed and rough rides.
You also get a padded, fire-retardant interior, maximum airflow venting, and a Kevlar chin strap. Conquer makes it in a range of sizes from Small to X-Large.
The major issue here is its price because you can get cheaper helmets. For its defense though, those cheaper helmets aren't Snell-certified like this one.

---
5. ILM JK313-MB Motorcycle Helmet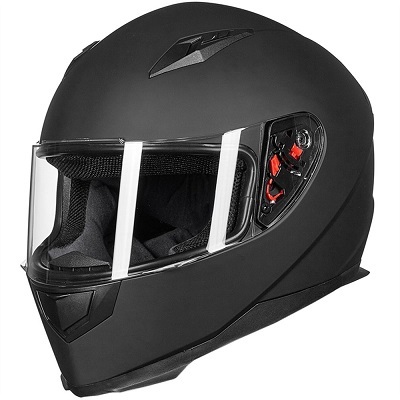 Style: Full face
Size: Small to X-Large
Material: ABS
For those on the lookout for the best motorcycle helmet for the money, this offer from ILM might do the trick because it comes at a great price and includes two visors and a winter neck scarf.
You get a helmet with a streamlined design and a lightweight and durable ABS shell. ILM makes it in different sizes from Small to X-Large, and in seven colors including black, red, and yellow.
The outer shell features an ABS plastic construction and the helmet is DOT-certified. You can also remove the cheek pads and helmet liner easily for washing.
Remember anyway, that the previous helmet features a fiberglass shell, which is superior to this ABS plastic used here. But, if you're not into high speeds, then you'll agree that this helmet's price makes a good argument.

---
6. 1Storm HB-B89 Motorcycle Helmet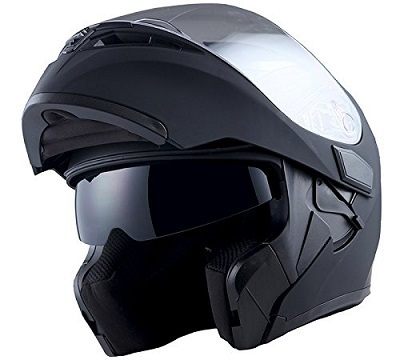 Style: Modular
Size: Small to X-Large
Material: Thermoplastic
The most interesting part of this offer is that it's available in 16 different colors and artwork designs, so you can easily pick a design that best suits you from black to red and arrow-red, etc.
There are four sizes available from Small, to Medium, Large, and X-Large, and they all feature a glossy UV-protective finish and washable internal padding.
1Storm makes the helmets using Thermoplastic, and while this is probably not the toughest helmet material around, it provides a high level of safety and gives the helmet a DOT approval. The price is also low and attractive.

---
7. AHR MX Motorcycle Helmet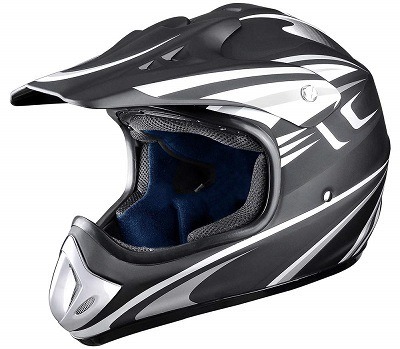 Style: Off-road
Size: Medium, Large, & X-Large
Material: ABS plastic
For off-road lovers, this offer from AHR helmets offers a high-quality and affordable helmet to offer all the safety that you need. It's DOT-approved and available in three sizes.
The helmet features a lightweight ABS shell with a comfortable inner liner that's also breathable and helps the ventilation system to deliver enough air inside and make it one of the best motorcycle helmets in the market.
Issues with this helmet include its availability in only a boring gray color, plus the lack of visor in the package, which means that you'll need a pair of goggles before riding with it.
The helmet looks cool, however, and it's easy to keep clean. This offer is for the Large version, which fits head circumferences from 23.2 to 23.6 inches.

How to Buy the Best Motorcycle Helmets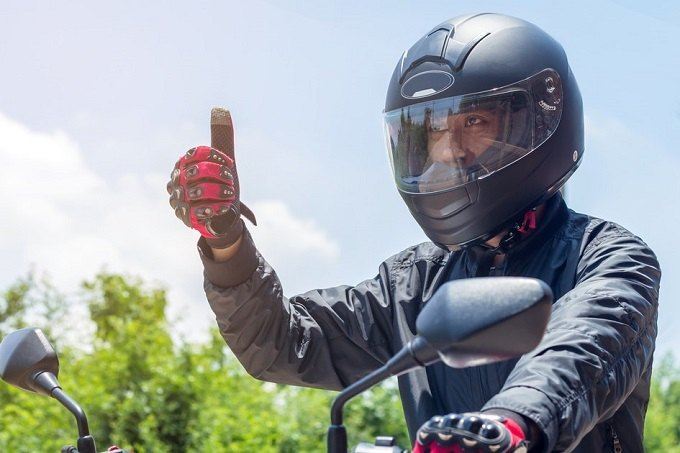 First of all, you need to understand that a helmet is not just a helmet. So you should place safety at the top of your list when choosing a helmet because this is the best value that you can get.
Of course, there are lots of other considerations asides from safety, such as style, comfort, and price. Just remember that safety is the most important of them all.
Following is a list of the factors you should look out for when choosing your helmet.
1. Protection Features
Asides from making you look cool, a helmet's major job is to protect your head from possible impacts, so you must choose one that does that well.
There are many certification agencies, including the DOT (Department of Transportation) in the US and the European ECE (Economic Commission for Europe) certifications.
Although any helmet that has any of these two approvals is safe and road legal, you can go the extra mile and choose a SNELL-certified helmet if you want the very best and the price isn't an issue.
2. Style
There are so many helmet styles and each one comes with its advantages and disadvantages. So, while a particular style might offer you more protection, it might do that at the cost of freedom, and vice versa.
Following is a list of the different helmet styles and a closer look at what they each have to offer.
Full-face Helmets. This type of helmet is the most popular because it provides a high level of protection. It covers the entire head and provides a movable visor, which covers the face and the eyes when closed.

Full-face helmets protect you from the weather, reduce noise levels, making your ride more pleasant, and they offer better aerodynamics as well, for fast riders.
Open-face Helmets. With an open-face helmet, you get a design that nearly covers the face like a full-face helmet, except that it lacks a face and chin protection.

This type of helmets offer you more freedom and let you see more of your environment. They are popular with cruisers and slow-pace scooter riders, as well as those who find full-face styles claustrophobic.

Modular Helmets. A modular or flip-front helmet is a full-face helmet that lets you flip the entire front to partly turn it into an open-face helmet.

This allows you, for instance, to ride with it as a full-face helmet but not need to take it off at the petrol station. Keep in mind, however, that most modular helmets are only certified for riding as a full-face helmet and not in an open position.
Half Helmets. These are similar to open-face helmets, except that they cover even less of the head. In simple terms, half helmets just cover the upper part of the head around the brain.

Half helmets are popular among vintage riders and cruisers, and they give that old-school but unique and cool look.

Off-road Helmets. Off-road or motocross helmets almost cover the entire face like full-face helmets but they often come without a visor, needing you to use goggles.

They are for dirt-riding, often have a sun-visor, are more lightweight, offer more chin protection, and more ventilation than full-face helmets. The downside is that they are also less sound-proof and so, not ideal for highways.
Dual-sport Helmets. These helmets fall between full-face and off-road helmets and are therefore perfect for those who do dirt-biking and additionally travel the highways.

They are well ventilated, come with sun-visors, and well sound-proofed, making them functional both on- and off-road.
3. Fit & Comfort
You'll also need to consider how much comfort is important to you. Most of the popular brand helmets offer a high level of comfort, so you can either go for them or take a closer look at less known brands.
4. Price
You need to understand that a helmet's price depends on many factors, such as its materials' quality, the brand name, certifications, and any extras.
It's left for you here to decide on how much you're willing to spend. Just keep in mind that a good helmet must either pass the American DOT or European ECE certification and if you've got more money, then a SNELL certification.
FAQs - Frequently Asked Questions
Following are some of the most frequently asked questions about helmets and helmet use. The list isn't extensive but it can be helpful.
When should I Replace My Motorcycle Helmet?
Ans: You should replace your helmet once it is older than three to five years old, shows one or more cracks on the outer shell, or once you've been in a crash, even if you can't see any defects.
How Do I Know If A Helmet Will Fit Me?
Ans: The best way to know if it fits is to try it on, but that's only possible if you're in a physical shop. On the net, however, you'll need to measure your head's circumference at its fullest part. This is usually around the forehead and just above the ears.
Following is an estimate of helmet sizes. A size S measures 21.5 to 22 inches, M measures 22.3 to 22.7 inches, 23 to 23.5 is L, 23.7 to 24.3 is XL, and XXL measures 24.7 to 25 inches.
How Can I Test A Motorcycle Helmet?
Ans: You need to test your helmet from time to time to make sure that it's still able to protect you because age, wear, and other factors can cut down on a helmet's safety level. Always check its purchase date and replace after five years. Also check for scratches, dents, and any other signs of damage, including on the straps and the visor.
Conclusion
We've reached the end of this motorcycle helmets review and you've seen all the impressive and best offers in the market, including the classic and the more modern and trendy designs.
We are all different and have different needs, so you need to choose the helmet that best fits your personality, your bike, or your lifestyle.
Sources
Types of Motorcycle Helmets - FortNine
What are the Different Types of Motorcycle Helmets? - Motorcycle ID