For any biker, having the best motorcycle helmet is important because you need to guarantee your head's safety in case of an accident.
However, leaving the helmet on your parked motorcycle outside without any form of security is a bad idea because it might be stolen. A helmet lock solves this problem, while also saving you the trouble of having to carry your helmet around.
With that in mind, this review narrows it down to the best motorcycle helmet locks in the market. Read through and take your pick!
Editors' Picks: Top Motorcycle Helmet Locks of 2021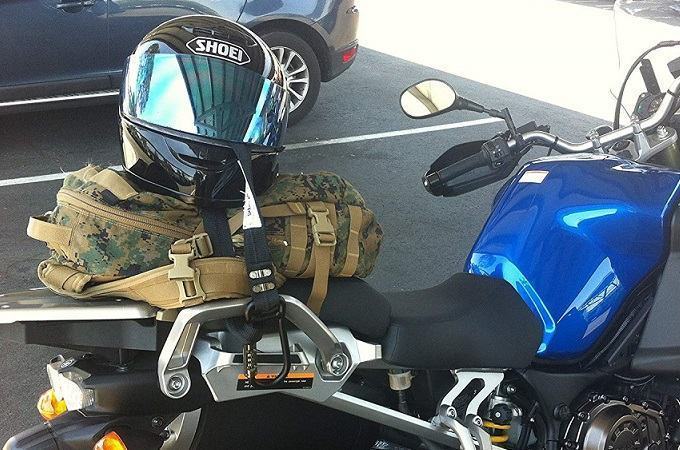 Summary of7 Best Motorcycle Helmet Locks
IMAGE
PRODUCT
FEATURES

1. BigPantha Cable (Best Overall)

Universal fitting design
Easy-to-use carabiner-style lock
Long, flexible steel cable

2. Master Lock 99 (Best Inexpensive)

Affordable
Thick, vinyl-coated cable
Dead-locking mechanism

3. Kuryakyn 4248 (Best License Plate Lock)

Fits on most rear motorcycle plates
Quick & simple installation
Complete set

4. OnGuard 8005 (Safest)

4-sided X4P locking mechanism
Large hardened steel shackle
Long, coated braided-steel cable

5. FJM Security SX-645 (Best Lightweight)

Lightweight (2.4 oz.)

Long 79-inch vinyl-coated cable
Easy to set

6. Bikers Choice 74937S2 (Best Tubing Lock)

Mounts on 7/8 to 1-1/4 inch tubing
Tamper-proof installation screws
Chrome-plated to easily blend in

7. Helmetlok 4101 (Carabiner-Style)

Easy to use carabiner-style lock
10,000-combination 4-digit lock
Rubberized scratch-free design
1. Best Overall: BigPantha Cable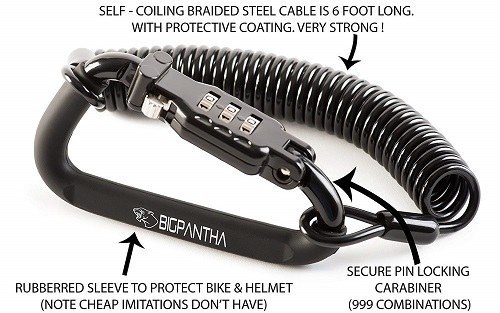 Locking Mechanism: 3-digit combination
Material: Steel
Weight: 4.8 ounces
If you're looking for the best overall helmet lock, BigPantha's motorcycle helmet lock should be your go-to option. This is because it has a universal-fitting design that is compatible with a wide range of motorcycles and helmets.
Made in a steel cable design, you can easily pass it through your full-face helmet's windshield and not rely on a strap to lock it to your bike. The cable is long (6-feet) & flexible, and comes with a protective coating.
The unit also features a carabiner-style lock, which is secure, easy to use, and houses the combination-code lock.
However, keep in mind that its 3-digit combination means a maximum of 1,000 possible combinations. This is not as good as key-locking, but considering it is for locking a helmet, the system is good enough. Also, the unit is quite bulky.
On the bright side, the lock is backed by a lifetime guarantee, which assures you of consistent and reliable performance.

---
2. Best Inexpensive: Master Lock 99
Locking Mechanism: Key
Material: Steel
Weight: 4.8 ounces
Master Lock's 99 is the most affordable product in our motorcycle helmet lock review, which makes it ideal for those who are on a tight budget.
The piece is very simple and easy to use. It comes with a thick 5mm braided steel cable that can be easily fitted through the helmet and motorcycle. This cable is covered in vinyl to prevent corrosion for maximum durability.
Connecting the two ends of the cable is a padlock-style lock, which has an attractive plastic cover to prevent scratches on the helmet. It also has a dead-locking mechanism that keeps it from rapping open. Two keys are includes, whereby one is a spare.
The downside is that the cable is only about 1-ft long (14 inches), which limits how you can position your helmet.

---
3. Best License Plate: Kuryakyn 4248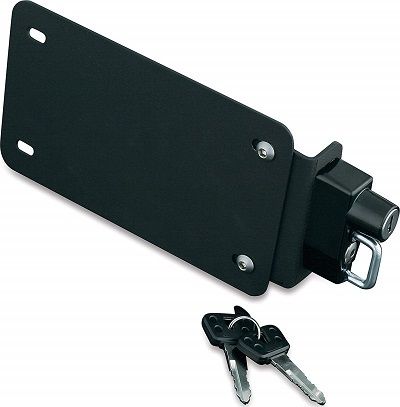 Locking Mechanism: Key
Material: Steel
Weight: 16 ounces
The Kuryakyn 4248 is a license-plate-mounted helmet lock that is designed to fit on almost all rear motorcycle license plates. It only requires a quick and simple installation.
That said, the piece comes as a complete package with everything you need for its installation. This includes the backing plate, nuts, screws, washers, and a key wrench.
One slight letdown, though, is that the manufacturer backs this lock with only a 1-year warranty, as opposed to a lifetime guarantee like with BigPantha's lock. Also, it is quite costly.
On the bright side, this helmet lock offers you a discreet and secure means of locking your helmet to your bike.

---
4. Safest Motorcycle Helmet Lock: OnGuard 8005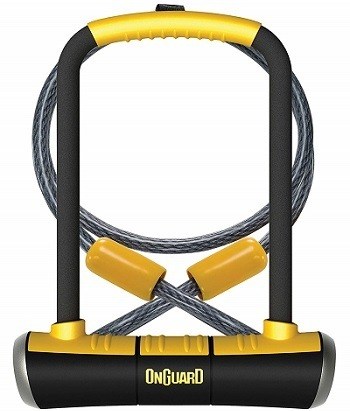 Locking Mechanism: Key
Material: Steel
Weight: 24 ounces
This OnGuard lock is very safe to use because it is originally designed for securing bikes to prevent them from getting stolen. It features an X4P locking mechanism for four-sided protection.
A large 16.8mm hardened steel U-shaped shackle locks into the four-sided mechanism, and this piece resists cutting, jacking, or prying. It also provides room to attach more locking options.
That said, a 4-ft long braided steel cable is included in the set, and this can wrap around the helmet. The cable is fully-coated to protect the steel from corrosion or from scratching your helmet.
As such, you can lock the bike to a roadside post using the U-lock, then wrap the cable around the helmet to the shackle or your bike. The possibilities here are endless because you can use this locking system to secure your helmet in many ways.
You also get five laser-cut keys and a micro-LED light but the unit is quite expensive and heavy.

---
5. Best Lightweight: FJM Security SX-645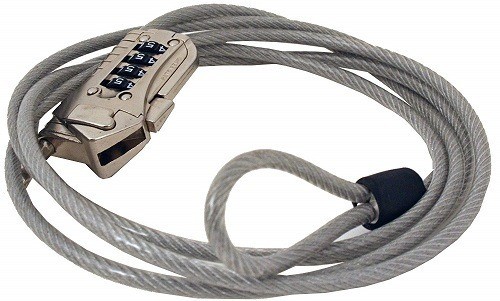 Locking Mechanism: 4-digit combination
Material: Steel
Weight: 2.4 ounces
Weighing in at only 2.4 ounces, FJM Security's SX-645 is the most lightweight helmet lock in our review. This makes it easy to carry to lock your RV gear, construction equipment, bicycles, and, of course, motorcycle helmet.
The unit is also quite affordable and has a tough, long 79-inch (almost 6-ft) airplane cable that is vinyl-coated to prevent it from scratching your helmet.
It's locking mechanism features a 4-digit system that creates up to 10,000 possible combinations, which makes it more secure than 3-digit locks.
Setting the combination is quite easy because it has a reset screw at the bottom. The factory default is 0-0-0-0, and with the screw turned 90º, set the digits to your preferred combination, then turn the screw back.
The only issue is that such locks are not as safe as key locks. However, you won't have to worry about lost keys.

---
6. Best Motorcycle Helmet Tubing Lock: Bikers Choice 74937S2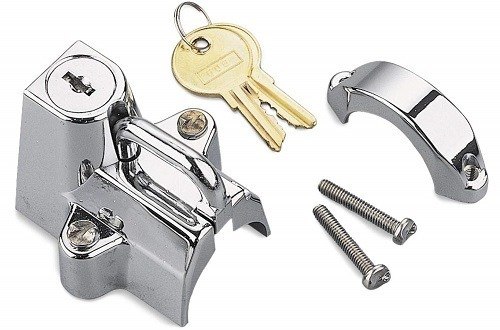 Locking Mechanism: Key
Weight: 8 ounces
Biker's Choice takes a different route here to develop this lock that's probably the best helmet lock for bikes that come with plenty of tubing.
It's designed to easily fit any tubing between 7/8 to 1-1/4 inches in size and is chrome-plated to blend in easily. The system is for locking with a key, and the package includes all the required installation hardware.
That said, the package includes tamper-proof screws that improve the system's overall safety. You could theoretically install it on larger tubing, but this might mean that you need longer screws for the installation.
One issue is that certain motorcycles just don't have exposed tubings, so this lock is not for them.


---
7. Carabiner-Style Motorcycle Helmet Lock: Helmetlok 4101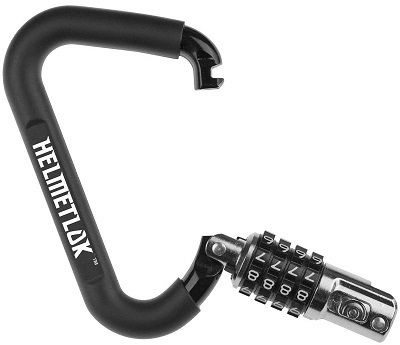 Locking Mechanism: 4-digit combination
Material: Aluminum and zinc alloy
Weight: 3.2 ounces
The Helmetlok 4101 is another ingenious method of locking your helmet to your bike. It's designed like a carabiner for easy use, and includes a 4-digit lock for security.
This produces up to 10,000 different combinations, which makes it safer than a 3-digit system. It's also rubberized to prevent scratches on either your bike or helmet.
Usage is simple. Just open the lock, slip the carabiner through your helmet's D-ring, attach it to your motorcycle, and lock the system.
Keep in mind that it only works on parts or tubing up to 1.5 inches in size, so make sure it can fit before buying. On the bright side, it is very compact, which makes it look like part of your bike.

How to Buy the Best Motorcycle Helmet Lock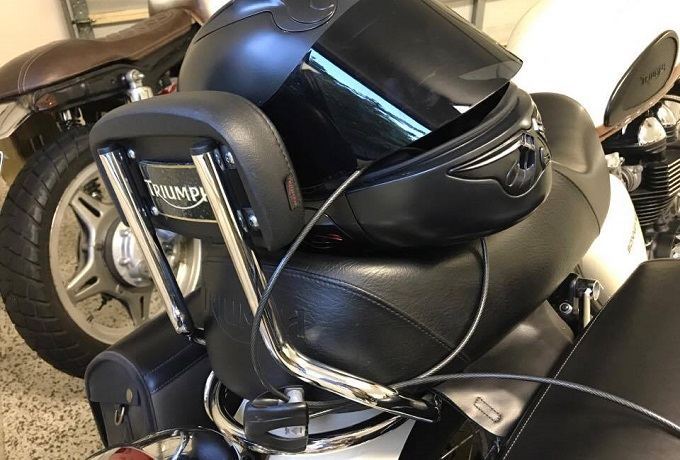 1. Types of Motorcycle Helmet Locks
This is the first thing to consider because there are different helmet lock designs, and each type is better for certain bike types or helmets.
Cable: This is probably the easiest type to use because it offers a high level of flexibility, which is hardly available with the other types. Long & flexible, the cable allows you to pass it through as many objects as you like. This makes it ideal to use with full-face helmets.
Solid/Bolt Locks: Bolt locks are smaller than cable locks and have a wide range of uses. Their small size makes them less visible than other types. Most of them come with key locks but cannot be used to lock full-face helmets due to their size.
Handlebar Locks: This lock is designed for the motorcycle's handlebar and most feature key-locking mechanisms. They blend in easily into the bike's overall aesthetics.
License Plate Locks: This type is installed on a bike's rear license plate holder, which keeps it well out of sight when not in use.
2. Locking Mechanism
There are two major types of locking mechanisms for motorcycle helmet locks: key lock and combination digits.
A key lock is more secure than a combination lock but requires you to carry the key always. On the other hand, combination locks only require you to memorize the digits. However, they are generally considered easier to crack than their keyed counterparts.
That said, you should select this based on personal preference because all of them work perfectly.
3. Construction Material
The lock's job is to secure your helmet, and this depends on their build quality. Look for as much metal as possible to make it difficult to break. Also, check for coated parts, which can withstand the elements without rusting.
4. Portability
Portability is all about size & weight. If you prefer cable locks, then you must be willing to contend with their bulky size. As for weight, the lighter the piece is, the better for easy carrying when not on the bike.
Frequently asked questions
Are Helmet Locks Weather Resistant?
A: This depends on the material used. Of course, the locks can withstand rain and other elements. However, certain features like a protective nylon/vinyl cable coating and a laminated steel lock body help to minimize rust.
Does the Lock Require any Ongoing Maintenance?
A: Yes. You should clean and lubricate the locking mechanisms every 3 - 6 months to keep them functioning like new.
What do I do if I Lose the Combination to my Lock?
A: Each lock is built differently, so if this happens, contact the manufacturer to get instructions on how to reset it.
Conclusion
In conclusion, we recommend BigPantha's motorcycle helmet lock as the best overall piece because it can fit on most motorcycles. It is also easy to use and has a long 6-ft flexible cable.
If you prefer the license plate type though, be sure to check out Kuryakyn's 4248, which is very easy to install and comes with all the required installation hardware.
You can also go for the Master Lock 99 if affordability is your biggest concern. It is the best motorcycle helmet lock if you are on a tight budget.