When thinking about a motorcycle's performance, it is not only the engine that should be put into consideration. The tires contribute significantly to this and therefore, it is important that you get the most ideal tires for your bike.
With that in mind, this review covers 10 best motorcycle tires that you should consider buying for your bike.
Editors' Picks for Top Motorcycle Tires of 2021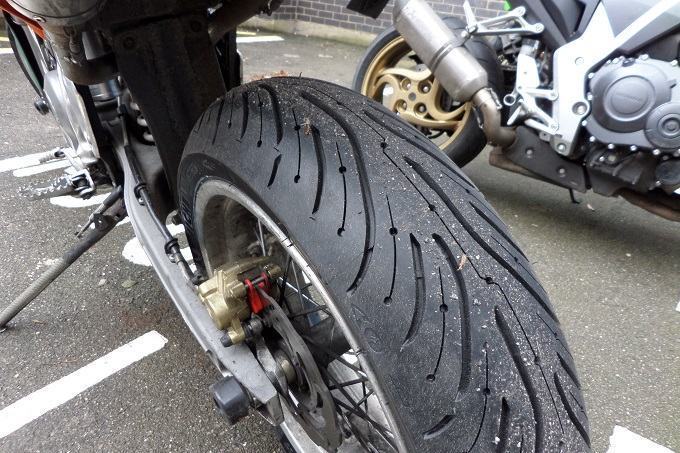 Understand Your Tires
The markings on motorcycle tires are quite different from the ones found on car tires and thus, it might be difficult to get what they mean if you are unfamiliar. Basically, these markings contain the following information.
Tire width
Aspect ratio
Internal tire construction type
Rim diameter
Load index
Speed rating
For instance, if you find a tire marked 170/80R15 77H, this means:
Tire Width
The first number, which is 170, is the tire's width. This value is given in millimeters and it shows the distance from sidewall to sidewall.
Aspect Ratio
This is a percentage that shows the tire's cross-sectional profile or height of the sidewall. In this case, 80 is the aspect ratio and this means the tire's cross-sectional profile is 80% of its width (170), giving you 136mm.
Internal Construction
R indicates that this is a radial tire, which has fabric cords placed at a 90˚ to the centerline. Radial tires are generally considered better than bias-ply tires.
If the tire is marked D, then it has a bias-ply internal construction, with fabric cord layers placed diagonally at 30-45˚ angles from the tread's centerline
Rim Diameter
The internal diameter of the tire is indicated as 15, which shows it can fit on 15-inch rims.
Load Index
A tire's load index shows the maximum carrying capacity of the tire and with 77 in this one, it can comfortably carry up to 908 pounds in weight.
Speed Rating
Lastly, the speed rating is indicated as a letter, and it shows the maximum speed that the tire can handle. In this case, H is the rating, which means you should not exceed 130mph.
Summary of 7 Best Motorcycle Tires
IMAGE
PRODUCT
FEATURES

1. Michelin Commander II (Best Overall)

Rayon carcass ply gives better handling
Available in different sizes
Aramid belts control centrifugal growth
Developed and tested by and for American riders

2. Bridgestone G850

Kevlar reinforced construction improves stability
Silica-enriched tread compound
A sturdy radial internal construction

3. Michelin 48057

High-speed rating (W).
Sturdy radial construction with a stiffer casing
Silica-charged rubber compound gives a better grip
Advanced tread design maximizes on traction

4. Kenda Cruiser K671

Deep offset tread sips prevent hydroplaning
Stiff sidewalls improve the tire's handling
Available in different sizes
Wide contact patch enhances traction on wet surfaces

5. Dunlop Tires 45605397

Affordable
Tread patterns eliminate water under the treads
Offset center groove enhances straight-line stability
An advanced tread compound for grip enhancement

6. Shinko 87-4152

Sturdy 4-ply nylon carcass
Easy-to-maintain tubeless design
Staggered tread pattern provides enhances grip
Relatively high H speed rating

7. Metzeler ME 888

Available in different sizes
Long-lasting, ultra-high mileage tire
Variable inclination grooved walls
Compound bridges create stiff, solid blocks
1. Michelin Commander II - Best Overall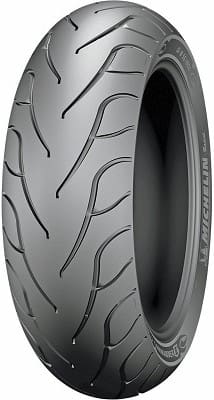 Michelin is one of the best motorcycle tire brands in the market and looking at this Commander II, it's easy to see why. For starters, the tire has a rayon carcass ply instead of polyester, and this results in a compliant ride with better handling.
The unit is actually developed and tested by American riders for American riders and is available in different sizes so that you can fit in into rear rims of a wide variety of cruisers.
Other features include aramid belts instead of fiberglass, which controls centrifugal growth so as to maximize on the rubber to road contact, H speed rating and a load index of 77.
On the downside, the tire comes as a single piece per set, and it has a bias-ply construction, which is not as good as a radial build.

---
2. Bridgestone G850 Motorcycle Tire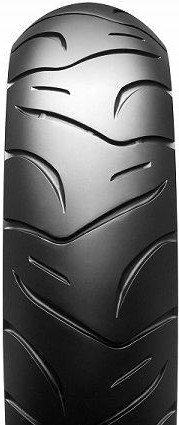 With a DuPont Kevlar mono-spiral belt construction, this tire offers stability at high speeds and is also better at shock absorption, which makes it much more comfortable on rough roads at high speeds.
Additionally, the unit is made using a silica-enriched compound, which greatly enhances grip on wet and dry surfaces.
The tire also has a radial construction and this makes it suitable for high-performance cruisers because it gives better mileage and solid performance. However, you only get a single tire per set.

---
3. Michelin 48057 Motorcycle Tire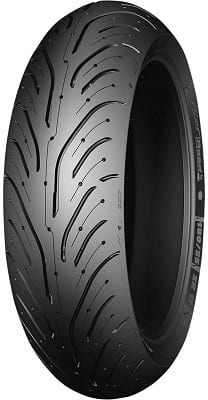 Michelin's 48057 is a very expensive motorcycle tire, but it has a W speed rating, which makes it suitable for racing or sports bikes because its top speed is capped at 168 mph.
Other than this, the unit has a strong radial construction that is enhanced using a stiffer casing plus a patented new motorcycle tire technology for better stability on the road.
More features include a silica-charged rubber compound that gives better grip, an advanced tread design that maximizes on traction, a tubeless design and an XST+ sipe technology, which reduces the braking distance by up to 17% on wet surfaces.

---
4. Kenda Cruiser K671 Motorcycle Tire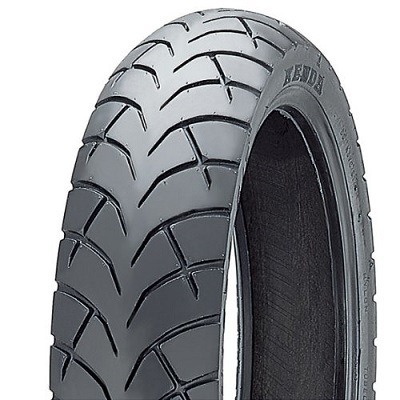 This motorcycle tire from Kenda is characterized by deep offset tread sips for water dispersion so as to avoid hydroplaning, and this leads to superb wet weather traction.
Stiff sidewalls add onto the tire's superior performance capabilities, making it better when it comes to handling.
The tire is actually available in different sizes and each one has a 6-ply rated, tubeless construction that is ideal for touring, sport and cruiser bikes.
Other features include a DOT approved design, an H speed rating that limits the tire's top speed to 130 mph, a load index rating of 83 and a wide contact patch that gives superior traction (especially in wet weather) while also improving the fuel economy.
On the downside, this product comes as a single tire per set.

---
5. Dunlop Tires 45605397 Motorcycle Tire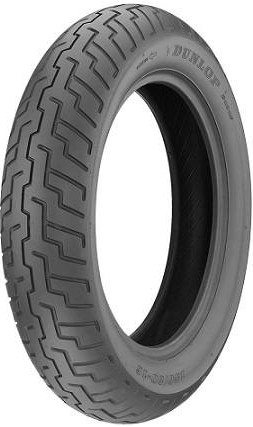 If you are on a tight budget, Dunlop provides this 45605397 as an affordable option, and it is actually the best-rated motorcycle tire in this review.
That said, the unit's tread patterns are designed to be very effective at eliminating water from underneath the rubber for better traction while an offset center groove gives superior straight-line stability.
These treads are made using an advanced tread compound that enhances grip and increases mileage. Other features include an H speed rating, load index rating of 57 and a black sidewall.
However, the tire has a bias-ply construction, which makes it slightly less inferior to radial tires, and it is not recommended to use on Harley Davidson motorcycles.

---
6. Shinko 87-4152 Motorcycle Tire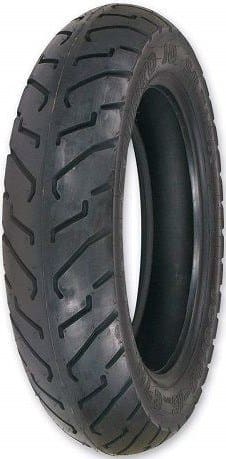 Shinko's 87-4152 features a 4-ply nylon carcass that gives it a high level of sturdiness, and even though this is a bias-ply construction, the tire can comfortably carry up to 677 pounds in weight and can accommodate a maximum air pressure of 40 PSI.
This tubeless tire also has a staggered tread pattern, which provides excellent wet weather performance by pushing out water under the rubber so as to maximize on the grip.
A speed rating of H ensures you can accelerate your bike to speeds of up to 130 mph and more features include increased mileage with better performance. However, the tire comes as a single piece per set and it's bias-ply construction makes it slightly inferior to the radial type.

---
7. Metzeler ME 888 Motorcycle Tire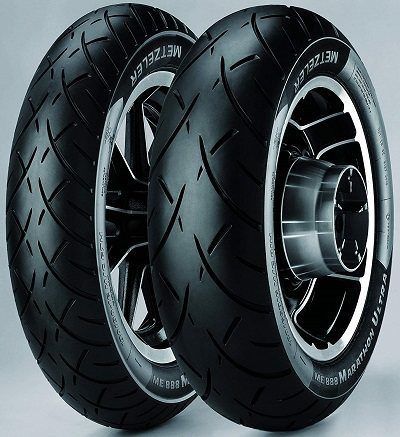 Coming in different sizes, this motorcycle tire from Metzeler is designed as an ultra-high mileage tire, particularly for V-twin cruisers and heavy touring bikes.
In actual sense, the unit is equipped with a new tread design that has variable inclination grooved walls, and these reduce irregular wear, thereby enhancing performance. This, in turn, increases the mileage by up to 50% because you get a very long tread life.
This new tread design consists of compound bridges, which discontinue the transversal grooves of tread patterns, thereby creating more solid and stiffer blocks. These reduce the stress exerted on carcass' plies and belts, which in turn results in a more durable design.
Other features include a load index rating of 67, which means the tire can carry up to 677 pounds in weight, an H speed rating, which limits your top speed to 130 mph, crossing and longitudinal grooves for evacuating water below the tire.
You also get a set of two tires: one for the front and the other for the rear wheel. However, the load rating (67) is quite low.

How to Buy the Best Motorcycle Tires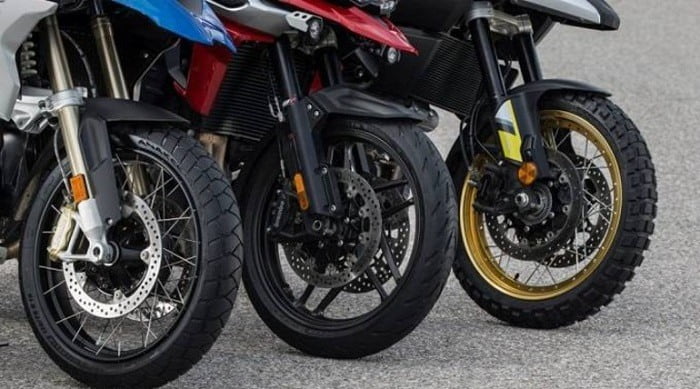 1. Tube or Tubeless
Even though tubeless tires are easier to maintain (for instance, punctures are easy to mend and they can maintain pressure for longer even when punctured), you really have no choice between these two. You must buy a tire that fits the wheel style your motorcycle already has.
Therefore, if your bike has a tubeless wheel style, then the replacement should be tubeless tires and the same applies for tube tires.
Tubeless tires are rising in popularity and you will find them in most new road bikes. However, for the best compatibility, always check your bike's wheel style and have this information as you do the selection.
2. Radial or Bias
Tires are also categorized into either radial or bias, and this defines the internal construction of the unit.
Radial
Radial tires have plies or cords running straight from sidewall to sidewall, or at a 90˚ angle from the tread's centerline.
This design makes the tires very sturdy, with softer sidewalls and a tougher tread area that lasts longer, dissipates heat better and gives a better grip. On the downside, radial tires are more expensive than their bias-ply counterparts.
Bias
Bias-ply tires are characterized by diagonal cords that run at 30 - 45˚ angles to the tread's centerline. This construction makes them stiffer, which reduces their shock absorption capabilities.
On the bright side, bias-ply tires are cheaper than their radial counterparts, but they are not as durable.
3. High Mileage
Even though motorcycle tires are not as big as car tires, they will still set you back a couple of dollars when doing a replacement. Therefore, it is important to get high mileage tires so that in the end, you will get value for money.
However, you must strike a good balance because most high mileage tires use a tough tread compound, which is not as sticky or grippy as a softer one.
To get around this, you can go for the premium tire that has multiple compounds in its tread construction and incorporates the hard compound in the center blocks where the road to rubber contact is at a maximum. This will ensure good grip and long-lasting performance.
4. Tread
Treads are the ultimate "teeth" that let your bike bite onto the road and keep you moving steadily.
Because of this, there are a number of things that you need to check. First, the treads should have deep grooves that direct water outside the rubber for a firm grip on wet, slippery surfaces.
If you are an off-roader, ensure you pick a tire with deep treads so that it can grab better onto the loose or muddy surfaces on the trails. For a sportbike, get a tire with a low-profile tread design that is less noisy, more comfortable and more stable at high speeds.
5. Speed Rating
It is also important to check a tire's speed rating, which is indicated as a letter. These letters mean the following.
| Speed Rating | Max Speed (mph) | Max Speed (kph) |
| --- | --- | --- |
| L | 75 | 120 |
| M | 81 | 130 |
| N | 87 | 140 |
| P | 93 | 150 |
| Q | 99 | 160 |
| R | 106 | 170 |
| S | 112 | 180 |
| T | 118 | 190 |
| U | 124 | 200 |
| H | 130 | 210 |
| V | 149 | 240 |
| W | 168 | 270 |
| Y | 186 | 300 |
With that in mind, you should pick a tire based on the speeds that you usually max out. As a general rule of thumb though, always buy a tire with the highest speed rating possible because this means it has a sturdy and durable construction.
6. Brand
Lastly, you need to consider the tire brand that you are familiar with. This is important because of quality purposes and it would be better to buy an expensive product from a brand that you know instead of a cheap one from a company you have no clue about their products
All the tires reviewed above are from reputable brands but you should pick the one that you closely identify with and are comfortable buying.
Conclusion
In summary, motorcycle tires, just like car tires, are a bit complex to select because of the different info that you need to get right for perfect fitting, quality, and durability.
That said, this article breaks down all this information for better understanding and at the end of it all, you should be in a better position to pick the best motorcycle tire that will fit and work best on your bike.
Sources
Motorcycle Tire Sizes Explained - Dennis Kirk