Exide is a company that prides itself on being a worldwide provider of impeccable electrical energy solutions. The company has been in operation a century plus and is arguably the most trusted brands on the market with regards to car battery solutions.
Over the years, the company has built a solid reputation that many competitors are unable to match. In this particular car battery review, we shall have a glance at several best batteries from Exide. We shall shed some light on what makes them the best and the right choice as well.
Editors' Picks: Top Exide Car Batteries of 2021
7 Best Exide Vehicle Batteries - Review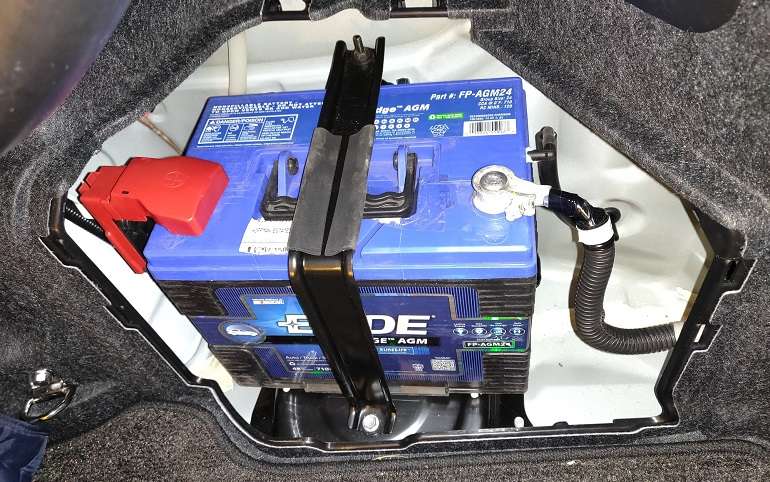 1. Exide Edge FP-AGM24F Battery
Many who purchased this unit in the past loved the fact that the price is affordable and cheap than many other AGM batteries available on the market. The unit runs at an impressive 25 amps and features a reserve capacity of 120 minutes. The fact that this unit has an AGM construction means that you will not have to worry about spilling the contents.
The AGM technology has been created to provide a seal to the battery acid in their respective compartments thus restricting free flow. With an improved capacity, this battery is able to better handle heavy loads that are placed on the battery. When put to the test with conventional batteries, this unit outperforms all other units regarding lifespan and application in stop and go traffics that have high electrical demands.
This model shines and stands out from the crowd as a tough automobile that sustains performance even in stressful situations. Speaking of stressful situations, you will be pleased to note that the unit runs without hitches even in extreme weather.

---
2. Exide Edge FP-AGML4/94R Battery
It is stressful to purchase a battery only for it not to fit in your car. When this happens you are required to go back all the way to the store for a replacement or if you made the purchase online, mail back the unit which most often than not takes ages and can be very frustrating. While you can measure the size of your battery before you make a purchase, it would be even better if you got a unit that fit in many cars available. This Edge FP-AGML4/94R is one such car battery.
In addition to fitting in many modern cars, the unit features an 800 CCA, a reverse capacity of 140 minutes at 25 Amps. Buying this unit you will be pleased to note that the unit will not spill all over you when you are mounting the battery. You can mount the unit in just about any position with confidence. This is made possible by the AGM technology employed in this battery.
In order to prove that the unit is indeed tough, Exide conducted some environmental tests that the unit passed. The results of the tests were that you can expect the unit to provide you with sufficient power even during the cold weather.

---
3. Exide Edge FP-AGML5/49 Battery
If there is a unit that has been taken through tests more than any other unit is the Exide Edge FP-AGML5/49. These tests have proven that the unit has been constructed to be strong and can withstand any and all external factors.
Many car owners are, however, ecstaticthat the unit not only has a tough construction but also has a high capacity. This high capacity provides the unit with the ability to supply greater power than most units. Exide Edge FP-AGML5/49 has 850 CCA and a reserve capacity of 160 minutes at 25 Amps.
The product measures 13.9 x 6.9 x 7.5 inches and weighs 59.8 pounds. With regards to the unit being an AGM battery, you can rest assured that you will not spill any acid when mounting the unit. You can tilt it to any angle and position the unit in any way you see fit and the contents will still not see the light of day.

---
4. Exide Edge FP-AGM78 Battery
Purchasing this unit will get to enjoy 770 CCA a reserve capacity of 120 minutes at 25 Amps. If you are searching for a light unit, for increased portability, you will find this unit to be just what the doctor ordered. This unit measures only 10.2 x 7.1 x 7.1 inches and weighs only 8 ounces. The unit is one of the lightest on the market.
Like many of the other Exide car batteries, this unit features AGM construction. This construction gives the unit a non-spillable feature. When mounting you will not have any accidents occur as the acid leaks from the unit. In addition to this, the unit has been made with a great capacity in order to produce more power to handle heavy loads.
When compared to conventional batteries, the unit performs great and meets high electrical demands. The unit also excels in tough car stress tests thus proving the ability to maintain high performance even when pushed to the edge.

---
5. Exide Edge FP-AGM51R Battery
It is very important to note that Exide car batteries feature SureLife Graphite Technology. This is a technology that maximizes the available energy capacity to help the battery perform better and at a higher level for a longer time. With this unit, you will get added protection from failure which will see to it that your car remains operational, strong and performs at its optimum potential for a prolonged period of time.
The unit comes with 440 CCA and 75 minutes reserve capacity at 25 amps. Like many Exide units, this car battery features an AGM construction which ensures no liquid from the battery is spilled when mounting or handling the battery in any way.
The unit has been taken through rigorous tests and has come out victorious in all of the tests. The performance of the unit remains unshaken. It is also important to point out the fact that the unit weighs only 33 pounds and has high durability.

---
6. Exide Edge FP-AGM24DP Marine Battery
Exide Edge FP-AGM24DP is a dual purpose AGM battery. You can use the unit as a car battery and also apply it in RV/marine environments. Adding to this, the unit comes packing a punch with 775 CCA and a reserve capacity of 140 minutes at 25 amps. This is pretty impressive.
Exide Edge FP-AGM24DP comes with a non-spillable AGM construction to avoid any safety hazards. The battery has been made to have a greater capacity which gives it the ability to handle heavy loads with great ease. It is also important to note that the unit measures 10.2 x 6.8 x 8.7 inches and weighs 50 pounds.

---
7. Exide XMC-31 Battery
This unit was not given the name Megacycle for nothing. It actually does live up to the name. The unit comes with an impressive 925 CCA at 0 degrees and a whopping 1110 CCA at 32 degrees Fahrenheit. This is way better than what other conventional units, even those listed above offer. The unit also has a reserve capacity of 200 minutes and features dual terminal design.
Adding to this, the unit has an AGM construction. This means that there is a separator that has been engineered, which helps keep the cell from drying out. Also, the unit has compression qualities that assure the unit's stability even when vibrating fast and hard.
The unit measures 13 x 6.5 x 8 inches and weighs 74.6 pounds. With all that this unit comes packing it is shocking that the unit is lighter than most units available. It is also important to note that the unit features a 24-month replacement warranty.

Conclusion
We have already established the fact that this brand has been in existence for a century now. Many have bought this brand before and have loved the results. What many, however, love about Exide is the fact that the unit produces high-quality batteries only. Regardless of the use, you have planned for the battery you choose, you will find one from Exide that will surpass your expectations.
Above are review of some of the top units that you should most definitely give a second glance when out shopping for a new car battery. At the back of your mind remember that the list was created after comparisons of individual reserve capacities, overall quality, and performance.