In the search of the best floor jack, you can easily get confused or even throw in the towel. The options are numerous and may even seem the same or worse conflicting to an experienced buyer.
However, in the midst of all the confusion, this review is here to give you some form of rest at least. One model in the sea of floor jacks has stood out like a sore thumb. The Powerzone 380044 Floor Jack has everyone who has used it singing its praises. Why? Let's find out.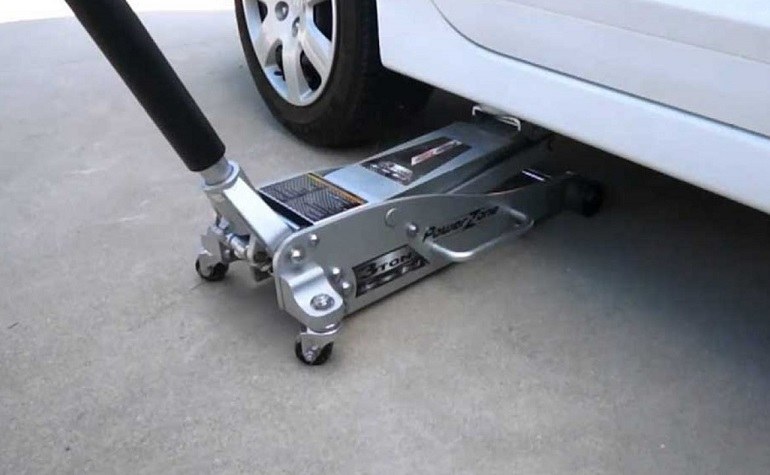 Powerzone 380044 Floor Jack Review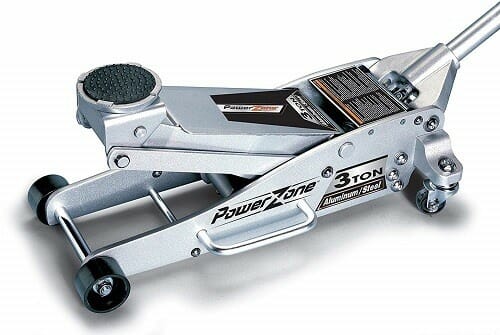 Technical Features
1. Weight capacity
True, floor jacks never support the entire weight of an automobile. But even while this is the case, a high weight capacity in a floor jack is preferred when it comes to lifting heavy cars and trucks. The Powerzone 380044 Floor Jack is a darling to many given its 3-ton weight capacity.
With this weight capacity, you can lift any automobile measuring up to 6,000 tons. To keep the floor jack from being overloaded and causing havoc, the manufacturers fitted it with a safety valve that keeps the weight in check.
2. Car clearance
The Powerzone 380044 comes with a minimum height of 4 inches. This height is enough to lift some low-profile cars including the Chevrolet Corvettes in the market.
Read More: The Best Low Profile Floor Jacks
In addition to this, the 380044 features an impressive lifting range of 14.75 inches which takes the jack to a height of 18.75 inches which is more than enough room to work with.
To achieve this height in the shortest time, this Powerzone floor jack features a dual cylinder quick lift mechanism.
3. Floor Jack Weight and Size
Aluminum and steel both have their pros and cons. Aluminum is a lightweight material while steel is denser, steel is considered strong and durable. This Powerzone jack is constructed from a combination of both materials. The frame is made from aluminum while its lifting arm (which is the part bearing most of the weight), is made from steel.
The result is a lightweight product weighing only 59.2 pounds and that is strong enough to support heavy weights. As for size, the 380044 measures 28.4 x 13.9 x 7.4 inches.
4. Usage
With the perfect material combination giving this floor jack the best of both worlds, the Powerzone 380044 delivers in just about any scenario it is put in. However, it is best applied in a garage setting where it can be pushed to the limit with daily use and still shine deliver with great precision and effectiveness.
5. Quality
The Powerzone 380044 is made from a perfect combination of steel and aluminum and features a shiny professional finish everyone falls in love with. The shiny gray paint keeps the steel from rusting thereby protecting its quality for the longest time.
The edges of the floor jack are rounded for safety purposes while the lifting pad is rubberized to improve on the grip as well as help to protect the vehicle being lifted.
Its rear caster wheels are designed to swivel enabling ease of repositioning. Even better, however, is the fact that they are made from steel further enhancing their durability and strength under heavy weight.
Price
When choosing a floor jack, it is not advisable to skimp on the quality. For many products, quality is directly proportional to their prices. This might cause many to think that expensive is always best. But this is not always the case. The Powerzone 380044 is proof of this.
Being a 3-ton floor jack and hybrid construction, you would expect it to be insanely expensive. But it's quite the opposite. It is affordable if not cheap. It is the most fairly priced 3-ton floor jack there is in the market. Powerzone found a way to provide quality without emptying your wallets and draining your bank accounts.
Expert Review
What better idea is there than to get a review from a floor jack expert? Onza04, when reviewing the Powerzone 380044 floor jack, He used it on a 3,500-ton car.
In his review, he likes the fact that the floor jack, while lifted to just touching the chassis of the car, requires only 5 pumps to reach maximum height. The slowed release control is perfect, and he has no confidence issues with it.
At maximum height and supporting the car, the beast can be locked and still remain steady and strong throughout a tire change.
Pros/Cons
Pros
3-ton capacity – this floor jack can support up to 3 tons of weight making it a great fit for heavy cars.
Lift range of 4 to 18.25 inches – while it might not be as low as many would hope, it more than makes up for it with its lift range providing adequate working room.
Aluminum frame – this frame provides the jack with a lightweight feature making it mobile and portable.
Quick lift hydraulic mechanism – this feature comes in handy for all lifting a heavy car. The mechanism is complimented by safety valves which keep you from the temptation of overloading.
Rubberized saddle – this is designed to provide a firm grip and protect the car from damage.
Rear swivel wheels – these can rotate a total of 360 degrees. They make the repositioning of the jack quick and easy.
Cons
Some customers complain that after some use, bolts start falling off. Many fear that accidents could occur as a result of loose or fallen bolts.
Who Should Buy?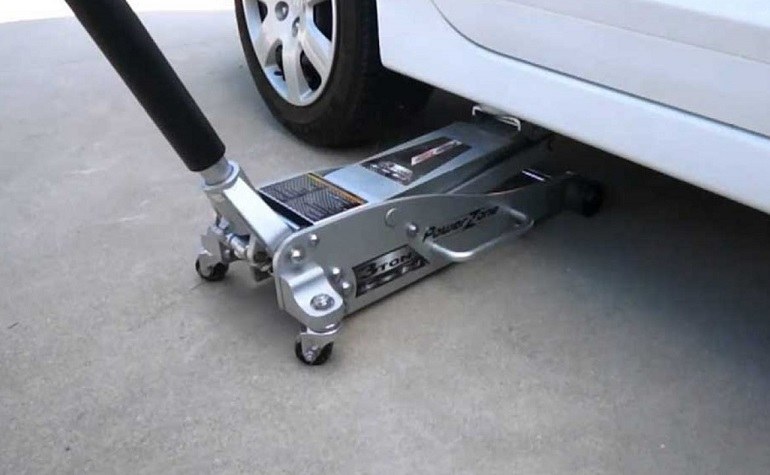 This Powerzone floor jack is recommended to anyone who is looking for a quality, strong and durable floor jack. A jack that can hold its own even in constant use and under heavy vehicles and trucks. Being a 3-ton floor jack, the price is almost unbelievable. It is cheap and affordable for all.
And with the qualities that it comes featuring, it is most definitely value for your money. Speaking of features, its strength and weight capacity make it best suited to lift heavy trucks. The lightweight nature makes it portable and best suited for persons looking for a handy tool for lifting a heavy truck or car while on the road.