The aluminum floor jack is a lightweight but heavy-duty floor jack used by both professionals and amateurs.
With the best aluminum floor jack, you get a portable but still long-lasting jack that you can use for a wide range of vehicles.
If you are on the market for one of these fantastic jacks, we have exactly what you need! We handpicked some popular models in our aluminum floor jack review below and also show you how to choose the right one.
Editors' Picks for Top Aluminum Floor Jacks of 2021
Summary of 5 Best Aluminum Floor Jacks
IMAGE
PRODUCT
FEATURES

1. Arcan ALJ3T (Best Overall)

Aircraft-grade aluminum
Reinforced lift arms
Dual-piston system
Shielded hydraulic system

2. JEGS 80077 (Best Low Profile)

3.5-inch low-profile saddle height
Knurled grip for reduced slippage
Wide track wheels
Dual side handles

3. NOS NSJ0301 (Best Budget)

More budget-friendly

Rapid dual pump piston
Durable overall construction
2-piece handle

4. Arcan ALJ2T (Best Brand)

Reliable jack from a top brand
More beginner-friendly
Quick 2-stage lift
Sturdy reinforced lift arm

5. Sunex 6603ASJ (Best Maneuverable)

Wide track wheels enhance maneuverability
Side mount handles for easy positioning

Rapid rise technology
Anti-slip saddle pad
Top 5 Best Aluminum Floor Jacks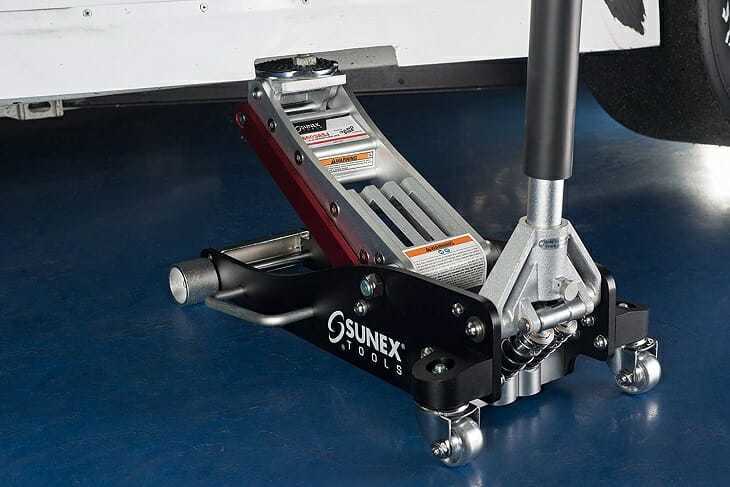 1. Best Overall: Arcan ALJ3T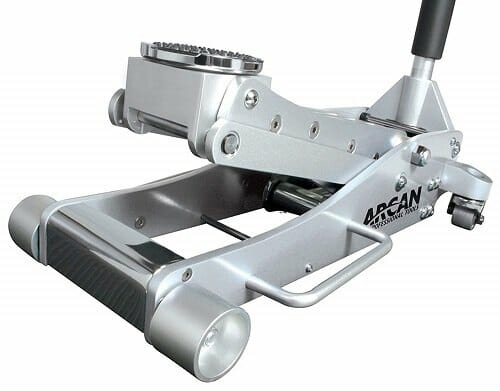 Weight Capacity: 3 tons
Lift Range: 3.6 inches - 19.4 inches
The Arcan ALJ3T uses aircraft-grade aluminum that makes it a durable and long-lasting jack, which is why it is our best overall model.
This floor jack has dual pump pistons that will raise the jack saddle fast without requiring a lot of effort from the user. As expected, the saddle is also large and anti-slip, making it more secure to use.
Moreover, the side-mount handles allow you to quickly and easily move it when working under your vehicle. And with the 2-piece handle design, storage is more effortless.
One of the best things about this model is definitely its decent lift range with a minimum of 3.6 inches and a maximum height of 19.4 inches. With such values, you will have no difficulty using it for both sports cars and SUVs.
Safety is also guaranteed with this jack as it will include bypass and overload valves to help prevent over-extension of the ram and jack. Better yet, it has a rubber saddle and foam handle to help protect the vehicle.
The only problem is that the silver paint seems to scratch easily, but apart from reducing the aesthetic appeal, this will not affect the jack's performance.
Superior-quality build construction
Reinforced lift arm ensures increased strength
Dual-piston system for faster lift
Convenient jack placement
Vehicle protective design
Silver paint scratches easily

---
2. Best Low Profile: JEGS 80077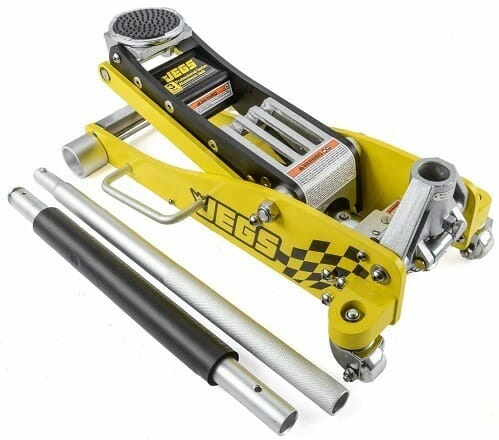 Weight Capacity: 3 tons
Lift Range: 3.5 inches to 19.25 inches
The Jegs 80077 stands out from the crowd with its low-profile design. At just 3.5 inches and with low-profile front rollers, you can be sure that placing this jack will be both quick and accurate.
Moreover, it is an easy jack to maneuver as it will come with wide track wheels, and it includes dual side handles to make positioning it a breeze.
With the knurled grip, you can use the jack more comfortably without worrying about slippage. Because there is a rubber lift pad, it will not mar the vehicle surface when lifting it, and there are also other safety features like overload and bypass valves.
The pump action is slightly slower compared to the rest of the models on this list. However, it still gets the job done fairly quickly.
Low-profile for quick and accurate placement
Easy maneuverability with wide wheels
More slip-resistant grip
Rubber lift pads ensure no marring

---
3. Best Budget: NOS NSJ0301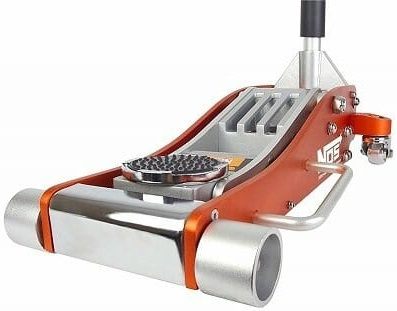 Weight Capacity: 3 tons
Lift Range: 3.75 inches - 18.125 inches
For those shopping on a tight budget, the NOS NSJ0301 is a good buy as it is a more affordable option. And with the dual pump piston, it will ensure you can lift vehicles more rapidly.
One of the best things about this model is the exceptional build construction that gives it a premium look. The lift arm is also reinforced, which will allow you to use this floor jack in demanding conditions.
The 2-piece handle makes positioning and maneuvering the jack easier for you, and it also ensures storage is easier as it makes the unit easier to fold.
Safety is taken care of by the sturdy saddle with a grooved rubber surface that ensures it does not skip under the heavy load. Better yet, there is a safety valve that will help prevent overloading.
Overall this is a more aesthetically appealing jack that you will love seeing in your garage. And moving it around is more effortless as it also includes some nice casters.
While this jack seems a little heavier than expected, this should hardly be a concern as it is still quite easy to move around. It could also be a little lower to fit under vehicles with low clearance, but at 3.75 inches, it should still fit under most vehicles on the road today.
Relatively more affordable
Faster lifting with dual pump
Durable and long-lasting
Easy to move around in the workshop
Aesthetically pleasing and more professional look
Heavier than expected
Not low enough

---
4. Best Brand: Arcan ALJ2T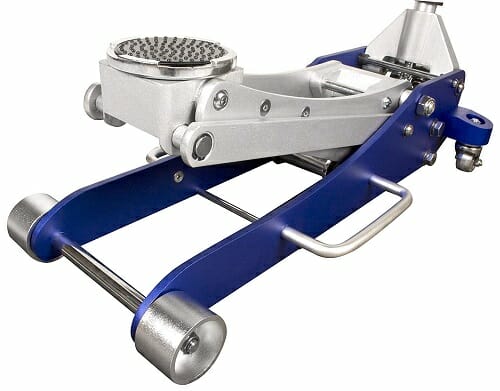 Weight Capacity: 2 tons
Lift Range: 3.5 inches to 19.25 inches
Arcan is a premium jack brand that has been in the industry for many years now. The company is famous for making high-performing jacks using highly innovative technologies. Hence, if you prefer a top brand aluminum floor jack, the Arcan ALJ2T is a perfect buy.
This model has a durable build construction and a reinforced lift handle that will not break under the heavy load. Many users love that it comes in a more beginner-friendly design to allow anyone to use it effectively.
Lifting is fast and easy and entails two stages for extra safety. To make moving it around easier, this floor jack is equipped with front rollers and rear casters. You will also find that the metal side handles are very handy. They allow you to quickly and easily pick and carry the jack.
This jack has a rather small 2-tons weight limit, but this is still enough to hold most cars.
High-quality top brand jack
Safe and fast 2-stage lift
Easy to use by beginners
Meets ASME and PALD standards for safety
Side handles make it easier to move around

---
5. Best Maneuverable: Sunex 6603ASJ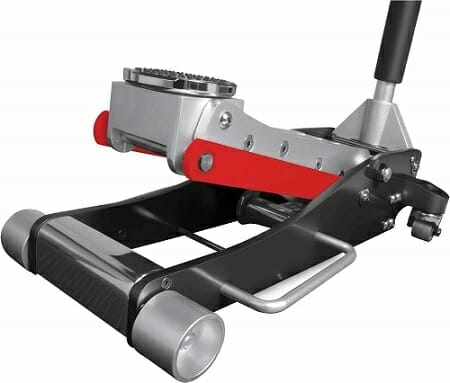 Weight Capacity: 3 tons
Lift Range: 6.5 inches to 19.3 inches
The Sunex 6603ASJ is a high lift aluminum floor jack that has been specially designed to ensure easier maneuverability. It uses wide track wheels and side-mounted handles to ensure maneuvering and positioning it will be a breeze.
Moreover, the lift arm is also reinforced to lift a vehicle of up to 3 tons with ease. And with its combination of different materials like aluminum and steel, it is very durable and long-lasting.
This floor jack uses a rapid rise technology that will ensure it can reach its maximum height of 19.5 inches in just 7.5 pumps. Hence, with this jack, you do not need to do much to lift the vehicle.
Talking about ease-of-use, this model is also extremely beginner-friendly. Even if you have never owned an aluminum floor jack before, you will have no difficulty operating this Sunex floor jack.
Due to its high minimum height of 6.5 inches, this model is not ideal for low profile sports car. But, it is still quite useful to have around.
Easy to maneuver and position
Excellent for tall vehicles
Durable and long-lasting
Large and anti-slip saddle for maximum safety
Not ideal for low clearance vehicles

How to Buy the Best Aluminum Floor Jack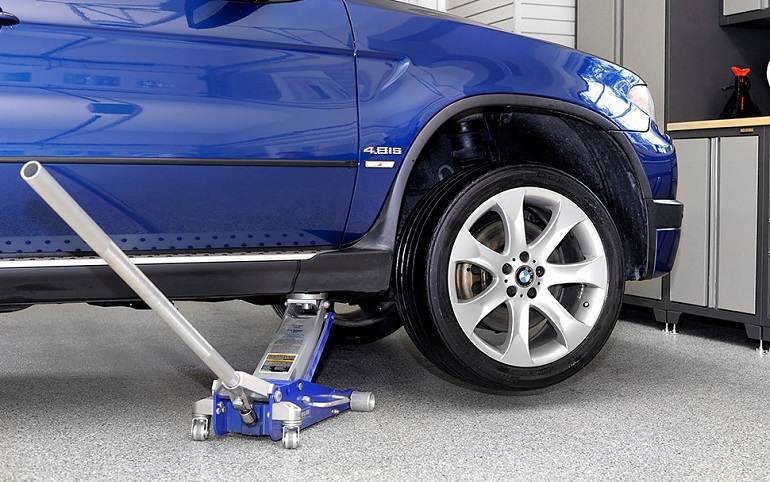 1. Weight capacity
The weight capacity will essentially tell you the maximum weight the aluminum floor jack can handle before it becomes a safety hazard or refuses to work.
For most models, 3 tons is the average weight capacity of the aluminum floor jack. 3 tons is still plenty, as most vehicles are below 2 tons in weight. Also, for smaller vehicle types like saloons and sedans, even a 1.5-ton capacity jack like the Pittsburgh HA68053 is still good enough.
Read More: The Best 3-ton Floor Jacks
2. Lift Capacity
Besides the weight the floor jack can lift, the lifting capacity or height it provides also matters a lot as you want something that can hoist the vehicle high enough.
Typical aluminum floor jacks have a lift capacity of anything from 3 to 20 inches. The wider the range, the better as it means that besides lifting the vehicle high enough, the jack will still be low-profile enough to fit under vehicles with low clearance.
A model like the OTC 1532A with a lift capacity of 3.5 inches to 18 inches is a good example of a floor jack that provides high enough lift while still being low enough to fit almost any vehicle.
Read More: The Best Low Profile Floor Jacks
3. Saddles
Because the saddle is the part of the jack that will contact the vehicle's chassis and body, it is an important factor to consider when shopping.
You need to make sure that the saddle is sturdy enough to withstand the heavy load without slipping and is soft enough to ensure it does not scratch or dent the vehicle.
Saddles with a rubber pad are the best as they provide a good grip and do not scratch the vehicle.
4. Handle
The handle is the part that you hold and will engage the hydraulic pump mechanism of the aluminum floor jack.
While you can use a simple metal rod for this, we recommend you go with a model that comes with a foam-coated handle. This will ensure you do not scratch the paint while lifting the vehicle.
Also, a 2 or 3-piece handle is more convenient as it is easy to take apart for storage and will ensure you do not need a lot of space to store your jack.
5. Ease of use
One of the biggest advantages of the aluminum floor jack is its ease-of-use. And it is thanks to a rapid pump feature that uses a hydraulic system to make it easy to lift a vehicle in a matter of seconds using minimal effort.
Also, a model with a locking mechanism to allow you to quickly and easily lock the floor jack in position is easier to use.
Additionally, it is always a good idea to go with a model that comes with rear and side handles as they make it easy to move the floor jack around.
6. Safety
Safety is also a crucial factor to consider when choosing an aluminum floor jack. Remember that you will be working under a heavy vehicle, and hence if the jack is not safe, you will be putting yourself in great danger.
A simple way to ensure your jack is safe is to buy an ASME certified model. However, you also need to ensure it has safety valves such as the overload valve for preventing overextension.
Conclusion for Floor Jack Buyers

The aluminum floor jack offers many advantages over other floor jack types, such as being more lightweight for easy portability. And with this guide to help you out, finding a good model should be easy.
With that in mind, the Arcan ALJ3T is our best overall model as besides the durable aircraft-grade aluminum construction, it has a lot to offer, such as efficient dual pump pistons.
But, if you are looking for something more affordable but still top-quality and high-performing, go for the NOS NSJ0301.