The 5W-20 synthetic oil will have a viscosity of 5 in winter or cold temperature and viscosity of 20 in standard vehicle operating temperature.
This low viscosity in low temperatures means the oil maintains an excellent flow in cold weather and is ideal for vehicles driven in cold climates. But while the 20 normal temperature viscosity might not be the best for hot weather, you can still use the oil if the temperatures in your area are not very extreme.
In this piece, we aim to help you choose the best 5W-20 synthetic oil from the many options out there with a review of some top brands and a buying guide.
Top 5w20 Synthetic Oils of 2021 by Editors' Picks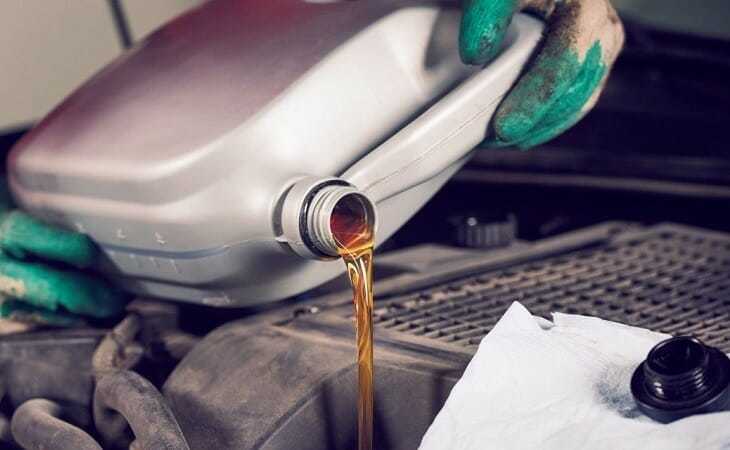 Summary of 7 Best 5W-20 Synthetic Oils
IMAGE
PRODUCT
FEATURES

1. Castrol 03083 EDGE (Best Overall)

Titanium strong technology for maximum performance
Reduces metal to metal contact greatly
Decreases formation of engine deposits
Improves fuel economy

2. Valvoline High Mileage 782253 (Best Budget)

More budget-friendly
Excellent for high mileage vehicles
Contains premium seal conditioners
Antioxidants prevent oil breakdown

3. Valvoline Advanced 787023 (Best Full Synthetic Oil)

High-performing full synthetic oil
Superior sludge & varnish protection
Outstanding cold & hot temperature protection
Easy pour bottle

4. Shell Rotella 550050315 (Best for Pickups & SUVs)

Excellent protection for SUVs & pickups
Prevents formation of sludge & other deposits
Protects in extreme temperatures & conditions
Extreme protection for hauling & towing

5. Royal Purple 36520-6PK HPS (Best for Protecting Engine)

Synerlec additive technology for superior performance
Fortified with zinc/phosphorous anti-wear additives
Better compatibility with ethanol-based fuels
Increased protection from low-speed pre-ignition

6. Castrol 03063 GTX Magnatec (Smoothest)

Leaves critical engine parts 4X smoother
Intelligent molecules create an extra protection layer
Reduces engine wear dramatically

AmazonBasics High Mileage Motor Oil - Full Synthetic - 5W-20 - 5 Quart

7. AmazonBasics AM0H523Q (High Mileage)

Very ideal for engines over 75,000 miles
High viscosity/thermal breakdown resistance
Prevent engine build ups
Reduces exhaust emissions
1. Best Overall: Castrol 03083 EDGE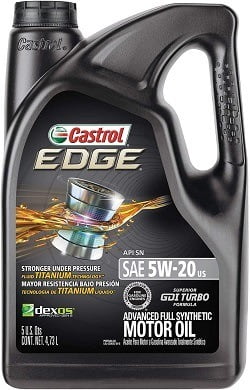 The Castrol 03083 EDGE uses fluid titanium technology to improve the overall engine performance, making it our best overall model. The fluid titanium technology changes how the oil behaves under pressure to ensure you get superior engine performance.
Because this oil reduces metal to metal contact, it is also handy for ensuring engine parts last longer as it minimizes friction. And by reducing the formation of deposits in the engine, this oil will also ensure maximum engine response.
Another element that makes this one of the best 5W-20 oil is the fuel economy's significant improvement. But, unlike other oils that deep in performance with time, it protects the engine for the entire drain interval.
Because this oil will not come in an easy pour bottle, it can make pouring the oil a little messy, but this should not be a deal-breaker as a funnel is all you need for an easy pour.
Note: If you are looking for a 5W-20 Synthetic Oil that offers an extended performance, Castro also has something for you, the Castrol 03086 EDGE. This engine oil is guaranteed to last up to 20,000 miles.

---
2. Best Budget: Valvoline High Mileage 782253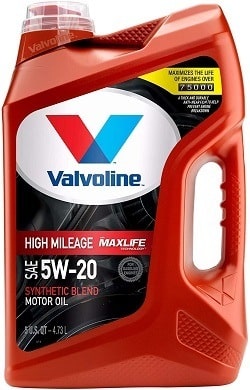 For the motorists looking to save some bucks on their oil change, the more affordable Valvoline High Mileage 782253 is a fantastic choice. Despite being more affordable, this is still a high-performing synthetic blend oil that will give you the best of both synthetic and conventional oil.
This Valvoline synthetic oil is very effective at prolonging the life of high mileage vehicles, and so if you drive a car with over 75,000 miles, this is the perfect 5W-20 oil for you. The oil contains detergents to help keep the old engines cleaner, and it also prevents future engine wear.
With the premium seal conditioners in the oil, it will be handy at rejuvenating engine seals to prevent oil leaks. It also contains antioxidants that cement its place as one of the best 5W-20 blend oils as they help stop the formation of deposits and sludge.
Because this is a synthetic blend engine, it is not ideal for high-performance vehicles, but it should do an excellent job for other engines. While it does not seem to improve gas mileage significantly, for a budget synthetic blend, this should still not be a deal-breaker.

---
3. Best Full Synthetic: Valvoline Advanced 787023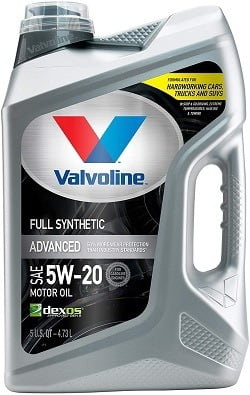 With the Valvoline Advanced 787023, you get a full synthetic oil that gives you superior performance and outstanding protection for your vehicle in both hold and cold temperatures.
This engine oil effectively maintains engine cleanliness to keep the vehicle running smoothly by preventing sludge and varnish buildup.
What's more, this engine oil will meet the API SN Plus classification for offering protection from low-speed pre-ignition.
While there seem to be complaints about the bottles leaking, this is mostly a result of poor shipping. The oil also appears to pour a little heavy, but you can be sure you will never make a mess thanks to the easy pour top and anti-glug tube.

---
4. Best for Pickups & SUVs: Shell Rotella 550050315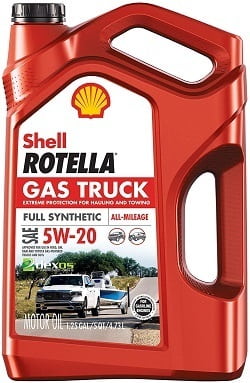 If you drive an SUV or pickup truck, the Shell Rotella 550050315 is specially formulated to serve your vehicle. This 5W-20 engine oil will offer extreme protection for towing and hauling, while also protecting the vehicle's horsepower.
For those that drive in extreme temperatures and conditions, this engine oil will also be perfect for you. What's more, it offers maximum protection for both new and old engines.
And you can be sure the engine remains clean for long as it helps prevent the formation of sludge and other damaging deposits.
Because most trucks and SUVs will hold 6 to 8 quarts of oil, the 5-quart container might not be enough for a complete oil change. But, you can always buy a couple of bottles as the oil is quite affordable.

---
5. Best for Protecting Engine: Royal Purple 36520-6PK HPS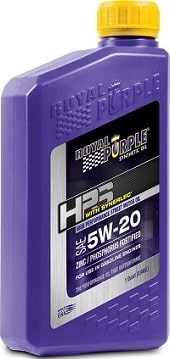 It is all about offering superior engine protection with the Royal Purple 36520-6PK HPS. The oil achieves this with the Synerlec additive technology and zinc/phosphorus fortification, which ensures excellent wear protection and improved engine performance.
By preventing metal to metal contact, this engine oil will provide even more wear protection. And it is also very effective at preventing corrosion for a long engine service life.
When using this engine oil, you can be sure of getting a significant improvement in fuel efficiency. Better yet, it is compatible with most fuels that contain ethanol thanks to the patented additives technology.
Compared to other products on our 5W-20 oil review, this oil is the priciest, but the superior engine protection you get makes it worth the extra bucks.

---
6. Smoothest 5W-20 Synthetic Oil: Castrol 03063 GTX Magnatec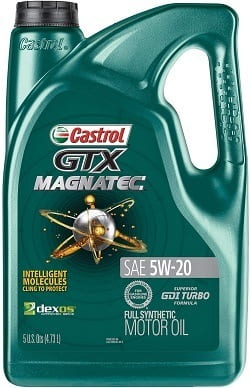 The Castrol 03063 GTX Magnatec uses a unique formula that will leave your critical engine parts up to 4 times smoother to ensure they maintain peak performance.
This engine oil also provides instant protection when you fire up the vehicle, which is very handy, given that most of the engine wear occurs during the first few minutes as it is warming up. The oil achieves this with intelligent molecules that will cling on to the engine parts as the oil drains to ensure instant protection on startup.
Another element of this oil that motorists will love is its high effectiveness at reducing engine wear. If most of your driving entails short trips and you tend to spend a lot of time in heavy traffic, this 5W-20 oil is perfect.
While the 3,000 miles change interval is relatively short, compared to other options on our list, it is still enough for most motorists to give the typical vehicle service interval.

---
7. High Mileage 5W-20 Synthetic Oil: AmazonBasics AM0H523Q
If you drive a vehicle with over 75,000 miles or you prefer longer oil change intervals,

is the best 5W20 motor oil for you.
This engine oil is very effective at minimizing engine buildup, which helps prevent rust and corrosion, which keeps the engine parts in great shape for long.
You can be sure that this engine oil's effectiveness will not reduce even as it ages as it is very effective at resisting thermal and viscosity breakdown. Because it is also effective at minimizing friction, it also prevents engine wear, and many motorists love that it is quite effective at reducing exhaust emissions.
Because there is no clear oil level visibility strip, it will be hard to tell how much oil you have poured in. But, an external measuring container should be enough to solve this issue for you.

How to Buy the Best 5W-20 Synthetic Oil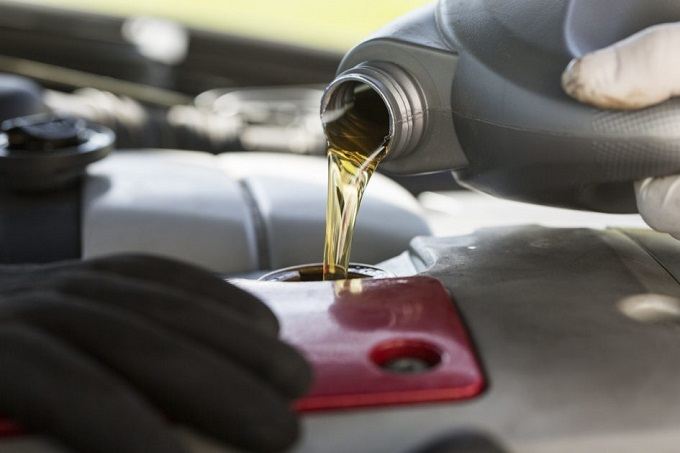 1. Compatibility
It is vital to make sure that you know your engine's needs when choosing motor oil, and the 5W-20 synthetic oil is not an exception. Hence, when it comes to buying this oil, the first consideration should always be its compatibility with your vehicle.
Some 5W-20 synthetic oils like the Shell Rotella 550050315 will be fantastic for pickups and SUVs as they provide extreme protection for towing and hauling.
It would also help if you made sure that the 5W-20 synthetic oil you choose is suitable for the age of your engine. For example, what works for new engines might not be ideal for high mileage ones.
2. Full Synthetic or Blend
You will also need to choose between the full synthetic and synthetic blend 5W-20 oils. Here you need to make sure that you understand each type's benefits and shortcomings to make an informed choice.
Full Synthetic: The full synthetic 5W-20 oils are not from crude oil, and they are for high-performance vehicles. However, they are also more appropriate for cars that operate in high temperatures and those with higher RPM limits.
Synthetic Blend: With the synthetic blend 5W-20 oils, you get an oil that combines conventional oil with synthetic oil. These oils will protect the engine better than conventional oil and also boost the overall performance. Synthetic blend oils offer the benefit of being more affordable and a great choice when you do not want to spend much on your oil.
Read More: The Best Synthetic Oil
3. Additives
As you shop for the best 5W-20 synthetic oil, you will notice that different brands use various additives to boost their product's performance and make it more effective.
Some of the crucial additives to watch out for include anti-foaming agents, corrosion inhibitors, anti-wear agents, conditioners and antioxidants.
When it comes to the additives, it is up to you to choose the best combination for your vehicle based on factors like its type, make and age.
For example, the Valvoline High Mileage 782253 will include additional anti-wear additives and extra cleaning agents for high mileage vehicles.
Frequently asked questions
Is 5W-20 oil Good for High Mileage?
A: The 5W-20 has thinner viscosity, which means it will create less friction, causing less drag across different engine parts from the crankshaft to the pistons. This makes the oil great for use in freezing climates because, in such environments, it is vital to have an engine oil that can flow easily when starting the vehicle.
Is 5W-20 oil thicker than 10W-30?
A: No, from the cold and normal temperature viscosity, it is clear that the 5W-20 is thinner than the 10W-30. 5W-20 has a viscosity of 5 in low temperature and 20 in normal temperature, both of which make it thinner than the 10W-30, which has a viscosity of 10 in cold weather and 30 at normal operating temperature.
Can I Put 5W-20 oil Instead of 5W-30?
A: For most vehicles, it is okay to use 5W-20 instead of 5W-30. But while the oils deliver the same performance in cold weather, the 5W-20 is not as suitable for use in high temperatures as the 5W-30.
What Happens When I Mix 5W-20 and 5W-30?
A: Provided you are using oils with the same API classifications and preferably by the same manufacturer, you can mix 5W-20 and 5W-30 with no issues. But, unless you do not have an option but to combine the two oils, it is always best to stick with one oil grade.
Conclusion
If you use your vehicle in cold weather, the 5W-20 is one of the best engine oil options for you. With our review above for recommendation, finding the best 5W-20 synthetic oil for your vehicle should be easy.
For those pressed for time, the Castrol 03083 EDGE takes our best overall spot thanks to the highly effective fluid titanium technology and other fantastic features.
But, if you are looking for a more affordable option, the Valvoline High Mileage 782253 synthetic blend oil will be a good buy.