The 5W30 is one of the most commonly used oils out there, and its popularity mostly stems from the fact that it is suitable for use in a broader range of temperatures.
Like most other oils in the market, it is a multi-grade oil with low temperature or winter viscosity of 5 and high-temperature viscosity of 30. This viscosity grade shows that it is less viscous at both low and high temperatures.
The 5W30 functions well at temperatures of between -30 and 35 ºC. But, it is best suited for cars driven in cold climates. However, it is still quite a versatile motor oil that will work well for both diesel and light-duty petrol engine.
Here we provide a review of the best 5W30 synthetic oil and highlight some of the things to look for to ensure what you buy will work best for your vehicle.
Editors' Picks: Top 5w30 Synthetic Oils of 2021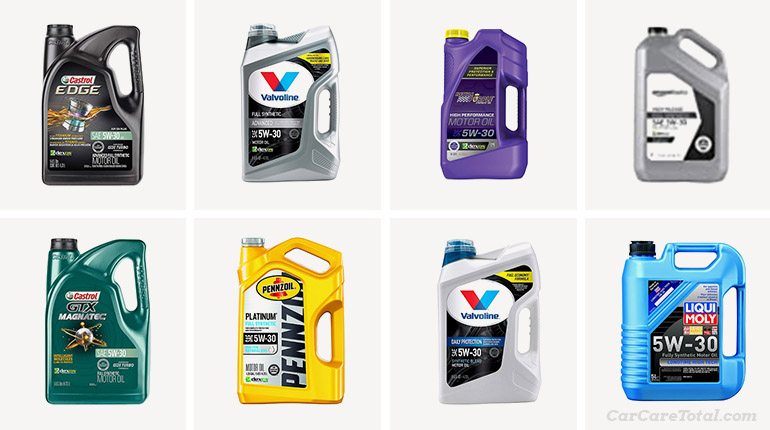 Summary of 7 Best 5W-30 Synthetic Oils
IMAGE
PRODUCT
FEATURES

1. Castrol 03084 EDGE (Best Overall)

Performance-enhancing fluid titanium technology
3x stronger against viscosity breakdown
Offers superior strength under pressure
Protects for entire drain interval

2. Valvoline Advanced 787007 (Best for High-Performance Cars)

Excellent wear protection
Outstanding high-temperature protection
Maintains fuel efficiency
Fully compatible with conventional & synthetic oils

3. Royal Purple 51530 (Best for Gasoline Engine)

Superior corrosion protection
Increased fuel efficiency
Improved compatibility with ethanol-based fuels
Protects catalytic emission system

Amazon Basics High Mileage Motor Oil, Full Synthetic, SN Plus, dexos1-Gen2, 5W-30, 5 Quart

4. AmazonBasics AMDH533Q (Best Budget)

More budget-friendly
Very suitable for high mileage engines
Minimizes likelihood of low-speed pre-ignition
Reduces friction greatly

5. Castrol 03057 GTX Magnatec (Best Full Synthetic)

Very ideal for severe driving conditions
Superior wear protection
Instant engine protection
Leaves critical engine parts smoother

6. Pennzoil Platinum 550046126 (Best Fuel Economy)

Better fuel economy
Gas-to-liquid PurePlus Technology for fewer impurities
Faster low-temperature oil flow
Ergonomic bottle design for easy pour

7. Valvoline 882837 (Best Synthetic Blend)

Enhanced wear protection
Added additives prevent oil breakdown
Increases miles per gallon
Easy pour bottle design
1. Best Overall: Castrol 03084 EDGE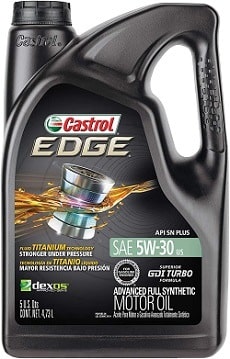 The Castrol 03084 EDGE is our best overall 5W30 synthetic oil. It is a high-performing oil formulated with fluid titanium technology to ensure superior strength even under high pressure.
This fully synthetic oil will also be up to three times stronger against viscosity breakdown than conventional and synthetic oils from other brands. Besides being highly effective at preventing deposit formation, it will help remove the old sludge in the engine.
With this engine oil, you get reduced metal to metal contact at all driving speeds. Because this is more long-lasting engine oil, it also ensures that the engine is adequately protected for the entire drain interval even when it has to work under intense pressure.
The plastic bottle does not feel rugged enough, but it can still take a lot of abuse, and so provided you store any leftover oil properly, you will not need to worry about leakages.

---
2. Best for High-Performance Cars: Valvoline Advanced 787007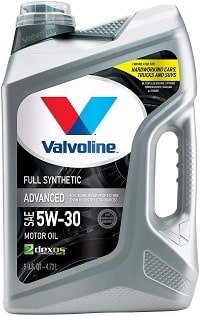 For those that drive high-performance vehicles under harsh driving conditions, the Valvoline Advanced 787007 is our best 5W30 synthetic motor oil for you. It helps your high-performance car by providing up to 40% more wear protection than regular synthetic oils.
This engine oil will provide outstanding high-temperature protection when driving under severe conditions or freezing temperatures as it ensures faster oil flows when starting up the vehicle.
With this oil, you can be sure of maintaining good fuel economy, and it will also help keep the engine clean by protecting against sludge and varnish. When it comes to compatibility, this engine oil also does not restrict you as it works with conventional and synthetic oils.
The spout can be messy as it seems to gurgle a little. However, once you get the hang of it, you can pour without making a mess. While some bottles can have leakage issues, this does not affect the quality of the oil or its performance.

---
3. Best for Gasoline Engine: Royal Purple 51530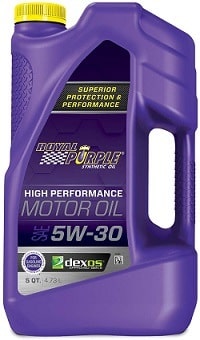 For those that drive gasoline vehicles, the Royal Purple 51530 is specifically formulated to suit your vehicle. Besides offering better wear protection, this oil is also useful for protecting against corrosion.
Royal Purple 51530 is both fluid and lubricant that will help enhance your vehicle's fuel efficiency. What's more, this product has improved fuel compatibility to ensure it works with most ethanol-based fuels.
With this 5W30 synthetic oil, you will also get superior protection for your expensive catalytic emission system, hence preventing costly replacements.
Compared to other options on our list, this one is a little pricier, but for a 5-quart bottle, you still get good value for money. Also, the color seems to be a downfall as it makes the oil look dirty even when still clean enough, but this is also just a small issue.

---
4. Best Budget: AmazonBasics AMDH533Q

is for motorists shopping for a more affordable 5W30 oil that still does a fantastic job lubricating and protecting the engine.
Besides the more budget-friendly price tag, this synthetic oil will help minimize the likelihood of low-speed pre-ignition. Also, it helps prevent build up in your engine that can lead to rust and corrosion.
AmazonBasics AMDH533Q works great for high mileage engine and long change intervals, and it will minimize engine wear by keeping friction in check. The higher resistance to thermal and viscosity breakdown further makes this an even more effective engine oil.
The bottle does not have a strip to allow you to see the oil level when pouring, but if you are using the entire 5-quart bottle, this should not be a concern.

---
5. Best Full Synthetic: Castrol 03057 GTX Magnatec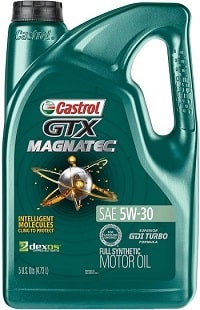 With the full synthetic Castrol 03057 GTX Magnatec, you get a highly effective engine that guarantees your engine remains in great shape. This Castrol 5W30 oil dramatically reduces engine wear and maximizes protection when driving under severe conditions.
This oil uses intelligent molecules that will cling on the critical engine parts to ensure instant protection from the time you start up the vehicle. Also, it promises to leave these vital engine parts at least 4 times smoother than before.
Overall, for a 5-quart container, this engine oil is quite reasonably priced, and given the superior quality, you can be confident of getting a good value for your money.
While this oil does not have the distinctive synthetic oil smell, this is hardly an issue as this does not make any significant difference in its performance.

---
6. Best Fuel Economy: Pennzoil Platinum 550046126
Good engine oil needs to do much more for your vehicle than lubricate the engine parts. With the Pennzoil Platinum 550046126, you can be sure of getting an improved fuel economy by up to 550 miles per year.
Another element that makes this one of the best 5W30 synthetic engine oil is its source. It comes from natural gas and not crude like others using, and it is made using the gas to liquid PurePlus technology. This technology will ensure you get a more high-quality and crystal clear oil with fewer impurities.
This engine oil provides faster low-temperature oil flow and ensures better protection from extreme heat and engine power loss. You can be confident of getting an easy time when pouring as it has a more ergonomic bottle design.
While there seem to be complaints about the bottle leaking, this is due to wanting packaging and shipping, and should not be the deal-breaker.

---
7. Best 5W30 Synthetic Blend: Valvoline 882837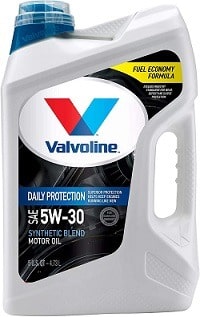 Synthetic blends can also do a fantastic job at lubricating and protecting your engine, and this is more so if you for a high-quality option like the Valvoline 882837. What makes this such a fantastic engine oil is that it if formulated enhanced wear protection to keep engine parts like new.
The formula contains added detergents for protecting against deposits and sludge. Also, it uses some additives to prevent the breakdown of the motor oil even when driving in harsh conditions.
Like most other 5W30 oils, this one will maintain a good oil flow even when driving in low temperatures. What's more, when using this oil, you can be sure of improving your gas mileage significantly. And many motorists love that the bottle makes handling and pouring easier.
If you are looking for engine oil with immediate results, this will not be it, but if given enough time, it does a fantastic job. While it might not be good enough for high-performance vehicles, for all others, it does a tremendous job.

How to Buy the Best 5W-30 Synthetic Oil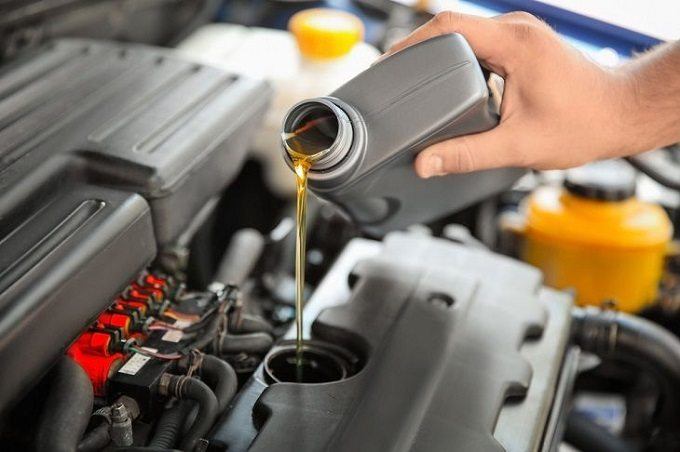 1. Full or Synthetic Blend
Full Synthetic
Fully synthetic oil is not from crude oil like conventional oil. A full synthetic 5W30 is for high performing vehicles and those that will operate in high temperatures and carry heavy loads like trucks. These oils often include high-performance additives, and if you drive in extreme weather, it will be the best option for you.
Synthetic Blend
The 5W30 synthetic oil blend is a mixture of conventional and full synthetic oils, and it gives you the best of both worlds. This oil is essentially just a conventional oil with a synthetic boost, and one significant benefit is that it is more affordable than fully synthetic. However, it does not perform as well as the full synthetic in extreme temperatures.
Buying Advice: Full synthetic 5W30 oil is the best buy for you if you are looking for something for your high-performance vehicle or use in extreme hot or low temperatures. However, if you are looking to save a few bucks but still get some of the benefits of full synthetic oil, a synthetic blend oil like the Valvoline 882837 will be perfect.
2. Compatibility
As you choose the best 5W30 synthetic engine oil, you will also need to make sure that it is compatible with your vehicle.
Some of these oils are for either gasoline or diesel engines, while a few can be safe for use on both engine types. For example, the Pennzoil Platinum 550046126 is for gasoline engines only.
Also, some 5W30 engine oils are for specific vehicle makes and models only. However, the good news is that most retailers will allow you to check whether the oil suits your vehicle make, year, and model before buying.
3. Protection Level
Because different 5W30 oils use varying additives in their formulation, their levels of protection differ. Hence, when shopping, you also need to consider the level of protection your engine will get.
Good 5W30 synthetic oil should protect against common problems like blockage, oil leak, and sludge buildup. Something that is also effective at increasing the engine lifespan and protecting against dirt and friction by providing better lubrication is preferable.
4. Brand
You cannot afford to overlook the brand when shopping for any engine oil type, as buying from a reputable company is one of the surest ways to ensure you get something high-quality.
Top oil brands like Castrol, Valvoline, and Royal Purple have very high and strict quality standards, and so you can always be sure their products will give you superior service.
With these top brands, it is also easier to get 5W30 synthetic oil made specifically for your vehicle make, year, and model as they have more product options in the market.
Conclusion
With the best 5W30 synthetic oil, you have a reliable oil you can use all year round as it maintains the right viscosity in both high and low temperatures.
From our review of the top 5W30 oils from the leading brands, you should now know what will work best for your vehicle.
That said, the Castrol 03084 EDGE takes our top spot as it ticks all the boxes from providing enhanced performance to better protection against viscosity breakdown. But if you prefer a more budget-friendly option, go with

.