A creeper is an indispensable tool for any mechanic. Basically, this piece of equipment is a platform on wheels that allows you to creep or slide underneath your car and thus the name creeper.
With the best creeper, you won't have to crawl into the dust or lay your back on an uneven, hard and uncomfortable floor. Creepers usually have padded cushions that protect your back and let you work comfortably for long hours.
However, there are many varieties of creepers in the market, and to help you in the selection process, here are 7 top-rated creepers from which you can make your pick.
Editors' Picks: Top Mechanics Creepers of 2021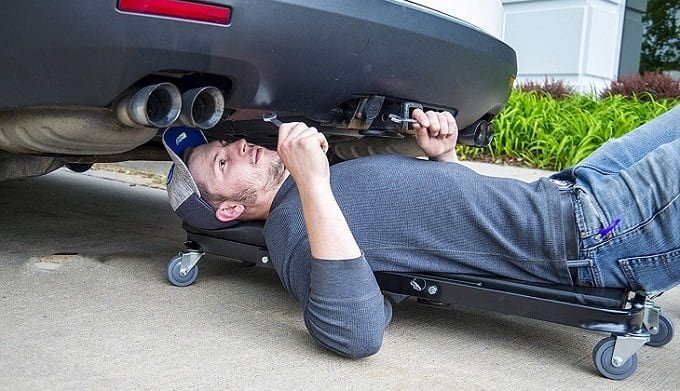 Summary of 7 Best Mechanic's Creepers
IMAGE
PRODUCT
FEATURES

1. Pro-LifT C-9100 (Best Overall)

Versatile 2-in-1 design

Steel frame construction

Adequately padded seats/headers

Full bearing casters

2. Lisle 97102 (Best Low-Profile)

Low profile design

Body-fitting design

Urethane rollers

Drilled transport holes

3. Omega 91452 (Best Foldable)

Conveniently foldable design

Up to 450 pound weight capacity

Heavy-duty steel frame

Thick, padded cushions

4. Pro-Lift C-2036D (Best Budget)

More budget-friendly

Versatile 2-in-1 design

Adequately padded cushions

6 swivel casters

5. Big Red TR6452 (Comfortable Working Posture)

Adjustable headrest for a perfect posture

All steel build

6 swiveling caster

Thick padding

6. Traxion 1-100 (Easy Movement)

5-inch wheels
Low-profile design

Wide body drop deck

Extra comfort and stability

7. Pro-Lift C-6040 (Lightweight One-Piece)

Lightweight creeper

Solid one-piece deck

6 swiveling multi-terrain casters

Nice carry handle
1. Best Overall: Pro-LifT C-9100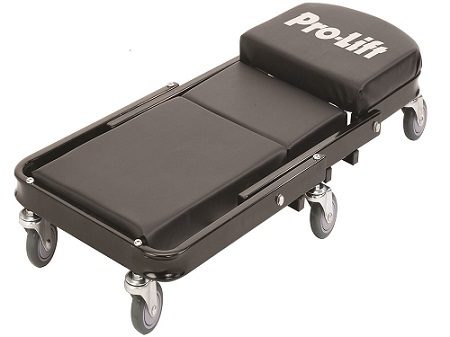 Weight Capacity: 450 pounds
Material: Steel
Dimensions: 41.2 x 6.75 x 19.6 inches
Pro-lift's C-9100 has a 2-in-1 design, in which you can fold the unit into a Z shape to form a mechanic's seat or stretch it out to form the creeper, making it very versatile. This versatility is what makes it our best overall model.
Apart from this, the creeper is also very comfortable because it is thickly padded on both the seat and header, which means you get to have an easier time under your car and a comfortable seat as you repair the sides of the car.
Six 3-inch swivel caster wheels are attached for mobility, and they are spaced out along the unit's length (2 at the front, 2 at the middle and 2 at the back) for balanced support as you move around.
These wheels are actually mounted on full bearings, which makes movement much easier, and are oil resistant so as to cope with the oily and slippery garage environment.
Coupled with a 40-inch steel frame structure, these 3-inch swivel wheels are able to support 450 pounds in body weight, and this basically covers all the mechanics out there.
However, this piece does not have a low-profile design, which means it won't be comfortable to use under cars with a small ground-clearance.
More Detailed: Click here

---
2. Best Low-Profile: Lisle 97102
Material: Plastic
Dimensions: 39 x 18 x 5 inches
This creeper stands out due to its low-profile design, in which it only has 7/8 inches of ground clearance, and this makes it ideal for working under cars with a low ground clearance since you will have enough space.
The body-fitting design is well-thought-out as it will delver optimum comfort for mechanics. Also, the plastic, non-cushioned platform is very easy to clean, and is resistant to fuel, grease, and solvents for easy maintenance.
The platform also has 3 holes drilled on its sides for easy transportation because they are basically carry-handles. Other features like sturdy urethane wheels make it easy to move for convenient use, while the superior strength and simple roller replacement make this nice creeper to have around.
This unit is not cushioned and even though this slightly affects the comfort factor, it makes the platform much thinner so that you can enough space between you and your car. Also, it cannot be folded into a seat, but this is still not a big concern as it is not it is not its main functionality.
More Detailed: Click here

---
3. Best Foldable: Omega 91452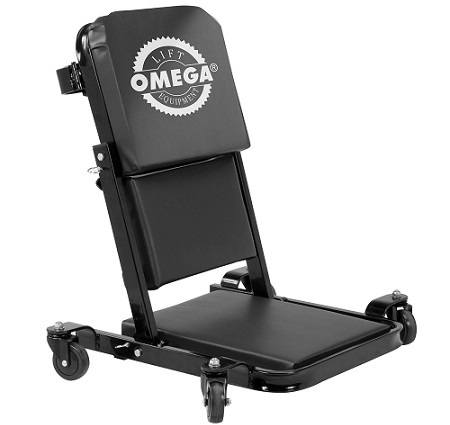 Weight Capacity: 450 pounds
Material: Steel
Dimensions: 40 x 26 x 4.25 inches
The frame on the Omega's 91452 is supported by six 3-inch polyurethane, oil-resistant swivel casters when fully spread out, and can be folded into a Z-shape (running on 4 wheels) to create a mechanic's seat, which is ideal for working along the sides of the car.
With a weight capacity rating of 450 pounds, it can carry a seriously heavy mechanic with ease. This is made possible by a heavy-duty powder coated steel frame construction, which is very sturdy.
The creeper has a low-profile design, and this gives you enough space to work on your car even if it has a small ground clearance.
Other features include a thick, padded cushion for comfort, with the header having some extra cushioning so as to keep your head raised a bit, enabling you to lie down in a comfortable working position.
However, the unit is quite costly but at least you get a creeper and seat in one. This and its superior build quality will give you value for every buck.

---
4. Best Budget: Pro-Lift C-2036D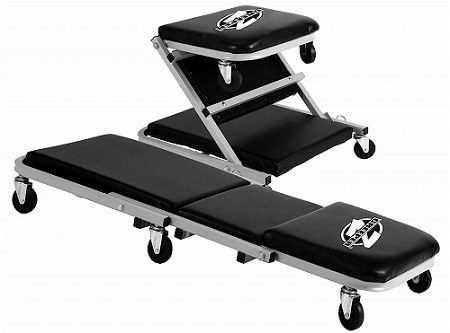 Weight Capacity: 300 pounds
Material: Steel
Dimensions: 21.85 x 17.3 x 4.6 inches
Bearing the same foldable Z design as the 91452 above, this unit from Pro-Lift is surprisingly very affordable, making it a good option if you are on a tight budget.
Also, this is a versatile 2-in-1 floor creeper that will also work well as a mechanic seat and hence making it highly useful in the garage, and it is the kind of thing you can almost be certain you will use often.
This creeper has thick padded cushions that make both lying and sitting on very comfortable. A heavy-duty frame holds the entire structure together, while 6 swivel casters provide full mobility as you move around the car.
Other features include an easily retractable pin for the conversion between seat and caster, making it very easy to use.
However, the unit does not have a low-profile design, which reduces the working space between you and the car, and it also has a lower 300-pound weight capacity. But, the good news is that neither of these issues affect its usefulness significantly.
More Detailed: Click here

---
5. Comfortable Working Posture: Big Red TR6452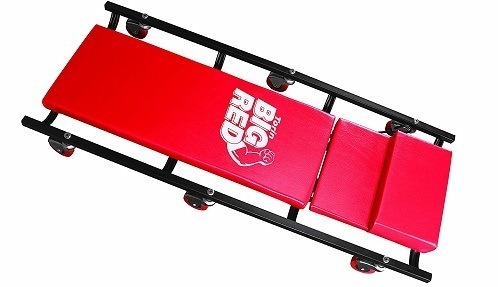 Material: Steel
Dimensions: 41 x 18 x 5 inches
Torin's TR6452 is designed to make your working posture more comfortable by having an adjustable headrest, which can be raised to 4 different positions.
This headrest and the entire section of the 40-inch creeper is thickly padded, and this ensures you get a comfortable platform to lie on as you carry out repairs underneath the car.
The entire padded platform is held in place by a sturdy all-steel frame, which has 6 swivel casters spaced out on the front center and back for balanced support and easy movement.
However, the unit does not have a foldable design, which means it can't be used as a seat, but given it does an amazing job as a creeper, this is hardly a deal breaker.

---
6. Easy Movement: Traxion 1-100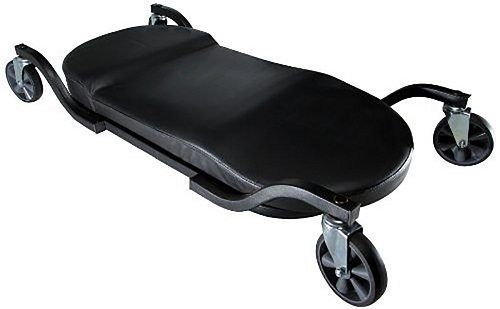 Weight Capacity: 400 pounds
Dimensions: 43 x 7 x 23 inches
Traxion is well-equipped with four large 5-inch swivel wheels for easy movement, and their large size means they can reach where the common 3-inch ones cannot go.
Another unique thing about this creeper is that it has a horse-carriage, outrigger frame design, with the wheels sticking out on both ends of the platform.
Despite having large wheels, this horse carriage design places the center platform lower, which means you get a low-profile design for convenient use since more working space is left between you and the vehicle.
This creeper also has a relatively wide deck that is cushioned and contoured to fit into your body's curved for comfort. Additionally, the deck has no pinch points, making it very safe to use.
The price is the most significant drawback as it is the second priciest item in our review, but with the comfort, stability and built quality it delivers, it is worth it.

7. Lightweight One-Piece: Pro-Lift C-6040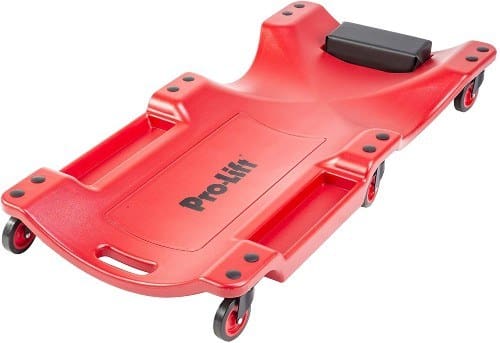 Weight Capacity: 350 pounds
Material: Plastic
Dimensions: 41 x 20 x 4 inches
The lightweight design of the Pro-Lift C-6040 is one of its stand out feature. This combines with the nice carry handle makes it super easy to move around. Also, despite the lower weight it is still quite sturdy thanks to the one-piece build.
The deck is made to be longer and wider to ensure it will be the perfect fit and super comfortable for almost anyone.
It has some 6 multi-terrain caster that will swivel in different direction to ensure you can use this creeper easily in any surface. And with the impact-resistant build, this will be an even more comfortable creeper.
The two-bolt caster mounting system for the wheels might not be as secure as the 4-bolt system, but for a creeper it is still more than enough.

How to Buy the Best Mechanic's Creeper
1. Weight Capacity
One of the most important factors to consider before buying a creeper is its weight capacity. Rated in pounds, this figure basically shows the amount of weight that the unit can comfortably carry in body weight.
Some like Pro-Lift C-2036D have a rating of 300 pounds while others like Omega 91452 go up to 450. This capacity is usually determined by the frame construction and wheels in which, if they have a strong, heavy-duty construction, then they can carry more weight.
Ideally, the higher the weight capacity, the better because this shows that the creeper is very solidly built.
2. Material
The material used in the construction of the creeper greatly affects its overall quality. While plastic pieces may be lightweight and easy to carry from place to place, they might not be very durable and also hold significantly less weight as compared to steel.
On the other hand, creepers with steel frames such as Omega 91000 are the tough, heavy-duty options that are more durable and can carry more weight. Even though they might be heavier, they are definitely better to buy because they will last for a while.
Another thing to check is the quality of the caster wheels because they also carry your body weight. Good wheels should have full bearings for smooth movement, and be made of a high-quality material such as polyurethane for durability purposes.
3. Comfort
There are padded and non-padded creeper varieties out there and even though the non-padded plastic options might have contoured, ergonomic-fitting designs, padding or cushioning does have its own form of comfort that cannot be traded for a body fitting deck.
The best automotive creeper is the one that combines both padding and contours in one. For the rest, however, you should pick a unit that is more comfortable for you, which might be either of the two designs. This means selection based on personal comfort preference.
4. Portability
As a mechanic, chances are that you may be called out to carry out some repairs on your client's cars outside your premises.
In such a case, you need a lightweight and compact creeper that can be easily loaded into your truck before heading out. Also, something with a nice carry handle like Pro-Lift C-6040 will be an even better choice.
Considering this, plastic creepers have an edge of their steel-framed counterparts because of weight. However, if you don't mind carrying around the heavier steel creeper, the better.
5. Clearance
This factor should not be overlooked as it is very crucial. If a creeper is too high from the ground, then it will limit the amount of space between you and the car, thereby making it very difficult to do any repairs.
The best mechanic creeper should have a low-profile design, with a recommended clearance that does not exceed 2 inches. This way, you will also be able to fit under cars with a small ground-clearance.
6. Accessories
Accessories are always an added plus because they give you value for money. In this creeper category, the most common accessory is a mechanic's seat, which lets you work on other parts of the car that are not underneath while comfortably seated.
However, there are some units that are foldable to form this seat. Such creepers have the benefit of combining the two in one for convenience in terms of portability and reduced storage space. Other accessories to look for include toolholders and extra padding for the headrest.
Conclusion
As you can see, there is a very wide variety of creepers in the market and this means the selection process can be very difficult, especially if you don't know what to look for. However, with the creeper review above, you should be able to pick the best creeper that suits your needs for the job.
As for our recommendations, the versatile 2-in-1 Pro-LifT C-9100 is our best overall product as it also has a higher weight capacity and solid steel frame.
However, the Lisle 97102 is the best for those looking for something with a lower profile for use on vehicles that do not have a lot of clearance, while the Pro-Lift C-2036D is our best budget model.