A ball joint is only a small component as compared to the size of the car, but its function is huge and very important.
Well, what exactly is a ball joint? Basically, the component is like a hip joint in the human body, which in this case is a metal ball inside a metal socket. This design permits slight rotary movements, allowing them to act as pivots in a vehicle's steering and suspension system.
Since it is such a vital component, installing a poor-quality ball joint may affect the stability of your car. For this reason, the review below looks at the best ball joints in the market, with a view of making it easier for you to get the most suitable piece for your vehicle.
Top Ball Joints of 2021 by Editors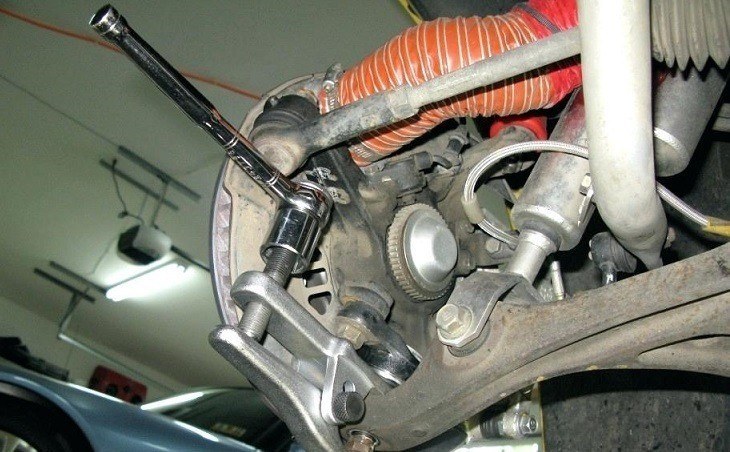 Summary of 7 Best Ball Joints
IMAGE
PRODUCT
FEATURES

1. Moog K8607T (Best Quality)

Powdered metal gusher design for smooth, even greasing
Sturdy one-piece forged steel housing
36° rotational angle for responsive steering

2. Detroit Axle 80469-8A (Best for Dodge Ram 1500)

8-kit pack for 2002-2005 Dodge Ram 2WD
Non-greasing design for easy maintenance
Tested for impact, wear, and fatigue

3. Moog K80026 (Good Greased Ball Joint)

Sturdy steel construction
Powdered metal gusher design for smooth grease flow
Dust boot included

4. PIE TRTD9475 (Best for Polaris ATVs)

Standard ball joint for Polaris ATVs
Rubber boot for keeping out dust and mud
Cottage pin and snap ring for keeping the ball joint intact

5. ACDelco 46D2281A (Best Budget)

Affordable lower suspension ball joint
Sturdy one-piece forged housing
Coated for corrosion resistance

6. Detroit Axle 80016-14 (Complete Kit)

Complete kit with 14 ball joint replacement parts
Compatible with the 2000 5.7-liter Yukon
Costly but you get value for money

7. Detroit Axle 80057-6B-DA (Best for Ford F-150)

Ball joint kit for Ford F-150
2 upper control arms and 2 lower ball joints
2 outer tie rod ends
1. Moog K8607T - Best Quality Ball Joint
The K8607T from Moog stands out from the rest due to its powdered-metal gusher design, which makes it stronger and more stable than most OE ball joints. This is because it allows grease to flow easily through the bearing to the stud, leading to reduced friction and increased durability.
On top of this, a forged one-piece steel housing construction increases the strength and durability factors, and it is oversized so as to provide a more secure fit over the ball.
Movement is allowed at a 36° rotational angle, with the greaseable socket and full metal ball providing a smooth and consistent rotation that results in more responsive steering. For this reason, the K8607T is preferred by most technicians and NASCAR crew chiefs.
This unit is can be used as a replacement part in 1992-1996 Dodge and Ford vehicles, and is compatible with all 2- and 4-wheel drive vehicles in this category.

---
2. Detroit Axle 80469-8A - Best Ball Joint for Dodge Ram 1500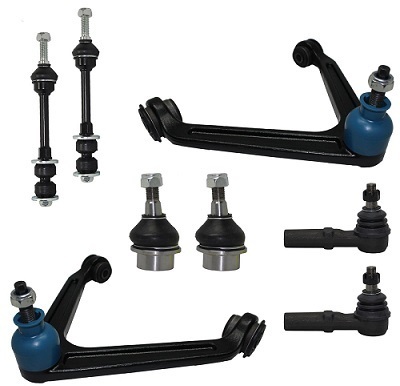 This is quite an expensive product from Detroit Axle but is also the top-rated ball joint in this review that is particularly made for 2002-2005 Dodge Ram 1500 2WD. Although this limits its use, it ensures that the pieces are specifically enhanced for the best performance in this car.
The joint's high rating can be attributed to its 8-pack kit, which contains 2 front upper control arms with ball joint assembly, 2 sway stabilizer bar links, 2 outer tie rods, and 2 lower ball joints. Additionally, the joints have a non-greasing design that is very easy to maintain.
Each of the components in this kit is built to strict quality control standards, ensuring that they meet OEM designs for perfect fitting as replacement parts.
The strict quality control also covers impact, wear, and fatigue testing so as to ensure that the ball and socket design is durable and strong enough to handle rough roads.

---
3. Moog K80026 - Good Greased Ball Joint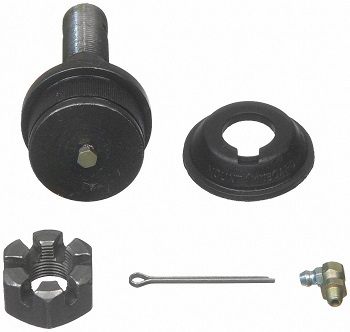 Just like the K8607T, this K80026 from Moog features a powdered metal gusher bearing design that allows grease to move easily from the bearing to the stud so as to reduce friction while increasing strength and stability in the process.
Moog Engineered steel is used to build the entire ball joint, resulting in a stronger unit. The steel housing is enlarged to create a more secure fit and allows the ball to have a smooth and consistent 36° rotational movement, resulting in more responsive steering.
A greaseable socket design helps to maintain optimal performance by allowing you to add in new lubricant and flush out any contaminants inside. This reduces friction and in turn, reduces wear and tear over time.
Other features include dust boots to keep dirt particles from accessing the joint, a pressed-in patented cover plate that eliminates excess axial and radial movement, resulting in a more solid feel at the steering and compatibility with a wide variety of 2- and 4-wheel drive vehicles.

---
4. PIE TRTD9475 - Best Ball Joint for Polaris ATVs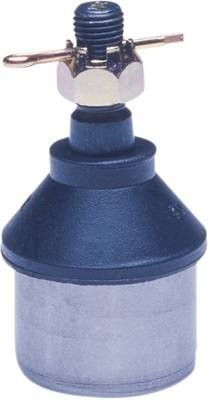 PIE's standard ball joint is designed as the perfect quality replacement part for a wide range of ATVs made by Polaris.
To handle the rough, dirty and muddy rough roads that these vehicles are meant to be driven on, the ball joint features a rubber boot that keeps dirt and debris from hitting the joint, causing friction and resulting in wear and tear.
A cottage pin is also included for keeping the nut locked in place while a snap ring keeps the ball joint from coming off.
The unit has a high-quality inner ball cage construction that is very tough and durable and features a relief hole for moisture release.
Greasing is not required as the standard ball joint is self-lubricating, and this design makes it very easy to maintain.

---
5. ACDelco 46D2281A - Best Budget Ball Joint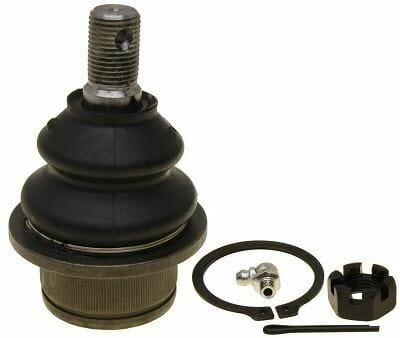 If you on a tight budget, ACDelco's 46D2281A front lower suspension ball joint is a good option to consider. Despite being very affordable, its shell housing is actually a forged one-piece metal that makes the socket very strong and durable.
To make it even better, the whole joint is coated for corrosion resistance, which means that it retains a smooth surface inside so as to prevent degradation from wear and tear as much as possible, extending its lifespan.
Another benefit of this ball joint is that it is a universal fit that can be used as a dependable aftermarket part for GM and non-GM vehicles. Specifically, the piece should be used to connect your vehicle's control arm to the steering knuckle.
Other features include a greaseable design for maintaining optimal performance and a polyurethane dust boot that keeps dirt and debris out so as to reduce wear and tear as a result of friction.

---
6. Detroit Axle 80016-14 - Complete Ball Joint Kit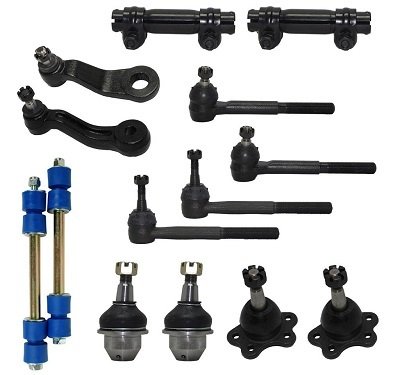 Coming from one of the best ball joint brands in the market, this product is packed as a complete ball joint kit containing 14 replacement pieces for the whole front suspension of the year 2000 5.7-liter Yukon.
Though very costly, you get 4 front and 4 outer tie rod end links, 2 front lower suspension ball joints, 2 front upper suspension ball joints, and 2 front stabilizer sway bar end links in the kit. This enables you to renew the whole front suspension system of your Yukon.
To assure you of the quality and reliability of this brand, Detroit Axle's suspension ride control products are supplied to most OE vehicle manufacturers worldwide and therefore, you should not be worried about spending that much on this kit.

---
7. Detroit Axle 80057-6B-DA - Best Ball Joint Kit for Ford F-150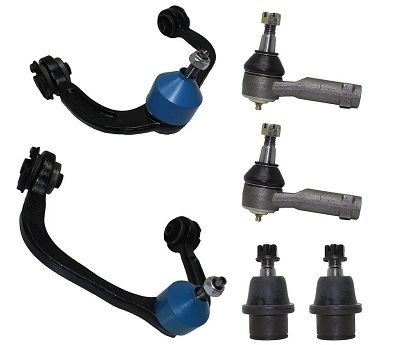 The Ford F-150 is an amazing, hardcore pickup truck that requires proper suspension maintenance and fitting this kit on it will certainly go a long way in maintaining the proper functioning of your front suspension.
Though very costly, the kit contains 2 upper control arms with ball joints, 2 lower ball joints and 2 outer tie rod ends. These parts are made to be very durable as Detroit Axle is well known for making quality aftermarket OE parts for most vehicle manufacturers in the US.
An important thing to note, however, is that this 6-piece set in only meant for the year 2004-2008 Ford F-150, not the newer versions.
Costly
Only suitable for 2004-2008 Ford F-150's

How to Buy the Best Ball Joint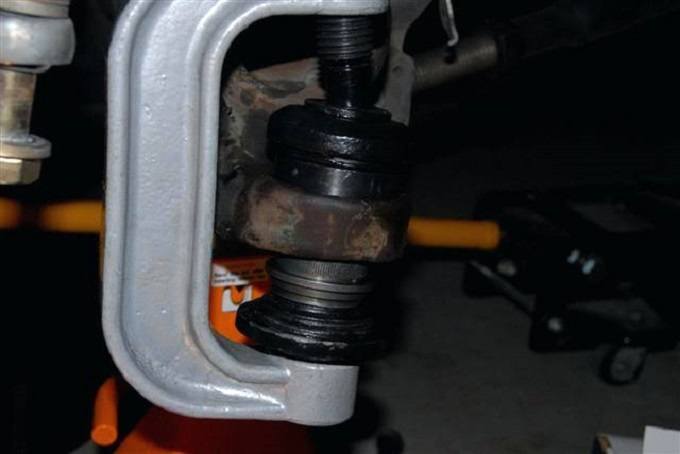 With all the options above, before buying a ball joint, there are some things that you need to consider. These are:
1. Load or Non-load Carrying Ball Joint
Load Carrying Ball Joints: These ball joints are designed to carry and bear the weight of the vehicle and because of this, they tend to wear out faster. They mostly include the lower ball joints in the suspension system and these parts should be checked regularly because of the expectation of high wear and tear.
Non-Load Carrying Ball Joints: This type does not carry any weight and is primarily meant to support or follow the load-bearing ball joint. Because of this, it experiences less pressure, resulting in reduced wear and tear. They are mostly found on upper control arm suspensions for supporting the ball joint in the lower arm.
2. Compatibility
This is a very key factor to consider because a single ball joint cannot fit in all cars. Each car has its own part specification and fitting and thus, depending on the car that you have, you should buy a component that is designed for it.
From the review above, it is clear that each ball joint or kit is meant for a certain vehicle(s) and this should be strictly adhered to.
3. Material
The most commonly used material in ball joint construction is steel because it is very strong and does not rust, making the component very durable. Other metals might not perform as well as steel.
4. Grease
Some ball joints require greasing and they have a Zerk fitting to allow you to lubricate the part every once in a while. Others require no maintenance at all because they are self-lubricating.
Even though self-lubricating ball joints seem like the better option here, greaseable units aid in maintaining the smooth operation of a vehicle throughout.
This is because by adding new grease, you push out all the contaminants as well as the old, used up grease, renewing the joint's performance and giving it a longer lifespan.
Therefore, if you don't mind doing a little maintenance every once in a while, a greaseable ball joint is the best for you. If you are not the handy type of person, go for the self-lubricating ball joint.
5. Strength
Since most of these ball joints are replacement parts of OE equipment, always ensure that at least their performance is at par with the manufacturer parts or better. This will ensure that it lasts as long or longer as compared to the old part, giving you value for your money.
6. Brand
The ball joint brand is also an important factor to consider because some brands are actually suppliers of OE parts to car manufacturers and thus, they have an upper hand when it comes to designing replacement ball joints.
With this advantage, it is recommended to consider products from such brands because most likely they are of a higher quality.
7. Number of Parts
Though costly, some ball joints come as kits containing full front suspension arms, rods and links, eliminating the task of having to search and buy each component on its own.
This can be a good deal if you are looking to replace a number of parts, but if it's a single part replacement, it would make more economic sense to buy only the single component.
Frequently asked questions
1. How Often Do Ball Joints Need to be Replaced?
Ball joints always work when you are driving and they bear more pressure and damage from rough road conditions. Generally, you should expect around 100,000 miles out of these parts but this depends on your driving conditions.
If you mostly drive on rough roads, this mileage will definitely be lower and if you are always driving on tarmac, you will get more service, going up to 150,000 miles.
Another important factor at play here is the quality of the part. A low-quality ball joint will give you fewer miles as compared to a high-quality part.
2. Should I Replace Both Ball Joints at the same time?
This depends on a lot of factors. Obviously, the best thing would be to replace both of them and for both wheels at the same time so as to renew the performance but this has implications on cost.
To add on to this, some vehicles have more than two joints. You may find that yours has four (2 upper and 2 lower), requiring more money for the replacement. In such a case, you could replace only the ones that are faulty.
That said, the recommended thing to do is to replace all of them at the same time so as to finish it off with wheel alignment and forget about this for a long duration of time.
If you replace only one ball joint, the other one will most likely wear out in a short period of time and the replacement will require another wheel alignment service, leading to higher maintenance costs in the long run.
3. What are the Signs of a Failing Ball Joint?
There are 4 basic signs that indicate failing ball joints. The most common one is clunking noises originating from the front suspension. By wearing out over time, the ball becomes slightly smaller, creating some room such that it plays around the socket, causing these noises.
This looseness in the socket also causes vibrations especially as you drive at high speeds, and sometimes these can be felt on the steering wheel.
Another sign that can indicate a failing ball joint is the uneven wear of the front tires, in which either the inner or outer treads wear out faster.
Lastly, a worn-out ball joint causes the steering to misbehave by either wandering to the left or right on its own.
Conclusion
With all the information laid out in the ball joint review above, the ball is in your court. Ensure that you follow the buying guide so as to pick the best ball joint that will fit and work best in your car, leading to renewed suspension and steering systems.