The ATV or quad is a multi-terrain vehicle that is versatile and great fun to ride. Like all electric vehicles, it is powered by a battery.
The battery controls the startup of the ATV engine and also helps assist the charging system.
Moreover, if you have demanding electrical devices installed on your ATV then it is important that you go with a high-capacity and reliable battery.
But how do you find one?
In order to help you find the best ATV battery for the money, we gathered a few popular models and give you our impressions below. Without any further ado, let's get to it!
Editor's Recommendation: Top Atv Batteries of 2021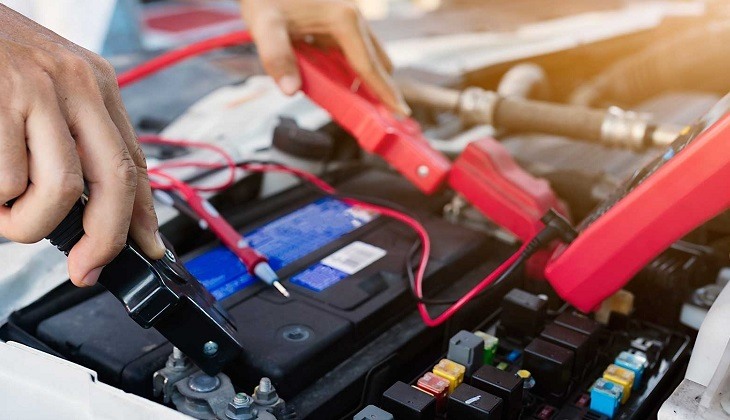 Summary of 7 Best ATV Batteries
IMAGE
PRODUCT
FEATURES

1. Odyssey PC545 (Best Overall)

Capacity of 13 AH
Long lifespan of at least 10 years
Sealed design. Will not leak
Good vibration resistance

2. Mighty Max Battery ML8-12

Competitively priced. Great value
Good price to performance ratio
Offers excellent resistance to cold temperatures
Fully shock resistant

3. ExpertPower ETX7A-BS

Universally compatible with any ATV on the market
Affordable and great value
Durable ABS build construction

4. Yuasa YUAM320BS

Very powerful. Rated at 18 AH
High cold cranking amps of 270
Durable and long-lasting. Uses lead-calcium technology

5. ThrottleX ADX14AH-BS

Lightweight at 11 lbs
Slim and compact design making it portable
Very high resistance to shocks and vibrations

6. ExpertPower EXP1270

Affordable and value for money
Provides excellent resistance to changing temperatures
Can power any type of ATV's on the market

7. UPG UBCD5745

High capacity of 18 AH
Small and compact
Long lifespan of 3 to 5 years
1. Odyssey PC545 - Best Overall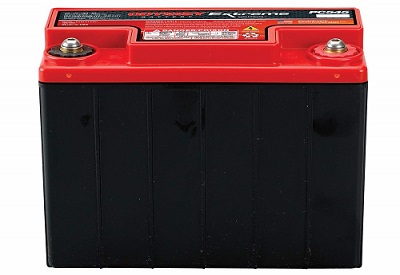 Capacity: 13 AH
Cold Cranking: 150 CCA
The Odyssey PC545 is a high-capacity ATV battery that has a long lifespan. Indeed, according to the manufacturer, this battery should last you anywhere from 3 years up to 10 years which is quite impressive.
Moreover, it has a 400-cycle life which makes it very decent especially considering its small size. But where this battery absolutely shines, especially on a size to performance ratio, is definitely its capacity of 13 AH.
Indeed, this is a powerful battery that will send a constant flow of current to your various ATV electric devices. You can use a high-powered headlight on your ATV with the Odyssey PC545, no problem.
In addition, this unit has a sealed design which means that it will not spill battery acid even when the ATV is used in very rough terrains.
Further, the cold cranking amp of 150 CCA is quite unexpected and good which means that this battery will have no problem powering the engine even in very cold temperatures. If you normally drive your ATV in winter, then this is an excellent battery to consider even if the price is a little bit steep.
The only disadvantage we note with this battery is that the price could have been a little bit better. Also, it is quite choosy and not compatible with all vehicle models.

---
2. Mighty Max Battery ML8-12 ATV Battery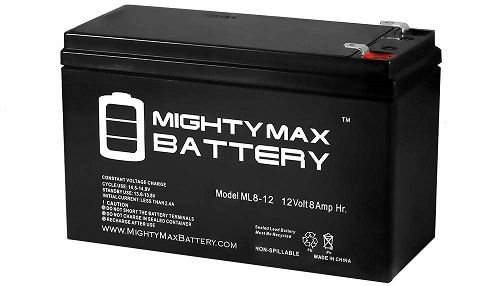 Capacity: 8 AH
Cold Cranking: 200 CCA
The Mighty Max is another ultra-affordable ATV battery that has a high cold cranking amp of 200 CCA and a decent capacity of 8 AH. This model rated very highly by most Mighty Max battery reviews online.
In addition, this battery has an AGM design which means that it has a high discharge rate and therefore, it can be used for heavy-duty applications. In addition, it has a very good resistance to shocks and will not leak battery acid due to its sealed design.
Moreover, this model is maintenance-free and due to the technology used inside of this battery, it should be very durable and long-lasting as well.
Best of all, the manufacturer provides no less than one-year warranty on this battery so you have nothing to worry about. The only caveat is the shape of the battery.
You should ensure that it matches the battery casing of your vehicle. If it does, then this model is definitely one of the best UTV battery on the market especially considering its low price and high cold cranking amp value of 200 CCA.
Just note that the battery terminals are flat which makes it unsuitable for use in most cars without using an adapter. Additionally, this battery is not intended for heavy-duty purposes. But for casual use, it is definitely one of the best ATV battery for four wheeler you can get.


---
3. ExpertPower ETX7A-BS ATV Battery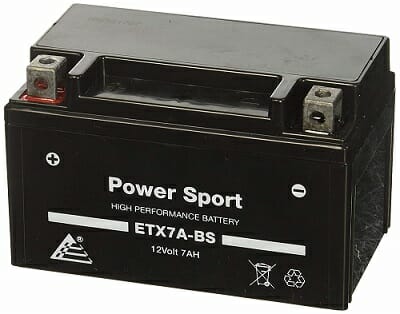 Capacity: 7 AH
Cold Cranking: 90 CCA
The ExpertPower ETX7A-BS is a midrange and top-rated ATV battery that has a capacity of 7 AH. With this type of capacity, this model will have no problem powering the engine of almost any type of ATV on the market.
Moreover, it has a small and compact form factor so it will not take a lot of space during installation.
Further, its compact shape makes it quite versatile as this battery can be used for other applications.
For better safety, this model has a sealed design and the outer casing is made from ABS plastic which is very durable and long-lasting. It will definitely not leak battery acid even if you use it on rough terrains.
The only caveat is the fairly low cranking amp of 90 CCA. With this value, this battery will have difficulty in very cold weather. However, this is still an acceptable value for casual use at any temperature that is above freezing.
Low cranking amp value of 90 CCA. Not suitable for cold weathers

---
4. Yuasa YUAM320BS ATV Battery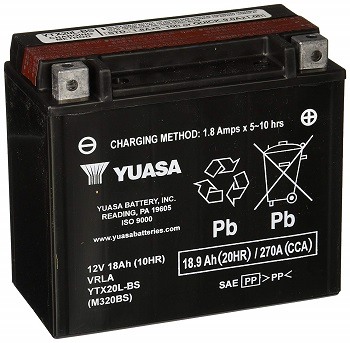 Capacity: 18 AH
Cold Cranking: 270 CCA
This Yuasa unit is a heavy-duty ATV battery that is rated as one of the best 12V ATV battery on the market. Indeed, with a capacity of 18 AH, it will have absolutely no difficulty powering even the most demanding electric devices on your ATV.
In addition, you can safely use of this battery in very cold weather as its call cranking amp of 270 CCA will ensure that it always has a constant flow of power even when the temperature is below freezing.
Moreover, this unit uses a lead-calcium technology that keeps the electrodes in place even under significant vibrations and shocks. Bottom line, this battery is more durable and long-lasting when compared to other models because of this technology.
Additionally, the slim and compact form factor of this ATV battery means that it is quite portable and can be used for various other applications where a powerful and yet small battery is needed.
The only caveat we note with this ATV battery is the price which is a little bit high when compared to other models. Other than that, it is fully-featured and very powerful battery despite being so small.

The price. It is the most expensive model in this ATV battery reviews

---
5. ThrottleX ADX14AH-BS ATV Battery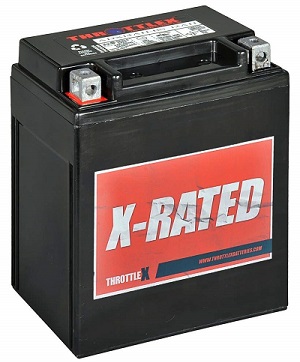 Capacity: 12 AH
Cold Cranking: 220 CCA
One of the most distinctive features of the ThrottleX is definitely its small and compact form factor. This ATV battery weighs only 11 lbs and is very portable. Moreover, its shape is standard so it will have no problem mounting on almost any ATV battery compartment.
When it comes to power, this battery delivers 12 AH of power which is more than enough to power on the engine of any ATV. It is also powerful enough to complement the charging system of your ATV, regardless of the number of lights you have installed.
But what we like the most about this unit is definitely its AGM design which means that it is sealed and will not leak battery acid even under severe shocks and vibrations. Additionally, it is very efficient and able to provide more power despite having a small size.
All in all, if size is a major concern for you, then we recommend this ThrottleX ATV battery as it has a superior capacity as well as no difficulty in keeping a charge in cold temperatures.
The only issue with this top-rated ATV battery its fairly steep price. But if money is not an issue, it is an excellent choice because it is a well-rounded ATV battery.

---
6. ExpertPower EXP1270 ATV Battery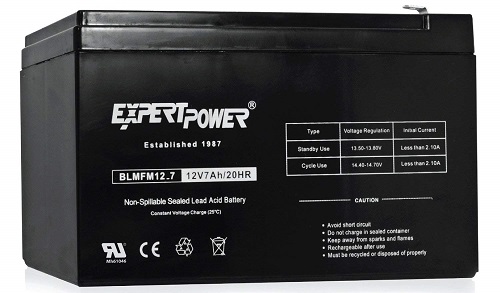 The ExpertPower EXP1270 is one of the most affordable quad battery on the market. This model uses AGM technology and can provide a capacity of 7 AH which is more than enough to power the ignition system any type of ATV.
Moreover, one of the good things about this model is that it has an excellent temperature resistance and it will have no problem keeping a charge even when the temperature is very low or very high. In addition, its rugged construction means that it is a very durable and long-lasting battery.
Furthermore, since it uses AGM technology, it has an excellent resistance to vibrations and shocks. But this model definitely remains the best ATV battery for the money when it comes to price.
Therefore, if you are on a low budget and need a reliable battery for your ATV, the ExpertPower EXP1270 is the cheapest ATV battery to consider even if it's capacity of 7 AH is not very heavy duty.

---
7. UPG UBCD5745 ATV Battery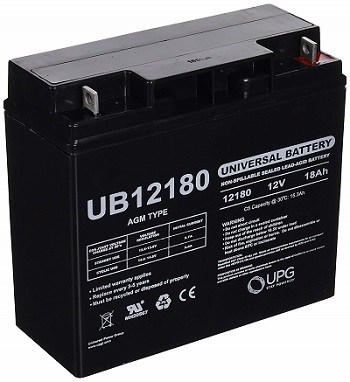 If you need a lot of power in your ATV, then the UPG is another powerful ATV battery that is also quite small and compact. Indeed, this model is able to provide 18 AH which means that it will have no problem supplying a constant flow of high amperage current.
So, this ATV battery has an excellent size to performance ratio. In fact, it is one of the best that you will find in this entire review.
Moreover, this unit uses an AGM design so it is very efficient, extremely durable and has excellent resistance against shocks and vibrations. If you normally use your ATV in rough terrains where there are many vibrations, then this UPG battery is an excellent model to consider.
In addition, this unit has a long lifespan and the manufacturer recommends you to replace it every 3 to 5 years. All in all, this quad battery has a lot to offer both in terms of performance as well as in terms of reliability.
Just note that you will need to be careful with this battery. It uses technologies inside that will cause it to fail if you are under charge the battery.
So, if you plan to use your ATV for short periods of time where the battery will not have enough time to be charged by the alternator, this is not a good ATV battery for your need.


How to Buy the Best ATV Batteries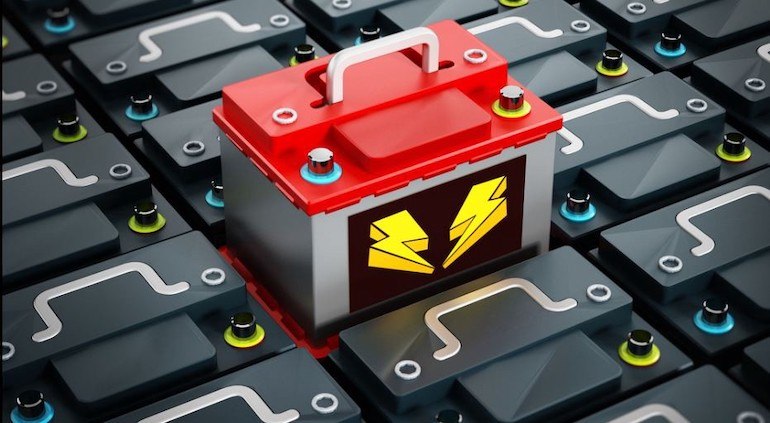 1. Conventional or AGM Battery
A conventional ATV battery is usually a lead-acid battery that is quite popular and fairly affordable. On the other hand, an AGM battery is usually a heavy-duty battery that is significantly more expensive.
This type of battery is able to provide more battery power to your electric components and will be able to supplement your charging system with more power when necessary.
Additionally, since the ATV is usually used on rough terrains where there is a constant vibration occurring throughout the vehicle, it is best to go with an AGM battery since AGM has an excellent resistance to vibrations and shocks.
This is because the fiberglass sheets used in AGM batteries are very close together which nullifies the risk of those sheets moving inside the battery even when there are significant vibrations outside.
2. Compatibility
One of the most important aspects to consider when purchasing a battery for your ATV is compatibility. Indeed, your ATV is not compatible with every type of battery on the market. First of all, you need to consider the voltage and capacity of the battery.
You do not want to go with a battery that exceeds the manufacturer recommended specs. This will put a little pressure on your charging system and can close electrical failure.
Additionally, the enclosure for the battery is important as well. Not all batteries will fit the ATV enclosure as it usually has a fixed shape.
Therefore, you need to ensure that the battery you are interested in will fit your ATV. Checking through the manufacturer specs of the ATV battery should let you know if that particular model is compatible with your vehicle.
3. Battery capacity
As already mentioned, the battery capacity is another important aspect. You need to the right type of capacity for your ATV. If you go with an ATV battery that has a higher capacity than what your ATV charging system can provide, then you will be left with a battery that will always be undercharged.
On the other hand, if the ATV battery has a lower capacity, then your charging system will always overcharge the battery, causing a rise in temperature and a decrease in its lifespan. Not to mention that it can be a huge security hazard as well.
4. Cold Cranking Amps
In short, the cold cranking amps or CCA is a metric used for batteries to show how effective the battery is in cold temperatures. Generally, the higher the CCA value then the better it is for use in cold winters. If your ATV is usually left outside in the cold, then it is important that you consider the CCA value.
In most cases, a cold cranking amp higher than 500 CCA should guarantee that you will have no problem starting your engine even if the temperature is below zero.
5. Brand
You do not want to go with a no-name brand when purchasing a quad battery. This is because a branded battery will have a superior lifespan as it is made from higher grade materials. Additionally, you also get a form of warranty when going with a branded battery which is important.
6. Cycle Life
Basically, the cycle life is the amount of time that the battery can be recharged over and over again. Of course, you want the number of cycles for your ATV battery to be as high as possible.
In most cases, a cycle life greater than 3000 should ensure that you are getting a high-quality ATV battery that will last you a fairly long time.
7. Price
Despite the ATV battery being affordable, prices can quickly go up if you are not careful. Therefore, we recommend that you make a budget and stick to that budget when buying an ATV battery online. In any case, a good ATV battery should cost you less than $75.
Some Mistakes While Using ATV Battery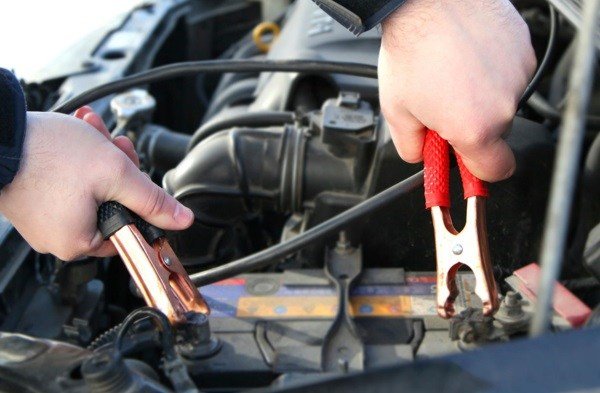 1. Capacity
The capacity of the battery will directly depend on the number of electric devices and lights that you have on the ATV. In most cases, the charging system is responsible for providing this type of current.
However, using a high capacity battery on an ATV equipped with many electric devices will result in a heavy load and the charging system will underperform when charging the battery.
Therefore, it is important to pay attention to manufacturers specs when replacing the ATV battery as every ATV has a specific battery capacity calculated by the manufacturer.
2. Adding Water to Wet Cell Batteries
Some ATV batteries are equipped with wet cell technology which means that they use distilled water for the electrolyte inside the battery. As with any wet cell battery, you need to perform regular maintenance to keep the battery in tiptop condition.
The problem is that sometimes people replace the distilled water in the wet cell battery with regular tap water. Regular tap water contains all sorts of minerals and heavy metals that dilutes the electrolyte and cause damage to the electrodes of the battery.
3. Under Charging
As with any type of battery on the market, undercharging a battery will cause the electrodes to sulfate over time. Indeed, most people who are charging the battery are usually in a hurry and want to use their vehicle as quickly as possible, and often times fail to wait for their battery to fully charge.
4. Over Charging
Similar to undercharging, overcharging the battery is also bad. Overcharging a battery usually, result in a rise of temperature that will cause all sorts of problem in the battery. In the worst-case scenario, overcharging can cause your battery to expand the casing and leak battery acid all over your ATV.
5. Not Charging in a Timely Manner
One of the most destructive forms of charging a battery is waiting for the battery to go at 0% and then charging it again back to 100%. The correct way is to charge the battery fully when it is around 20%. By doing so, you will get a greater lifespan for your battery.
Read More: How long to Charge a Battery
Conclusion
Generally, ATV manufacturers say not to buy aftermarket batteries to put on the ATV for security reasons. All the models we have listed in our ATV battery review above are whitelisted models and you should have no problem installing them.
As long as those batteries fit the battery compartment of your quad, you should be good to go.
Additionally, installation is extremely easy. All that you need to do is remove your old battery and pop in the new one.
Moreover, most of those batteries are heavy-duty, durable and have a long lifespan. Best of all, they are ultra-affordable and the price will not stop you from getting a quality battery for your ATV.