Car battery plays a crucial role in your vehicle, but it is not always easy to tell its condition, given that most vehicles do not have built-in battery diagnostics. But, with the best car battery tester, you can effectively diagnose your battery.
A battery tester is an electronic device that tests everything from the charge to other things like capacity and potential flaws on the battery, which can affect its performance.
Testing a car battery with one of these devices also helps you determine whether the battery is charging correctly. If you are on the market for one, we provide a review to help you pick the best model.
Editor's Recommendation: Top Car Battery Testers of 2021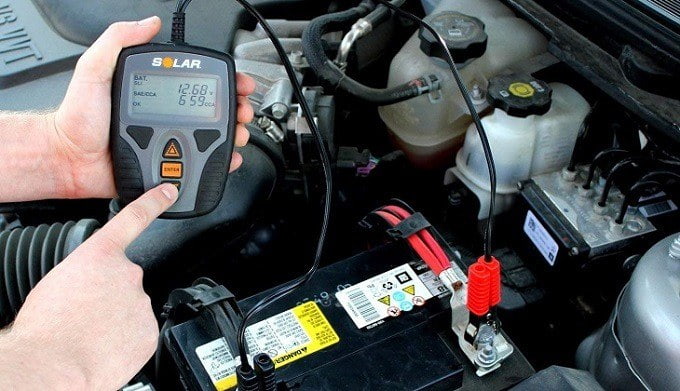 Summary of 7 Best Car Battery Testers
IMAGE
PRODUCT
FEATURES

1. Clore Automotive BA9 (Best Overall)

Wide battery compatibility
Large LCD display
Ergonomic with rubber texture

2. Foxwell BT705 (Best for the Money)

Well-priced for a model that tests both 12 V & 24 V batteries
Quick results in just 2.5 seconds
Backlit LCD display

3. Motopower MP0514A (Best Wide Range)

Versatile with wide test range
Easy connect & go operation
High accuracy 4-character display

4. Ancel BA101 (Best Compact)

Small & compact
Multiple test types
3-feet long connector lead cable

5. Ancel BST500 (Best with Built-in Printer)

Handy built-in printer
Fast results display in just 2.5 seconds

Covers all battery rating standards

6. Cartman TL120207 (Best 12V)

Works for most 12-volt batteries
Multiple check options
Easy to use by beginners

7. Foxwell BT100 (Safe & Reliable)

Multiple protections
Multifunction design
Large backlit LCD display
1. Best Overall: Clore Automotive BA9
Test range: 7 V to 15 V
Battery Type: All 12 V batteries
The Clore Automotive BA9 is our best overall battery tester as it is a versatile multi-tester designed for easy and comfortable use even by absolute beginners.
This battery tester is compatible with most car battery types out there, including AGM, flooded, spiral and cell. It has a versatile voltage test range of 7 V to 15 V and a wide testing capacity of 40 CCA to 1200 CCA.
Also, this gadget tests a wide variety of parameters, such as ripple detection and cracking test. Additionally, you can use it on both motorcycle and car batteries.
Moreover, the spring-loaded connector leads are quite long, and you should have no problem connecting them to your battery connectors. Furthermore, it has a rubberized texture that makes handling easy as well as prevents it from slipping.
The only notable drawback is that this model does not show the battery charge left, unlike other more advanced battery testers. But, this should not be a deal-breaker given the many other fantastic features and functionalities.

---
2. Best for the Money: Foxwell BT705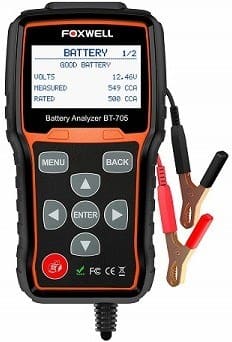 Test range: 12 V to 24 V
Battery Type: 12 V and 24 V batteries
For a car battery tester that works with both 12 and 24-volt batteries and almost all battery types, the Foxwell BT705 comes at a great price to ensure excellent value for money.
But, what many users love most is that it offers accurate results fast. The tester uses advanced conductance testing technology and premium quality components that maintain a stable connection to deliver accurate results in just 2.5 seconds.
With this car battery tester, you also get a longer 7.8-foot cable that makes it possible to test your battery from inside the vehicle, which is highly convenient.
The leads on this unit are permanently attached. Therefore, damage to the clamps or cables can make it useless, but this is hardly a deal-breaker. Also, the Bluetooth printer is a little restrictive as it only connects to printers from the company, but these are quite affordable and easy to get.

---
3. Best Wide Range: Motopower MP0514A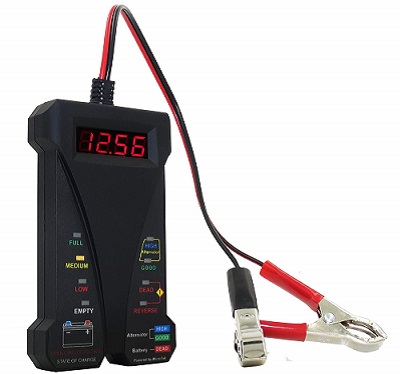 Test range: 4 V to 20 V
Battery Type: All 12 V batteries
The Motopower MP0514A has one of the widest voltage test range on our auto battery tester review, making it a highly versatile model. This unit can test all kinds of batteries anywhere from 4 V up to 20 V.
Additionally, the battery tester offers high accuracy with a 4-character lighted digital display. Besides accuracy, the display is also easy to read in any light condition to ensure you can use the tester anywhere.
Operation is also more effortless as this is a connect and go unit that does not require any complicated or lengthy setup. Better still, it is a safe model to operate as it has over-voltage and reverse hookup protection.
Despite the alligator connector lead wire being a little shorter, it still works well for most vehicles.

---
4. Best Compact: Ancel BA101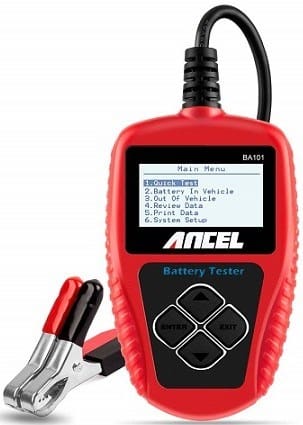 Test range: 9 V to 15 V
Battery Type: All 12 V batteries
The Ancel BA101 is a small and compact battery tester you can easily carry around for use anywhere. Its compact size means you will not have any issues storing the gadget as it takes up little space in your toolbox.
Additionally, it has a versatile test range of 9 V to 15 V, so you should not have a problem using it on either a motorcycle or in a car. Better still, you can use it for a wide variety of tests, from voltage and internal resistance to cranking tests.
The display is quite large and with backlighting and adjustable contrast to ensure easy read in any light condition. Additionally, the tester provides accurate results in milliseconds.
Another thing making this a fantastic battery tester is the 3-foot long cable that allows you to do the test from far or even when inside the vehicle. Better still, you can use this gadget to test your battery on and off the vehicle.
The manual that comes with this tester does not clearly explain some important terms such as JDIS and SAE, which can be a demerit for inexperienced motorists. But, one can always get better information online.

---
5. Best with Built-In Printer: Ancel BST500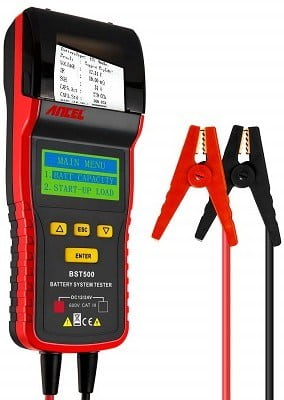 Battery Type: 12 V and 24 V batteries
For those looking for the best digital car battery tester and prefer something with a built-in printer, the Ancel BST500 is one of the best options out there. It uses standard thermal printer paper to print test results for sharing with customers or attaching them to a work order for future reference.
Moreover, this unit has a large enough and backlit LCD to allow you to view the data clearly in any light conditions. Better still, it is an accurate and fast unit that provides results in just 2.5 seconds.
With this battery tester's ergonomic design, it is easy and comfortable to hold, even for an extended period with minima hand fatigue.
Furthermore, it accommodates all battery rating standards from CCA to SAE and GB, making it ideal for use on almost any 12 or 24-volt car battery.
When you compare this model to others on our list, it is a little pricier, but it is worth every buck for a tester with a built-in printer. Despite the 2-foot long cables also being on the shorter side, they still get the job done.

---
6. Best 12V Car Battery Tester: Cartman TL120207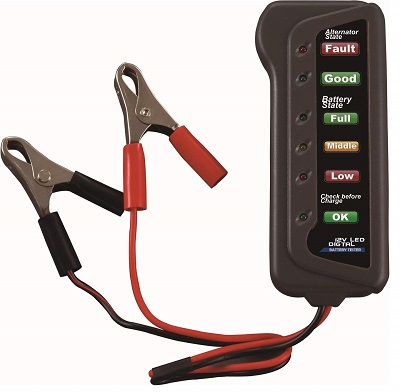 Battery Type: All 12 V batteries
If your vehicle uses a 12-volt battery, the Cartman TL120207 is the perfect tool for you. Besides working for most 12-volt car batteries out there, it is also a versatile unit that can perform various checks from battery and charger check to alternator check.
The unit has an LED indication system to make it easy to understand the information. This system goes from a red indicator to a green indicator to show you whether your battery is in good shape or not.
Additionally, this is one of the easiest and most comfortable car battery testers to use, even for absolute beginners. All you have to do is place the connectors on your battery connector, and it will immediately display an indicator light.
Many users also love that they do not have to spend a lot of cash to get this battery tester as it is quite affordable.
While connector leads are relatively short and this model does not provide detailed information, it is still quite handy when checking your battery status.

---
7. Safe & Reliable Car Battery Tester: Foxwell BT100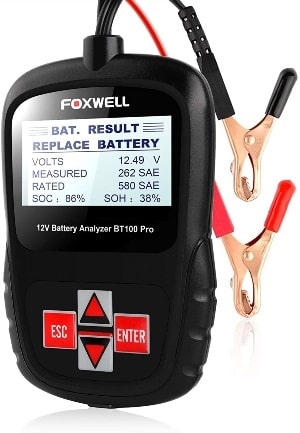 Battery Type: All 12 V batteries
Foxwell BT100 is a safe and reliable car battery tester with multiple protections. They include over-voltage protection, automatic temperature compensation, and polarities wrongly connected.
The car battery tester also has multiple functions that include voltage test, charge display status, and internal resistance test. Better still, it displays accurate results superfast in just 3 seconds.
Overall, this gadget is easy to use as it includes a well-arranged menu for quick and effortless navigation through the different settings.
The only notable shortcoming for this car battery tester is that it does not come with a case. But, the good news is that you can always buy one separately. What's more, its compact size means it is still easy to store even without a case.

How to Buy the Best Car Battery Tester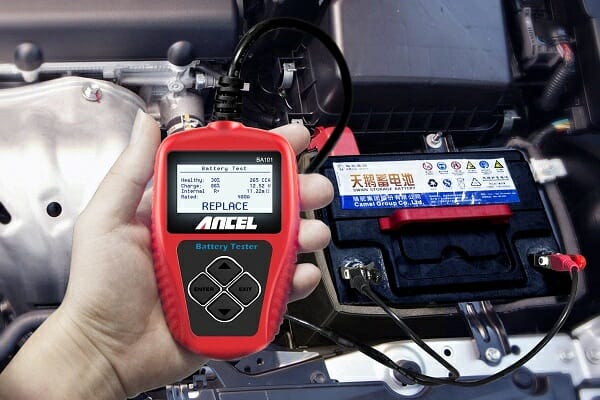 1. Types of Battery
There are several car battery types out there like the deep cycle, lithium-ion, SLI, and the wet cell. Therefore, you must ensure your car battery tester can work with the specific type you have.
In most cases, this should not be a problem because the car battery tester only tests the battery's output voltage and not its make and model.
Therefore, most car battery testers can test a wide range of voltages in a car battery. Generally, a good one should at least test anywhere from 9 V up to 15 V with ease like the Ancel BA101.
2. Display
The car battery tester display is where you check your battery's voltage and any other information the gadget provides. It needs to be sufficiently large and clear enough, so you have no problem seeing the values.
Additionally, if you plan to use the car battery tester in a low light condition, it is always a good idea to go for a model with a backlit screen.
For the analog models like OTC 3181, an extra-large and color-coded display is the best as it makes it easy to interpret the information.
3. Connector Leads
The connector leads are the part of a tester that connects to the battery connectors. You should make sure they are large enough to fit any type of battery connector, as this ensures the gadget is easy to use and versatile.
Additionally, suppose you are planning to use the car battery tester for an extended period. In such a case, it is a good idea to go with a model that has an ergonomic connector lead handle covered with a soft rubber material.
4. Anti-slip back
The back of the car battery tester is a vital aspect to consider. Sometimes when checking your car battery, you may want to place the tester in an awkward position where it can slip and fall.
For this reason, ensure that your car battery tester comes with an anti-slip back to prevent this from happening. Most of the time, this is a soft rubber material that grips the car battery tester firmly in position.
5. Ease of use
The car battery tester is generally not a very difficult car accessory to use. However, you still need to check the particular model you have and make sure it gives you an easy time.
A straightforward design that does not require a complicated setup and clear, easy to follow directions are some things to look for to ensure what you buy is simple to use.
6. Ease of Carry
If you're planning to carry your car battery tester with you, then portability is essential.
For portability, the car battery tester needs to be lightweight, under 1 pound. Also, it should come in a small and compact size like the Ancel BA101.
How to Test Car Battery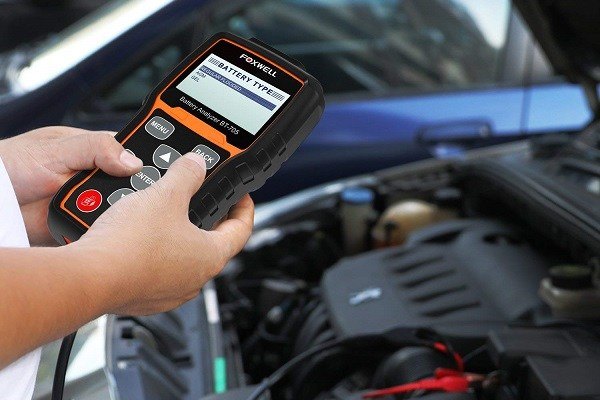 Step 1: Locate your Battery Connectors
Battery connectors consist of a positive connector and a negative connector. Your battery tester will have a black wire and a red wire that denote polarity.
At this point, it is a good idea to clean your car battery connectors with a wire brush and some WD40 or other car connector cleaners to remove rust and corrosion. Cleaning makes make it easy to tell battery connectors apart.
Step 2: Connect the Battery Tester
Next, you need to connect the black wire on your battery tester to your car battery's negative connector. Likewise, connect the red wire to the positive connector.
Once you make the connection, the next step is to switch on the car battery tester.
Step 3: Check the Voltage
Your car battery tester should display the voltage automatically if you make the connection above correctly. However, you have to press the start button for others, which is what you should now for this step.
If you have a good 12 V battery, it should display a value of 12.6 V or something close to this. Make sure you perform this step with the car engine not running.
Step 4: Check the Alternator
Checking the car battery is not enough. You also need to check the alternator and see if it is charging the car battery correctly. For this, you need to switch on your car engine.
While your car battery tester is still in place, check if it displays a voltage of 13.7 V to 14.7 V if you have a 12 V battery.
Ideally, this is the voltage that the alternator sends to your battery in an attempt to charge it. If there is less voltage or more than the value indicated above, you may have an issue with the alternator.
Read more a relevant article about car battery jump starter
Conclusion
The battery tester is a handy tool to have for any vehicle owner as it plays a crucial role in checking the health of your battery to ensure the vehicle is running well.
Whether you are a professional or a regular motorist, there is a good model of this tool on our list for you. However, the Clore Automotive BA9is our best overall model as it is versatile, well built, and straightforward to use.
But, for motorists looking for something that provides excellent value for money, the Foxwell BT705 is a fantastic option as it has a lot to offer for its price.