One of the most inexpensive ways to maintain an automobile is by getting it the best car cover. Car covers are simple but they are highly effective in protecting the car from dirt, dust, UV rays and physical damage when in packing.
These covers are especially helpful when you have to store your car for extended periods. But with the many types available you need to know how to pick the right one for your vehicle.
Here we explain the important factors to keep in mind when shopping for a good car cover. But first check out our review of top 7 car covers for some ideas on the models to go for.
Editors' Picks for Top Car Covers of 2021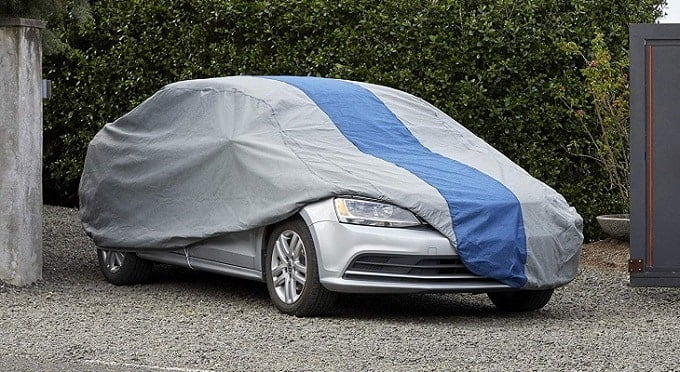 Summary of 7 Best Car Covers
IMAGE
PRODUCT
FEATURES

1. Leader Accessories 10301003 (Best Overall)

Durable biodegradable material
Great for both indoor and outdoor use
Windproof design
Handy free storage bag

2. Kayme 4332979525 (Best for All Weather)

All weather protection
Universal sedan fit
Rainproof and UV protection
Convenient door zipper

3. Classic Accessories 10-010-051001-00 (Best Full Size Sedan Cover)

Perfect size for full length sedans
Soft and scratch-free fabric
Fast and custom fit
Convenient storage bag included

4. Budge B-3 (Most Breathable)

Great for indoor use
Highly breathable material
Secure and custom fit
Dustproof and UV resistant

5. OxGord SKU-940-XL (Waterproof Multilayer Cover)

Durable multilayer construction
Completely waterproof
Snug enough fit
Free storage bag and antenna patch

6. Ohuhu Y60-82000-15 (Dustproof & Scratch-Resistant)

Premium quality polyester fabric
Dustproof and scratch-resistant
Snug and wind-resistant fit
Quick and easy to clean

7. Leader Accessories 10301003 (More Environment-Friendly)

Biodegradable and environment-friendly material
Great for both indoor and outdoor use
Snug and windproof fit
Free storage bag included
1. Leader Accessories 10301003 - Best Overall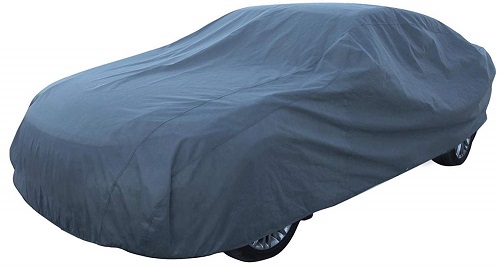 Number of Layers: 3
Material: Biodegradable
Dimensions: 9.2 x 8.7 x 12 inches
We will start with the best overall car cover in our list which is this amazing product from Leader Accessories. This product is Ideally designed to fit all the sedan cars that are up to 200 inches.
Talking about the material, this one has got 3 layers of biodegradable material. And there are air holes in the fabric that makes the material breathable and helps in repelling moisture.
Considering the fact that it is neither too heavy-duty nor lightweight, you can consider using it both indoor and outdoor. It will protect the car from dirt, dust, bird droppings, tree sap, and all other kind of pollutants.
The security of the cover is also carefully insured as it comes with a strap and buckle at the bottom that help to make it waterproof. And in order to ensure better fitting, there is an elastic hem at the bottom.
While the fit might be a concern as it is not universal, if you have a sedan this car cover will work perfectly for you.

---
2. Kayme 4332979525 - Best All Weather Car Cover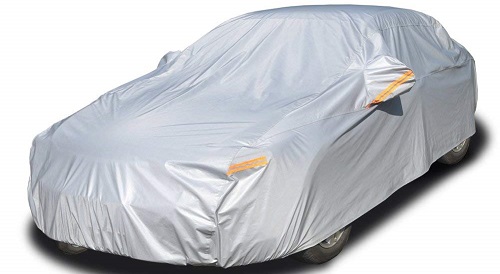 Number of Layers: 4
Material: Aluminium
Dimensions: 182 x 193 inches
Next in our car cover review we have this great product from Kayme. Unlike the previous product, this is a completely waterproof model.
This is surely the best car cover for all weather because of the 4 layers. The cover is made with PE & aluminium and PE & cotton. The aluminium material helps in protecting the car from UV rays.
And the interior of the cover is made with cotton that does not pose any threat on the car paint. The overall quality of this cover is extraordinary.
The size is suitable for most cars, primarily for the A2 fit sedan-wagon length. This is a heavy-duty car cover that is ideal for outdoor usage.
When compared to other car cover options on our list, this one is a little pricier, but it makes up for this with the premium quality material and all-weather performance.

---
3. Classic Accessories 10-010-051001-00 - Best Full Size Sedan Cover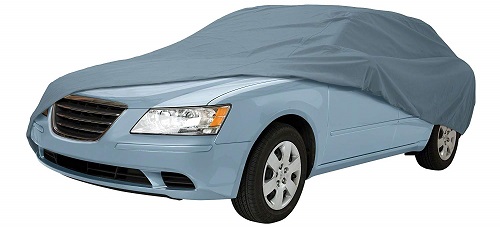 Number of Layers: 1
Material: PolyPro
Dimensions: 101 x 210 inches
Classic Accessories is a brand that will never disappoint when it comes to car covers and other similar accessories. And this particular model is one of the best car cover for outdoor use on our list.
It is a full-size cover that is ideal for any sedan. While the fit is not customized, but it pretty much suit all the sedans in size of 191 x 210 inches.
The internal fabric is extremely soft to ensure it causes no harm to the car's paint. As far as the external fabric is concerned, it is made of Poly Pro material which protects the car from UV rays and other elements.
There is elasticized hem on the corners of the cover so that good fit is ensured and it comes with 2-year warranty and a storage bag.
This might be a lightweight single layered car cover, but it still provides more than enough protection.

---
4. Budge B-3 - Most Breathable Car Cover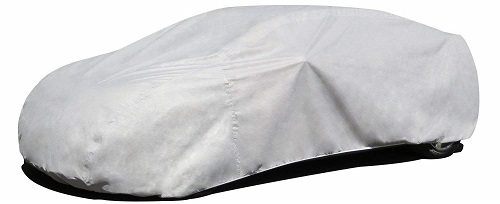 Number of Layers: 1
Material: Polypropylene
Dimensions: 200 x 60 x 51 inches
Many of us have the habit of parking car in the garage. Well, the Budge B-3 is suitable for that and it makes one of the best indoor car covers.
The material used in the making of the product is polypropylene. It is one of the most breathable materials and keeps the car protected inside out.
Because of single layer work, we suggest you use the cover indoors only. The fitting is suitable for an average sized sedan. However, this is also universal fitting product.
There are double stitched seams on all sides of the cover for added durability. Plus, the full elastic hems the helps in keeping the cover tightly in place irrespective of the weather conditions.
There are various cars for which this cover is perfectly suitable. Some of the examples are Ford Mustang, Chevrolet Corvette Stingray Coupe, Chevrolet Corvette, Ford Thunderbird, Honda Civic.
While the overall quality could still be better, this car cover still provides more than enough protection and will last long enough.

---
5. OxGord SKU-940-XL - Waterproof Multilayer Car Cover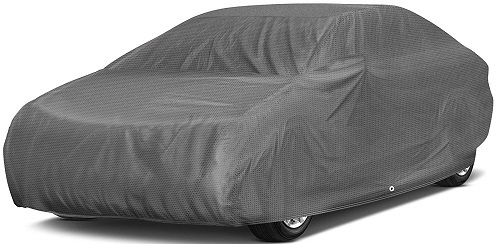 Number of Layers: 5
Material: Polypropylene
Dimensions: 17.06 x 4.59 x 4.43 inches
OxGord has grown into one of the most successful brands to manufacture finest car covers. This is another piece of excellence delivered by the brand.
It is a heavy-duty and thick car cover which may be a little difficult to handle. But its pros are praise-worthy. Starting from the material, this product is made of 3 layers of spunbond polypropylene, single layer of micro-porous, and a single layer of soft fleece.
The car is provided efficient protection from inside out. Nothing can go wrong from inside because of the soft fleece and polypropylene material will take care from outside.
This product features superior breathability, front and rear elastic hems for great fit, and draw strings to make sure that the cover doesn't fly away with heavy wind.
And it comes in a free storage bag and with an antenna patch. Plus, there is high wind and theft locks to keep the cover protected.
Price is the only significant drawback as this is one of the priciest items among our review but it is worth every buck.

---
6. Ohuhu Y60-82000-15 - Dustproof and Scratch-Resistant Outdoor Car Cover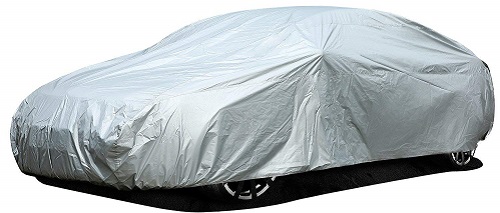 Number of Layers: 2
Material: Polyester Taffeta
Dimensions: 191 x 201 inches
So, if you want to buy best car cover for money then this one by Ohuhu will be a perfect choice for you.
The product is very thoughtfully constructed with polyester outside and 190D denim inside. This provides comprehensive protection to the car inside out.
The material is waterproof, scratch-resistant, and anti-tear. It comfortably takes the shape of the car and serves you for a very long time.
There is a central strap and buckles that hold the cover in one place and prevents it from blowing away. The exterior is also well-constructed that it does not have affect of UV rays, snowing, rains, frost, bird-droppings, etc.
The cover is suitable for an average sized sedan and it will provide a snug fit and ensure quick and easy clean up.
The straps looks cheap and this car cover is also made from a thinner single layer material but for its price you still get value for your cash.

---
7. Leader Accessories 10301003 - A More Environment-Friendly Car Cover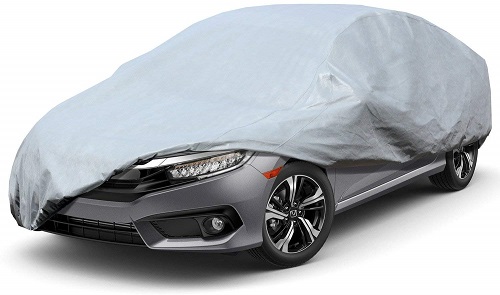 Number of Layers: 3
Material: Polypropylene
Dimensions: 199 x 61 x 50.5 inches
Here we come with another product from Leader Accessories. It is a good car cover with decent features and 3 layers of protection.
This model is 100% waterproof and provides great protection from all kinds of damage. There is a completely layer of waterproof film and the ultrasonic seams prevent the water from sweeping inside.
The 3 layers include spunbond polypropylene, waterproof PE, and a layer of UV stabilizer. That is how this product protect the car from harmful UV rays, dust, snow, ice, industrial pollutants, and bird droppings.
In order to protect the cover from flying away with the wind, it includes straps and buckles that help in locking the cover from the bottom.
The elastic hem on all the corners of the cover will give it a perfect fit and when you buy it you also get a free storage bag.
The size seems to run a little small and the material is also quite thin but for an inexpensive car cover these are minor issues.

How to Buy the Best Car Covers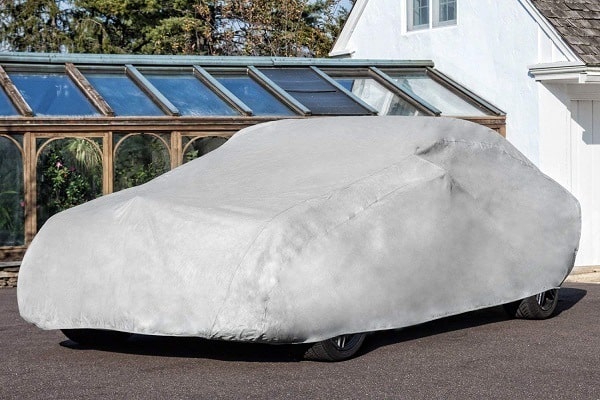 Car covers are available in different styles and forms and so it can become quite perplexing to find a suitable item for your automobile.
But choosing the right car cover for your vehicle should also not be rocket science as you will only need to watch out for the following things when shopping.
1. Vehicle's Size
These days, its quite easy to find a cover that provides a custom fit. If you don't want to experience the hassle of adjusting the cover on the car then it is best to find a suitable size.
First of all, the covers are available for different automobiles such as SUVs, sedan, hatchback, truck and RV. For all these kinds of automobiles, there are different kind of covers available.
To make sure you get a perfect fitting car cover you need to check the size of your vehicle, its shape and model.
2. Outdoor or Indoor Car Cover
Most car covers are designed for either indoor or outdoor use and hence when shopping for one you will need to decide which type to buy.
And the need for different covers for indoor and outdoor use stems from the fact the car needs a different level of protection depending on the environment.
For example for outdoor use, you need to worry about protecting the vehicle from the elements but inside a garage this is not necessary.
But also note that most outdoor car covers can work well indoors but not all covers meant for indoors will work well outdoors.
3. Custom or Universal Fit
Car covers come with either a custom or universal fit. And while both can work well for your vehicle you need to choose what works well for your particular situation.
Universal fitting covers work for all kinds of vehicles but they can leave space for the dirt and dust to build up on the car.
With the custom fitting car covers on the other hand you get a more precise and snug fitting but these cover types are only ideal for a specific vehicle and you cannot use them on different models.
4. Brand
Like with all other vehicle accessories, the brand maters when it comes to choosing the best automobile cover.
Buying a cover from a reputable brand increases the likelihood of getting something top quality that will serve you long.
Brands like Leader Accessories and Classic Accessories offer some of the best built car covers and you will hence always be in safer hands by buying from them.
Conclusion
There will always be need to cover your vehicle when not in use as you have to protect it from the elements and potential damages.
But because not just any cover will do you need to make sure you get the bets car cover by considering factors like vehicle size, fit and brand.
And besides explaining these factors in detail we have also provided some excellent recommendations with our review, and so all you need to do is pick the model that suits your needs.