If you are buying an RV that means that you are probably looking towards making a massive financial investment in the automobile as they do not come cheap.
Well, if you to have spent so much on the motorhome, then you need to find ways of protecting the vehicle and keeping it in great shape. And buying the best RV cover is always a good starting point.
RV cover protect your motorhome from then elements and surface damages from other things like animals to ensure that it maintains a pristine look for a long time which then minimizes the cost of maintenance.
These products basically save you tons of cash that you may have to spend for damage. Whether your RV is parked in a garage or driveway, an RV cover is a need that you cannot escape.
But finding that one cover that gives you good value for money can be a bit challenging as there are too many options on the market. However, with our review of top 7 RV covers and a comprehensive buying guide things should be easier.
Editors' Picks for Top RV Covers of 2021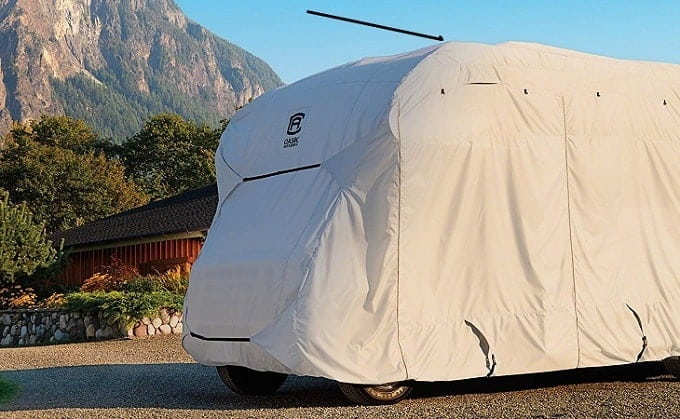 Summary of 7 Best RV Covers
IMAGE
PRODUCT
FEATURES

1. Classic Accessories 80-160-151001-00 (Best Overall)

Material 3-ply poly fabric
Lightweight and strong material
Water-repellant and breathable
Tight fitting elasticized bottom

2. ADCO 52206

Material (Triple layer SFS AquaShed top panel)
Sturdy overall construction
High end finish
Fits RVs perfectly

3. Classic Accessories 79563

Material (3-ply poly fabric)
Tight and custom fit
Easily accessible zippered panels
Integrated air vents

4. Classic Accessories 80-135-151001-00

Material (PermaPro Ripstop fabric)
Heavy-duty and highly protective material
Easily accessible
Compact and easy to store when not in use

5. Leader Accessories 90101001

Material (Triple Ply top Material)
Top notch quality for under $200
Thick and durable material
Easy RV access with the cover on

6. Camco 45744

Material (Triple layer SFS material)
Perfect for snowy and cold areas
Maximum rainfall resistance
Easy RV doors and storage access

7. ADCO 22893

Material (Polypropylene material)
Highly affordable cover
Durable all climate use
Water-repellant and breathable
1. Classic Accessories 80-160-151001-00 - Best Overall
Classic accessories is not only popular for the RV covers but also all kind of other car and automobile accessories. And this lightweight but strong covers shows why thousands of motorhome trust them.
The dimensions of this product are 27 x 30 x 118 inches which makes it a perfect fit for most class A RVs.
Also, this top-rated RV cover always provides a perfect fit thanks to the elasticized hem corners. Plus there are adjustable front and rear tension panels for a more custom fit.
The air vents installed in the cover reduces wind lofting and inside moisture and despite this being a water-repellent cover it is still breathable enough to prevent mold and mildew.
And the material used here is triple-ply PolyPRO 3 which makes it ideal for winters and snowy environment.
This RV cover is not very ideal for leaving directly exposed to the elements, but for use inside the garage or under a canopy it is perfect.

---
2. ADCO 52206 RV Cover

If you live in the environment where there is immense moisture due to climate then the ADCO 52206 is perfect for your RV.
It is a tough and sturdy RV cover with a high end look and is designed to protect the RV from UV rays effectively. No fading can happen on the RV by the time this product is concealing it.
The dimensions of the cover are 381 x 104 x 102 inches and thus, it can accommodate all kind of front ends, extra tall walls, slide outs and ladders, and air conditioners.
Furthermore, this model has vents that reduce wind lofting and inside moisture. The installation is pretty simple because of the lightweight. In order to encourage better fit, there are expandable zippered storage bags.
This product is the priciest among our RV cover review but the quality is worth it. Also, it might not be very good for harsh weather but it is designed for moderate weather, and so this should not be a deal breaker.

---
3. Classic Accessories 79563 RV Cover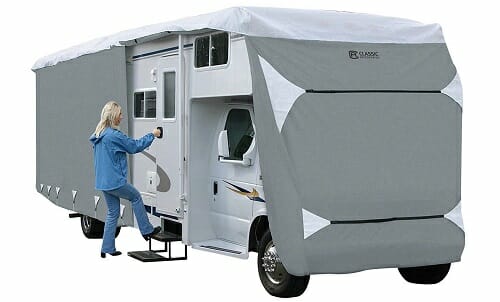 Here we come again with another leading model from Classic Accessories that will be a perfect choice for anyone that drives a Class C RV.
The dimensions of this model are 29 x 122 inches from ground to roof. The material of the cover is thick but not too thick to cause any problem for you while covering the RV.
There is adjustable front and rear tension panels with elasticized hem corners to ensure that the RV gets a tight and customized fit. Then there is integrated air vent system along with instant drying sides that reduces wind stress and vent inside the RV.
If you are concerned about covering the RV with ease, this model takes care of this as it comes with integrated rope attachment system. And the zippered panels allow you to get inside the RV easily with the cover on.
Price is the only notable shortcoming as it is a little expensive but the good news is that it has more than enough great features to make up for this.

---
4. Classic Accessories 80-135-151001-00 RV Cover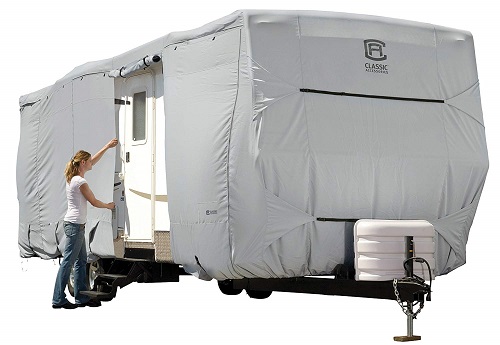 This Classic Accessories RV cover has been designed for those looking for something heavy-duty and highly protective for their RV.
And it is made for convenience as there are adjustable rear and front panels that offer complete access to the RV from rear and front doors.
If you are concerned about the moisture built up inside the RV then don't be as this cover also takes care of this. There are air vents that keep moisture out and does not let it sit inside the RV.
The material is thick, PermaPro that keeps out UV rays to prevent fading. And the light weight helps to make installation easy and to keep it stable at its place it also comes with some handy ropes.
This model is built to fit 24 - 27 inches trailers and when not in use it folds into a compact size for easy and convenient storage.
While the air vents are only one side, this does not affect their usefulness as they still do a great job in reducing interior moisture and wind stress.

---
5. Leader Accessories 90101001 RV Cover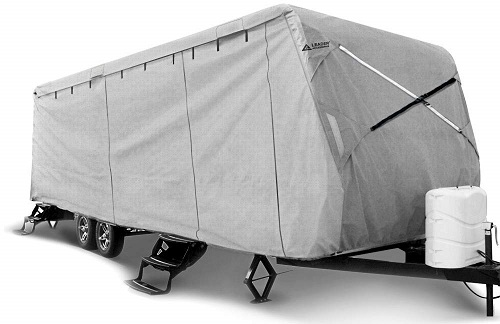 The next model in our list is from Leader Accessories and its dimensions are 366 x 102 x 104 inches to ensure it can fit RVs up to 30-foot long.
And the material used in the making is thick triple ply top and single ply sides that protects against rain, snow, and dirt.
This material makes it ideal for all kinds of weather conditions. And it reduces premature aging of RV because it keeps out UV rays.
The adjustable front and rear tension panels along with the elasticized hem corners give a tight and custom fit. Plus, the air vent keeps the moisture away from inside of the RV.
While this RV cover does not seem to come with nice instructions, installing it should still not take a lot of effort as it is quite straightforward.
Does not come with good instructions

---
6. Camco 45744 RV Cover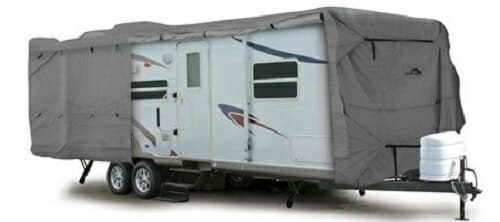 If compared to all other models listed in this review, The Camco Ultraguard cover is a great pick for the people shopping for something for use in cold and snowy areas.
The triple layer SFS top panels beads water on the contact and provides maximum resistance to rainfall and snow. And this is what makes it ideal for snowy places.
The material is quite thick and made of heavy-duty polypropylene and it also has self-adjusting hold down strap system to keep it tight enough and for a custom fit.
There will also never be any moisture building up inside the RV because of the air vents on the cover. These vented flaps reduce wind lofting and minimize interior moisture.
The directions that come with this RV cover are not very useful but like most others on our list, it is super easy to figure out, and so this should not be a deal breaker.

---
7. ADCO 22893 RV Cover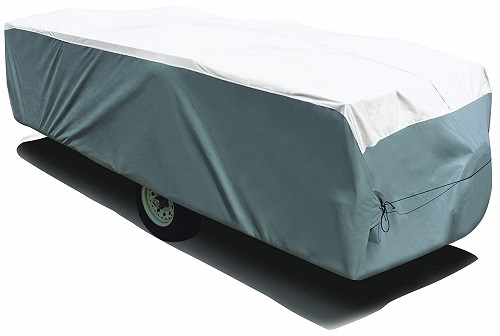 ADCO 22893 is the cheapest RV cover on our list and despite the smaller price tag it is still well-built and highly durable.
This ADCO RV cover is suitable for all kinds of climatic conditions and it provides protection from the harmful sun rays and keeps water out.
Its breathable and high-performance polypropylene sides also ensure moisture will never build up on your RV and cause mold and mildew.
Overall, this product is quite amazing and comes with strap and buckle attachments to prevent billowing. And installing it is super easy and should only take a few minutes.
This inexpensive RV cover seems quite small but this should not be a big concern as it has been built for motorhomes with a maximum length of 14 feet.

How to Buy the Best RV Cover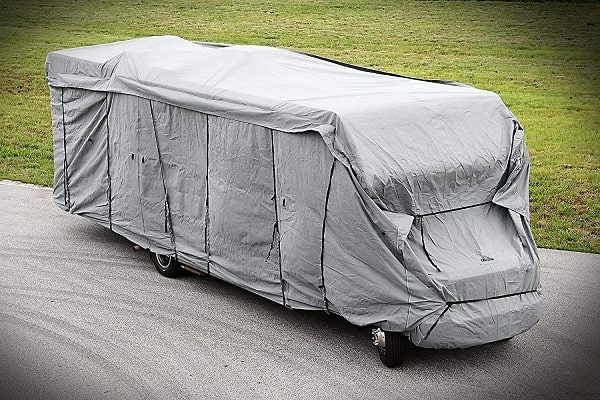 RV is one of those major investments that many people make in life. And so it is totally understandable why you treat it like your baby.
While a good RV cover plays an essential part ion caring for your priced RV, you need to make sure you pick a top notch model by considering the following things when shopping.
1. Type
RV covers are available in different types. For the buyer, it is important to understand these different types and what each has to offer before you buy one.
And you can classify then types according to the RV parts they are designed to cover or the material.
When using the area of coverage you can get full body covers, windshield covers, tire covers and even dashboard covers. And when it comes to then materials the most common types are those made from polypropylene, rip stop fabric and canvas.
2. Size
The size of the cover also matters a lot as RVs are available in different sizes and hence what you buy needs to cover your vehicle well.
Before settling on an RV cover you should check its dimensions and match them with your vehicle.
Besides making sure that the cover provides full coverage of the vehicle you also need to make sure it is also not too large as you will have lots of extra fabric hanging all over.
3. Material
The material used to make the RV cover also matters a lot as it determines both durability and the amount of protection that your RV will get.
Generally, a tough and durable material offers the best service as it protect the vehicle from both the elements and human or animal damages.
Waterproof materials are also a top notch choice as they help ensure your motorhome always remains dry.
And while poly material are often preferred as they are lightweight, durable and waterproof there are still many other good options like canvas.
4. Price
Well, everything comes down at the price as you can only buy what you can afford. And while many buyers might be tempted to go for the cheapest RV covers this is never a good idea as you are more likely to end up with something substandard.
Spending a little more cash on an RV cash from a top brand means you end up with something that serves you well for long and hence gives you the best value for money.
You can get a good RV cover for anything between $100 and $500, and so it is all up to your budget.
Conclusion
There is no doubt that there are many great quality RV covers out there that will help protect your motorhome and you just need to find them.
And finding the best RV cover for any weather should now be a more effortless task as our buying guide above highlights the important things to consider.
Furthermore, we also recommend some amazing products with our review, and so you only need to choose what suits your specific motorhome model.