There are different transporting methods from place to place, but using a hitch bike rack beats most of these other bike transportation methods.
A hitch bike rack is easy to install and use. It's more aerodynamic than roof-mounted racks and it prevents overhead clearance problems as well.
Hitch bike racks come in different styles and sizes. They are more stable, fast, sturdy and convenient than most other systems you'll meet in your search for bike racks.
In this hitch bike rack review, you get a list of the top offers in the market, along with a buying guide to help you make the best possible choice.
Top Hitch Bike Racks of 2021 by Editors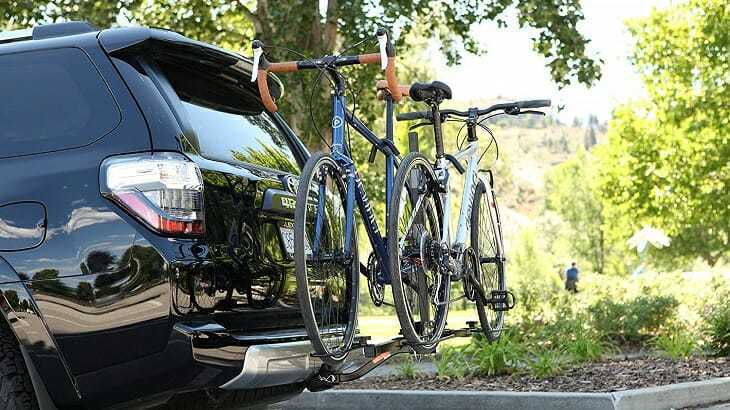 Summary of 10 Best Hitch Bike Racks
IMAGE
PRODUCT
FEATURES

1. Allen Sports 542RR-R (Best Overall)

Unique & effective tie down system
Arm folds away to make space
Fast setup in less than 5 minutes

2. Hollywood Racks HR1400

High-quality & secure bike rack
Fastens bikes without a wobble
Very flexible and easy to use

3. Allen Sports S-104

Unique snap-one design
Can handle up to 4 bikes
Safety pads protect your car's paint-job

4. Swagman XTC2

Wobble-free design
Works with both 1.25- and 2-inch hitch receivers
Swagman backs it with a lifetime warranty

5. Swagman Chinook 64683

Comfortable and secure bike rack
Highly adjustable system
The rack tilts to allow vehicle access

6. Pro Series Eclipse 63124

Durable and affordable rack design
Tilts down for rear vehicle access
Features rubber protectors

7. Yakima Ridgeback 8002457

Highly innovative hitch bike rack
Very stylish and modern design
Tilts easily for rear vehicle access
1. Allen Sports 542RR-R - Best Overall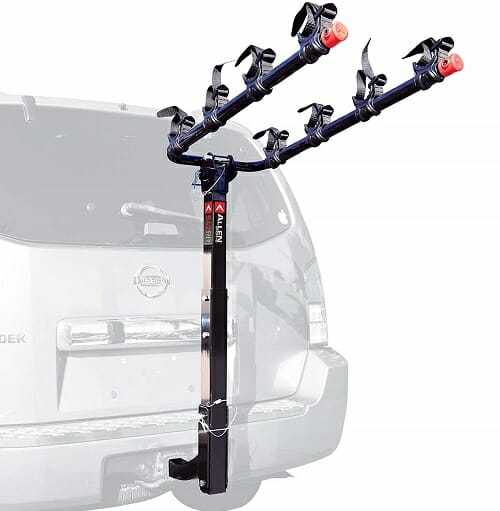 Capacity: 4 bikes
Hitch Size: 2 inches
Type: Hanging Rack
Allen Sports got founded by Dick Allen in 1967. He was a bike enthusiast and his company, Allen Sports, also reflects this love through its high-quality and well thought out designs.
This offer is for the best 4-bike hitch rack you've ever seen, although 2 and 3-bike offers are also available. While the 2-bike and 3-bike versions use 1.25-inch hitches, this 4-bike offer relies only on a 2-inch Class III or IV hitch to properly manage the extra weight.
The frame is a good and sturdy steel construction, finished with a black powder coat for durability. Two arms extend 22 inches from the main mast for hanging your bikes, and these arms can as well fold down when they're not needed.
Allen Sports fits each of these arms with four of their patented tie-down systems to provide safety for your bikes while on the road.
Installation is simple and you only need three bolts to assemble it. Allen Sports is also very confident about this best hitch bike rack for the money that it backs it up with a lifetime warranty.

---
2. Hollywood Racks HR1400 Hitch Bike Rack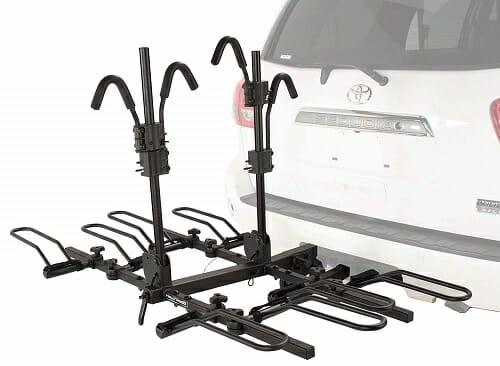 Capacity: 4 bikes
Hitch Size: 2-inch hitches
Type: Platform
Hollywood Racks presents its top-rated hitch bike rack for those who can afford it. This rack's price might seem discouraging at first, but wait till you see all it has to offer.
Starting from its easy to adjust wheel hoops, the lock system for securing the rack to the hitch, and its 9-foot long security cable for securing the bikes to the rack, you can rest assured that everything is properly taken care of here.
In addition to that, you get up to 50 lbs of weight per bike and you can either use this rack to transport 4 bikes at a go, or you can only transport 2 bikes and use the rest of the space for cargo with Hollywood Racks' cargo basket.
Things to pay attention to, include the specific use of only 2x2-inch hitches, as well as taking a maximum wheelbase of 60 inches, and maximum tire width of 3 inches. Fat tire kits are available though.

---
3. Allen Sports S-104 Hitch Bike Rack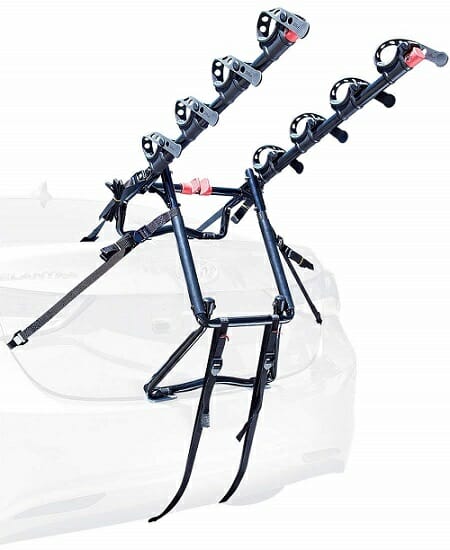 Capacity: 4 bikes
Type: Hanging Rack
Although this is a hitch bike racks review, this entry is for a trunk mounted rack from Allen Sports, a well-known name when it comes to bike racks.
The great thing about this offer is its ease of installation. It comes fully assembled and sets up in just seconds. Extra-wide pads protect the vehicle's finish from scratches and possible dents from the rack's weight.
This rack's design is patent pending and so well thought out that it fits most vehicles, including SUVs, minivans, sedans, and hatchbacks. You'll have to get the specific design for your type of car though.
Its carry arms are 21 inches long and they offer enough rack space for up to 4 bikes with a joint maximum weight of 140 lbs. You can also opt for the smaller 3-bike or 2-bike versions if you like.

---
4. Swagman XTC2 Hitch Bike Rack
Capacity: 2 bikes
Hitch Size: 1.25 & 2-inch receivers
Type: Platform
Swagman is also a name to consider if you're planning to get the best hitch bike rack for your vehicle. This Swagman hitch rack offers space for up to 2 bikes with wheels between 20 and 29 inches.
Assembly is easy and you can fold it up as well when not in use. It comes with wheel trays for narrow tires but if you have a fat tire bike, you'll need to buy fat tire trays separately.
Once the rack gets installed, you won't even need to take it down when you need access to the rear of your vehicle. Just fold down the center arms and your trunk will open up without any issues.
On the flip side, the locking hitch pin and 10 mm security cable for this rack are sold separately. The rack is also not available for more than two bikes, so it's relatively expensive.

It fits both 1.25 and 2-inch hitch receivers, however, and has a maximum rated weight of 70 lbs, which means 35 lbs for each bike.


---
5. Swagman Chinook 64683 Hitch Bike Rack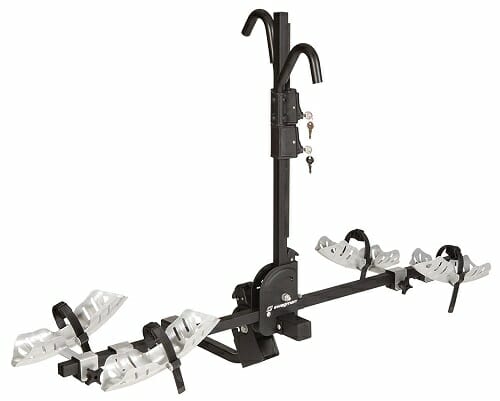 Capacity: 2 bikes
Hitch Size: 1.25 & 2 inches
Type: Platform
The Swagman Chinook is a stylish and high-quality bike rack, designed to offer both security and comfort for your bikes on the road.
Everything is adjustable, enabling the 2 bikes to sit perfectly and independently of one another. The frame is from steel and it's strong, guaranteeing you a long service life.
You are free to tilt the frame after installation, so you can get easy access to your vehicle's trunk. The hooks are adjustable and lockable, and the package also comes with a locking hitch pin for improved safety.
On the downside, this Chinook rack can't handle more than two bikes and it's also not cheap, but when you consider its flexibility in adjustment, tilting to make way, and folding down when not in use, then it seems worth its price.
Offers 2 comfortable and secure bike spaces

---
6. Pro Series Eclipse 63124 Hitch Bike Rack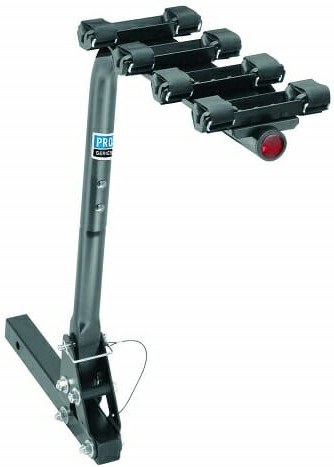 Capacity: 4 bikes
Hitch Size: 2 inches
Type: Hanging Rack
Pro Series is a brand known for its insights and unique approaches. With this Eclipse hitch bike rack, Pro Series provided a unique solution at an amazing price.
You get a 4-bike rack with extra features like soft rubber cradles, which protect the bike's finish from scratches and dents. Each of the cradles also includes Velcro straps for quick but effective securing of the bikes.
The swing arm's design aims for it to easily tilt backward to allow easy access to the vehicle's rear. The swing arm also comes with a rear reflector to increase visibility at night and improve safety.
This rack fits 2-inch receivers and has a rating of 120 lbs for the combined maximum weight of four bikes, while it weighs 30 lbs on its own.

---
7. Yakima Ridgeback Hitch Bike Rack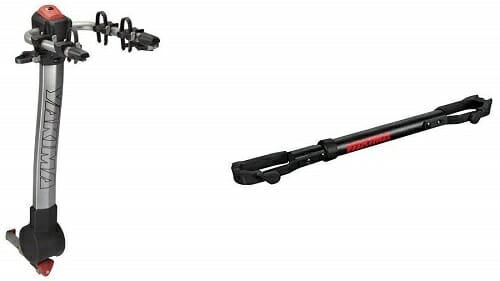 Capacity: 2 bikes
Hitch Size: 1.25 & 2 inches
Type: Hanging
The Yakima RidgeBack stands out from the other best hitch bike racks with its unique design and innovative features. Its first highlight is the UpperHand lever, which offers support for the bikes and additional tilts for rear vehicle access.
You also get ZipStrips, which are Yakima's special strips to fasten your bike's frame to the rack's arms and anti-sway cradles. The locking or unlocking of this rack is fast and easy using the SpeedKnob, another of Yakima's many innovations.
There are 2 products in this bundle. In addition to the main rack, you get a Yakima Crossbar adapter, which helps you to keep kids' and ladies' bikes fastened solidly to the rack arm mounts.
You might not like about this offer because it is the high price of the rack, although it seems worth it. The hanging design is also less secure than platform designs.
Yakima offers a limited lifetime warranty on this bike rack and you get an option to choose the 4-bike and 5-bike models if you've got a larger family.

How to Buy the Best Hitch Bike Racks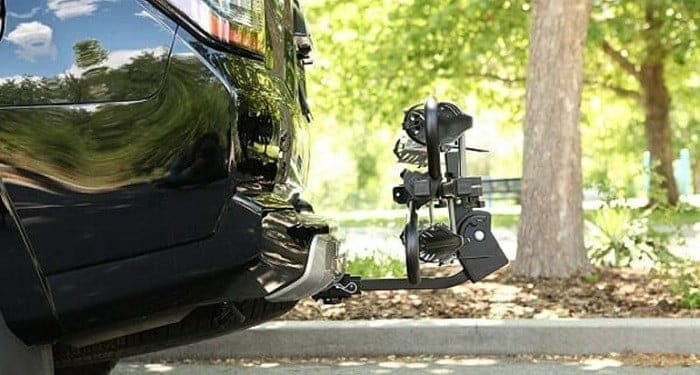 If you are wondering which hitch bike rack to buy, you should probably take a little time first to understand the different aspects of a hitch bike rack and what they all mean.
Following are these aspects to look out for:
1. Types of Hitch Bike Rack
The hitch bike rack comes in different shapes and sizes, depending on the manufacturer. Each rack is different from the rest based on its unique features, but three main types of racks have evolved from the wide variety over the years.
These three main types of hitch bike racks are the platform, the wheel, and the hanging rack. Each type has its advantages and disadvantages over the others and following is a closer look at each.
Platform (Tray) Rack. Platform or tray style racks are a style of bike racks where the bikes sit on a specially designed platform. The advantages of this type of rack include security, stability, and ease of loading.

If you want a bike rack that lets you easily load your bikes without abrasions or any damage at all, then choose a platform rack. On the flip side, they are heavier and bulkier than the other types of racks, but they are secure and stable, which makes it worth it.
Hanging Rack. As the name suggests, a hanging rack offers a system where your bikes hang from the rack as opposed to resting on it. The advantage of hanging racks is less cost and weight than the platform type.

Their disadvantages, however, include the lack of secure fastening of the bike to the rack. This results in the swaying of the bikes while in transit, with abrasions to their paint being a common occurrence.

Wheel Rack. With this type of hitch bike rack, the bike is fastened to the rack from the wheels and not from the frame as with the other type. This type of rack is the best for carbon frames or for bikes with irregular frames.
2. The Type of Bike
The bike that you're planning to transport is important as well. You have to make sure that it'll fit whatever kind of rack that you're getting. The major types of bikes include men's, women's, children's, and sports bikes.
Men's bikes don't pose much of a problem because they can easily get attached to most kinds of hitches, but with women's and children's bikes, you may often need a form of adapter to get things working. With racing bikes, you'll have to take special care depending on the bike itself.
3. Rack Capacity
This is one question you'll need to answer by yourself. Bike racks come in different configurations, ranging from a single bike rack to a 5-bike rack.
Will you travel alone or with family? Do you hope to have a larger family in the future? These are the questions you'll need to answer by yourself to know the rack capacity that you need.
4. Hitch Size & Tongue Weight
There are five hitches classes, based on how much weight they can tow and how much weight they can carry vertically as well, which is usually called tongue weight.
Class I has a maximum tongue weight of 200 lbs and so can only carry 2 bikes. Class II hitches have a 350-lb maximum and can carry up to 4 bikes, while the higher classes can bring even more.
Although there are five classes, there are only two hitch sizes. The first hitch size measures 1.25 x 1.25 inches and is for Class I and Class II hitches. So if your vehicle has this receiver size, you'll need to find out which class exactly it has.
If your vehicle has a 2x2-inch hitch receiver, however, then it's at least a Class III hitch with a 350-lb tongue weight, which is enough to carry 4 or more bikes.
5. Additional Features
You'll find different hitch bike racks with various extra features depending on their manufacturer. These features can include anti-rattling mechanisms, special locking systems, and other security systems.
You'll also find movable platforms, which allow easy access to the vehicle's trunk. These mechanisms can fold up, tilt, or swing away to allow you to open your vehicle's trunk.
Read More: The Best Trunk Bike Racks
Conclusion
Coming to the end of this best hitch bike rack review, it's now your turn to take action and reach a decision, having seen all the top offers out there.
So whether it's the best 4-bike hitch rack or the best platform bike rack that you're after, you're the one that knows it, as well as how much you can afford.
They all offer the same function, except that some do it in a safer way than others but at a price. Feel free, therefore, to choose according to your needs or according to your wishes.