Morning are incomplete without a scrumptious cup of coffee. Many of us are always on run. So, the coffee we consume is usually while we are driving. You will agree on this that to be able to drive and enjoy the coffee, you need the best car cup holder.
Well, it isn't just about the coffee cups but anything that you like to have in your car while you drive. It could be a beer cup, a water bottle, or a milk bottle for your baby. A car cup holder is able to accommodate all of these.
You will find out the different types of car cup holders, their sizes, materials, and many other details in this car cup holder review. Sit tight and keep reading!
Top Car Cup Holders of 2021 by Editors' Picks
Summary of 7 Best Car Cup Holders
IMAGE
PRODUCT
FEATURES

1. Swigzy Car Cup Holder (Best Choice)

Variable size of 2.5 - 3.75"
Slot for cups with handles
Comes with rubber tabs
Easy to add or remove

2. American Technology CH00100-BLK-1

Collapsible and adjustable
Non-scratch surface
High-impact construction
Easy to install

3. BottlePro BP2001

Variable size of 3.5 - 3.8"
3-ring setting
Highly adjustable
Compatible with 36 oz YETI ramblers

4. Camco Adjustable Cup Holder

Available in fully adjustable size
High-quality material
Contractable size for smaller cups
Available in multiple colors

5. ZoneTech GA0038

Made with premium quality standards
Easy installation
Comes with suction cap
Smart style

6. Smart Kup 120001

Variable size of 2.6 - 3.2"
Made of ABS plastic
High gloss charcoal finish
Compatible with cups with handles

7. Bell CO51 Octopus

Adjustable size
Standalone model with sturdy base
Holds large to small containers
1. Swigzy Car Cup Holder - Best Choice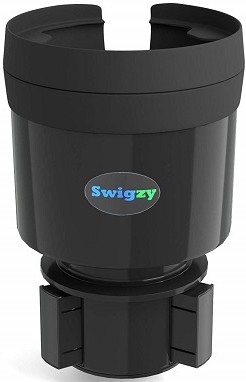 This is a premium-quality and super stylish model, also highly adjustable. The size is expandable from 2.5 - 3.75" which means it can accommodate differently sized cups.
There are rubber tabs on the base that securely hold the bottles and does not let the liquid spill from it. Also, the cup holder is extendedly sized for large cups as well.
The best thing is that unlike other cup holders, this one has provision to keep cups with handles. There is 1" slot on side of expander that allow you to keep the cups with handles.
Also, this model is very easy to add or remove. Only the high-price of this model might prevent some potential buyers from making a purchase.

---
2. American Technology CH00100-BLK-1 Cup Holder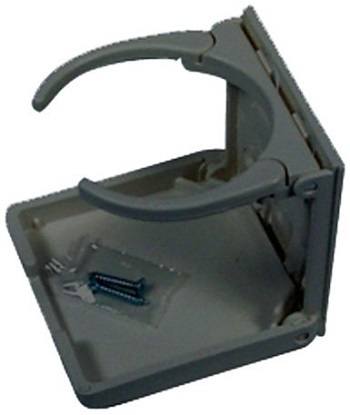 The opening model in our list is from American Technology. It is an adaptor cup holder, available in a variety of colors.
The high-impact construction ensures that this will not break soon and cater to you for the longest time.
The installation is easy and permanent but because you have to screw it somewhere on the car, it will surely create some mess. Also, it might not look so good because it has very standard looks.
On the plus side, this one is fully adjustable through 3 rings that ensure installation of variably sized cups. You will like it for the versatility of size, economical price, and robustness.

---
2. BottlePro BP2001 Car Cup Holder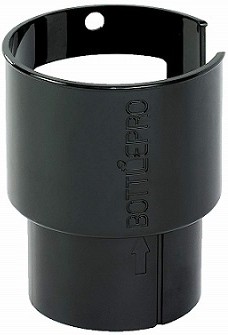 Well, this is another fully-adjustable and attachable car cup holder made of premium material. The robustness of the material is praiseworthy.
This one also has a 3-ring base that is turned to change the size capability of the cup holder. There is a large sleeve that makes sure perfect fit of the cup.
You can simply fix it to the console of the car and use it for bottles, cups, milk bottles, etc. This one is compatible with 36 oz YETI Ramblers. It is not compatible with 20/30 oz versions or YETI mugs.
Also, the material is no scratch-resistant. You might want to insert a form sleeve to prevent scratches.

---
4. Camco Adjustable Cup Holder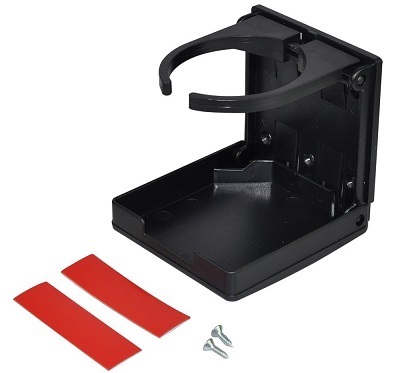 This cup holder is strictly for the people that are on a budget. This is a mountable product that you can adjust anywhere on the car, wherever you think it will be most accessible.
The heavy-duty material can hold weighty cups and bottles. The construction is also quite satisfying. The size is fully adjustable because of the open grip where you can adjust the cup and expand and contract as per the requirement of the containments.
You can also store it by folding the holder. It is being said that you can mount it in the car using screws or tape. Well, the tape won't be a good option to attach because it won't be able to bear the weight and screw adjustment will create mess inside the car.

---
5. ZoneTech GA0038 Cup Holder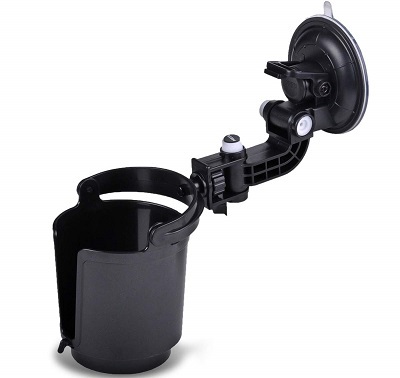 The ZoneTech car cup holder is uniquely designed with a smart style. It is a mountable car cup holder however the mounting mechanism is different.
It comes with a suction cap. In order to install, you have to press the tightening lever behind the holder which will push the air out and get installed to the car window.
The product is constructed with solid plastic material for prolonged use. The cleaning of this model is super simple. This model is however not suitable for bottles or heavy weighing cups. Also, it is not adjustable for differently sized cups.

---
6. Smart Kup 120001 Cup Holder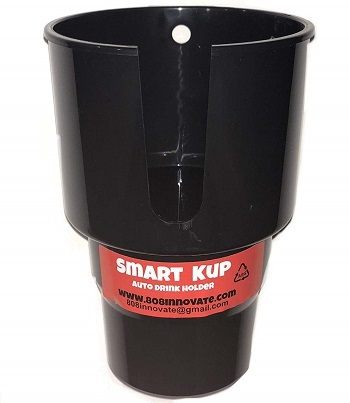 So, this one is another adaptor model with variable size settings. It is made with ABS plastic material to increase the durability of the product.
It can accommodate 32/40 oz hydro flask and larger bottles as well. The upper cup is 3 inches in size which makes it one of the best cup holders for car because it keeps spillage to the minimum.
Also, to adjust cups with handles, there is a provision of 1-inch slot. The tapered base provides snug fit. This one is also mountable and you need to use tools to screw it in. Well, the mess is inevitable. Also, it comes with no warranty whatsoever.

---
7. Bell CO51 Octopus Cup Holder
This is the first standalone model in our list. It is a simple product with minimal features. The weight is decent and it is available in a single color - Black.
There are three metal adjusters inside the holder that accommodates different sizes of cups. You can insert small to large sized cups and this one will hold conveniently.
The base of this model is firm and it will not roll here and there in the car. The length of the holder is not sufficient for bottles or extra-large cups.

How to Buy the Best Car Cup Holder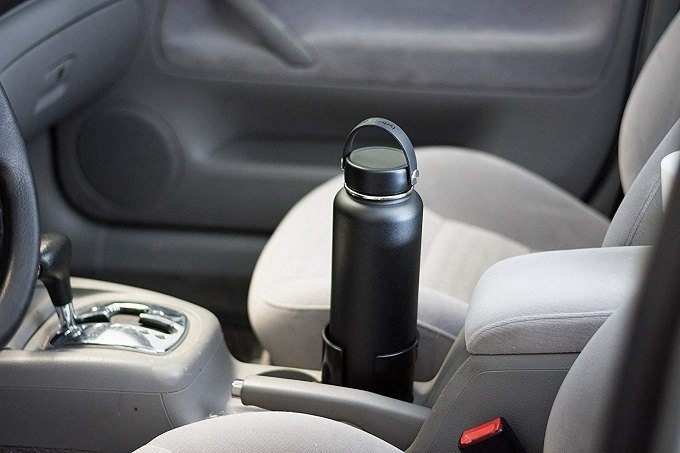 Well, in this section, we are going to drop some knowledge on features of the top-rated car cup holders and how you will be able to select the right option.
By far, you must have observed that there is a lot of versatility in these products. You can find different kinds of products with unique working mechanism and variable enhanced features.
1. Types of Car Cup Holders
Basically, there are 4 types of car cup holders that you will find on the market.
Adaptor
If you have been following our review from the beginning then you must have seen many options that are adaptable in some or another way. You see, these are single cup holders with adaptable bases. This way, they can make room for cups with different widths.
These cup holders are recommended for the commuters as they only have space for a single cup. These are also the best universal car cup holders considering the kind of versatility they have.
These are quite reliable and mostly made with promising materials. The retractable qualities and flexible base, you will find them suitable for any car or truck. Their installation is simple and you can easily remove them if not happy with the product.
Consoles
Another option that you can readily find online are the console cup holders. They are the standalone cup holders but usually need some base to hold them rigidly. Yet they are considered to be the best portable car cup holders because they don't need any fixtures.
Surely, these have more space and usually come in form of an organizer where you can't just keep the coffee cup but other eatables also that you might have along.
Certainly, they are good enough for larger families that travel together. In console car cup holders, you can also find completely freestanding models that you might have to place on an empty seat or floor of the car. However, their stability is largely questionable.
Mounted
Well, you must have observed from the name itself that mounted are the attachable car cup holders that you have to adjust using screws and tools.
While adhesives are also used to mount these cup holders but this attachment option is not strongly recommended. While these is a pursuable, it can definitely mess up your car's maintenance.
If you try and work out with the tools, your dashboard will be ruined and the adhesives will leave tacky mark on the place wherever you decide to attach the cup holder.
In these, you can find a variety in the best aftermarket car cup holders however the ones that are purchased from an authentic manufacturer has no better alternative.
Hanging
The last type in the car cup holders is the hanging ones which is also the least likable option. However, the price lowness might be able to convince many buyers into a purchase.
They come with a small hook that you can latch on a suitable place in the car such as the car doors. For the driver, this is not such a suitable pick but for the passengers, they will find it pretty useful.
Buying Advice
Well, the adaptor has a pro of holding a good weight capacity of a cup. They are super adjustable and available on a decent price so our vote goes with the adaptor car cup holders.
2. Fits
Believe it or not but the fit is crucial feature to consider while making a purchase. A cup holder should be such that it does not consume a lot of space.
The ones that are hefty in size are not appreciated by the buyers. Make sure to buy a product that has generous fit. The size should not be too much to give a lot of shake to the cup and not too small to not be able to accommodate even the standard sized cups.
3. Material
Most of these cup holders, irrespective of the type are available in plastic material. Some of these might have rubberized base but the prime material is mostly plastic.
The quality of plastic will differentiate. You should be watchful about this feature as well. The purchase is made to make the cup stay for the longest time. You wouldn't want it to break down before you have got the value of money.
4. Convenience
While you fit or remove the cup holder, you wouldn't want to go through a lot of hassle. Well, make sure to purchase a cup holder that is simple to fit and remove. One more thing, it should be super easy to clean. Keep all these features in mind.
Conclusion
We have armed you with all the information that is required to find the best car cup holder. Also, the buying guide given above will help you evaluate the features and understand the model that you are purchasing.
A cup holder is crucial for every car, whether you take a lot of beverages while driving or not. These tools give you an option to buy a cup of coffee while on the road. It helps in keeping your beverage at one place, without spilling or messing your car.
We hope that the car cup holder review will be useful for you and help in finding the right product for your purchase. Happy Shopping!