Whether you are looking for a low-profiler mechanic creeper for working on vehicles with less clearance or want something lightweight that you can easily carry around, the Lisle 97102 fits the bill.
It has a body-fitting design and a headrest for optimized comfort and is designed to make it easy to get in and out of the vehicle with easy thanks to sturdy rollers. Also, this creeper has a decent weight capacity that will allow most mechanics to use it.
Lisle 97102 Review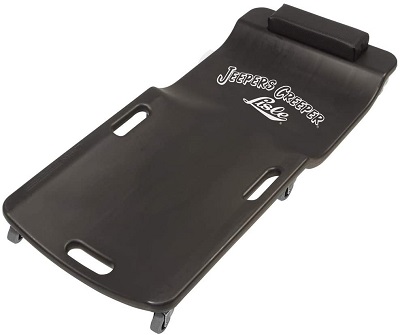 Features of Lisle 97102
300-pound capacity accommodates most mechanics
Body fitting design optimizes comfort
7/8-inch floor clearance allows it to fit under any vehicle
Strong and easily replaceable 2-inch rollers
Headrest for increased user comfort
Drilled transport holes make it easy to carry
Bottom Line
A low-profile mechanic creeper that will fit easily under any vehicle and with a body-fitting design for increased user comfort.
[amazon tag="carcaretotal06-20" type="button" value="B00AUIAWU0"]

Detailed Review for
Lisle 97102 from an Expert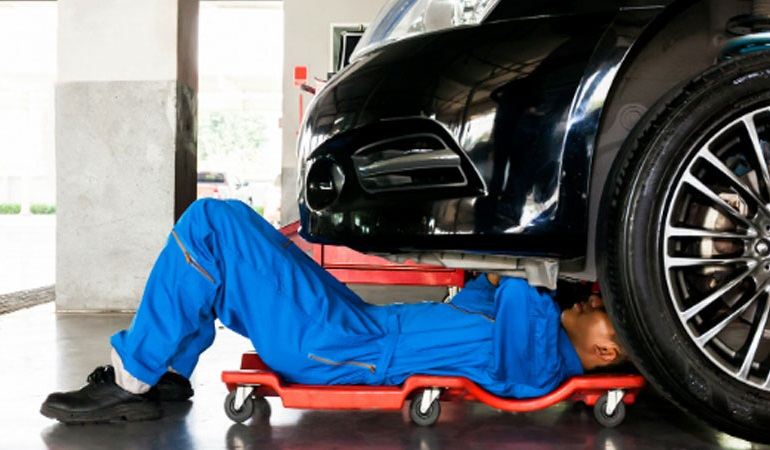 Weight Capacity: Good enough for a plastic creeper

The Lisle 97102 has been designed for use by all mechanics out there, and so it will easily hold most of them. It has a weight capacity of around 300 pounds, which might not be as high as what others will provide but still more than enough.
For a plastic mechanic creeper, 300-pound capacity is probably as good as it gets because given that the material is not as sturdy as those made with metal. Most plastic creepers tend to max out at around 250 pounds, which makes this one a great option when you want something that can be used by anyone.
Besides taking more weight, this creeper will maintain its shape under the weight without caving in, and hence ensuring it maintains maximum user comfort. It provides maximum support provided you do not exceed the recommended weight capacity.
Design: Simple and with a perfect body fit
Complicated creepers are often the most problematic as something always seems to develop an issue when in use. Hence, the more simplistic design of this one is an added advantage and should give it an edge over others.
But, the most distinctive element is the body-fitting design. When making the creeper, Lisle tests it on different body types to ensure it will deliver optimized comfort for the user regardless of their body shape and size.
This Lisle creeper comes in a low-profile design with a 7/8-inch floor clearance, which means it will fit easily under any vehicle. Hence, whether you are working on a truck or Porsche which is lower to the ground, this creeper will always be very handy.
Also, this creeper is designed to be up to 2 inches longer than standard ones, which means extra comfort for the user. The surface is also designed to be resistant to solvents, fuels, and greases, which makes this mechanic creepers easier to wipe clean up.
Still on the design, many mechanics will love that it is available in 7 different colors from standard black to brighter ones like blue and green neon. Hence if appearances also matter to you, it should be easy to find something that suits your tastes.
Durability: Mostly plastic but still fairly durable
A mechanic creeper has to take a lot of beating in the garage. Hence, when choosing a model for your home or professional garage, you need to make sure that it is built to be tough enough to handle the abuse.
Although it is made with a plastic frame, this Lisle mechanic creeper is still quite durable. The company uses heavy-duty plastic material that will take the abuse well and will even outlast some metal ones out there.
Another element that adds to the durability is the fact that this creeper is mostly one-piece with no joints. Joints and other connections are often the weakest part of a creeper, and so by eliminating them, the manufacturer helps make this a more durable model.
Also, you can be sure that the wheels will not be the weak point as they are built for durability. They are heavy-duty urethane rollers that are inserted into the steel bushings molded into the body of the creeper. And although they are easy to replace, you will hardly need to as they will last almost as long as the rest of the creeper.
Comfort: More comfortable than other non-cushioned types
While it might not include cushions or thick padding like many other creepers out there, the Lisle 97102 is surprisingly super comfortable. Some mechanics will even find this creeper more comfortable than those that are cushioned.
One of the main elements that make it super comfortable is the body-fitting design as it molds perfectly to the body shape to ensure maximum user comfort. According to the manufacturer, "This body fitting design was developed through testing on many body types to provide optimum comfort."
Also, there is more than enough space for most adults on this creeper as it is around 39 inches long and 18 inches wide.
The inclusion of a headrest is also much-welcomed as it will ensure you have a stable place for your head, which minimizes neck and back fatigue even when you have to be on the creeper for an extended period.
The smooth creeper surface is also an added advantage when it comes to comfort as it ensures it will be gentle on your body.
Portability: Lightweight and designed for portability
A creeper is one of those things that you will not want to leave behind when going to work on vehicles at different locations. Hence, a portable model like this one always makes a fantastic buy for any on the go mechanic.
Its relatively smaller weight is what makes it highly portable. At around 11.5 pounds, this is a lightweight enough, and hence easy to carry around creeper. Also, its size and low profile design make it easy to pack in the trunk or your back seat, and hence making it more portable.
The design is also meant for portability as this Lisle creeper will include 3 holes drilled on the sides to act as carrying handles. This ensures that you can hold and carry this mechanic creeper easily and more comfortably.
Price: Could be cheaper for a plastic creeper
For a plastic creeper, the Lisle 97102 could be a little cheaper, and this is more so when you compare it to what other similar models from different brands will retail at. But, you can be confident that it will be worth it.
With the heavy-duty plastic material, spacious and comfortable body-fitting design, and some sturdy and durable wheels, this mechanics creeper will give you excellent value for an under $100 model.
The good news is that you will also not need to spend any money on this creeper once you buy it as it is easy to assemble on your own and hardly requires any maintenance for its lifetime.

Conclusion on Lisle 97102
Low-profile car creeper designed to fit easily under most vehicles and with a body-fitting design for optimum user comfort.
With just 7/8-inch floor clearance, this creeper allows you to work comfortably under any vehicle. Also, its design is meant for most body types, and it includes some sturdy urethane rollers for mobility, and with drilled holes on the sides to ensure you can easily carry it around.