A car escape tool always gives you the peace of mind that comes with knowing it will be easy to escape the vehicle in case of an emergency. In many instances, it can mean the difference between life and death.
Car escape tools are typically multifunctional equipment that includes a seatbelt cutter, glass breaker, and a flashing hazard light, which are all crucial in an emergency.
The specific tools you get depends on the escape tool model that you choose. In this article, we look at some of the best car escape tools out there and explain what to consider as you shop for one.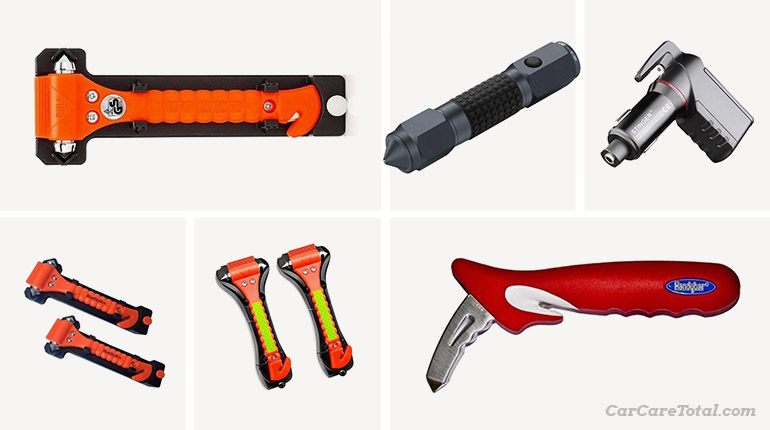 IMAGE
PRODUCT
FEATURES

1. Resqme Key Chain (Best Overall)

Lightweight & powerful
Easily accessible
Durable ABS plastic & stainless steel build

2. Stander HandyBar 3001 (Best for the Money)

3-in-1 design offers excellent value for money
Heavy-duty construction
Ergonomic, non-slip grip

Amazon Basics Emergency Seat Belt Cutter and Window Hammer Tool, Car Accessories

3. AmazonBasics SW-837 (Best Inexpensive)

Highly affordable
Double-headed tungsten steel hammers
Sharp & tough blade

4. VicTsing Safety Hammer (Easiest-to-Use)

Ergonomic & easy to use
Double-tipped hammers
High visibility reflective strip

5. StatGear SuperVizor XT (Most Accessible)

Clips on a car visor for easy access
Carbide tip glass breaker
Solid 440 stainless steel blade
Comfortable nylon grip

6. Lifehammer Safety Hammer (Best Mountable)

ABS plastic mounting brackets
Ultra-sharp, concealed knife

Comfortable polypropylene grip & handle

7. General Tools 7902 (Multifunctional)

Versatile all-in-one design
Magnetic backing
Nice flashing LEDs
1. Best Overall: Resqme Key Chain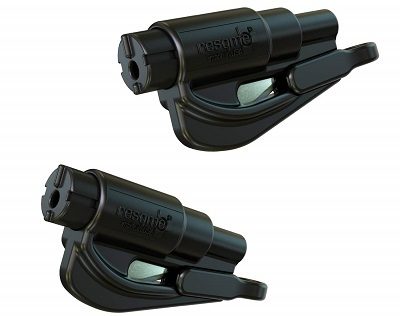 The simple, lightweight, and powerful Resqme Key Chain is our best overall car escape tool. Despite its simplicity, this car tool can help you get out of almost any situation.
Resqme Key Chain is a 2-in-1 tool that was originally developed for first responders, which should give you assurances of its effectiveness even before using it.
It consists of a spring-loaded stainless steel spike for braking glass and a concealed stainless steel razor blade that can slice through any seatbelt.
Managing the escape tool is also easy. Besides the key ring, it includes a cable tie to allow you to hang it on your rearview mirror for even easier accessibility. And if you go for the premium pack, you also get a lanyard for hanging the tool from the headrest.
Some motorists with large hands might find this tool a little too small and hence uncomfortable to handle, but the good news is that it still gets the job done.

---
2. Best for the Money: Stander HandyBar 3001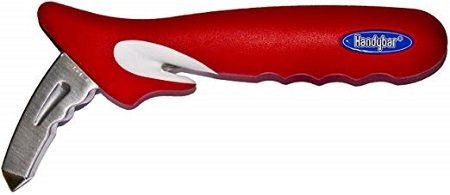 Stander HandyBar 3001 is a 3-in-1 automotive tool that will give you great value for money. The escape tool combines a standing aid with a seatbelt cutter and a window breaker. The standing aid can hold up to 350 pounds and slips easily into a U-shaped door latch.
Overall, this is also a well-built escape tool with a heavy-duty material designed to take a lot of abuse. Better still, it has a comfortable and non-slip handle to make it safer to use.
The design of this car escape tool is more straightforward and hence easy to understand for anyone. And one more thing users appreciate is that it has a lifetime warranty.
The tip does not fit some door latches very snugly, but it should still work well enough. What's more, the handle could also be a little longer, but its ergonomic design ensures you still get excellent leverage.

---
3. Best Inexpensive: AmazonBasics SW-837
For those looking for an inexpensive car escape tool that still does a fantastic job,

is an excellent buy.
This 2-in-1 escape tool includes a window hammer and seatbelt cutter. The window hammer is double-headed and with a tough tungsten metal to make window braking faster and more effortless.
For the seatbelt cutter, you get a sharp blade that can easily cut through any belt material. You can be sure this will be a comfortable tool to use as it includes a secure and comfortable plastic grip.
The bright color housing is an excellent addition to the tool as it makes it easy to spot in emergencies. With the inclusion of a protective bracket, this escape tool is easy and safe to store.
While it would be better if the car escape tools came with a Velcro strap or 3M adhesive to make it easy to install, the lack of either should not be a deal-breaker. Also, the lightweight is a more positive element than a negative one as it makes the tool easier to handle.

---
4. Easiest-to-Use: VicTsing Safety Hammer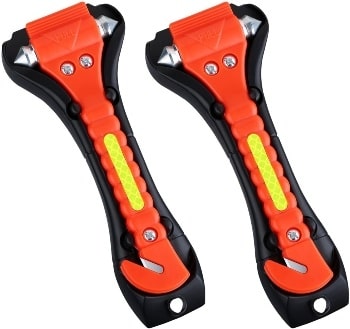 A simple and easy-to-use emergency escape tool for vehicles like the VicTsing Safety Hammer is what you need when you have to get out of a car within a short time. The tool comes in an ergonomic design with a long 6.7-inch handle to make it super easy to use.
For glass breaking, you get some double-tipped hammers made from high carbon steel and engineering plastic, while the razor-sharp blade on the other end cuts through any seatbelt easily.
You should not have any difficulties finding this tool in your vehicle as it has some highly reflective strips on both sides. Also, you can easily keep the tool stationary and ready for use as it comes with a mounting bracket.
Although mounting this car escape tool can be a little hectic, you should still figure it out, and you can even use a Velcro strap to make things even easier. When out of the mount, the blade seems a little too exposed, but it is still safe to handle.

---
5. Most Accessible: StatGear SuperVizor XT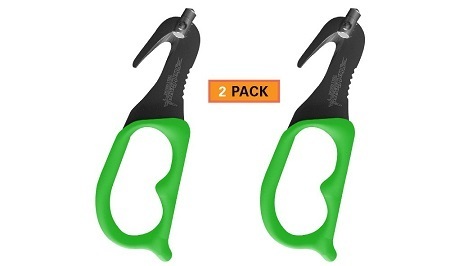 The StatGear SuperVizor XT is a pair of easily accessible car escape tools that will mount on your car's sun-visor to ensure you can get to them with ease in case of an emergency.
Besides the easy access, they are also well-built and practical. The escape tools include a tough carbide tip glass breaker that can break any vehicle glass and a stainless steel blade for cutting through seatbelts with ease.
These tools come in bright colors to make them easy to locate when in an emergency. Better still, they have a comfortable nylon grip that makes them easier to hold and use.
The glass breaker might not be spring-assisted as others on our list, but it still does the job. Also, the short warranty period should not be a deal-breaker as it does not make the product less useful.

---
6. Best Mountable: Lifehammer Safety Hammer
For an escape tool to be useful, you need to be able to keep it close and the mountable Lifehammer Safety Hammer offers just that. You can easily mount the escape tool on your vehicle to ensure easy retrieval as it comes with the mounting bracket.
With this tool, you get a very sharp seatbelt cutter and a double-sided steel hammerhead. Hence, you have an effective way of both cutting seatbelts and breaking vehicle glass.
Using this tool is guaranteed to be safe and easy as it includes a more comfortable and ergonomic handle. Also, like many others, it comes in a bright color to make it easy to spot.
This car escape tool seems to be made for people with small hands, but it is still handy in an emergency even if you have large ones.

---
General Tools 7902 is a multifunctional and all-in-one tool with everything you need to get out of your car in case of an emergency.
The tool has a highly effective glass breaker with a pointed steel tip that can shatter any vehicle's side window. Also, there is a safety-guarded seat belt cutter that cuts through any seatbelt material with ease.
Other things on the tool include an LED flashlight for illuminating dark spaces and a flashing hazard light to alert others when you need help. With a more comfortable and non-slip grip, this is an easy tool to hold.
Although some users might find this escape tool bulky, it is still surprisingly portable and easy to store. Better yet, if you will be keeping it in the glove box, its size should never be an issue.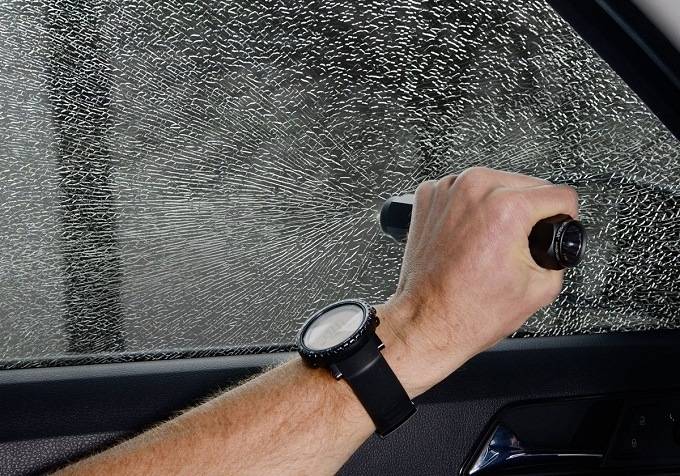 1. Basic Features
There are two primary features that every car escape tool should include, and these are a window glass-breaker and a seat belt cutter.
Glass-Breakers: Glass-breakers make it easy to crack the side windows of a car in the case of an emergency. There are two types of glass-breakers in the market; manual glass-breakers and spring-assisted glass-breakers.
With the manual type, you have to hold it firmly in your fist and hit the glass with a fast and hard punch to crack it.
Spring-assisted glass-breakers do not need any force to crack the car's glass. Simply hold it against the glass and activate the release mechanism.

Seatbelt Cutters: Although seatbelts are there to keep you safe in case of an impact, they can become an obstacle to your safety if the belt won't release when you need to get away from the vehicle as quickly as possible.

With a seatbelt cutter, all you need is to pull the seatbelt slightly away from you, make sure that it's taut, and then pull the cutter through it to cut the belt free.
In addition to the seatbelt cutter and a glass-breaker, a car escape tool can come with as many extra features as the manufacturer can add.
Popular extra features include a flashlight, a USB port or charger, a compass, a magnetic base, and a key-chain. Some like the Swiss+Tech ST81005 even include a panic alarm to alert others when you need help.
3. Versatility
Versatility is another factor left for you to decide what you want. Some tools like the VicTsing Safety Hammer, include just the glass breaker and belt cutter, which are the basic things you need in an escape tool.
However, others like the Ztylus Stingerare more multifunctional and hence useful in the vehicle and not just for emergencies as this tool also includes some USB ports.
4. Accessibility
No matter how useful a car escape tool might be, it only serves you well if you can easily access it at your time of need. Therefore, when choosing one you need to keep accessibility in mind.

Something that comes with a mount is often more easily accessible because you will have an easy time retrieving the tool once you mount it in place.
5. Ease of Use
The simple truth is that you will be using your car escape tool only in an emergency, so it needs to work flawlessly. Hence, make sure what you choose has a simple design and other things like a comfortable, non-slip grip to ensure it will be easy to use.
Frequently asked questions
A: Anywhere you can easily access in case of an emergency, and in many instances, this often means on the steering column, visor, or dash. The glove box and your vehicle's car keys also make good placement points for escape tools if their design allows it.
Isn't It Dangerous to Break the Glass?
A: Yes, breaking glass is very dangerous, but it might be the only way to save your life and others inside the vehicle in an emergency. Also, cars have tempered glass on the side windows that only explodes outwards, and so you should be okay if you close your eyes.
Conclusion
An escape tool is a must-have in your vehicle as you never know when you might need it, and with this review to guide you, finding the perfect model should be easy.
Although the best escape tool for you ultimately depends on your preferences, the Resqme Key Chain is our top overall recommendation. Besides being light and powerful, this tool is also comfortable to use and easily accessible.
However, if you are looking for something that will give you the best value for money, go for the Stander HandyBar 3001. At the same time,

is perfect for those that prefer something inexpensive.