Once you buy a car, you will soon discover that there are certain accessories you cannot do without. Such accessories cover a wide application area but generally, they help to make it easy to use and maintain your vehicle.
However, since some of them are not new products, you need to find the latest versions of them, which should have the latest in technology. That said these are the best car accessories that you need to consider buying.
Editors' Picks for Top Car Accessories 2020
Summary of 25 Best Car Accessories & Gadgets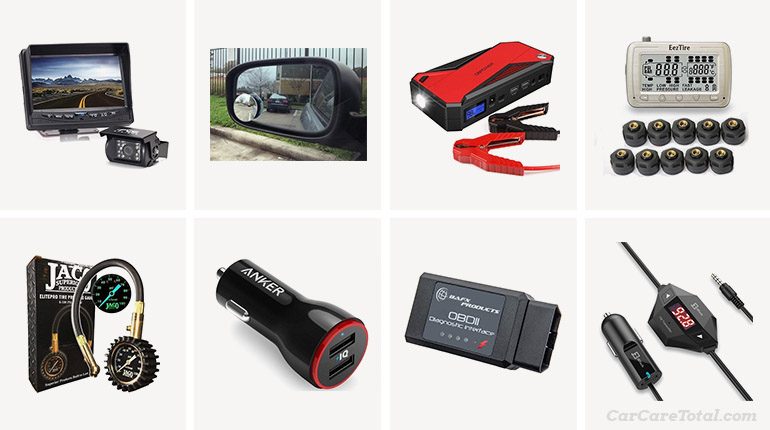 1. Backup Camera: Rear View Safety RVS-770613
A backup camera is a very convenient accessory to have because it lets you drive in reverse without straining your neck as you look at the back.
The camera also enables you to view hidden or blind spots at the rear end so that you can carefully park your vehicle without bumping into anything.
Recommended: Rear View Safety's RVS-770613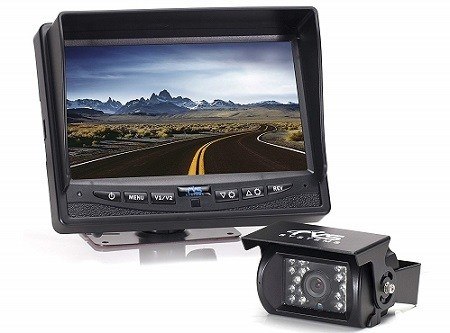 If you want to buy a backup camera, Rear View Safety's RVS-770613 is of the best units to consider for a number of reasons.
This unit comes as a complete system with a 7-inch display, 66 feet of cable and a 3-channel multiplexer for handling up to 3 cameras.
Once set up, the camera gives you a wide 130˚ viewing angle, built-in mic, infra-red night vision, distance grid lines and auto-dimming among many other features.
Read More: 10 Best RV Backup Cameras
---
2. Blind Spot Mirror: Ampper Am-BSM01
Blind spot mirrors are very cost-efficient ways to improve driving safety. Composed of a small mirror that fits on the wing mirror, this unit gives you a wider field of view so as to eliminate blind spots when changing lanes, merging with traffic, reversing or parking.
Recommended: Ampper's Am-BSM01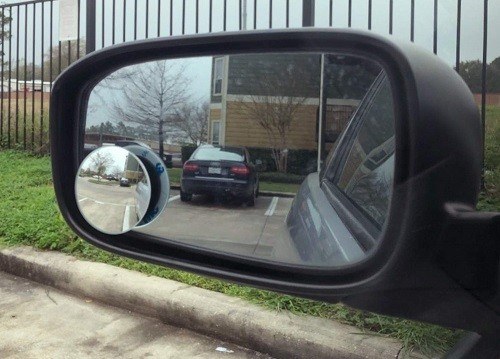 Ampper's Am-BSM01 is the ideal product for this job because it contains a swivel mounting base that lets you adjust the mirror however you like while its convex curved design gives you a wide viewing angle for broad vision.
The mirror actually comes as a set of two 2-inch diameter units (one for each wing mirror), and each is made of durable HD glass with a slim frameless design.
---
3. Jump Starter: DBPOWER DJS50
A jump starter is one of the must-have car accessories because you never know when your car's battery will kick the bucket.
Instead of going through the trouble of looking for another driver to help you jump start your car using his/her car's battery, simply get a jump starter and this will go a long way in helping you get back on the road if you accidentally drain your battery.
Recommended: DBPOWER's DJS5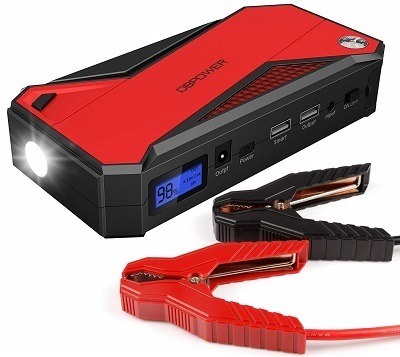 DBPOWER's DJS50 gives you the ultimate convenience of jump-starting your car (up to a 6.5-liter gas engine or 5.2-liter diesel) up to 20 times when fully charged.
This is made possible by a powerful 18000mAh battery that gives 600 amps of peak current to bring your engine to life.
---
4. Tire Pressure Monitoring System: EEZTire by EEZ RV PRODUCTS EEZ-RV-TPMS10
The name basically says it all. A tire pressure monitoring system is an electronic setup that is designed to monitor the air pressure in tires in real-time so as to help you maintain the right pressure level for safe and efficient driving.
Recommended: EEZ-RV-TPMS10 from EEZTire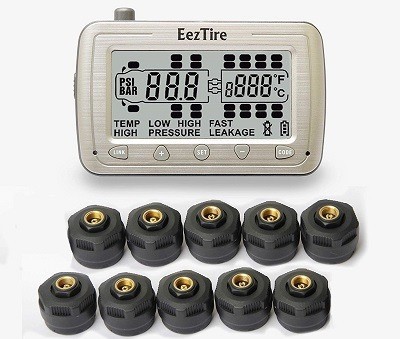 If you are looking for a reliable TPMS, the EEZ-RV-TPMS10 from EEZTire is the best option to consider because not only does it monitor the pressure level, but it also keeps tabs on the tire temperature for all-round safety.
With these, you get high-temperature warnings, high/low-pressure warnings (configurable), and these are given via visible and audible alerts for clear reception. Other features include a large, easy-to-read LCD screen and the ability to monitor up to 22 tires maximum.
---
5. Tire Pressure Gauge: Jaco Superior Products 8542044385
A tire pressure gauge is like the underdog of car tools and accessories; highly underrated but highly important.
Even though with this accessory you only get to check the pressure of one tire at a time, it requires no installation (like the TPMS above), making it a bit easier to use.
However, functionality-wise, the unit is quite similar to the TPMS because it helps you check the tire pressure so that you can maintain it at the optimal level.
Recommended: Jaco 8542044385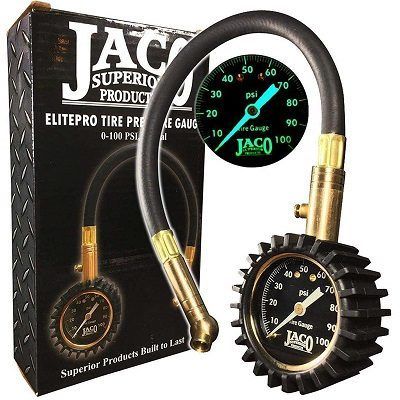 The performance tested and mechanic recommended Jaco 8542044385 is very good at its job, featuring a 0-100 PSI range, reset/ air bleeder button, 2-inch glowing dial face and a durable brass body for long-lasting performance.
---
6. Car Charger: Anker AK-A2310011
In this modern world, you absolutely cannot do without your phone. These devices basically contain our whole life in them and they help you stay in touch for making important arrangements and getting information on the go.
Power is the only limiting factor and when on the road, you will really appreciate having a car charger for your device. This component plugs into the cigarette lighter port and provides power via a USB port.
Recommended: Anker's AK-A2310011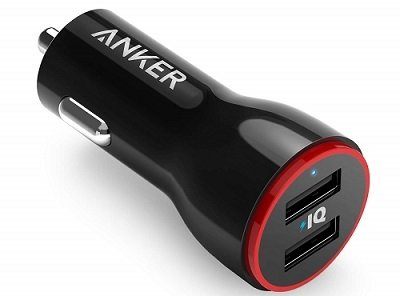 Anker's AK-A2310011 provides a compact charging solution with two USB ports that both run on advanced charging technology (VoltageBoost and PowerIQ) to deliver high speed charging to iOS and multiple Android devices.
Additionally, the unit features a MultiProtect safety system that keeps your devices safe from surges, shorts, and other damaging effects.
---
7. OBD2 Scanner: BAFX Products BAFX3127
OBD2 scanners enable you to scan, diagnose and troubleshoot car problems, which are usually indicated on the dashboard using different signs. This type of scanner is particularly advantageous because it uses a standard format that is compatible with a wide range of vehicles.
Recommended: BAFX Products' BAFX3127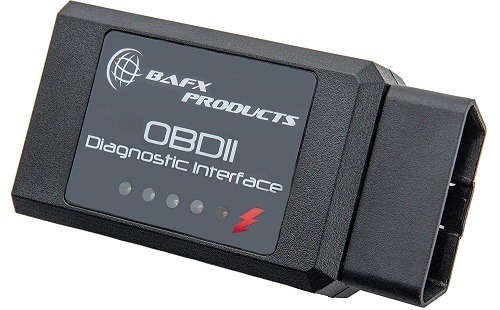 With its Bluetooth connectivity, BAFX Products' BAFX3127 links up with your Android or Windows device to enable you to read and clear engine check lights, pull data from the emissions system, get throttle and O2 graph sensor readings, etc.
However, you need to install certain apps such as Torque Pro, ScanMaster, Piston and Carista in your device so as to view this data.
---
8. FM Transmitter: JETech 0790-FM-BK
If your car's stereo is old school, chances are it lacks features such as Bluetooth, USB or Aux connectivity, which limits your entertainment options.
However, with an FM transmitter, you can change this by broadcasting FM signals containing audio from your devices so that the stereo can pick these up and project the sound using the car's speakers.
Recommended: JETech's 0790-FM-BK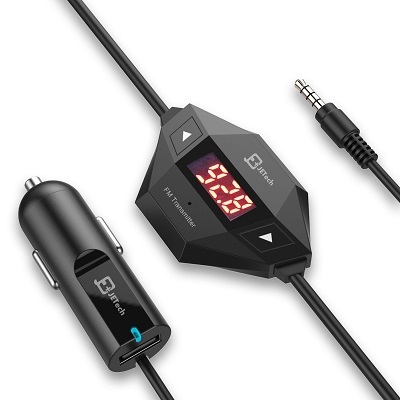 JETech's 0790-FM-BK utilizes its 3.5mm audio jack to connect to almost any type of smartphone or tablet running on iOS or Android.
The unit is powered via the cigarette lighter port and has a built-in USB port to keep your device powered when streaming music. Other features include an easy-to-read display with easy-to-use tactile buttons and high-quality audio transmission.
---
9. Vacuum Cleaner: Armor All AA255
Maintaining cleanliness in your car is very important but in some of the hidden areas, this can be difficult to do manually unless you have a car vacuum cleaner. This accessory basically works like the cleaner in your home but has certain features designed for interior car cleaning.
Recommended: Armor All's AA255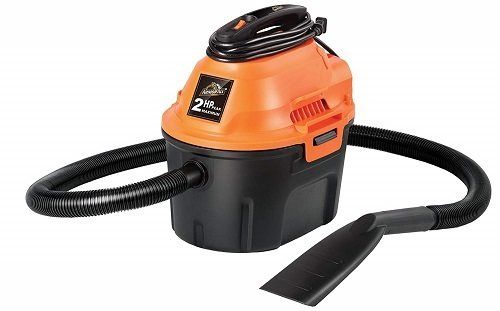 Practical and reliable are just some of the few words that can be used to describe Armor All's AA255 because it is a wet/dry vacuum cleaner with a large 2.5-gallon debris storage tank.
A 10-foot power cord plus a 6-foot hose enable it to easily reach all the corners of your car's interior while a 2-in-1 utility nozzle, blower nozzle, crevice tool, detail brush, and deluxe car nozzle make it possible to clean all the surfaces with impressive results.
---
10. Floor Mat: Custom Accessories 78840ZN
As part of maintaining a clean car interior, you need to fit in proper floor mats that will prevent dirt and debris from reaching the floor and are also easy to remove and clean.
Recommended: Custom Accessories' 78840ZN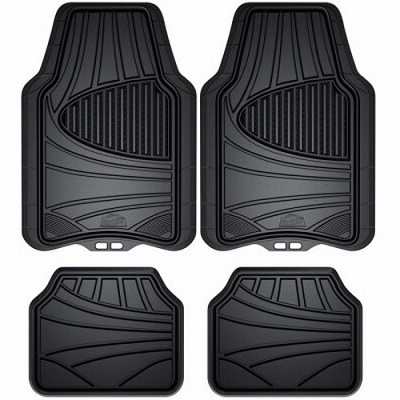 Custom Accessories' 78840ZN is an all-weather floor mat set containing at minimum 2 or maximum of 4 pieces for the entire car.
The mats are designed to comfortably handle all kinds of spills, dirt or mud, and won't harden, crack or curl in sub-zero temperatures.
Additionally, the pieces can be trimmed for customized fitting and feature a carpet claw anti-slip backing that keeps them grounded in one place. Other features include tan, black and grey color options for matching with different car interiors.
Read More: Best Floor Mats
---
11. Dashboard Cleaner: CarGuys 8542145820
Dashboard cleaners are one of the best car accessories to have because they help you to keep your dashboard looking fresh and new. This is important because dashboards are usually what everyone notices first in a car's interior.
Recommended: CarGuys' 8542145820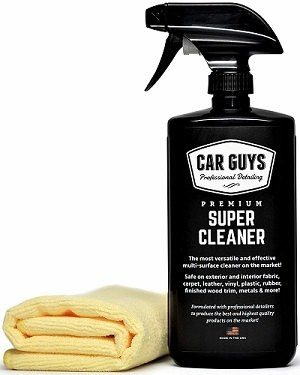 Whether it's leather, fabric, rubber, vinyl, metal, wood or plastic, CarGuys' 8542145820 can clean them all, making it a very versatile dashboard cleaner.
Additionally, the product is very effective and this can be attributed to its nano-technology formulated solution that lifts dirt at a molecular level for quick cleaning.
---
12. Leather Cleaner: Bickmore 10FPR107
Leather is usually associated with luxury and if your car has a leather interior (with a leather dashboard and seats), you have to maintain the good looks and quality of this material so that it can live up to its standards. To do this, you need a proper leather cleaner.
Recommended: Bickmore's 10FPR107
Coming in an 8-ounce bottle, Bickmore's 10FPR107 is a wax-free solution that conditions, cleans, polishes and protects leather without darkening it in the process. This makes it a versatile all-in-one cleaner that is very convenient to use.
Read More: Best Leather Cleaners and Conditioners
---
13. Car Trash Can & Bag: Drive Auto Products 712324502381_BL_USA
The name literally says it all. A car trash can-and-bag is one of the best car interior accessories because it is meant to hold trash in your car so as to avoid littering and causing a mess inside.
Recommended: Drive Auto Products' 712324502381_BL_USA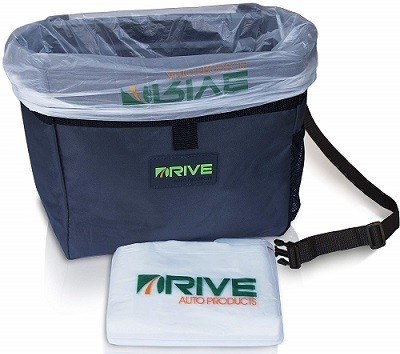 Drive Auto Products' 712324502381_BL_USA is highly recommended for this job because it is a hand-sewn 13 x 7 x 9-inch can with double reinforced interior lining for durability and a sealed thermal lining for keeping liquids contained.
Additionally, the product comes with 20 disposable interior liners to ensure no liquid penetrates through and for easy emptying once filled.
---
14. Steering Wheel Cover: SEG Direct B01GLMEK60
A steering wheel cover is one of the most popular car accessories because it improves your interiors look. Most importantly though, this component improves on safety by giving better grip so as to avoid hand slipping while also protecting your hands from hot or cold temperatures.
Recommended: SEG Direct's B01GLMEK60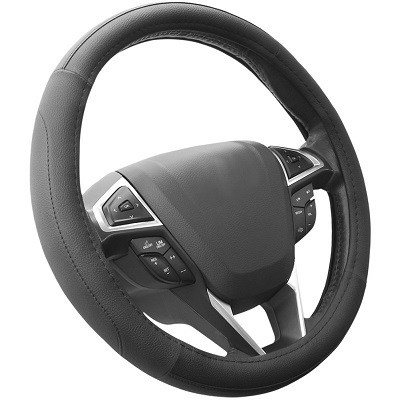 With a smooth microfiber leather construction, SEG Direct's B01GLMEK60 is characterized by a stable, heat-resistant and skid-proof surface that has a sporty and contour-shaped massaging design for comfort.
The unit is also available in multiple colors and is ideal for mid-sized steering wheels with 14.5 - 15-inch diameters.
---
15. Convertible Car Seat: Graco 1963212
If you have a young child, you must invest in a convertible car seat for safe driving. This accessory comfortably and safely keeps your young one tied to the seat as you accelerate, brake or turn.
It starts off in a rear-facing position, then can be switched to front-facing position for older kids.
Recommended: Graco's 1963212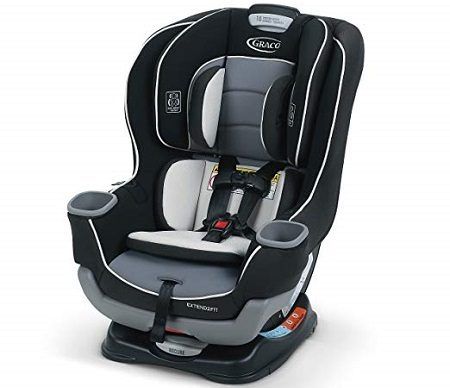 Graco's 1963212 can comfortably hold a child weighing up to 50-pounds in a rear-facing position and up to 65-pounds when front-facing.
More features include a 4-position extension panel that gives up to 5 inches extra in legroom, 6-position recline, and 10-position headrest adjustment.
---
16. Car Seat Cover: Leader Accessories 10203
A car seat cover's main objective is to keep your car's seats clean by protecting against sweat, spills, mud, etc., and they are available in different designs for fitting on the front or rear seats.
Recommended: Leader Accessories' 10203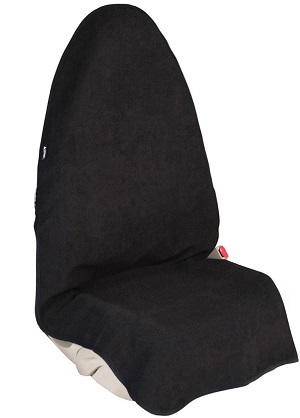 Leader Accessories' 10203 has a universal fitting design for both front and rear seats, and is specifically built for sweaty athletes.
The unit is made of a soft waterproof towel material that is machine washable and has a non-slip backing to keep it fixed in one position.
---
17. Seat Cushion: ComfiLife SYNCHKG080643
The importance of comfort when driving cannot be overemphasized. One key feature that can help improve on this is a seat cushion.
Even though car seats have spongy cushions built-in, this product is designed to alleviate neck stiffness, back pains, and stress, among many other discomforts.
Recommended: ComfiLife's SYNCHKG080643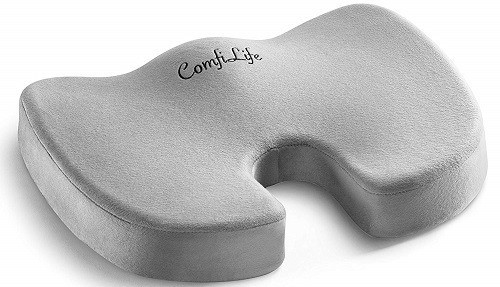 ComfiLife's SYNCHKG080643 features a contoured ergonomic design, a soft removable velour cover, a high-density memory foam, and an anti-slip bottom.
Combined, these improve on comfort by relieving stress and ensures you sit in a proper posture to eliminate sciatica and back pain.
---
18. Car Neck Pillow: Langria 6634632
A car neck pillow is also meant to improve comfort when driving by providing head and neck support.
Recommended: Langria's 6634632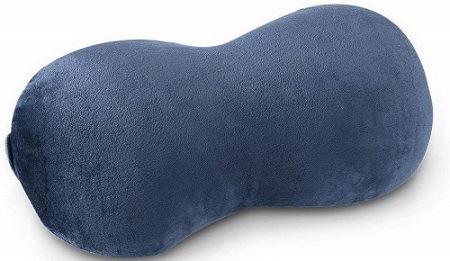 With its ergonomic infinity-shaped design, Langria's 6634632 provides excellent head and neck support because of its sunken middle section. This helps to prevent stiffness on your neck especially when driving for long distances.
Other features include a machine washable outer cover and a strong elastic strap that keeps the pillow fixed to the headrest.
---
19. Car Seat Massager: Snailax SL-256
Car seat massagers are at the epitome of comfortable driving and even though you can replace the whole seat for one with a massaging feature, this accessory is way cheaper and still functions in the same way.
Recommended: Snailax's SL-256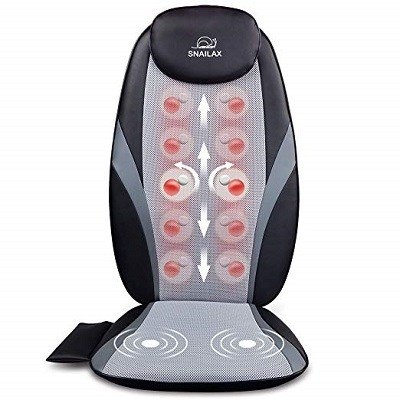 Snailax's SL-256 has a couple of features that work in its favor. For starters, it has 4 deep-kneading massage nodes that travel up and down to relax your entire back.
The unit also has flexible nodes that conform to your bodily curves, 3 massage zones with an intensity flap, a vibrating seat with 3 intensity levels and a heat therapy feature for soothing muscle pains.
---
20. Car Mount Holder: iOttie HLCRIO125
You can describe a car mount holder as extremely useful and a very cool car accessory. This component mounts on the windshield or dashboard then holds your phone at a convenient position so that you can easily access it for navigation, hands-free calling or entertainment.
Recommended: iOttie's HLCRIO125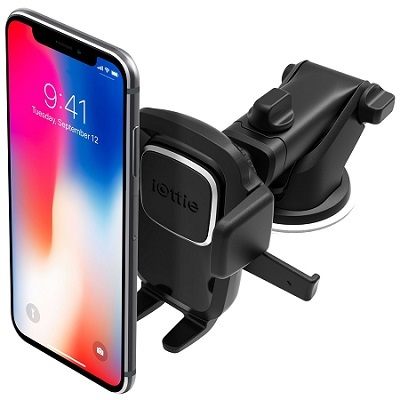 Featuring a strong suction cup, iOttie's HLCRIO125 can be firmly attached to either the dash or windshield and has a quick one-touch lock/release for easy mounting or removal of your smartphone.
Other features include universal mounting for phones measuring 2.3 - 3.5-inches, a telescopic arm that extends from 4 - 6.5-inches and pivots 225˚ for adjustable viewing, and a bottom foot that allows you to mount differently-sized phones.
Read More: Best Car Phone Holders
---
21. Trunk Organizer: Drive Auto Products FBA_635635175207
As opposed to just placing your shopping or other items in the trunk, this accessory helps you to arrange these things in an organized manner and also prevents them from tumbling all over the rear space as you brake, accelerate or take sharp corners.
Recommended: Drive Auto Products' FBA_635635175207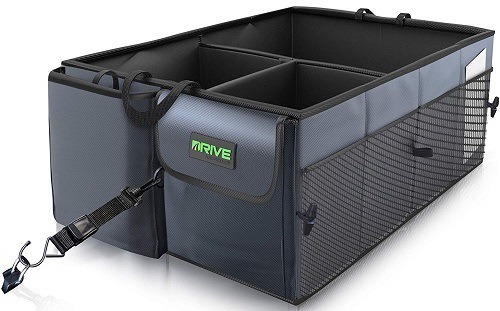 Drive Auto Products' FBA_635635175207 is a very practical organizer because it is collapsible to either a single-dry-gallon volume size or 9 dry gallons in half mode so as to fit in small cars or at the front/rear seats.
In full open mode, the unit has a 17-dry-gallon volume, which is quite large and can store a lot of items.
Other features include a waterproof construction with sturdy panel sides, steel-tipped tie-down straps, reinforced carry handles and horn & loop fixtures to hold two or more pieces together.
Read More: Best Trunk Organizers
---
22. Car Cover: Leader Accessories 10301003
Even though most cars are painted, treated or coated to withstand all weather conditions, eventually, nature will have its way. Car covers are built to protect cars from such elements so as to extend the durability factor.
Recommended: Leader Accessories' 10301003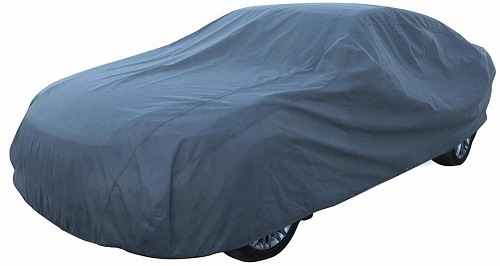 Coming in different sizes, Leader Accessories' 10301003 is available for sedans, SUVs, and trucks, and with all these, the cover protects your car from dirt, dust, UV rays, bird droppings and industrial pollutants for all-round protection.
Straps with buckles at the bottom help to prevent wind from blowing the cover off while an elastic hem gives a snug fit.
---
23. Cargo Box and Top Carrier: SportRack SR7018
If you keep running out of storage space in your car, then you can look to the skies (not literally though). You simply have to fit in a cargo box and top carrier to the roof of your car and this will drastically improve your car's cargo capacity.
Recommended: SportRack's SR7018

SportRack's SR7018 has a very durable ABS construction that is UV resistant, and has a universal fitting design that can be mounted on most SportRack roof racks as well as factory racks.
The unit gives you 18 cubic feet of storage space and has a rear lid opening for safe access away from the traffic flow.
Read More: Best Cargo Boxes and Top Carriers
---
Although we may not want to think or even talk about car accidents, they may happen and, in this case, you need to be prepared at all times.
You need to have certain accessories such as a car escape tool, which can help you cut a stuck seatbelt or break the window so as to set yourself free before the bad turns into worse.
Recommended: Stander's 3001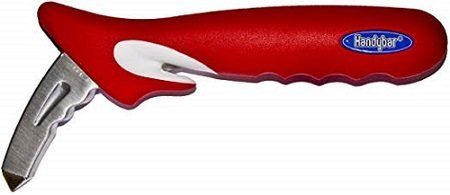 Stander's 3001 is a very versatile car escape tool that has a window breaker and seat belt cutter in one.
The unit can also attach to the car door latch so as to allow an injured or elderly person hold onto it when standing up or sitting down.
---
25. Car Emergency Kit: Lifeline 4330AAA
A car emergency kit is one of the top car accessories to have as it contains key tools such as booster cables, flashlights, bandages, etc., which can help to get you out of sticky situations.
Recommended: Lifeline's 4330AAA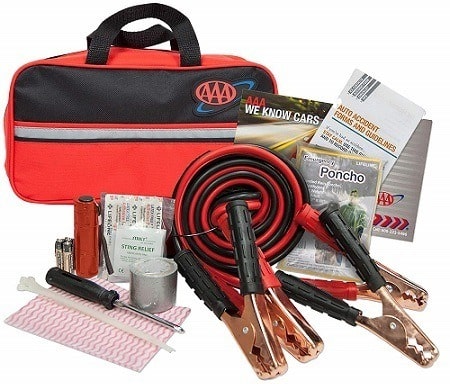 Lifeline's 4330AAA is very well equipped, containing an 8-foot 8-gauge jumper cable, 2-in-1 screwdriver, flashlight with batteries, poncho, bandages, towelettes, AAA accident guidelines, etc.
All these are packed in a compact storage bag for easy placement in your car and has carrying handles for easy transportation to the scene.
Conclusion
As you can see, there is a wide variety of car accessories to choose from, and all these complement each other so that you can include safety, comfort, hygiene, practicality, fun, and entertainment into your driving experience.
That said, the car accessories list above contains all the different tools that you may need to improve your driving experience, and should be highly considered.