While traveling, anything can go wrong with the car and every individual that drives should be prepared for all kind of situations. You should always keep the best car emergency kit so that if anything goes wrong, you can fix it immediately.
Most of the kits come all-inclusive with the necessary components like LED light, cutter, tire sealant, air compressor, and various others.
The car emergency kit review gives you all the information that you need. Also, we give you the recommendations that you need. If you are parents of a teenagers who has just started to drive, make sure to buy them the best emergency kit for cars and ensure their protection.
Top Car Emergency Kits of 2021 by Editors' Picks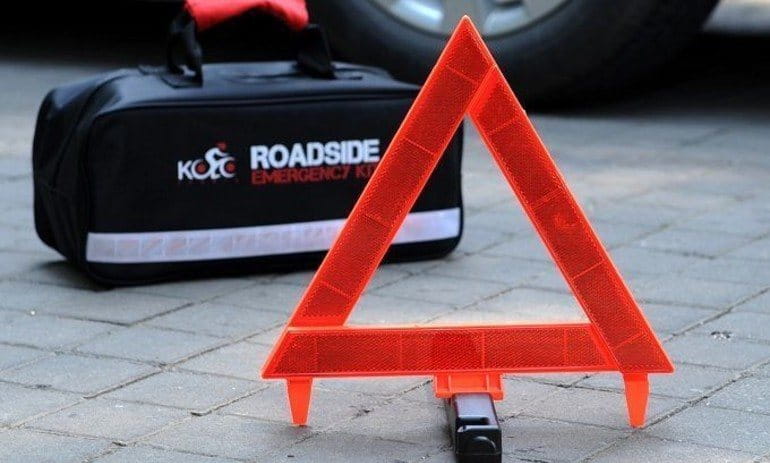 Summary of 7 Best Car Emergency Kits
IMAGE
PRODUCT
FEATURES

1. Lifeline 4330AAA (Best Overall)

42 items and the pack weigh 2.6 lbs
Comes with first aid kit
Travel friendly
Very lightweight

2. First Secure 40325A

90 items and the pack weigh 8.3 lbs
Huge medical kit
Unconditional money-back guarantee
Comes with all emergency essentials

3. WNG Brands Car Emergency Kit

15 items and the pack weigh 4.45 lbs
Lightweight and compact
100% satisfaction guarantee
Available on decent price

4. Lifeline 4388AAA

76 items and the pack weigh 3 lbs
Inclusive of necessary tools
Suitable for winters also
Multi-purpose car emergency kit

5. Kolo Sports Emergency Kit

156 items and the pack weigh 6.1 lbs
Multi-purpose emergency pack
Detailed medical kit
Suitably priced

6. Geartop 1006

66 items and the pack weigh 4 lbs
Comes with an accidental report form
Detailed medical kit
Suitably priced

7. Always Prepared Emergency Kit

125 items and the pack weigh 12.5 lbs
Lifesaving batteries and cables
Comes with knuckle bandages
Decently priced
1. Lifeline 4330AAA - Best Overall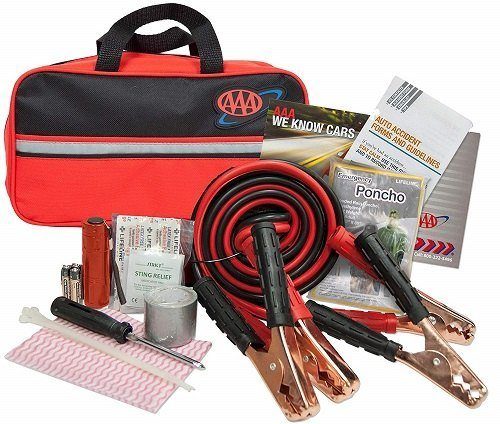 Number of Items: 42
Weight: 2.6 lbs
The 4330AAA is basically designed to handle roadside car breakdown rather than being a classic medically usable kit. For starters, it has 42 tools in total in a travel-friendly bag.
The basic components of the kit include 8-foot 8-gauge booster cable that can be used for variable purposes. The 2 in 1 screwdriver is quite helpful. There is a high-performance flashlight with extra batteries.
Other components are a shop cloth, emergency poncho, and a 24-piece first aid kit in a reusable zipper lock bag. While the medical kit has various things but they are really basic and not so effective either.
The kit is made for basic usage. However, if something major goes wrong with your car then the components of the kit won't be very helpful. Also, please note that this kit does not have winter tools for car safety.
So, if you like in a cold region or winters are approaching then you might want to consider some other product instead.

---
2. First Secure 40325A Car Emergency Kit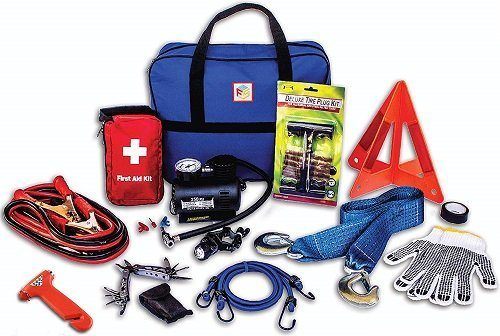 Number of Items: 90
Weight: 8.3 lbs
If you want the top-rated car emergency kit then this product from First Secure can be a competitive model. It comprises of all the essential tools that you will need in an emergency situation.
This one is a step ahead from the basic kit and include safety products like reflective warning triangle multi-tool unit with 9 tools such as screwdrivers, a knife, a roll black electric tape, 20 cable ties, 2 bungee cords, a pair of hand gloves, a headlamp with batteries.
The medical kit comprises of 24 regular size adhesive bandages, 1 pair of gloves, a pair of scissors, an accessory bag, a glass breaker, a tourniquet, a bandage triangular, 2 rolls PBT bandage, a roll medical tape, 10 cotton swabs, etc. You also get a belt escape cutter.
The kit has comprehensive components however, the storage bag is not waterproof or made of high-quality material. It may tear down soon if exposed to any abuse.

---
3. WNG Brands Car Emergency Kit
Number of Items: 15
Weight: 4.45 lbs
For the people that are looking for a standard car emergency kit on a decent price, this is an amazing product that you can consider.
The kit is thoughtfully curated with only important components. You can find a reflective warning triangle and safety vest, a strong tow rope, a pair of gloves with gripping palms, a safety hammer, a seat belt cutter, a LED flashlight with no extra batteries.
Other than that, you also get an adhesive tape, a tire pressure gauge, a screwdriver, jumper cables, a rain coat, and an emergency blanket. You might get fairly disappointed with the poor compilation of the medical kit.
It is a compact product that you fit in any nook and corner of the car. You will get all the basic tools required in emergency situation.

---
4. Lifeline 4388AAA Car Emergency Kit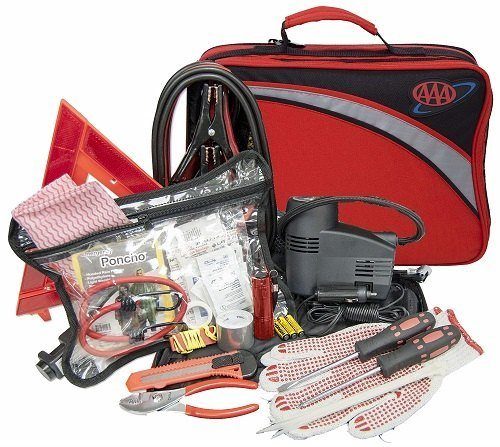 Number of Items: 76
Weight: 3 lbs
You can say that this is the revised version of the previously discussed Lifeline product. It comes with 76 tools in total that take care of all the needs that you may have on the roadside.
It is also one of the best auto emergency kits that comes with a screwdriver, duct tape, a shop cloth, zip ties, heavy-duty jumper cables (especially suitable for winter weather), aluminum flashlight, and an air compressor.
Somehow, Lifeline always fail to provide a detailed medical kit with its products. This kit is suitable for any kind of automobile whether it is a car or a truck.
All the things will reach you in a high-quality storage bag which is made of superior materials. However, it is not waterproof but quite robust to endure outdoor abuse. It will not tear apart.

---
5. Kolo Sports Emergency Kit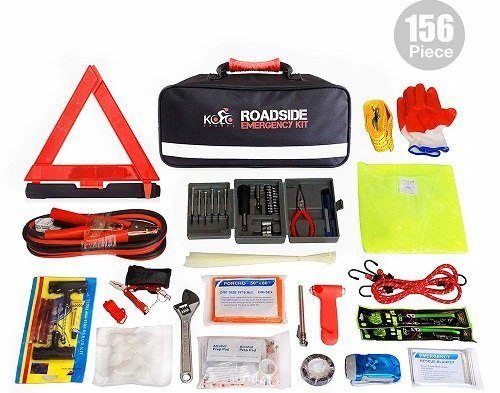 Number of Items: 156
Weight: 6.1 lbs
So, this kit is for someone who likes to have more things in their kit. This one consists of 156 tools and components and the weight is 6.1 lbs. It has a little bulky bag which will take some space in the car.
Well, the emergency kit consists of 25 pieces of multi-purpose tools and tire repair kit. If anything goes wrong with the tire, you can easily take use of the tools inside the kit.
The first aid essentials in this kit comprise of adhesive bandages, antiseptic towelettes, first-aid tape, gauze pads, and other important things.
Well, you can also find some of the important tools like a warning triangle, battery boosting cables, window breakers, seatbelt cutter, etc. Unfortunately, this kit does not have an air booster and it does not come with any warranty.

---
6. Geartop 1006 Car Emergency Kit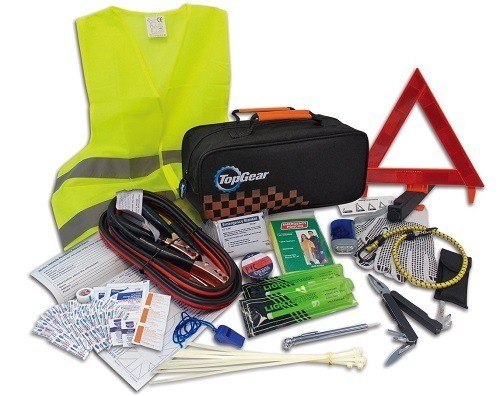 Number of Items: 66
Weight: 4 lbs
There is a reason why this product is called value of money. Its because it has various essential tools made of high-quality materials and available at such pocket-friendly price.
The kit has 66 items in total and it cover all essential tools that you may need on the road. It includes battery booster cables, reflective safety vest, hand squeezed flashlight, folding multi-function tool, lightsticks, pair of knit gloves with grippers, etc.
You will also get an emergency rain poncho, reflective warning triangle, emergency survival wrap, bungee cord, cable ties and PVC tape, tire pressure gauge and a premium first-aid kit. While the product is good, the lack of brand value may not convince buyers to purchase.

---
7. Always Prepared Emergency Kit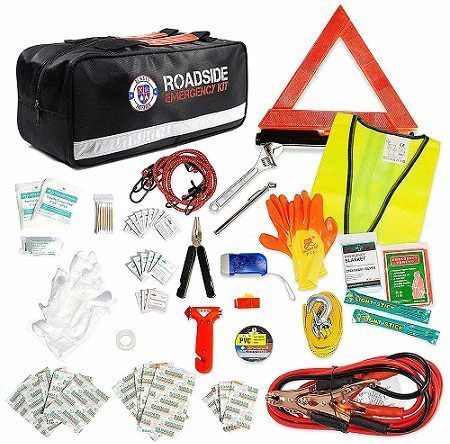 Number of Items: 125
Weight: 12.5 lbs
So, this product comes with 125 items in the kit that cover all kinds of roadside needs of the buyers. While the heavy weight is understandable, buyers still don't appreciate the bulk that comes with the kit.
The emergency kit has all the vital components that you may require. Starting with the standard items, it includes battery booster cables, reflective safety vest, warning triangle, self-powered flashlight, 2 light sticks, emergency rain poncho, and mylar blanket.
Interestingly, it also comes with a whistle that you can use in time of need. The medical kit is also quite comprehensive and comes with various crucial products. While other things in this product are great, the car tire accessories are not so effective.

How to Buy the Best Car Emergency Kit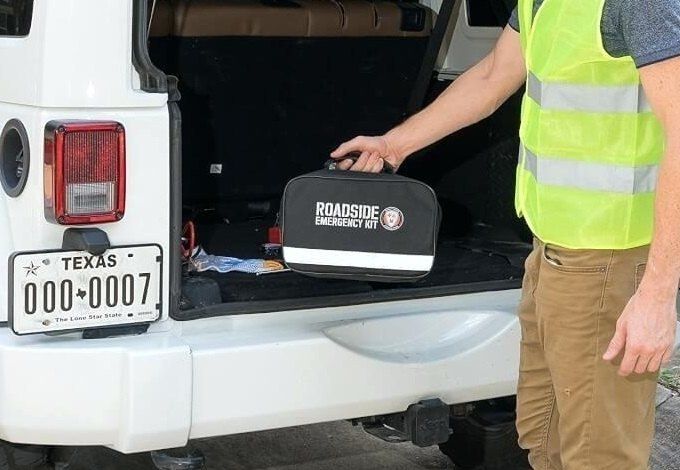 The safety kit for car is not a choice purchase but it is mandatory for every driver. These kits comprise of significant tools that you can use to immediately fix the car.
Sometimes, we are in a place where you cannot call for help. Moreover, it is difficult to leave your car anywhere or ask for help. Therefore, make sure to have the best roadside car emergency kit readily available with you.
Here are some of the things that you should keep in notice while purchasing the best emergency kit.
1. Items In Kit
To begin with, you need to check the number of items in the kit that you are buying. Every brand manufactures the kits that comprise of some similar and some unique products.
While all the components might seem useful but you have to see if you need all the tools inside the kit or they are not of much use to you.
You need to focus on the items that you are comfortable in using. Some of the kits will include more than a hundred items. But what you really need to understand is do you need all these tools.
Just make sure that the kit has screwdriver heads, adhesive bandages, zip ties, and so on. A basic kit with standard items is sufficient for daily carry.
2. Comfortable to Use
The basic formula is that it's pointless to purchase tools that you cannot use. A kit should always include the tools that you know how to use.
While selecting a kit, always check the kind of tools in it and how you will be able to use them. It is possible that you don't know how to use each and every tool but make sure you know the working mechanism of at least the most of them.
3. Ease to Store and Transport
These kits are made so that you can keep them in your automobile. The tools in these kits are often small in size. This means that if they are not stored properly then you might end up loosing some of the significant components.
Make sure that the kit you purchase comes in a travel-friendly pouch for easy storage. One more thing, some of these kits are season specific. You should make sure that for the cold weather you have the best winter car emergency kit. Always make your purchases thoughtfully.
Conclusion
The prime agenda of every reader that comes for our car emergency kit review is to find the best product. Well, the ones that we have given above are definitely the suitable ones for all kinds of buyers.
It is important to do some homework while finding the best car emergency kit so that you don't waste your money on something that you don't know how to use.
We hope that the guide we shared will be helpful for you. You can make a candid purchase from the recommended products. These are the leading ones on the market and has great performance too.