Poor posture doesn't just come from hours of driving. Since we all have sitting jobs, it becomes difficult to maintain a good posture. This eventually invites a lot of back, neck, and shoulder pains. If you suffer from any such ailments then try the best car seat massager while you drive.
These massagers are very common among people of all ages. Available in two prime types - Vibrational and Shiatsu, you can find massive options available on the market.
We dedicate this car seat massager review to help prospective buyers in making a decision. We give you the best products on the niche so that you can save time and efforts while shopping.
Top Car Seat Massagers of 2021 by Editors' Picks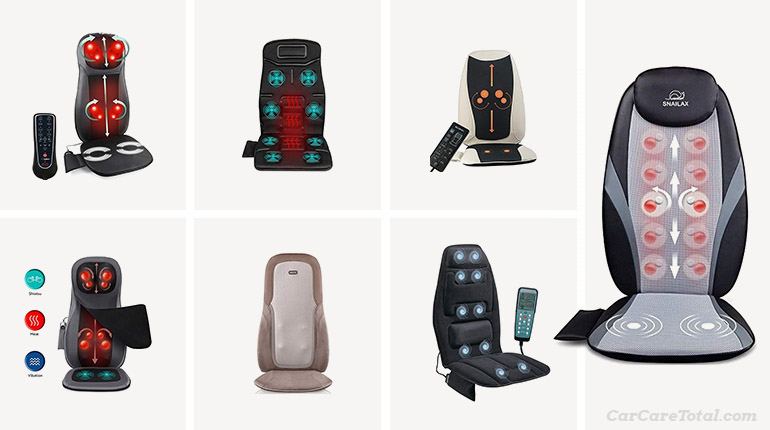 Summary of 7 Best Car Seat Massagers
IMAGE
PRODUCT
FEATURES

1. Snailax Shiatsu SL256 (Best Overall)

Comes with 4 massage settings in 26.4 x 5.5 x 18.1" dimensions
Flexible massage nodes
3 level intensity
Comes with spot massage

2. Zyllion Shiatsu

Comes with 4 massage settings in 30 x 16.5 x 7.9"
15 minutes shut-off feature
Comes with 90-day return
Comes with 1-year warranty

3. Naipo Vibrating Massager

Comes with 4 massage settings in 7.2 x 7.2 x 10.6" dimensions
3 speed settings
8 motor vibrations
Comes with 2 heaters

4. Belmint Shiatsu Massager

Comes with 6 massage functions
Comes with versatile time settings
Spot massage
Lifetime guarantee

5. Naipo Shiatsu Adjustable Massager

Comes with 4 massage functions
3 speed settings
Comes with heat function
24-months warranty

6. HoMedics Quad Shiatsu

Comes with 3 massage settings in 29.3 x 17.7 x 7.6" dimensions
3 massage styles
Specialized zone control
Easy to use

7. Relaxzen 10-Motor Massage Seat

Comes with 5 massage settings in 5.2 x 19.5 x 21.5" dimensions
Comes with rolling balls
10 vibrating motors
Neck-rest and support pads
1. Snailax Shiatsu SL256 - Best Overall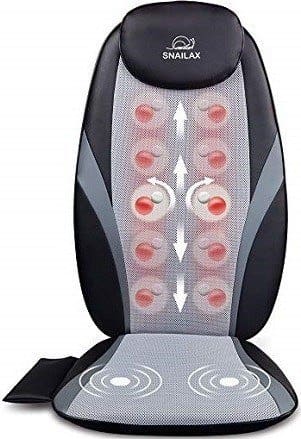 Massage Settings: 4
Dimensions: 26.4 x 5.5 x 18.1 inches
The Snailax is a Shiatsu car seat massager that is effective for people with massive pains. It comes with 4 deep kneading massage nodes that treat all kinds of chronic pains. The nodes travel from up and down and take care of the entire back.
There is an intensity control flap that help you in selecting the intensity of your choice. The product ensures that it can take shape of the body's natural curve and goes as high as 3mm. The spot massage feature makes sure to focus on a certain area.
You also get vibration on the seat to enjoy massage on hip and thighs. Interestingly, this product also comes with heat functions that further enhances the massage. It is a portable product that you can also adjust on your sofa seat or work seat to stay relaxed.
However, there is no function to treat the neck area.

---
2. Zyllion Shiatsu - Value of Money Car Seat Massager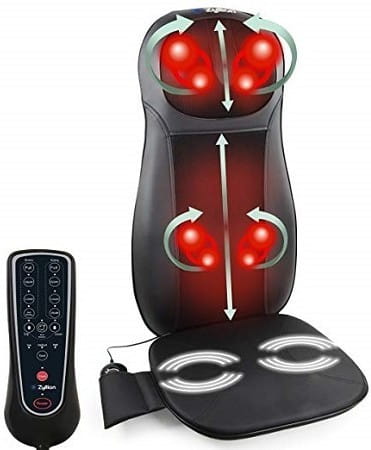 Massage Settings: 4
Dimensions: 30 x 16.5 x 7.9 inches
Since Shiatsu massagers are in massive trend, you will find every second option made with this technique. This product has 4 main nodes that travel up and down and treats the pains.
You can select between other styles like rotating motions or relaxing motions. For more comfort, you can also turn to the heat feature which also makes it one of the best car seat massagers with heat.
There is an extra feature that targets the neck area. Also, there is 3 levels of vibration for utmost comfort. Interestingly, there is a 15-minute shut-off feature that not just save a lot of energy but also prevent damages.
The company has secured the purchase by giving you a 90-day return with no questions asked and 1-year warranty. You cannot adjust the intensity of heat. Also, you cannot use the heat function solely, without using the massager.

---
3. Naipo Vibrating Massager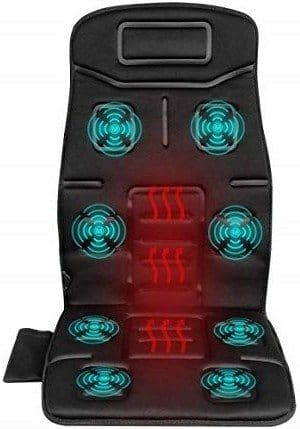 Massage Settings: 4
Dimensions: 7.2 x 7.2 x 10.6 inches
Naipo has launched this super-affordable option in the car seat massagers. If you don't want to spend a lot of money then this can be a great alternative.
First of all, it comes with 4 massage modes that include pulse, tapping, percussion, and waves. The motion of the vibration is different for each mode. The 8-motor vibration and 2 heaters penetrate the muscles and increase the efficiency of the massage.
Of course, there are classic features of speed setting that you can adjust according to the need. Please note that this is a vibrational massager, used for relaxing the tissues. You cannot find Shiatsu-like treatment.
The 4-zones made on the seat are to target specific areas. You can operate the car seat features through handheld unit. The seat's quality is not as great as expected. Also, there is no warranty to secure your purchase.

---
4. Belmint Shiatsu Massager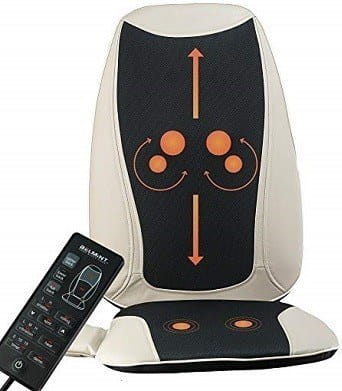 This product from Belmint is a Shiatsu massager with most versatile features. The material used in the construction is superior and it does not let sweat accumulate on your back.
There are 6 massaging features for you to use. They cover the entire back body. Since it is a portable car seat massager, you can set it up anywhere on a chair and enjoy a relaxing Shiatsu massage.
The heat functions make sure that the sore muscles get accurate attention. It comes with a remote that gives you easy control of the massager. Also, you can enjoy lifetime guarantee with this product.
Unfortunately, there are no heat management settings and also no program to attend the neck area.

---
5. Naipo Shiatsu Adjustable Massager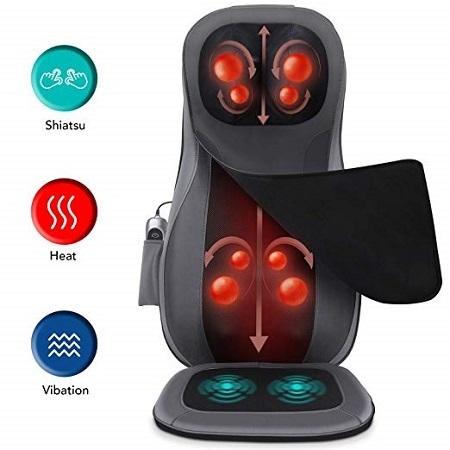 This product from Naipo is a bit on the higher side. It is a Shiatsu massager with all the essential features. To begin with, there are 4 kneading settings that you can enjoy.
Particularly for the neck area, you get 4 target points that gently massages the entire neck. You can adjust the intensity of massage through 3-speed settings.
There are 3 optional massage zones that you can use as the requirement arises. It also comes with heat management features that you will appreciate.
This product comes with 24-month warranty to secure the purchase. The heat feature of the massager is not as efficient.

---
6. HoMedics Quad Shiatsu Car Seat Massager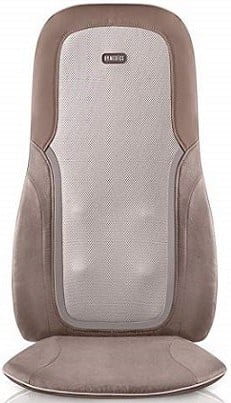 Massage Settings: 3
Dimensions: 29.3 x 17.7 x 7.6 inches
This is a premium-quality product that will demand a hefty investment while purchase. The material used in the making is quite soothing and soft.
It is a Shiatsu massager with 3 settings. You can choose between invigorating massage, deep massage, and gentle massage. You can enjoy full back massage including lower and upper back. You can also select the spot massaging to treat the target areas.
You can turn on the heat function for relaxed massage session. It is a high-quality product with great features. Also, this one is quite easy to use.
The high-cost of this massager is definitely a set-back since there are no unique features in this model. Also, the lowest point is that it does not support neck massage.

---
7. Relaxzen 10-Motor Massage Seat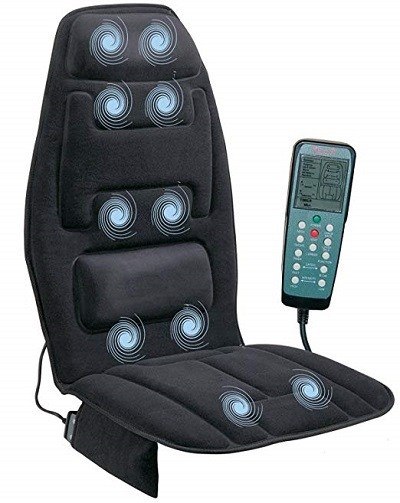 Massage Settings: 5
Dimensions: 5.2 x 19.5 x 21.5 inches
So, this product is a decent machine available for people with chronic pains or muscle ailments occurring because of bad posture. This one is a vibrational massager with various interesting features.
First of all, you can find 5 massage settings to target all the back areas. You can also find amazing back and neck support. Interestingly, there are 10 invigorating vibration massage motors to ease your body. These motors come with variable speed settings on different zones.
The thick seat is quite comfortable. The heat treatment makes sure that the back is at utmost ease. This is a portable unit that you can carry along wherever you go.
As a vibrational massager, this product is a bit expensive because there are no significant and unique features. Also, people with intense back pains are not recommended to use this product.

How to Buy the Best Car Seat Massager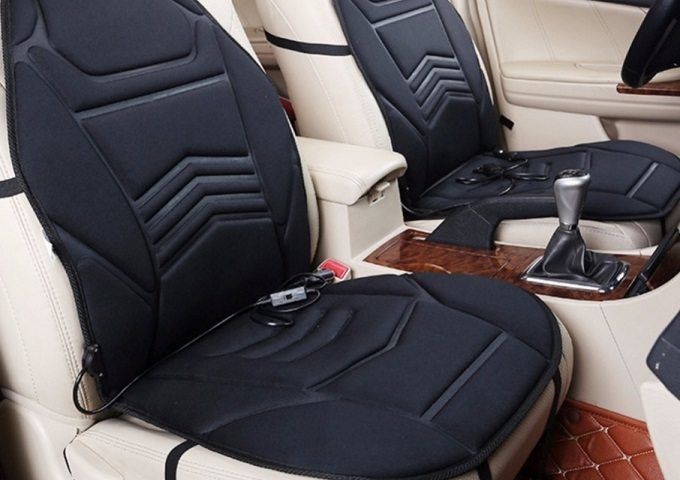 A car seat massager is a simple machine that is shaped like a car seat. You can stretch it on your seat and using the variable functions, you can make your drives easy and comfortable.
For finding the best automobile seat massager, we have gathered some important information that will help you in the process. Let's go and sort out the important features to note for you:
1. Type of Massage Which You Want
Your purchase of the best car seat back massager will largely depend on the type of massage you want. The car seat massagers are able to provide two main kind of massages.
Shiatsu: You can guess it from the name that it has something to do with Japan. Well, the massage technique was originated in Japan. It is practiced by applying pressure through fingers.
The Shiatsu massage is very common in car seats. You can control the intensity of pressure applied on your back. There are various other features that you can enjoy in these massagers.
Vibrational: The vibrational massage is the most common one in car seat massagers. There are various levels of vibrations that you can set according to the requirement. These put your back on ease.
These massagers use a simple vibration technique which is a good stress reliever. However, they are not as powerful as Shiatsu massagers. You can consider them to be great for soothing your sore muscles.
Buying Advice: If you have serious back problems then Shiatsu massager should be your choice. However, if you just need something to relieve the tension and stress then there is no replica to vibrational massagers.
2. Intensity and Speed Settings
All the latest car seat massagers have variable speed and intensity settings. This way, you can adjust the intensity and speed according to the requirement.
These massagers give you the opportunity to customize the experience on how you desire. This way, you can treat the ailing back pains or any other pains that you might have.
If you only want to relax yourself them choose the lowest settings however, if you need vigorous massage then higher settings will help.
You can adjust the settings however they suit you and take best benefit of the massager. All these important features are readily available in the top-rated car seat massagers.
3. Focus Area
If you have followed the recommendations above then you must know that there are a few focus areas that are treated by the car seat massager.
You can get massagers that focus on the neck area, the lower back, and the upper back. If you have a particular concern then purchase for those ailing areas. Otherwise, you can also opt for all-inclusive model that can target all the major paining areas.
Read More: The Best Car Neck Pillows
4. Heat Functions
There are car seats that offer heat functions as well. This helps in soothing the ailing muscles. It also gives you therapeutic experience to make you feel relaxed.
Heat is also essential in reducing inflammation. The muscles usually get tired after hours of driving and long sitting hours. The heat function of the best portable back massager for car will be a delightful feature to have.
At the same time, the heat can also improve blood circulation. This feature is optional. You can use it whenever you like.
Conclusion
The best car seat massagers are quite helpful to relieve you off the pain while driving. There could be numerous reasons for you to purchase this product. You can suit yourself with the choices recommended above.
These products are highly promising and the leading ones on the market. Don't waste your time searching various products and not able to find the best one. This car seat massager review is here for the maximum support.
Also, don't forget to check the buying guide as it will give you more information on the products and the selection criteria.