A winch is a heavy-duty mechanical tool that is primarily used for towing. It consists of a drum (with a steel or synthetic rope), which is turned either by a hand crank or a motor. This allows you to pull in, let out or adjust the rope's tension to tow your car.
However, these tools are not all the same. They usually differ when it comes to towing capacity. For this reason, we have compiled a list of the best winches that encompass a wide towing-capacity range for different uses. Read through and take your pick!
Editor's Recommendation: Top Winches of 2021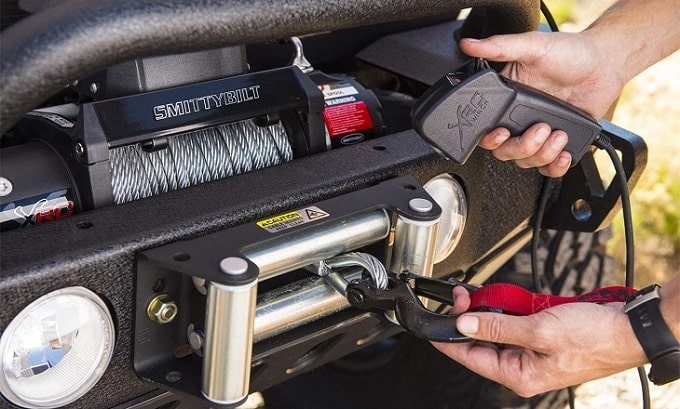 Summary of 7 Best Winches
IMAGE
PRODUCT
FEATURES

1. Smittybilt 97495 (Best Overall)

Fully waterproof solenoid
Powerful 6.6 HP motor
Smooth 3-stage planetary gear box

2. Superwinch LT3000 (Best Budget)

Reasonably priced
Fully sealed motor & solenoid
Effective mechanical & dynamic braking

3. Warn 885000 (Best Electric)

AC-powered; ideal for auto shops, garages
Easily portable
Electronic load limiter

4. Smittybilt 97517 (Best for Trucks)

High load capacity (17,500 lbs.)
Amphibious 6.6 HP motor
Wireless & wired control options

5. Reese Towpower 74329 (Best Manual)

Comfortable grip handle
Wear-resistant high carbon steel gears
Corrosion-resistant zinc-plated exterior

6. Champion 12003 (Best for ATVs)

Ideal load capacity for ATVs (2000 lbs.)
Compact & lightweight (16.5 lbs.)
Super-duty 49-ft steel cable

7. Warn 103250 (Best for Light SUVs)

Standard-duty 8000-lb pulling capacity
Smooth 3-stage planetary gear box
High-performance Albright contactor
1. Best Overall: Smittybilt 97495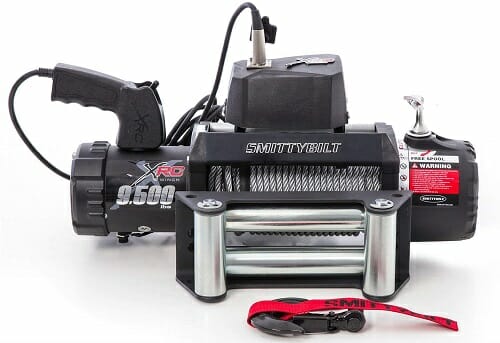 Capacity: 9,500 lbs. to 17,500 lbs.
Motor: 6.6 HP
Cable: Steel
A waterproof design with smooth gearing and a powerful motor make the Smittybilt 97495 our best overall product in our winch review.
The unit has a fully waterproof 500-amp state-of-the-art solenoid, which is a key motor component. All other electronic components are IP67 rated, which means they are safe from dust and are submersible in water.
This motor is a 6.6 horsepower series-wound type and is capable of pulling 9,500 lbs. However, it does not pull the cable directly. Instead, it directs its power to a smooth 3-stage planetary gear system with a 161:28:1 ratio, which provides enough torque to pull such heavy loads.
This model is part of a series that ranges from 9,500 to 17,500 lbs. in load capacity. As such, you can pick any option that fits the weight of your vehicle.
At the front of each model is a 4-way roller fairlead that helps you make angled pulls without damaging the cable. You also get a complete wiring system for easy installation, a long 94-foot stainless-steel cable, and a remote control switch with a 12-foot lead. However, there is no wireless remote control option, which is very convenient.
The unit is very durable, though, and is backed by a lifetime warranty on the mechanical parts. It also has a 3-year warranty for the electronic components.
Note: The recommended battery to use with this winch is 650CCA minimum.


---
2. Best Budget Winch: Superwinch LT3000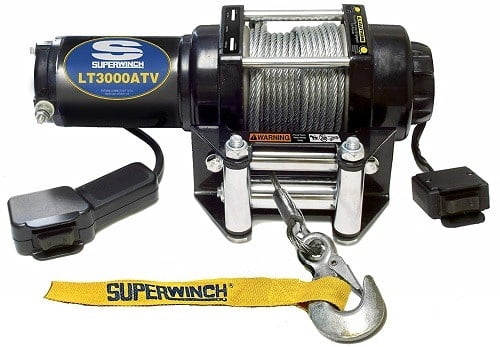 Capacity: 3,000 lbs.
Motor: 1.2 HP
Cable: Steel
The Superwinch LT3000 is a very economical winch. You get a quality product that can pull up to 3,000 lbs., making it an excellent candidate for use in ATVs.
Its power is provided by an energy-efficient low-amperage 1.2 horsepower, which has a permanent magnet and is fully-sealed for dust & water resistance. The solenoid is also sealed and protected by a circuit breaker for maximum durability.
In case there is a power surge or failure, the winch features mechanical and dynamic braking, plus 100% automatic load-holding. These mechanisms minimize the chances of wire rope slippage.

A heavy-duty 4-way roller fairlead is fitted at the front to help you make angled pulls with ease. You also get a 50-foot stainless steel cable with a heavy-duty clevis-pinned latch hook at the end.
Controls are done using a handlebar-mounted rocker switch and a handheld remote switch with a 12-foot lead. This allows you to position yourself at a safe distance when operating the winch.
The only problem is that the piece has a 1-stage planetary gear system, which is not as smooth as a 3-stage system. On the bright side, this system is more compact.

Excellent price to performance ratio

---
3. Best Electric Winch: Warn 885000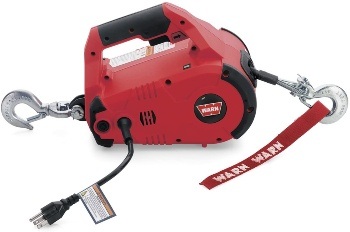 Capacity: 1,000 lbs.

Cable: Steel

Warn's 885000 is a unique winch because it is powered using AC (120V). Therefore, it is suitable for auto-shops and garages in lifting engines & other car parts. You can also use it in home improvement, camping, hunting, and other lifting/ pulling projects.
The unit is also easily portable for quick storage after use. It weighs only 15 lbs. and has a built-in carry handle with a good grip.
As for performance, the winch can pull up to 1000 lbs., and it has an electronic load limiter to prevent overloading. It also has an LED load indicator to give you feedback when pulling/lifting and a variable speed control trigger with a forward/reverse button for precise movement.
You also get a dynamic brake system that will securely hold your item in place. However, the unit has a relatively short 15-foot steel cable, and its load capacity is relatively low.

---
4. Best Winch for Trucks: Smittybilt 97517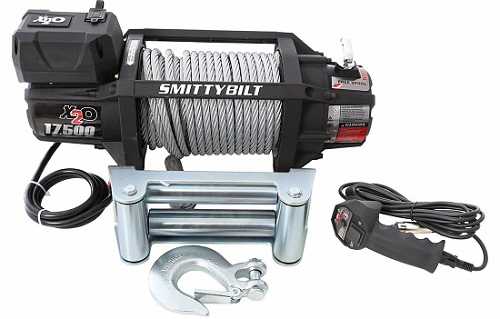 Capacity: 17,500 lbs.
Motor: 6.6 HP
Cable: Steel
With its powerful 6.6 horsepower motor and a pull-capacity of 17,500 lbs, the Smittybilt 97517 is the ideal choice to use on trucks because they are heavy vehicles. Additionally, the motor is amphibious for comfortable use in deep mud and puddles.
You can control the motor remotely via a 12-foot lead switch or wirelessly. The wireless option comes in handy if your truck is stuck deep in the middle of a wide puddle. A smooth 3-stage planetary gear system provides the torque required for pulling such heavy loads.
The winch is fitted with a 4-way roller fairlead for safe angled pulls. This also helps to organize the long 98.5-foot braided steel wire cable into the drum inside. A sturdy forged hook is included to give a firm and secure hold when pulling your vehicle.
Stainless steel hardware is included for secure installation on your truck, while the solenoid has two mounting options to fit into your car's configuration. However, the tool is expensive, and at 132.2 lbs., it is heavy. As such, it will weigh down your car.

Note: The recommended battery to use with this winch is 650CCA minimum.


---
5. Best Manual Winch: Reese Towpower 74329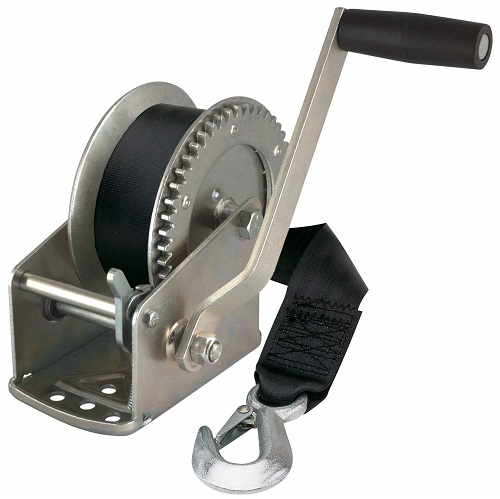 Capacity: 1,500 lbs.
Motor: Manual
Cable: Strap
If you are looking for a manual winch, we highly recommend Reese Towpower's 74329. It has a comfortable grip handle for easy holding when cranking.
The unit is durably-built because it has high carbon steel gears that are made to SAE 1050 specifications for improved wear resistance. It also has a zinc-plated exterior that is corrosion-resistant.
A full-length drum bushing and oil-impregnated shaft bushings reduce maintenance requirements while also making it easy to unreel. Self-activating automatic brakes give you better control by preventing the strap from slipping.
The tool is also very affordable, but it has a relatively low 1500-lb load capacity, and the strap is quite short (20 feet). However, it has a durable hook that attaches firmly to what you are pulling.


---
6. Best Winch for ATVs: Champion 12003
Capacity: 2,000 lbs.
Motor: 1 HP
Cable: Steel
Champion Power Equipment's 12003 has everything you need to start winching your ATV. For starters, it has a rated line pull of 2,000 lbs., which is more than enough for any ATV.
The unit is also compact (11.4 x 3.9 x 4.3 inches) for easy fitting on your vehicle and weighs only 16.5 lbs. Additionally, it has a mounting channel for easy installation.
A convenient wired remote control (10.3 feet) is included, while a 4-way roller fairlead gives you smooth angled pulling and cable guidance into the drum.
The winch is run by a 1-horsepower 12V DC motor, which pulls the line efficiently at 3.3 feet/minute at full load. This speed goes up to 10.5 feet/minute with no-load.
That said, you get a dependable 49-foot aircraft-grade, super-duty galvanized steel cable that is strong enough to withstand abrasive terrain (rocks, sand, mud) without fraying. This is accompanied by a heavy-duty clevis hook and a strap for attaching to the anchor point.

The only issue is that the machine has a single-stage planetary gear system, which is not as smooth as a 3-stage type.


---
7. Best Winch for Light SUVs: Warn 103250
Capacity: 8000 lbs.

Cable: Steel

With an 8000-lb pulling capacity, Warn's 103250 is a standard duty winch that is ideal for light SUVs such as 2-door Jeeps.
This towing strength is supplied by a powerful series-wound motor mated to a smooth 3-stage planetary gear system. Combined, this gives you a faster loaded-line speed with a lower amp draw to maximize efficiency.
All the electronics are waterproof with an IP68 rating for maximum durability, while the structure is held in place by a sturdy single-piece cast-aluminum tie plate.
You also get a high-performance Albright contactor as the solenoid for compact & reliable use. This component is placed inside the control pack, which is movable for low-profile installation.
A convenient 2-in-1 remote control switch is included to allow you to run the winch either wirelessly or via a wire. The only downside is that the machine is relatively heavy because it weighs 83.5 lbs.


How to Buy the Best Winch
1. Electric vs. Hydraulic vs. Manual Winch
Electric winch: The electric winch uses an electric motor to drive the cable. Most are powered by 12 V batteries like the one in your car, but some are AC-powered. They usually incorporate the use of planetary gears to raise the torque for high pulling power. However, they cannot match the performance of hydraulic winches.
Hydraulic winch: These are very heavy-duty machines because they are powered using pumps and hydraulic systems. They are bigger & bulkier and are mostly used to lift heavy items like equipment in boats or boat parts during repairs at the docks.
Manual Winch : This type is turned by hand. It takes a lot of effort to operate it, and therefore, the winch is suitable to lift or pull light loads in auto-shops, garages, farming, or home improvement projects. They come in handy if you don't have a power source.
2. Synthetic Rope vs. Steel Cable
Synthetic ropes are lightweight, easy-to-handle, and cheaper when compared to steel cables. However, they are not abrasion resistant and can fray easily due to exposure to UV and chemicals.
On the other hand, steel ropes are highly durable, resistant to UV & abrasion, and don't fray easily. They are heavier, expensive, can rust, and develop sharp spikes if they fray, though.
That said, steel ropes are better suited for heavy-duty use, such as pulling trucks and SUVs, while synthetic ropes are ideal for pulling lighter loads like ATVs and UTVs.
3. Pulling Capacity
The load/ pulling capacity of a winch is the maximum weight that it can handle. A high-quality car winch should be able to pull at least 1500 lbs., but for auto-shops, home improvement, and other projects, a 1000-lb capacity or more will do.
That said, for trucks, you need a high pulling-capacity, which should be determined by the vehicle's weight. For instance, Smittybilt's 97517 can pull up to 17,500 lbs. without breaking. This makes it ideal for heavy vehicles, and we highly recommend it.
4. Cable Length
Generally, long cables are better because they allow you to tow your car/ truck over long distances. For instance, if you are stuck in the middle of a wide puddle and the closest tree is at the perimeter, a short cable will be of no use.
You should pick a winch that has at least a 40-foot steel cable or synthetic rope. However, winches not meant for car mounting can have shorter cables, but we still recommend long pieces.
5. Gearing System
There are two main types of gearboxes: 1-stage and 3-stage planetary systems. The former has fewer gears, which makes it more compact and lightweight. However, it has less pulling torque, which is ideal for smaller vehicles like ATVs and UTVs.
On the other hand, a 3-stage planetary gearbox has more gears in a multi-step design, making it smoother while raising its torque. This output makes it ideal for pulling heavy trucks and vehicles. However, such a system is larger and heavier than the single-stage type.
6. Mounting System
You need to ensure that your winch has a mounting base with holes so that you can firmly bolt it to your truck.
Additionally, the mounting base should be made using tough materials to keep it from breaking or cracking when winching.
In most cases, manufacturers choose to go with a steel metal for the mounting base due to its durability.
7. Waterproof
Since you will often be winching with the vehicle stuck in mud or puddles, your winch must be waterproof. This will keep the most vital components (motor and solenoid) from getting damaged. Ensure these have a rating of at least IP67, which protects them from dust and submersion in water.
Conclusion
With all said and done, we recommend the Smittybilt 97495 as our best overall winch because it has a waterproof 500-amp solenoid and a strong 6.6 horsepower motor. It also has a 3-stage planetary gearbox for smooth pulling and is available in different load capacities.
For other uses apart from towing your car, you should check out Warn's 885000. It is AC-powered (120V), which makes it ideal for auto-shops, garages, construction, farm use, home improvement, etc.
Reese Towpower's 74329 is also a worthy option to consider if you don't have electricity at your work site. The unit has a comfortable grip handle for easy use and durable parts that require very little maintenance.