Whether it's a boat trailer, fifth wheel, cargo trailer or any other towable trailer, you need to take all the necessary safety precautions when hauling it, and this includes fitting your truck with all the required safety features.
One such feature is a towing mirror and not only is it good for safety, but it is also very convenient to have because it gives you a wider viewing angle so that you can have a better driving-experience. That said, these are the best towing mirrors to consider.
Editor's Recommendation: Top Towing Mirrors of 2021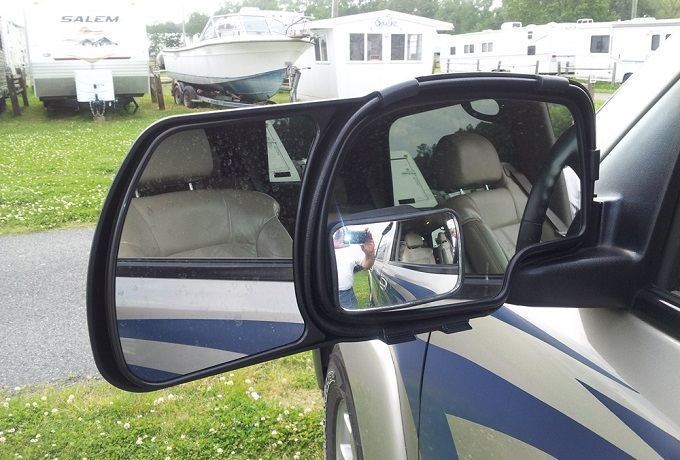 Summary of 10 Best Towing Mirrors
IMAGE
PRODUCT
FEATURES

1. Fit System 81850 (For F150)

Comes as a pair
Easy-to-install clip-on design
Does not interfere with OE glass mirrors
Mirrors can be folded without removing the extension

2. CIPA 10950 (With Wedge-Lock Security)

Sliding installation with wedge lock security
Fits tightly with no vibrations
Does not obstruct the side view mirror
Sturdy polypropylene plastic construction

3. Fit System 81810 (Very Durable)

Durable tough rugged housing
Scratch-resistant glass
Easy to install
Does not interfere with the existing mirror

4. DEDC XZ_TRUCKMR_CS1001 (Manually Adjusted Telescopic Mirror)

Manual telescoping
Compatible with multiple vehicles
Built to strict quality control standards
Durable injection-molded black plastic housing

5. Dometic DM-2912 (Best Universal)

Universal fitting design with 2 clamp attachments
Durable design and construction
Chrome safety glass which does not discolor
Air balanced design stabilizes the mirror

6. Fit System 80710 (Good)

Fits and finishes off like part of the existing mirror
Easy to install
Does not interfere with the existing mirror
Durable construction

7. Yitamotor MR-014-xS1y (Super Duty)

Includes a smoke signal lamp
Power heated
Dual glasses: flat and convex
Top-quality reflective glass with reduced distortion

8. Fit System 3891 (Wide Viewing Area)

Wide viewing area
Universal fitting design
Dual ratcheting plastic mounting straps
Rubber pads on the straps help to reduce vibrations

9. CIPA 11950 (Cheapest)

Affordable
Universal fitting design
Easy to install
Adjustable arms fit tightly to help reduce vibrations

10. ECCPP BHBU0503A1736 (With Arrow Signal)

Arrow signal lighting for indicating direction
Power heated mirror
Telescopic design with 2 mirrors: flat and convex
Fits a large number of GM vehicles
1. Fit System 81850 - F150 Towing Mirror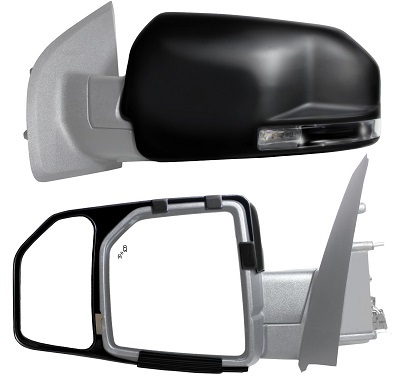 Fit System's 81850 is the top-rated towing mirror in this review and this can be attributed to the fact that it has a custom fitting design for Ford F150s from the year 2015 and upwards. Considering that this truck is very popular for towing, the mirror is very popular.
Other than that, the product comes as a pair for both the driver and passenger side mirrors, and are very easy to install due to their clip-on design. The pair is actually molded to fit F150 side mirrors and therefore, sits perfectly tight once installed.
Another benefit you get with this custom-fit molded design is that it does not interfere with OE glass mirrors and they can actually be folded without removing this extension. However, the unit can only fit on F-150, which is a bit limiting on its versatility of use.

---
2. CIPA 10950 - Towing Mirror with Wedge-Lock Security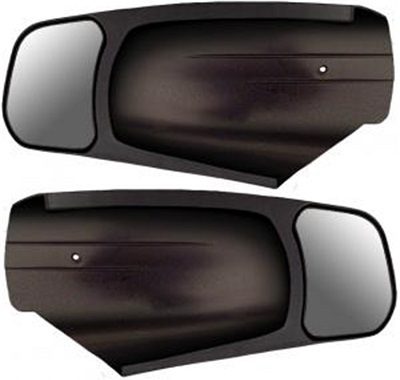 Designed for 2014 and newer Chevy trucks and SUVs, this towing mirror is characterized by a sliding installation design, in which it slides over the existing mirror and locked in place using wedge lock security.
This process requires no tools and it's custom fitting design ensures a perfect fitting with no vibrations, which can be very annoying.
The unit also does not obstruct the side mirror view but instead, has a sleek custom design that enhances the looks of the existing mirror.
Other features include a sturdy polypropylene plastic construction that has maintains the housing's shape long term and the inclusion of 2 installation knobs.
On the downside, this product cannot fit over existing side mirrors with lighting features that are not integrated, for instance, turn signals, puddle lights, etc.

---
3. Fit System 81810 - Durable Towing Mirror
This towing mirror is designed to last for years because it has a tough rugged housing and a scratch-resistant glass surface.
The mirror is also very easy to install because it snaps into position easily and no hardware is required in this process. Once fitted in place, the unit's built-in clips firmly secure it in place to prevent vibrations and fall offs.
Additionally, the mirror does not interfere with the existing one and does not need to be removed when folding the side mirrors after you park your vehicle.
On the downside, the unit is custom designed to only fit the Ford F150, but this also means you get a factory-installed appearance that looks good and blends in well with the car.

---
4. DEDC XZ_TRUCKMR_CS1001 - Manually Adjusted Telescopic Mirror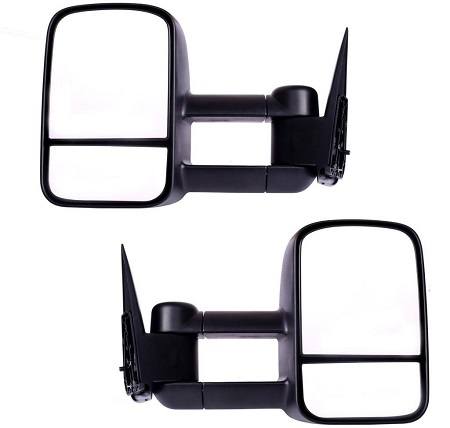 DEDC's towing mirror comes as a permanent fixture that contains a manually telescoping mirror, a manual main mirror, and a manually adjusted lower convex mirror, with the telescopic body of the mirror being similar to the towing mirror found on '07-'08 new body style trucks.
The product actually comes as a pair and the set is designed as a direct replacement that fits on 1999-2007 Chevy Silverado and GMC Sierra, 2000-2006 GMC Yukon XL, Chevy Suburban and Chevy Tahoe.
These units are built to strict quality control standards and feature a textured injection-molded black plastic housing that is very sturdy for durability purposes. On the downside, the mirror is not heated and does not feature turn signal lights.

---
5. Dometic DM-2912 - Best Universal Towing Mirror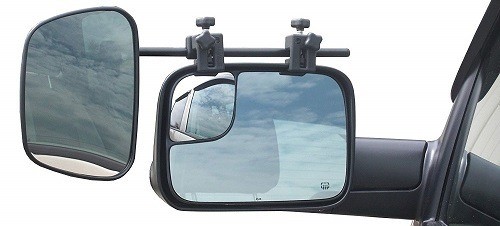 The main advantage of this towing mirror is its universal fitting design, in which it has two clamp attachments that easily grab onto the side view mirror's housing, and this makes it possible to mount it to all kinds of existing mirrors, including the curved ones.
This mounting system has a very durable design because it consists of high-grade stainless-steel mirror screws with turn-in brass inserts that are corrosion resistant. The mirror itself is also built for long-lasting performance because it is a chrome safety glass that does not discolor.
Other features include an air balanced design that utilizes the airflow around your car so as to balance and stabilize the mirror head as you drive at high speeds and the availability in either a single or twin pack, depending on the number you need.
On the downside, the mirror is not heated and its design does not allow it to blend perfectly with the car.

---
6. Fit System 80710 - Good Towing Mirror

Fit System is one of the best towing mirror brands in the market especially when it comes to the slip-on type. This particular 80710 is designed to fit OEM side mirrors for the Ram 1500 (2009-2011) and finishes off the look to resemble and look like part of the existing mirror.
That said, the mirror snaps on easily over the side mirror and requires no tools in the installation process. Once fitted in, the unit can be left on as you fold the existing mirror and does not interfere with your rear-view visibility as you drive.
Another benefit you get with this product is that it has a durable construction that includes a sturdy rugged housing and a scratch-resistant glass surface, and it has a turn signal light opening to leave it unobstructed.
However, the unit is limited in terms of compatibility because it only fits the RAM 1500.

---
7. Yitamotor MR-014-xS1y - Super Duty Towing Mirror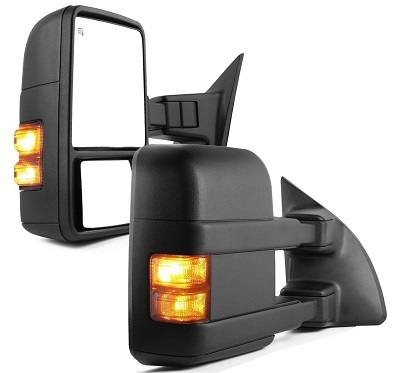 Though expensive, Yitamotor's MR-014-xS1y comes fully equipped as a permanent towing mirror that fits the 1999-2007 Ford F-250, F-350, F-450, and F-550 Super Duty, as well as the 2001-2005 Ford Excursion.
The mirror is fitted with a smoke signal lamp that can be used as a turn signal or side marker light, and it is power heated, operating with the rear defrost just like in the original.
Other than this, the unit can be manually telescoped and has dual glasses: one being the main flat glass and the other a convex glass for giving a wider rear-view angle.
You also get two pieces; one for each side and the included glass is a top-quality reflective kind that gives less distortion. However, since it is a permanent towing mirror, installing it requires some time and skill.

---
8. Fit System 3891 - Towing Mirror with a Wide Viewing Area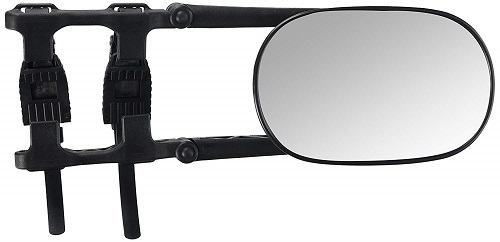 With a 5 x 8-inch head, this towing mirror gives quite a large 5.13 x 7.75-inch viewing area, which then gives a wider viewing angle for better visibility to the rear side.
Additionally, the unit is designed as a universal fit, which means you can use it on any truck or SUV when towing.
This is made possible using dual ratcheting plastic mounting straps that fit over side mirrors measuring up to 11.5 inches in height. These two straps lock the mirror firmly in position and have rubber pads that assist in reducing vibrations, which helps in preventing damages.
On the downside, this towing mirror is not power heated and does not blend in very well due to its strap mounting system.

---
9. CIPA 11950 - Cheapest Towing Mirror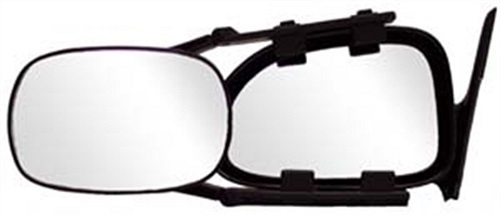 If you are on a tight budget, CIPA provides this towing mirror as an affordable option, and it extends your towing vision by up to 7 inches with its 5 x 7.5-inch viewing area.
The mirror has a universal fitting design that incorporates the use of clips, which attach directly onto the existing side mirror.
This installation process requires no tools, which makes it very easy, and the unit's adjustable arms fit tightly on the existing mirror for stability and steadiness so as to reduce vibrations.
However, you only get a single piece per set and it does not have a power heating feature for clearing out ice and snow in cold weather.

---
10. ECCPP BHBU0503A1736 - Towing Mirror with an Arrow Signal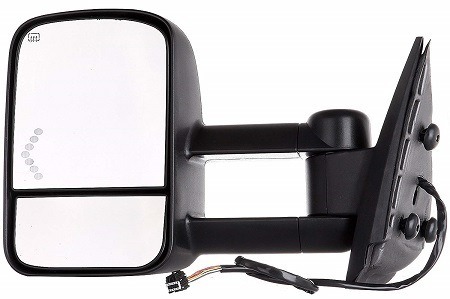 ECCPP's towing mirror is also quite an expensive product, but just like Yitamotor's unit, it is fully featured with a couple of electrical functions such as an arrow signal for indicating the direction you are turning to and a power heated mirror for getting rid of snow and ice.
The unit also has a telescopic design and has two mirrors: a flat and a convex one. On the downside, folding is done manually, which is not as ideal.
On the bright side, this being a permanent towing mirror, its does fit and blend in perfectly with a number of vehicles, which include the 2007-2013 Chevy Avalanche, Tahoe, Suburban 1500, GMC Sierra, Yukon, 2007 Silverado, and many others GM vehicles.
However, being a permanent towing mirror, installation is a bit complex and may require some time and skill.

How to Buy the Best Towing Mirror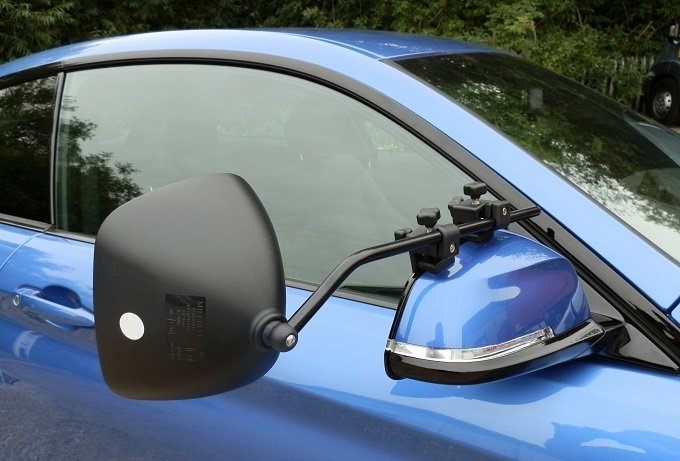 1. Types of Towing Mirror
There are 3 main types of towing mirrors. These are:
Universal
As the name suggests, universal towing mirrors are designed to fit on all kinds of side mirrors and they incorporate the use of straps for easy installation and adjustable arms to grab onto the housing of the existing mirror so as to prevent vibrations.
While this may be a big advantage, the downside to it is that these mirrors usually don't fit snugly over the existing mirror and therefore, they won't have a very appealing look once installed. They might also increase drag as a result of air resistance at high speeds.
Custom Slip-on
Custom slip-on towing mirrors are also very easy to install, but are designed to fit on the side mirrors of specific car makes and models. This limits their compatibility but on the bright side, they fit very snugly and usually look like a part of the car.
Permanent
Permanent towing mirrors are actually replacements for the existing side mirrors but are designed to fit specifically in particular cars. The main benefit of this type is that most of them have advanced features such as power heating and turn signal lighting.
However, it is recommended to install this type if most of your day-to-day work involves hauling trailers and campers. Otherwise, you will have very large side mirrors that are underutilized.
2. Compatibility
Unless you want to get a universal fitting towing mirror, you must make sure that you know the details about your car's year, make and model, then use this to find a compatible unit.
In fact, even universal towing mirrors have a limitation in the form of the maximum side mirror height that the straps can be mounted on. This means you should also have the dimensions of the existing mirror before doing the selection.
3. Field of View
A mirror's field of view is determined mainly by its size and the bigger the mirror, the larger its field of view. Therefore, it is recommended that you get a towing mirror with the largest field of view for safety purposes.
4. LED Mirror
Some towing mirrors, and especially the permanent type, feature built-in LED lighting systems, which is used as the turn signal indicator or side marker lighting. With these features in place, you can be assured of better safety both on and off-road.
5. Built-in Heating
In addition to LED lighting, a built-in heating system is also very important because it helps you clear out the haziness from the reflective surface. This is particularly useful if you live in a cold winter area because visibility must be maintained.
This system basically incorporates the use of a temperature sensor and heating element, which combine forces to keep the mirror's surface clean and clear.
6. Telescopic Design
This basically means that the towing mirror can extend outwards. Not all of these mirrors have this feature but it is very beneficial if you are hauling a large or wide trailer because by moving the mirror further outside, it enlarges your view.
The feature is mostly found on permanent units and therefore when purchasing this type, ensure it has telescopic arms.
7. Ease of Installation
If you want an easy-to-install towing mirror, then you should go for either the universal or custom slip-on type because they are either clamped or slipped into position.
On the other hand, permanent mirrors require a little bit more work and expertise because the existing OE side mirror must be replaced by this one. Even some wiring may be required for heating and lighting purposes.
All in all, make sure you select a towing mirror that you can comfortably install.
Conclusion
In summary, if you own a trailer and you occasionally haul it using your truck or SUV, then it is absolutely essential that you fit your vehicle with towing mirrors. There are several designs out there in the market and the most important things to check are the type and compatibility.
With that in mind, the towing mirror review and buying guide above contain all the information that you will need in selecting the best towing mirror that suits your needs.