Just like how you keep your car covered for protection against the elements, your motorcycle needs the same kind of care. In fact, motorcycles need even better protection because they lack a protective body structure, leaving most of the parts exposed to the outside.
This means that you should get a motorcycle cover that is strong, durable and reliable for superior shielding. Since there is quite a large variety of these products in the market, we have outlined the best motorcycle covers that you should consider getting for your bike.
Top Motorcycle Covers of 2021 by Editors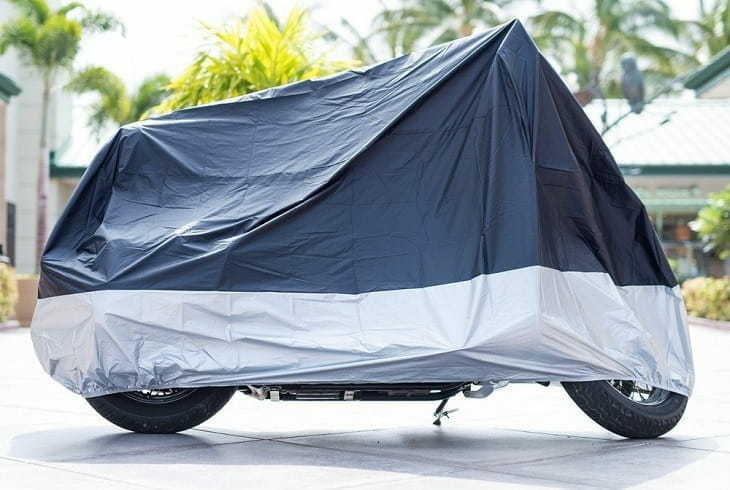 Summary of 7 Best Motorcycle Covers
IMAGE
PRODUCT
FEATURES

1. Formosa Covers hw500 lock (Best Overall)

Heavy-duty 300D motorcycle cover
Fits bikes up to 108 inches long
Water and UV resistant
Flow through ventilation design

2. UltraGard 4-458BK

Motorcycle half cover for most touring bikes
Compact and easy to install
UV stabilized and water resistant
Scorch resistant heat shield

3. Dowco 50124-00

All weather polyester construction
Moisture guard vent system
Mildew resistant polyurethane undercoat

4. Badass Motogear 5864220712

All weather 300D polyester cover
Double vent system with reflective strips
Exhaust pipe heat shield

5. Nelson-Rigg UV-2000-04-XL

Compact half cover
Waterproof nylon construction
UV treated; blocks 99% of UV rays

6. Champion Covers SS500HRTGCL

All weather polyester cover
Comes with a lock and 3-inch cable
Built-in clamshell vents

7. Anglink 5864220699

Superior waterproof construction
Can withstand up to 2000 pascals of pressure
Reflective strips
Two anti-theft lock holes
1. Formosa Covers hw500 lock - Best Overall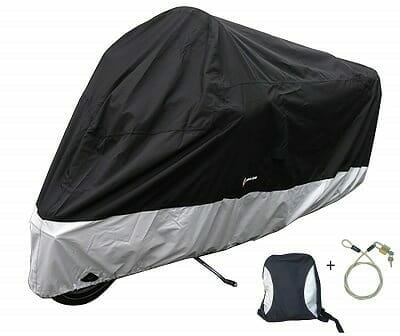 Fits: Large Cruiser, Tourer, Chopper (up to 108 inches long)
Material: 300D Polyester
If you are looking for a heavy-duty motorcycle cover, the hw500 is a good option to consider because it is made using a thick, heavy-duty 300D polyester material, which is thicker and stronger than the 210D and 190T varieties.
The material is also water resistant, which keeps your bike safe from rain and morning dew, and actually has a heat-sealed sewing line that gives the best water resistance. Additionally, the polyester is UV treated so as to keep the seat and paintwork from fading with time.
On the inside, a soft cloth lining is layered over the windshield area to prevent scratches while a flow-through ventilation design helps to prevent condensation.
Heavy-duty grommets are also built in at the center and front wheel sections for locking the cover to the bike and a locking cable is included with its lock for additional security. However, the piece has no reflective strips for visibility at night, but it's silver bottom might help in this.

---
2. UltraGard 4-458BK Motorcycle Half Cover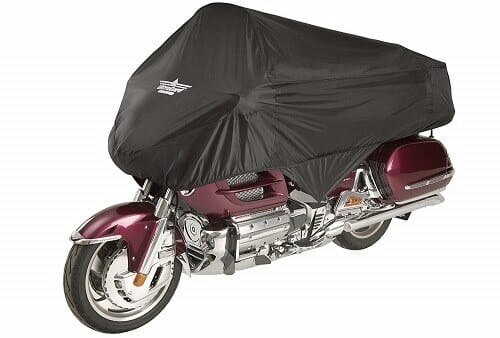 Fits: Most Touring Models
Material: Polyester
UltraGard's 4-458BK is a half motorcycle cover that is ideal for keeping all the basic parts and instruments such as the seat, GPS mounts, etc. from rain or morning dew.
While it may not seal off the whole bike, this design makes the cover very easy to install, and also very compact, allowing you to fit it into any storage compartment in your bike after use.
That said, the unit is available in black and charcoal colors for most touring bike models, and has a UV stabilized and water-resistant polyester construction with strong double stitched seams, and also has a scorch resistant heat shield for thermal protection.
An elastic hem is included all around for tight fitting, with the windshield area having a SoftTek lining for tight hugging of the windshield even during strong winds.
Other features include elastic coated secure hooks for secure strapping, a reflective logo for visibility in the dark and a storage pouch for convenient storage.

---
3. Dowco 50124-00 Motorcycle Cover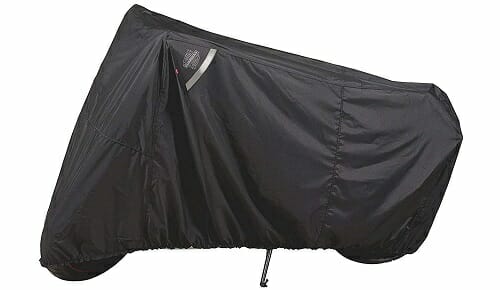 Fits: Sportbikes
Material: 300D Polyester
Though quite expensive, this piece from Dowco is an all-weather motorcycle cover that is designed to protect your bike from UV rays and rain, and also has a heat shield for protecting itself from a hot exhaust pipe.
This kind of protection is made possible due to the cover's 300D solution-dyed polyester construction that has ClimaShield Plus fabric protection and a durable water-resistant top coat.
Also included is a moisture guard vent system, which prevents moisture build up inside, while a mildew-resistant polyurethane undercoat prevents mildew growth. This ventilation system has a reflective vent shield that gives better visibility in the dark when the motorcycle is parked.
Other features include taped stitched seams for ensuring maximum waterproofness, a polyester webbing strap and elastic shock cord for a snug and secure fitting, as well as a sewn in wheel lock hold plus sewn-in alarm pocket for safety purposes.

---
4. Badass Motogear 5864220712 Motorcycle Cover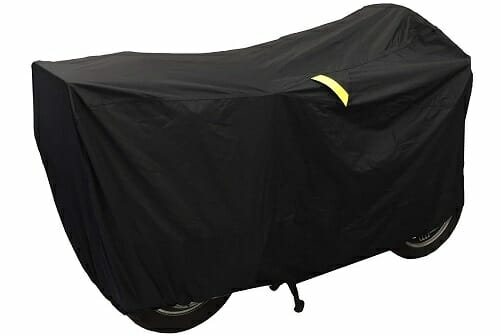 Fits: Cruisers, Touring Bikes (up to 97 inches long)
Material: 300D Polyester
Badass Motogear's 5864220712 is the most expensive as well as the top-rated motorcycle cover in this review, and this is because the unit has a very high-quality build, in which it is made using a premium 300D polyester material for indoor or all-weather outdoor use.
The cover is also designed to protect your investment because it has a reflective strip, which improves the cover's and consequently, your bike's visibility when parked at night.
These strips are part of a double vent system that prevents condensation internally so that all the covered parts remain dry at all times.
Another benefit you get with this product is the availability in different sizes, which include the more affordable small and medium covers and a slightly expensive extra-large cover. With these, you can easily get a fitting size for your cruiser or touring bike.
Other features include a soft windshield lining, an adjustable buckle strap for secure fitting, hidden pockets on the inside and heat shielding for protection against hot exhaust pipes.

---
5. Nelson-Rigg UV-2000-04-XL Motorcycle Cover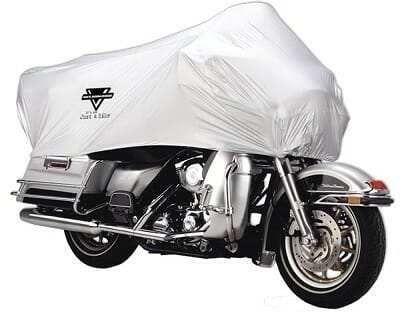 Fits: Cruisers, Touring Bikes
Material: Nylon
If you want a compact motorcycle cover that can fit in almost any motorcycle storage compartment, then this one from Nelson-Rigg is a good option to consider, simply because it is a half cover.
Despite not covering the lower half of the bike, this piece provides 100% waterproofness on the upper half, which is due to a nylon construction with electronically heated watertight seals and an elastic bottom that gives a snug fitting on all bike shapes.
This nylon construction is also UV treated to block about 99% of the sun's harmful UV rays, thereby protecting your bike's paint and seat from fading over time.
Other features include 4 size options for use in differently-sized cruisers and touring bikes, and these come either in white or silver color options. However, no vent system is built in.

---
6. Champion Covers SS500HRTGCL Motorcycle Cover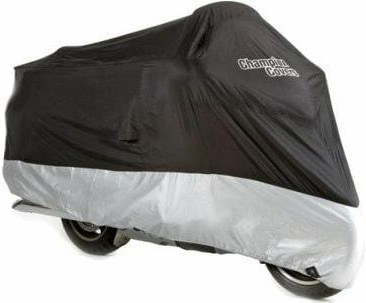 Fits: Cruisers
Material: Polyester
Champion Covers takes safety very seriously and with this piece, they included a lock and a 3-inch cable, which work together with reinforced polyester grommets at the belly and front wheel area to secure the cover to the bike while also providing a snug fit.
The cover itself is made of a premium-quality, all-weather polyester material, and has fleece linings around the fuel tank and windshield areas to protect against scratches.
For additional durability, the cover is double stitched at the top and has a heat shield lower panel for protection against the hot exhaust pipe.
Clamshell vents are also built in to prevent condensation and lofting, but the piece has no reflective strips for nighttime visibility.

---
7. Anglink 5864220699 Waterproof Motorcycle Cover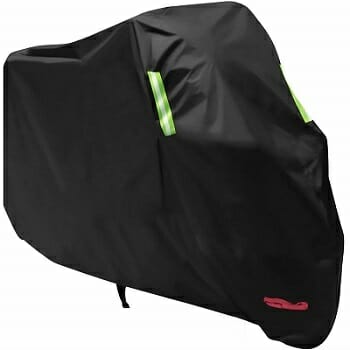 Fits: Cruisers, Sport, Touring Bikes (up to 104 inches long)
Material: 210D Oxford
This motorcycle cover is designed to provide superior waterproof performance, in which it can withstand up to 2000 pascals of water pressure, ensuring that no single droplet gets inside to your bike once covered.
The product is able to achieve this because it has a high-quality 210D oxford construction and is made using Anglink's special textile process, which enhances the waterproofness.
Additionally, a waterproof polyurethane inner layer is included while all the stitches are covered with a waterproof strip, thereby eliminating the issue of seepage.
Other features include a reflective strip for improved nighttime visibility, easy-to-use adjustable buckle straps and an elastic cord for snug fitting, and two anti-theft lock holes for locking the cover to the wheels, but locks are not included.

How to Buy the Best Motorcycle Cover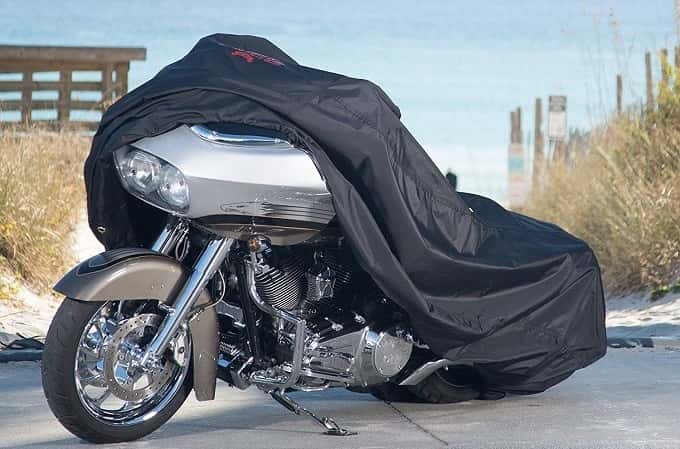 There are some factors that you need to consider before buying a motorcycle cover. These include:
1. Fitting
This is a very crucial factor to consider because if you get it wrong, then the cover might not be of any use to your bike. Basically, most covers are measured along the length in inches and with this, you should measure your bike's length, then find the one that fits.
Ideally, you should buy a cover that is slightly longer than your bike so that it slides in easily to create a tight and perfect fit for the best protection.
2. Material
When it comes to material, you need to look mostly at its strength and durability because by being exposed out there, wear-and-tear and exposure to the elements can take a big toll on the cover.
That said, the two most common materials are nylon and polyester, and even though Oxford is mentioned a lot, it is basically polyester. Both are quite strong but for better selection, you should be guided by the denier unit, which is a measure of the fabric's thickness.
The larger the denier value, the thicker the material. For instance, if you want a tough and heavy-duty cover, look for 300D polyester, which is tougher than 200D. Thicker covers are definitely better, but they are heavier and usually more expensive.
3. Level of Protection
Water Resistance
Even though almost all motorcycle covers are fully water resistant, heavy downpour or the formation of puddles of water on top of the cover might create a lot of pressure, allowing in some water.
However, there are covers that are built to handle a lot of water pressure such as Anglink's 5864220699, which can comfortably handle up to 2000 pascals. With such a setup, it is very difficult for water to sip in even after the heaviest downpour.
Wind Resistance
If you reside in a very windy area, then you need to buy a cover with straps and air vents. Straps help to keep the cover secured to the bike and this prevents it from being blown away.
Apart from preventing condensation, air vents allow strong winds to pass through, thereby preventing a ballooning effect inside, which may destabilize the bike and even topple it over.
Heat Resistance
This is a convenience feature that enables you to cover your motorcycle immediately after parking it.
It is important to note that not all covers have this feature. It is highly recommended getting one that has this because you will be able to protect the outer material from melting due to the hot temperatures around the engine and tailpipes.
Sun Protection
UV rays are quite harmful in the long run. On continued exposure, your bike may begin to fade or even deteriorate around the seat.
For this reason, it is important to get a motorcycle cover that is UV treated for protecting your bike and also for protecting itself since it will be at the frontline, facing the sun for the entire duration that your motorcycle is parked during the day.
4. Locking Mechanism
Since most of these covers are easily removable, without a locking mechanism, they can be easily stolen, especially if you live in an unsafe neighborhood.
Therefore, it is important to get a unit that has a safety locking mechanism and features to look for include the addition of a lock and cable to the kit or the inclusion of lock holes within the wheel sections for locking the piece to the wheel using an external lock.
5. Full or Half Coverage
Motorcycle half covers are not very popular, simply because they do not provide full coverage of the whole bike. They only protect the essentials on the upper part, which includes the seat, GPS, ignition key slot and the like.
Full covers are way better because they go all the way down to the wheels, covering a larger area for complete protection from the elements.
Conclusion
All in all, Badass Motogear's cover stands out due to its high-quality construction and though quite expensive, it has the features to show for it. However, all the covers above are still good quality pieces, and each one has some unique features that are suitable for different bike riders.
With that in mind, you should be able to pick the best motorcycle cover that matches all your needs after going through the review above.