Sparkling new wheels and rims don't only look attractive to you, but they fascinate a lot of car thieves as well. Wheel theft is not a new thing but surprisingly enough few people take protective measures to protect their wheels.
But keeping your wheels safe is much easier than you might think as you only need to invest in the best wheel locks.
You can get wheel locks for both the actual wheels and steering wheels, but the latter is only for preventing your vehicle from being driven away but might not stop thieves from removing the tires and rims.
Wheel locks come with a unique key tool, which is the only way to undo them. Like any other vehicle accessory, you need to choose the best ones to get top-notch service and maximum security.
Here we review 7 top-rated wheel locks and provide a buying guide to help you choose the most secure ones for your vehicle.
Editors' Picks: Top Wheel Locks of 2021
Summary of 7 Best Wheel Locks
IMAGE
PRODUCT
FEATURES

Gorilla Automotive 61631

1. Gorilla Automotive 61631 (Best Overall)

Material (Hardened steel)
High-quality material and design
Relatively more affordable
Easy guide key

Toyota Genuine Accessories 00276-00900 Wheel Lock

2. TOYOTA 00276-00900 (Best Hardened Steel Locks)

Material (Hardened steel)
Durable hardened steel construction
Weight-balanced to stock lug nuts
Simpler installation

McGard 24538 Chrome Cone Seat Wheel Locks

3. McGard 24538 (Best OEM Standard)

Material (Hardened steel)
Meets and exceeds OEM safety and durability standards
Easy to use wheel locks
More user-friendly key

Winner International The Club 1100 Wheel Lock

4. Winner International 1100 (Best Steering)

Material (Hardened steel)
Top notch steering wheel lock
Universal vehicle fit
Laser encrypted keys

Winner International The Club CL303 Wheel Lock

5. Winner International CL303 (Simple but Secure)

Material (Steel)
Simple design but secure
Easy to install and fits most vehicles
Highly affordable

Winner International The Club 900 Steering Wheel Lock

6. Winner International 900 (Easy to Use & High Visual Deterrence)

Material (Tempered steel)
Easy-to-use wheel lock
Durable tempered steel construction
High visual deterrence

McGard 24215 Wheel Lock Set

7. McGard 24215 (Longer Cone Seat Style Locks)

Material (Hardened steel)
Longer and easier to use
User-friendly key
Durable hardened steel construction
1. Gorilla Automotive 61631 - Best Overall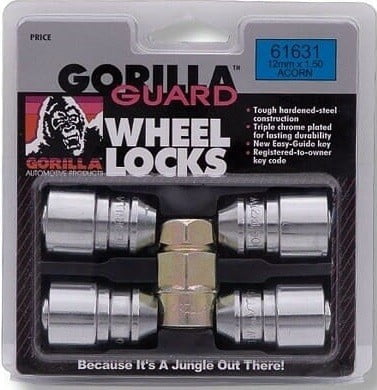 Thread Size: 12 x 1.50 mm
Lock & Key: Set of 5
Material: Cold Forged Hardened Steel
This super amazing lock from Gorilla Automotive is one of the hottest selling products on the market. For many years now, the brand has been a renowned name in the market for selling top-notch locking lugs.
The thread size is 12 x 1.50 mm, which is suitable for different cars. And these are also made to last thanks to tough-hardened steel construction and triple chrome plating
You will get 4 locks in this pack to ensure all your wheels are covered and a unique 3/4 inch & 13/16 inch dual hex key.
And to make it even more secure and easy to use, the key comes in a new easy guide design and a key code registered to the owner.
Sizing might be an issue for some vehicles as these are not universal wheel locks, but this should not be a problem as you only need to make sure they fit your wheels before buying.

---
2. Toyota 00276-00900 - Best Hardened Steel Wheel Locks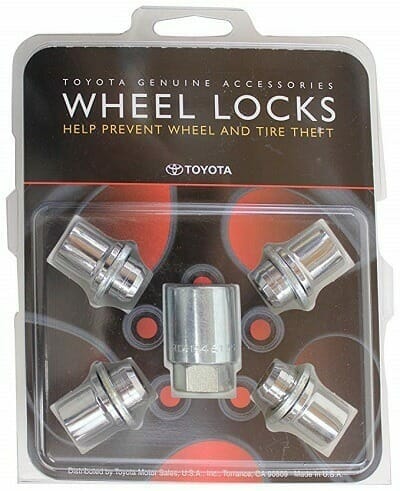 Lock & Key: Set of 5
Material: Hardened Steel
Toyota is a highly reputable brand, and so the fact that these wheel locks are from them should give you enough confidence.
The top-rated wheel locks are made of hardened steel and with triple nickel plating and chrome overlay to ensure superior corrosion and rust protection.
These wheel locks come with a unique and innovative key designed to give users an easy time as it also has a collar guide for super easy installation.
Being one of the priciest options among our wheel lock review, some car owners might find them a little expensive, but their superior quality should make up for the price.

---
3. McGard 24538 - Best OEM Standard Wheel Locks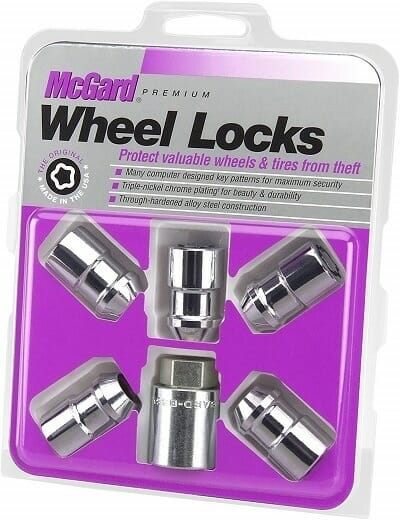 Thread Size: 1/2" - 20
Lock & Key: Set of 6
Material: Hardened Steel
McGrad is one of the best wheel lock brands out there and their products like the 24538 locks will hardly every disappoint as they meet and exceed OEM standards for both safety and durability.
The wheel locks have a thread size is 1/2" - 20, which is suitable for most cars on the road, and they are also long enough for easy use and security.
These are cone seat style wheel locks that are not too complex to install and are made of hardened steel that does not corrode or rust, even after constant exposure to moisture and outdoor abuse.
The locks are accompanied by a 3/4" and 13/16" dual hex key. This is a unique key and user-friendly, it will give you an easy time and provide maximum safety.
These wheel locks can snap under very high torque, but this is typical of most of these lug nut and should hence not be the dealbreaker.

---
4. Winner International 1100 - Best Steering Wheel Lock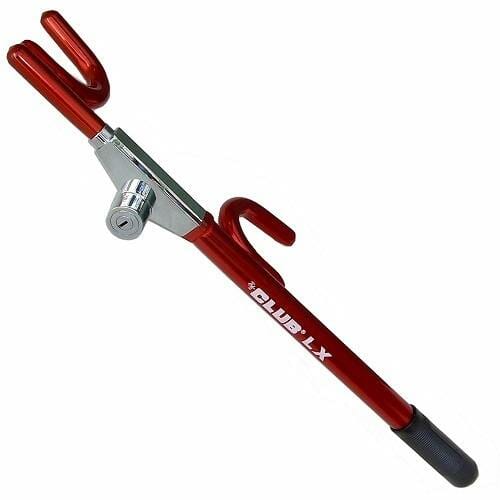 Lock & Key: Set of 2
Material: Steel
The steering wheel also needs to be locked for maximum vehicle safety, and the Winner International 1100 will be a perfect tool for this.
It is a top-notch quality steering lock with a self-locking feature locks with a single pull to give users an easy time. And it has a universal fit that makes it ideal for use on most cars and trucks.
Other than providing protection, this lock can resist everything from sawing and prying to hammering. Also, it uses some special laser encrypted keys that can never be duplicated.
This wheel lock is made from heavy-duty materials, and while the outer coating might not be very good it does not affect the sturdiness or durability. Also, the relatively higher price tag is a reflection of its high-quality construction.
Outer coating is not very good

---
5. Winner International CL303 - Simple but Secure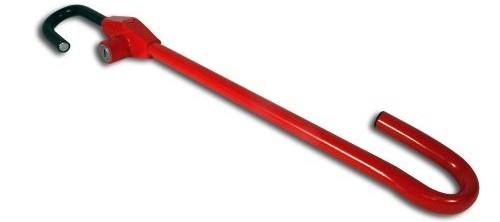 Lock & Key: Set of 2
Material: Steel
If you are not interested in any of the high-end wheel locks with complicated installation, this one from Winner International will suit your needs.
It is a decently priced product that attaches the steering wheel to the brake or even the clutch pedal and makes it impossible for the car to move from its position.
It is generally an easy to install wheel lock, and it will fit most vehicle's steering wheels perfectly, which means you can almost be certain it will work for you. And besides the security that comes with metal the bright color also offers high visual deterrence.
The metal seems flimsier and thinner but it is still quite a tough steel material that should last long enough for its price

---
6. Winner International 900 - Easy to Use and with High Visual Deterrence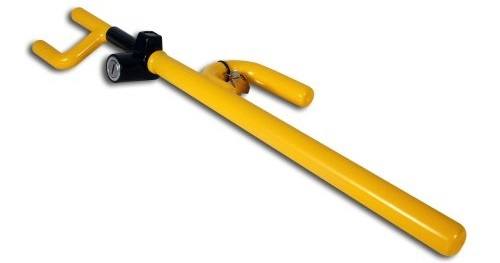 Lock & Key: Set of 2
Material: Tempered Steel
Winner International 900 is another amazing steering lock that comes at a more affordable price tag but still does a great job.
It is a tough tempered steel wheel lock that is designed to serve you for a long time and withstand anything potential thieves might through its way.
The bright yellow color also plays a crucial role as it acts as a high visual deterrence for car thieves.
Plus, there is a vinyl coating on the steel to make it completely opaque from rusting and corrosion. And this steering wheel should still give you an easy time even if you are a first-timer.
For some steering wheels, this wheel lock seems a little on the smaller side, but the good news is that it works well for most vehicles.

---
7. McGard 24215 - Longer Cone Seat Style Locks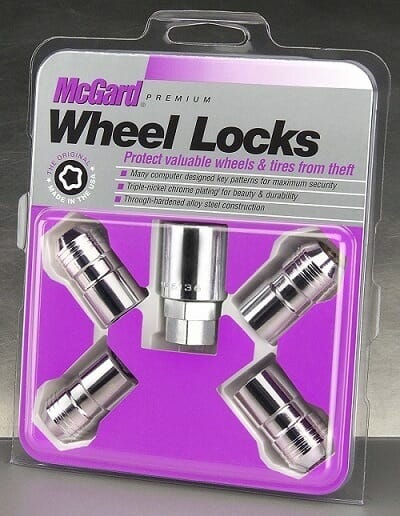 Thread Size: M14 x 1.5
Lock & Key: Set of 5
Material: Hardened Steel
Here is yet another amazing McGrad wheel lock option that will also never disappoint as it provides maximum safety for your wheels.
The lug nuts are a little over 1.6 inches long, which makes them some of the longest on our wheel lock review, and this comes with several benefits including easier installation and removal.
The wheel locks are constructed with hardened steel that makes them sturdy enough to withstand potential thieves and the elements.
And the thread size is M14 x 1.5, which makes them ideal for most vehicles, and there are 4 locks and 1 key- 21 mm and 22 mm dual hex size in the pack.
If you have one of those high torque vehicles that require 50 ft.lb torque or more, these might not be the best wheel locks for you, but for other vehicles, they should work perfectly.

How to Buy the Best Wheel Locks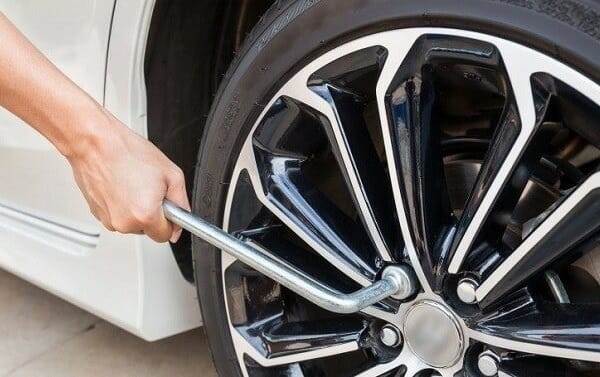 Considering the important role that wheel locks play in vehicle protection, it is essential to invest in a highly dependable product.
And the good news is that there are many good ones in the market and you will only need to consider the following points when shopping to ensure you make the right choice.
1. Type of Wheel Locks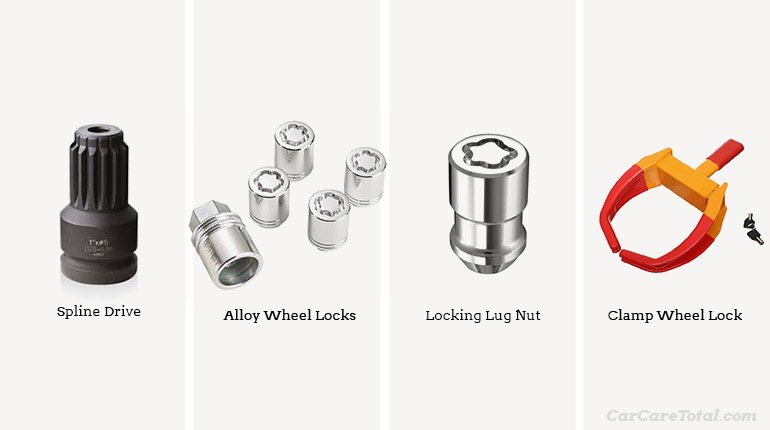 There are different types of wheel locks available in the market that you should know. These other locks work well under different circumstances and for various users. Hence you need to know what each has to offer to make an informed decision.
Spline Drive : These are some of the best aftermarket wheel locks out there. Since the diameter is small and thin, the lug-nuts fits inside the smallest lug holes. They have closed end design and more gripping power. And the extended stug engagement makes installing the locks easier.
Alloy Wheel Locks : The alloy wheel locks are usually available from specific vehicle manufacturers. These locks are sturdy and made of solid alloy material finish. And they will require a specialty socket for the lock to be removed.
Locking Lug Nut : These locks are smooth on the exterior surface. Plus, these have rigged pattern design on the interior, making them more dependable as you can't remove them without the specialty key. They are quite popular with car owners because of their fancy exterior and because they are tough given that you cannot break them with a traditional wrench.
Clamp Wheel Lock : These locks are a clamp that is placed around the wheel to protect it from thieves. It is also referred as "boot" and will not allow the car to move until it is removed. The downside is the size of the lock, and they are harder and more tedious to use. But they can be convenient in highly insecure places.
2. Material
Choosing the right wheel lock material is also crucial as there is a lot of variation in the construction materials used to make these locks.
Most good wheel locks are made of alloys while are made of steel or chrome vanadium, which is quite a strong material and is resistant to corrosion.
Allow locks are often good enough as they are also often more affordable, while steel ones are strong but not completely rust and corrosion-resistant.
3. Thread Size
Every car has different thread size, and so you need to pick the right wheel locks for your particular vehicle model.
The locks are typically available in 12 x 1.25 mm and 12 x 1.50 mm sizes. However, there are also a few others that can work for almost any thread size.
It is important to ensure that the thread size of the lock matches the size of the car. If you don't pay attention to this feature, you might end up wasting your money on the wrong product.
4. Unique Key
It is all about the key because it is what makes the locks hard to unfasten. You must ensure that the lock has a unique key.
If you buy a lock with a generic key, the possibility of your wheels getting stolen will be higher than anyone with a fitting key can unfasten the lug nuts.
5. Price
No matter how much you value your wheels, you are probably still unwilling to spend a fortune on wheel locks, so their price matters a lot.
Luckily wheel locks are generally inexpensive as you can get good ones for as little as $10.
It should be obvious that the more you spend the better the quality or the more secure the wheel locks will be, so it does not hurt to spend a little more cash to get something top quality.
Conclusion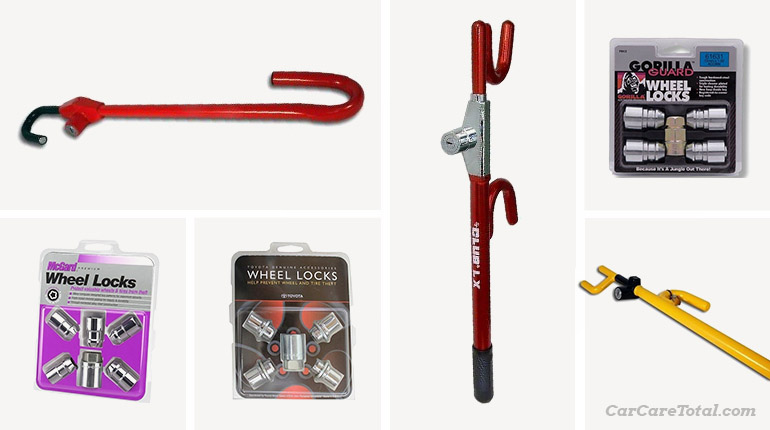 Wheel locks provide one of the easiest and most effective way of keeping your wheels and priced tires safe from car thieves. And they achieve this by making it hard for the thieves to unfasten the lug nuts.
But, if you are going to get maximum security and good service from these wheel locks, you need to make sure you chose the right ones by considering factors like the type, material and price.
And with our in-depth review above to give you recommendations, finding the best wheel locks should now be even more effortless.