A nerf bar is handy for those that drive vehicles with taller drive height than usual as they make it easy to get in and out. They can be especially useful for trucks and SUVs that are higher off the ground.
Additionally, nerf bars also help spice up the look as they add some aesthetic appeal and give vehicles a sportier look. What's more, they can protect the truck's side from damage caused by bumping into things like curbs.
Like any other vehicle component, you need to make sure you get the best nerf bar for good service. This article helps make this easy with a review of some top-rated models and a buying guide.
Editor's Recommendation: Top Nerf Bars of 2021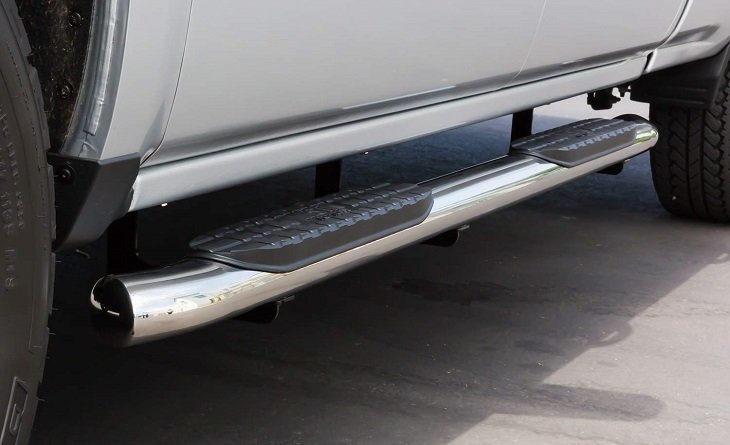 Summary of 7 Best Nerf Bars
IMAGE
PRODUCT
FEATURES

1. Westin Pro 21-23835 (Best Overall)

High strength mild steel tube construction
Easy bolt-on installation
Factory style finish
High traction molded polymer step pads

2. MaxMate WB2D39107 (Best Budget)

Budget-friendly
Heavy-duty stainless steel build
Mounting hardware & instructions provided

3. Tyger Auto TG-RS2C40038 (Best Brand)

Premium product from a top brand
Rust & UV-resistant
Anti-slip surface

4. N-Fab T1464R (Best 2-Inch)

Tight-fitting 2-inch main tube
100% welded construction
Long-lasting finish

5. Lund 23884295 (Best Universal)

Fits a wide variety of vehicles
Large 5-inch surface
High weight capacity of 350 lbs

6. MaxMate WB2D41147 (Best for Dodge Ram)

Perfect fit for Dodge Ram quad cabs
Heavy-duty stainless steel tubing
UV-resistant non-slip step pads
Easy bolt-on installation

7. RamPage 8625 (Best for Jeep Wrangler)

Perfect fit & size for both YJ & TJ
Reinforced polyester step pad
Dual-stage e-coat
1. Best Overall: Westin Pro 21-23835

Fits: Toyota Runner SR5 and TRD
Size: 4 inches
Material: Mild Steel
Westin Pro 21-23835 is our best overall nerf bar model as it is well-built, provides high traction, has a sleek look, and is also super easy to install for anyone.
The nerf bar features a high strength mild steel tube construction with a powder coating to make it highly durable and resistant to corrosion.
Besides being durable, the surface includes some high traction molded polymer pads to ensure you do not slip when getting in or out of the vehicle.
These heavy-duty nerf bars are designed to fit Toyota Runner SR5 or TRD models, and they are easy to install thanks to the bolt-on installation plus the highly detailed instructions.
You can comfortably stand on this nerf bar for an extended period and not feel fatigued or slip as they provide adequate space for your feet.
With the 30-degree OE style bends, a fully welded design, and inclusion of domes and caps, these bars provide a sleek, factory-like finish.
The only problem with this model is that the bolts are not fully threaded, making the bars challenging to bolt on some vehicles. But, they should be okay, provided you do not overtighten them.

---
2. Best Budget: MaxMate WB2D39107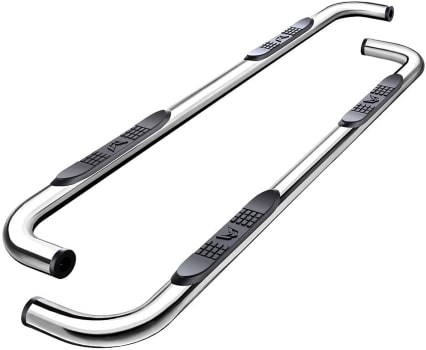 Fits: Crew Cab
Size: 3 inches
Material: Stainless steel
For motorists shopping for nerf bars on a tight budget, the MaxMate WB2D39107is the perfect choice as it comes at a more budget-friendly price tag.
However, the bars are built to last with heavy-duty stainless steel construction that guarantees they last for many years to come.
The steps have a non-slip surface to help prevent accidental falls. This surface is also UV-resistant to ensure it does not fade for those that leave their vehicles out in the sun for long periods.
Because the bars come with all the mounting hardware and have a simple bolt-on installation design, mounting them should be a more effortless task.
Although the step could be a little wider, 3 inches is still quite decent to ensure you can get in and out of the vehicle with ease or even stand on the bars. Another drawback is that the directions can be confusing in some sections, but you should still have an easy installation.

---
3. Best Brand: Tyger Auto TG-RS2C40038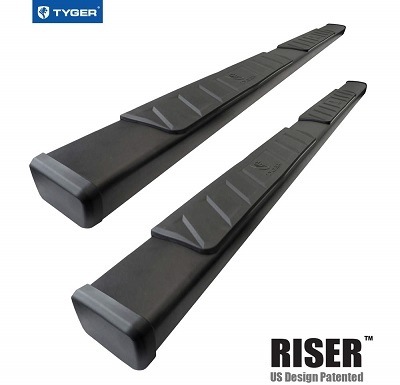 Fits: Chevy Silverado, GMC Sierra
Size: 4 inches
Material: Steel
Tyger Auto is a top vehicle equipment manufacturer famous for making premium OE-quality parts. Hence, if you are looking for nerf bars from a leading brand, their Tyger Auto TG-RS2C40038 should be perfect.
These bars are well-built with heavy-duty mild steel tubing. The tubing has a black powder coating that ensures maximum rust resistance, and the bars are also resistant to UV to ensure they do not fade.
Additionally, these are 4-inch wide bars to ensure you have enough space for your feet. Better still, the steps have a rubberized surface that makes them anti-slip for safe use.
Overall, these are easy to install nerf bars thanks to the bolt-on design and the fact that they come with all the required hardware.
Although the instructions could have been better, they should not be the deal-breaker, given that the nerf bars are still easy to figure out.
Notes: This model is not a heavy-duty nerf bar that you can stand on for extended periods. It is mostly for aesthetics and to help you to climb in and out of the vehicle.

---
4. Best 2-Inch: N-Fab T1464R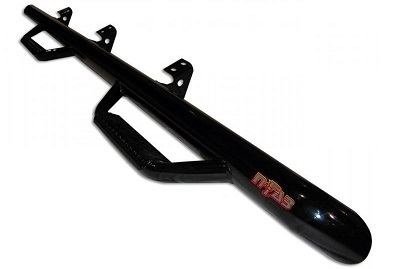 Fits: Toyota Runner
Size: 2 inches
Material: Steel
The N-Fab T1464R is a rounded 2-inch nerf bar engineered to fit more tightly to the body and has steps positioned on each door for easy access to the vehicle.
This nerf bar is made from high-grade steel, so it is incredibly durable and long-lasting. Additionally, it has a 100% welded construction that creates a one-piece assembly to make installation a breeze.
Besides being durable, the nerf bars include dimpled step plates that provide excellent traction and ensure maximum stability in any weather.
Many motorists also love that the bars undergo a 4-stage powder coating, which leaves them with a more long-lasting and aesthetically-pleasing finish.
The only caveat we note with this product is that it is relatively expensive. However, this should not be a deal-breaker as it is still quite a handy nerf bar.

---
5. Best Universal: Lund 23884295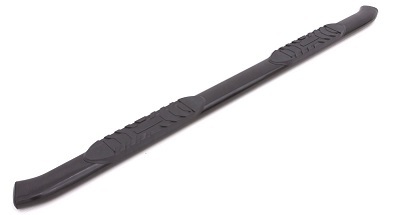 Fits: Universal
Size: 5 inches
Material: Steel
With the Lund 23884295, you get a pair of universal nerf bars that fit almost any truck out there. Therefore, these are the perfect choice if you are not sure what will work for your vehicle.
Besides broad compatibility, the nerf bars also have a wider 5-inch surface to allow you to comfortably and safely stand on them. Better still, they can hold up to 350 pounds.
These nerf bars are made to last with rugged black steel construction and powder coating to prevent corrosion. Also, they have some flat, non-slip step pads that provide excellent traction.
For the drawbacks, these nerf bars are not entirely waterproof and are a little pricier. However, it will be many years before you never have to worry about any rusting. Also, the price is a reflection of their quality and larger size.

---
6. Best for Dodge Ram: MaxMate WB2D41147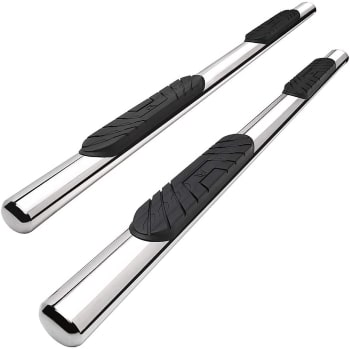 Fits: Dodge Ram
Size: 4 inches
Material: Stainless steel
If you drive a Dodge Ram, and this is more so those with a quad cab, the MaxMate WB2D41147is the perfect nerf bar choice for you. These 4-inch bars provide an ideal fit and plenty of space to make it easy to get in and out of the truck.
Apart from being spacious enough, they are also well-built with heavy-duty stainless steel tubing for long service life. Additionally, the tubing has some non-slip and UV-resistant step pads.
Because these are bolt-on installation bars that come with all the mounting hardware and clear directions on what to do, installing them should be a breeze.
Some users might not like that installing these nerf bars still requires some drilling. The good news is that it is minor as you only need 1/4-inch holes for support brackets.

---
7. Best for Jeep Wranglers: RamPage 8625

Fits: Jeep Wranglers YJ & TJ
Size: 3 inches
Material: Steel
For the Jeep Wrangler owners, whether it is the YJ or TJ, the RamPage 8625nerf bars are for you. The 3-inch bars provide a perfect fit for these vehicle models and also help enhance the overall look.
The bars include reinforced non-slip polyester step pads that provide excellent traction for easy vehicle entry and exit. What's more, they are more secure since they use insert pins.
With the long-lasting and highly protective dual-stage e-coat, you can be sure these bars will not rust or corrode for many years to come. Additionally, these are super easy bars to install with no drilling required.
Although the step cover is plastic and might not last as much as rubber, it should still hold up well for long enough. These bars do not seem to hold a lot of weight as they are more decorative, but they should take most adults' weight.

Nerf Bar vs. Running Board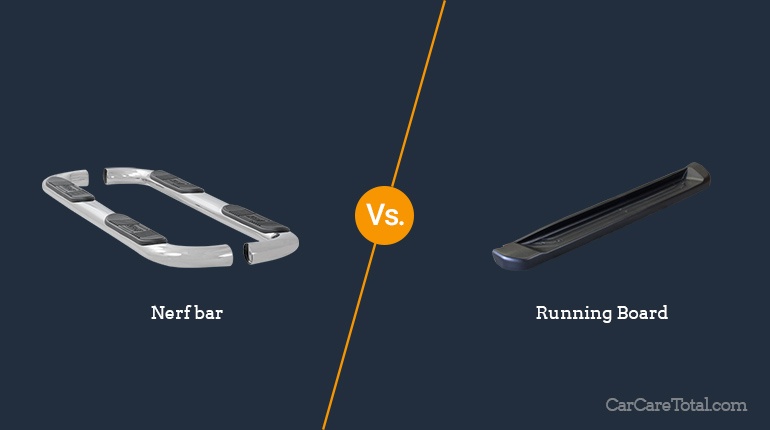 Nerf Bars
Most nerf bars are stainless steel, aluminum, or steel tubing. They span the entire cabin length and with a dedicated non-slip foot grip. The bars are typically from 2 to 6 inches in diameter and come in either a round or oval shape.
Sometimes nerf bars are installed to give the vehicle a rugged look and are much better for off-roading than running boards. For off-road use, they provide better protection against the small rocks kicked up from the ground.
Nerf bars are also the best for heavy-duty trucks and workhorse rigs that have to undergo a lot of abuse in their typical driving environments.
Running Board
The running board functions similar to the nerf bar. However, what separates this type from the nerf bar is its size, especially its larger diameter. A typical running board is flat and with a wide surface between 4 and 7 inches wide.
These boards run along the truck cabin's side just below the door, and they provide a larger stepping area when entering the vehicle. Better yet, they are perfect for wiping your feet on as you enter the vehicle, helping keep it clean.
Although you can use running boards on a wide variety of vehicle types, they work best for modern trucks, SUVs, and crossovers.
Running boards' main disadvantage is that since the diameter is so big, it can easily collide with obstacles, especially if you use your truck on narrow roads.
How to Buy the Best Nerf Bar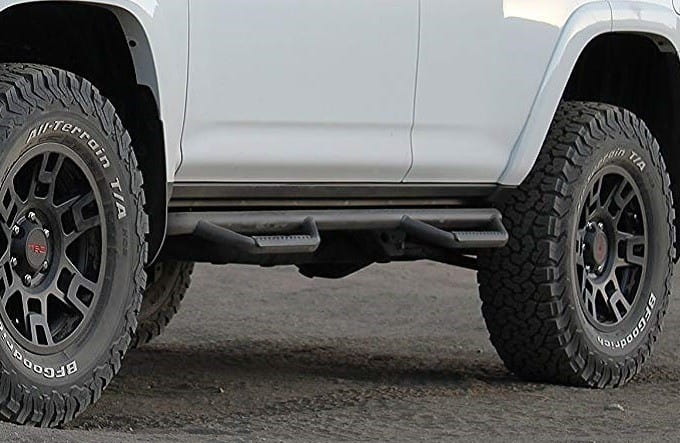 1. Fit
First of all, you must ensure that the nerf bar fits your vehicle. Most are for specific vehicle types and models. Therefore, it is crucial to check the fit before settling on any model.
Moreover, there is also an aspect of aesthetics to consider. Even if the nerf bar fits your vehicle, you have to check if it will look good on it or not.
That said, there are still universal nerf bar models such as the Lund 23884295, which can work for a wide variety of vehicles.
2. Types of Nerf Bar
Round: The rounded nerf bar has its tips rounder and is built more for aesthetics. Round bars are generally safer than other types because the rounded tips easily brush away any obstacles it finds in its way.
Oval: The oval nerf bar has a flatter surface and offers a wider surface area for you to stand on. This type measures around 4 to 5 inches in diameter, making it safer and more ergonomic to stand on.
Step: The step nerf bar makes it much easier and safer to get on and off the tall trucks. This type can be beneficial if your vehicle has bigger tires, which raise the truck significantly.
Cab Length: The cab length nerf bar is a little more discreet compared to other types. However, it remains safe and ergonomic as most have stepping pads for all doors.
Wheel to Wheel: The wheel-to-wheel nerf bar is one of the most popular types you will encounter online. This type covers the entire length of the cabin from the front to the back wheels. Also, it has multiple stepping pads for all doors, is easy to install, and more aesthetically pleasing.
3. Size
Not only do you have to consider the overall length of the nerf bar, but also its diameter. A more expansive nerf bar is more ergonomic and safer to stand on.
However, if a nerf bar is too big, it becomes a safety hazard, especially when you're negotiating tight roads with a curb as the risk of collision is higher.
A 5-inch model like the Westin 21-53720 is an ideal choice as it provides adequate space for your feet. But, anything between 2 and 5 inches still works well enough.
4. Material
You must also consider the material to ensure its durability. Most nerf bars are stainless steel, aluminum, or steel.
Stainless steel bars are tough and durable but what makes them a good buy is that they offer better corrosion resistance.
Aluminum ones are more lightweight and hence easier to handle, while steel bars are the toughest. However, aluminum is not always very durable, while steel can corrode or rust easily without proper coating.
Conclusion
The nerf bar makes it easier for you to get in and out of your raised vehicle, while also enhancing its appearance. If you are on the lookout for the best nerf bar, there is something for you on our list.
That said, the Westin Pro 21-23835 is our best overall model as, besides being well-built, it provides excellent traction for maximum safety and looks fantastic.
But, for those shopping for a more budget-friendly option, the MaxMate WB2D39107 is what we recommend.