A trailer is one of the biggest assets that many people invest on, and it will enable you to haul more luggage by just hitching them to your truck. Hence, it is always important to find ways to keep your safe, and this should be easy with the best trailer lock.
A good trailer locks helps to deter potential thieves, and hence in turn ensuring you do not lose the expensive trailer or anything priced on it.
Typically, no lock is 100% unbreakable. But, a good quality one will give the thieves a harder time. In this piece, we are all about helping you choose the most secure trailer locks with review of top-rated models and a comprehensive buying guide.
Top Trailer Locks of 2021 by Editors' Picks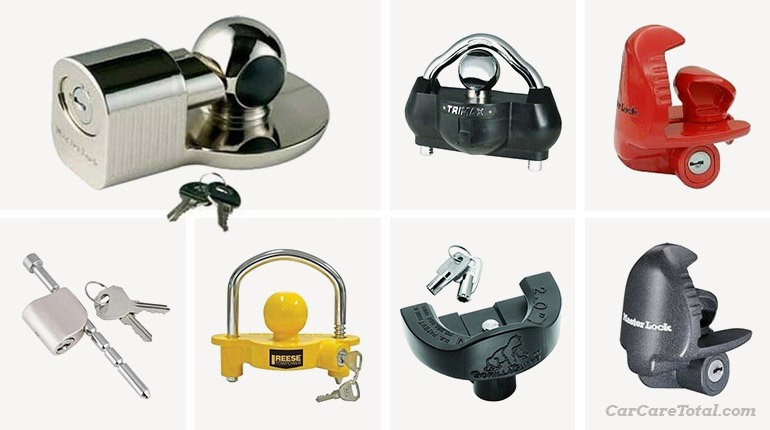 Summary of 7 Best Trailer Locks
IMAGE
PRODUCT
FEATURES

Master Lock - Universal Size Fit Trailer Locks

1. Master Lock 389DAT (Best Overall)

Advanced locking mechanism
Resist corrosion and rust
Universal coupler fit
Bright red color finish

Master Lock 2866DAT

2. Master Lock 2866DAT (Best Budget)

Budget-friendly
360-degree rotating locking head
Snap-on cover
Receiver lock included

Master Lock Universal Trailer Coupler Lock

3. Master Lock 379ATPY (Best Brand)

Top brand trailer lock
Strong zinc alloy material
Advanced locking mechanism
Universal fit

REESE Towpower 72783 Universal Coupler Lock

4. Reese Towpower 72783 (Best Universal Coupler Lock)

Universal coupler fit
Adjustable locking bar
Deterrent yellow color
Easy to install

Trimax UMAX100 Premium Universal Hardened Steel Trailer Lock

5. Trimax UMAX100 (Best Hardened Steel Trailer Lock)

Hardened steel build
Ballistic grade nylon housing
One size fits all

Key hole cover

Tow Ready 63228'Gorilla Guard Coupler Lock

6. Tow Ready 63228 (Tamper-Proof Trailer Lock)

Tamper-proof design

Will fit most 2-inch trailer coupler
Sturdy metal construction
Comes with two keys

Master Lock 377KA Trailer Coupler Lock

7. Master Lock 377KA (Weather-Resistant Zinc)

Weather-resistant
Advanced locking mechanism
Fast and easy installation
Sturdy zinc build
1. Master Lock 389DAT - Best Overall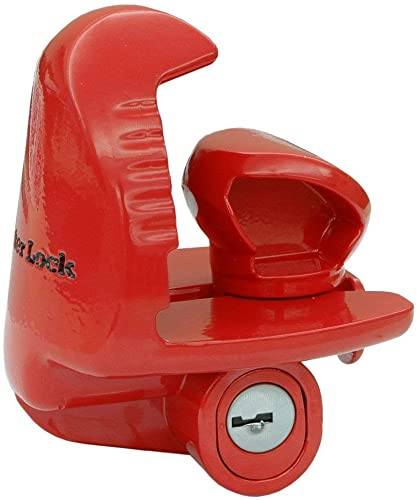 With the advanced locking mechanism the Master lock universal lock for trailers is all you want to secure your trailer. Build to perfection; the lock offers ultimate security, which is what makes it our best overall product. The locking mechanisms boast hardened steel. This means there is no sewing; prying or hammering will break it.
With universal compatibility, there is no struggle looking for ideal trailer lock. The system can lock any coupler starting from 1-7/8, 2, and 2-5/16 inches.
The designing of this trailer lock isn't trial and errors. Made of heavy-duty materials, it becomes hard for thieves to compromise it.
Apart from the structural strength, the lock has a bright color painting. This is important as it deters thieves from tampering with. The paint also protects the lock from rust, corrosion and extreme weather conditions.
Fitting this device in your trailer coupler is a minute job. Its overall construction focuses on security and ease of installation. With unique lock design, there is no other key can open it. Thereby, it gives a trailer maximum protection.
While this lock might be a little smaller, it is still as tough as it can get and hence the size should not be an issue.

---
2. Master Lock 2866DAT - Best Budget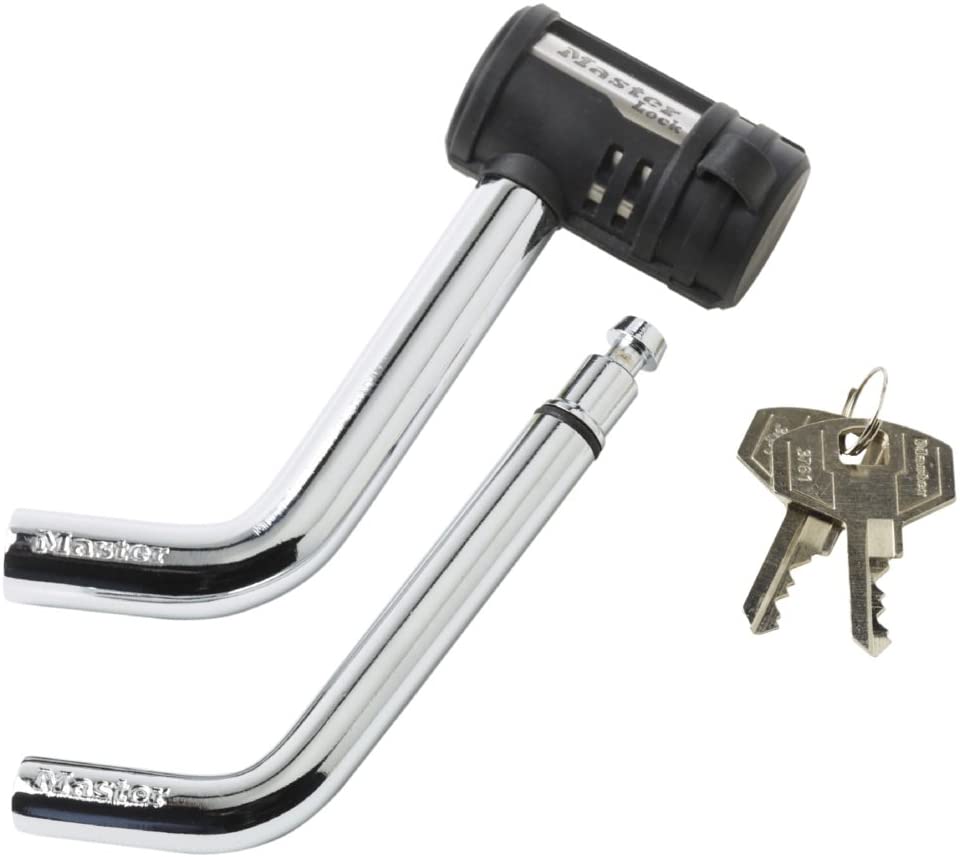 Being one of the cheapest items on our review of top trailer locks, the Master Lock 2866DAT is perfect for you if you want something affordable but still highly effective.
The locking head on this trailer lock will rotate 360 degrees to allows the keyway to face forward for easy access. And with the push lock mechanism, you can be sure of getting and easy and secure lock every time.
There is also a receiver lock that will ensure you get an additional level of security and is also a useful deterrence for thieves.
The materials used to make this lock do not seem completely resistant to corrosion. However, the snap on cover should protect the sensitive parts of the lock from the elements and hence corrosion for long enough.

---
3. Master Lock 379ATPY - Best Trailer Lock Brand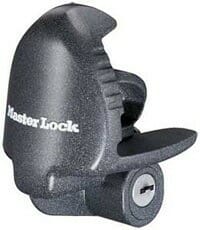 Master Lock is a global leader when it comes to lock manufacturing, and their locks have a presence in almost every country in the world.
This particular lock works with most a variety of trailer hitches thanks to a universal design. The lock is compatible with 1-7/8 inches, 2 inches and 2-5/16 inches couplers. And if you want something from a top brand you can trust, it will be a good buy.
Well, the construction of this lock is robust. Unlike the cheap locks, it has durable materials and an advanced lock mechanism that resists prying and cutting. Also, the materials used in construction resist corrosion and rusting.
While this trailer lock could be more secure, for its price, it still provides adequate security for most trailer owners.

---
4. Reese Towpower 72783 - Best Universal Coupler Lock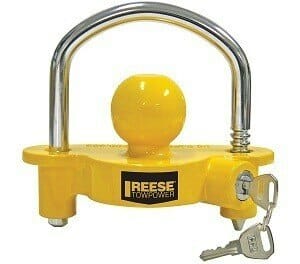 The Reese Towpower universal coupler lock is built to give you peace of mind. It is a reliable system that keeps thieves away from your trailer or RV as breaking it will be a mountainous task. The universal lock fits in 1-7/8, 2, and 2-5/16 inch couplers.
It has heavy-duty base and steel bar and thus cutting will take way more time and energy than what any thief is willing to put in.
Forget other inferior locks available on the market. With this lock, you get high adjustability as it boasts 11 locking positions. It's therefore simple to adjust for a perfect fit.
Besides the heavy duty construction, the base features high visible yellow paint. The color helps in improving lock visibility, thereby ideal for all trailers.
The aluminum base looks and feels a little weak but you will be amazed at just how tough and secure it is.

---
5. Trimax UMAX100 - Best Hardened Steel Trailer Lock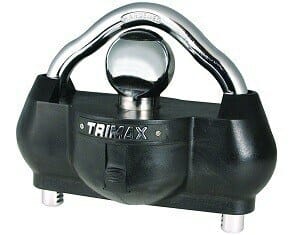 Trimax UMAX100 trailer lock is an outstanding product that will never disappoint. With this lock, you enjoy enhanced security of your trailer. Featuring 360 degrees hardened steel; there are no chances of easy breaking.
The lock boasts sleek ballistic grade nylon housing that will absorb massive hammer blows. Also, this means superior coating and protects the base from corrosion. Furthermore, with keyhole having a cover, it keeps dirt out. Thus, you won't experience jamming when opening.
Forget those locks that only fit specific trailers. This one boasts universal compatibility. It can fit in couplers from 1-7/8, 2, to 2-5/15 inches. Therefore, regardless of your trailer hitching coupler, this lock fits perfectly.
At 6 pounds, this trailer lock is a little heavier, and it is also relatively pricier, but the best thing about it is that it provides top notch security.

---
6. Tow Ready 63228 - Tamper-Proof Trailer Lock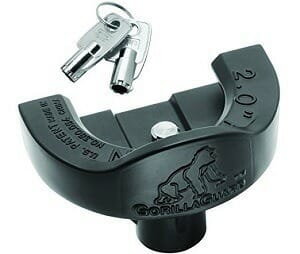 The Tow ready 63228 is one of the best trailer coupler locks around. And this is thanks to the tamper-proof design that makes tampering with any tool almost impossible. With the heavy-duty metal construction, this lock is also meant to offer many years of exceptional service.
Installing locks can sometimes be a hard task, but, once you have this, it's a breeze. Its design fits ball socket on the trailer, while the solid bar wraps the coupler. There are also no wrenches or other special tools required to install this lock.
This lock will be compatible with any 2-inch trailer coupler. And boasting two keys, the spare one will save you the hassle of getting new ones made in case of accidental loss.
This trailer lock is notably pricier when compared to others on our list but for its quality makes it worth the extra bucks.

---
7. Master Lock 377KA - Weather-Resistant Zinc Trailer Lock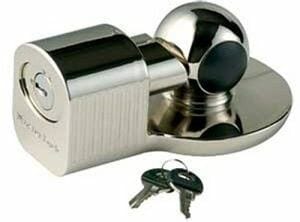 Master Lock 377KA coupler lock is a weather-resistant model that you can rely on to keep your trailer safe in any weather. Its sturdy zinc material will not rust or corrode, ensuring you use the lock for many years.
This lock also uses an advanced lock mechanism that will make prying and picking hard. And to make sure you have easy access even when you lose a key, you will get two keys with the lock.
Notably, the compatibility is incredible. This lock can be used in all couplers from 1-7/8 inch, 2 inch and 2-5/16 inch trailer couplers. Due to this versatility, when you have a new trailer, there is no need to buy a new lock.
The key pattern is quite simple, and hence easy to duplicate, but unless you lose your keys, this should hardly be a concern.

How to Buy the Best Trailer Lock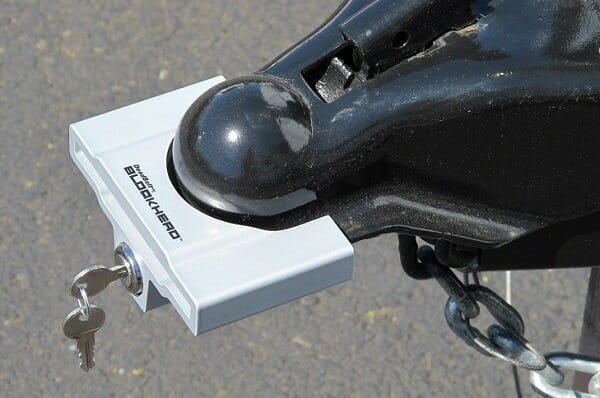 1. Compatibility
Compatibility is one of the biggest things to check when buying a lock. Not all coupler locks can fit just any trailer.
Before buying, you need to measures you trailer hitch to determine the right coupler lock to buy.
The good thing nowadays is there are locks created with universal compatibility. They have recommended coupler compatibility range. Thereby, you can quickly pick one for your trailer range.
2. Style
These locks will different in the part of the trailer that they will lock, and if you have a good models of either, it should provide a secure enough lock for the trailer.
Coupler Lock
As the name suggests, the coupler locks like the Master Lock 389DATare designed to lock the trailer's coupler, and hence making it impossible to tow without removing the lock. Hence, these locks will be ideal for securing the trailer when parked.
Pin Lock
Pin locks will keep the hitch and receiver together until you unlock and remove the pins. They will use pins to lock the two together and will typically include two pins and a pair of keys. The pin locks such as the Master Lock 2866DAT will give you extra security when towing the trailer.
3. Construction Material
Before anything else, the material used to make the trailer lock should always be your first consideration.
Different materials offer varying degrees of protection and the most common ones are steel, aluminum and zinc alloy. Zinc alloy locks like the Master Lock 377KA are highly resistant to rust and corrosion, which allows you to use them in any weather and season.
Some materials like hardened steel offers top notch security but are often more expensive. Aluminum, on the other hand, makes some more lightweight locks, but they are often not as tough as hardened steel ones.
4. Size of the Lock
The size of a lock is another essential feature to consider. Mostly, large locks are better as the size makes them more secure. Furthermore, they can be used with various trailers with ease.
Small coupler locks also work well for many trailers, but they sometimes get stuck requiring you to use some force.
It is advisable then, to look for a lock that can fit in your trailer coupler. This will avoid hassles especially when using them under extreme weather.
5. Locking Mechanism
Some of the locks have inbuilt locking mechanisms. This is a great feature that saves your money. Also, with a locking system on the lock, it adds more strength. In many cases, these types of locks come with hardened locking mechanisms.
The other type is ones that allow third-party padlocks. These are more flexible as one can choose the kind of lock to use.
All in all, the the best locking mechanism is one that is hard to pry and also does not give the user a hard time when opening it.
6. Ease of Use
A good trailer lock should also be easy to use as you do not want to have to spend a lot of time trying to get it to open.
Something with a push and lock mechanism like the Amplock U-BRP2516 or something similar will give you an easy time when it comes to locking and unlocking your trailer lock.
Frequently asked questions
How do I Choose the Correct Size Trailer Lock?
A: You should check the coupler size on your trailer if you are buying a coupler lock or the hitch class/size, if you are buying a pin lock. Both lock styles also have some universal lock models that will work for almost any trailer.
What do I do if I Lose my Key?
A: Most of these locks will come with 2 keys, which means that you will have a spare key to use. But, if you lose both keys, the only solution will be to have a locksmith make new ones using the lock impression or send the key number to the manufacturer for replacement. The last option is to cut or torch the lock off.
Conclusion
There is no doubt that you need to keep your trailer secure when not in use as the chances are it is one of your most priced possession. And with the best trailer lock, this should be easy
No matter which model you choose from our list, you will still be okay. But with its universal fit and advanced locking mechanism, the Master Lock 389DATis our top overall option.