Your vehicle works hard to get you where you want to go, and so it is imperative to keep it in good shape through regular maintenance and servicing to ensure it continues serving you well.
When it comes to maintenance and servicing your vehicles, you need to make sure that you always use the best oil filters.
Oil filters capture the tiny metal chips that come from various parts of the engine, and other harmful contaminants to ensure they do not damage your engine.
And besides prolonging the engine life, oil filters also help to reduce the oil change frequency which saves you cash and time.
In this piece, we are all about expanding your oil filter knowledge and helping you choose the best ones from the many options. We do this by explaining different types of oil filters, reviewing 10 top rated oil filters and providing an in-depth buying guide.
Editors' Picks for Top Oil Filters of 2023
Summary of 7 Best Oil Filters
IMAGE
PRODUCT
FEATURES

1. Bosch 3323 (Best Overall)

99% efficient premium quality media

Metal center tube

Efficient end caps

Handy anti-drainback valve

Relief valve included

2. Fram XG7317 (Best for Synthetic Oil)

Specially designed for full synthetic oils

Dual-layered synthetic media

More than 99% dirt removing efficiency

Up to 20,000 miles protection

Anti-slip SureGrip

3. Mobil 1 M1-110 (Best for High Mileage)

Higher filtration mileage

99.6% efficiency rating

Advanced synthetic fiber media

Withstands more operating pressure

Silicone anti-drain back valve



4. Mann Filter HU 816 X (Best for BMW)

Product by OE BMW filter manufacturer

Great dirt holding capacity

Pleat structuring

High separation efficiency

Fast filter replacement

5. ACDelco PF2232 (Best Brand)

Efficient top brand filter

Cellulose filtration media

5 times greater burst strength

Thermosetting adhesive seal

Consistent oil flow

6. Subaru 15208AA12A(Best for Subaru)

OEM Subaru filter

Pleated filter media

Spring-loaded relief valve

Specially-designed bottom assembly

Exact fit and wide compatibility

7. Genuine Honda 15400-PLM-A02 (Best for Honda)

Original Honda part

99% contaminant trapping

Lasts up to 10,000 miles

Exclusive blend media

Works with any oil type


Top 7 Best Oil Filters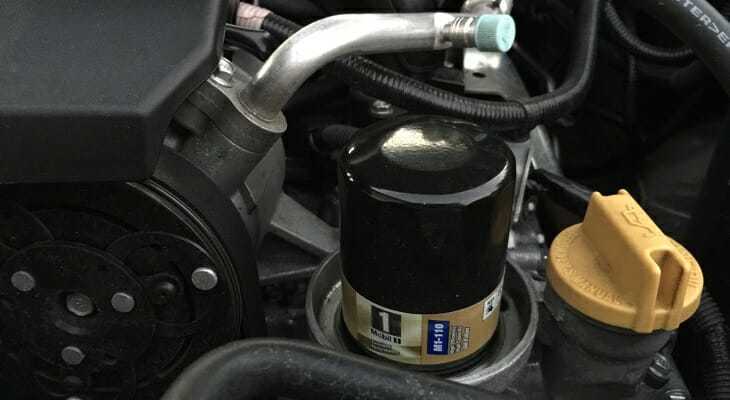 1. Bosch 3323 - Best Overall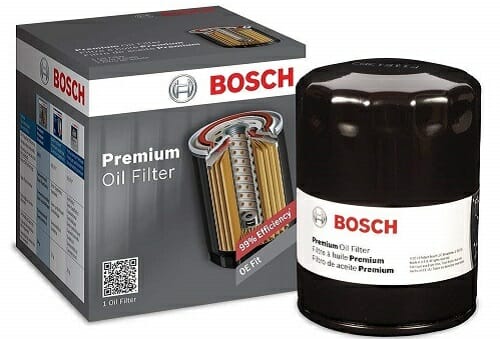 Housing Material: Steel
Capacity: 14 grams
Weight: 11.2 ounces
The exclusive Filtech media technology makes the Bosch 3323 a great oil filter for cars as it will screen out more than 99% of contaminants to provide greater engine protection. And this is one of the main reasons it is our best overall.
Its strong steel base and plates and housing help to prevent warpage, leaks and poor fits. And so you can be confident of a perfect fit for all compatible vehicles.
The internally lubricated gasket on the oil filter is highly durable and helps to prevent dry out. An anti-drain back valve, on the other hand, ensures a supply of clean oil when you start your vehicle for fast and easy starting.
There are also some efficient end caps that ensure the trapped contaminants do not get to your engine, while the relief valves help to ensure better flow of oil.
While the relatively larger outer shell might make it hard to tighten with a regular filter wrench, the non-slip grip means that you can still get it tight enough with your hand.
Bosch also has many other amazing oil filters like the Bosch 3312, which is perfect for Accura, Honda, Isuzu and Hyundai vehicles. And for those that drive Audi, Ford, Mazda and Volksawgen, the Bosch 3330 is a great option.
High efficiency media
Efficient end caps
Design includes a handy relieve valve
Strong steel base and housing
Anti-drain back valve for fast vehicle start
Larger out shell can be problematic

---
2. Fram XG7317 - Best Oil Filter for Synthetic Oil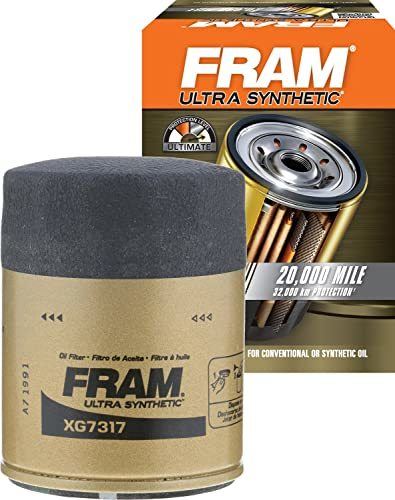 Housing Material: Steel
Weight: 6.4 ounces
Fram is famous for making highly affordable oil filters and their model XG7317 keeps up with this trend. It is designed is a specially designed ultra-synthetic filter that has been made for those that prefer to use full synthetic oil.
This oil filter delivers more than 99% dirt trapping efficiency, and it will trap dirt that is as small as 20 microns, which should give you some assurances that no unwanted substances will get to your engine.
Its dual-layer, synthetic media that has been reinforced with a metal screen also helps make this one of best oil filter for synthetic oil. This specially designed media will trap and hold the dirt fro longer periods to give you a 20,000-mile filter life.
Installing and removing the filter should also be easier with the non-slip texture of the SureGrip surface.
There are a few complains by users that this oil filter will not fit some vehicles it is supposed to, but unless there are some aftermarket modifications, it should provide a perfect fit.
For those that use conventional oil, Fram still has you covered with the Fram PH7317, which is specially designed for these oils.
Great for synthetic oils
Longer filter life
Good dirt trapping efficiency and holding capacity
Non-slip finish makes installation/removal easy
Can have issues with the fit

---
3. Mobil 1 M1-110 - Best High Mileage Oil Filter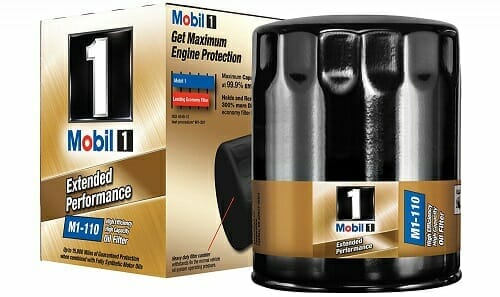 Housing Material: Steel
Capacity: 28 grams
Weight: 4 ounces
The high mileage Mobil 1 M1-110 oil filter has a 28-gram dirt holding capacity which is double of what many others will offer you. Hence, this will be a perfect choice if you are looking for a good high mileage oil filter.
Besides being one of the best-rated oil filters in our review, it is also lightweight enough for easy handling when installing or removing it. And with its multi-pass rating and advanced synthetic blend filtration media, you get an efficiency of up to 99.6%.
The steel housing on this oil filter is designed to withstand up to nine times the normal operating pressure and is also made to last a long time.
Dry starts will also not be an issue when using this oil filter as it uses a silicone anti-drain back valve to eliminate internal leakage during a shutdown.
When you compare this oil filter to others on our list, it is quite pricey. But given its premium quality construction, high capacity and highly efficient filtration it is worth paying a few extra bucks.
High dirt holding capacity
Up to 99.6% efficiency
Withstands high operating pressure
Lightweight for easy handling
Prevents dry starts

---
4. Mann Filter HU 816 X - Best Oil Filter for BMW
Housing Material: Mixed fiber
Weight: 2.4 ounces
If you drive a BMW, the chances are that the oil filter that came with the vehicle when new was from Mann as they are one of the original equipment manufacturers for their filter.
Hence, with this fact in mind you can be certain that this Mann filter will offer optimum engine protection for your BMW.
Also, it is a metal-free filter that is made with a mixture of fibers and is designed to provide a higher dirt holding capacity. And with its pleat structure, the complete surface area will be effective for the entire operating time of the filter.
Filter change is quite straightforward, and you will only need to have the right wrench tools.
There seems to be issues with compatibility and fit. However, in most cases this is simply because some buyers do not check the filter compatibility keenly before buying. Otherwise, this does not take anything from the fact this is solid and efficient filter.
Perfect for BMWs
Holds a lot of dirt
Complete surface area is effective
Allows for fast and easy filter change
Maximum engine protection
Compatibility and fit issues

---
5. ACDelco PF2232 - Best Oil Filter Brand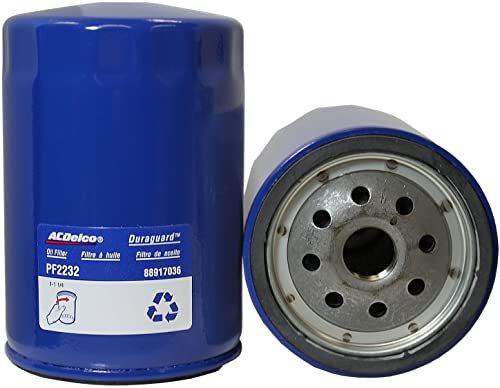 Housing Material: Steel
Weight: 17.6 ounces
Chances are you have something on your engine made by ACDelco as they are on of the industry leaders for engine accessories, having been in business for more than a century now. Hence, if you are looking fro a top brand filter that will hardly ever disappoint the ACDelco PF2232 is a great buy.
This filter has a lot to offer, but its cellulose media seems to stand out. This filtration media allows it to trap particles up to a 1/3 the size of human hair.
Also, this filter will provide up to 5 times more burst strength when compared to others thanks to the more solid steel housing.
And you can be confident that the media will stay in place for consistent filtration thanks to the thermosetting adhesive seal.
Consistent oil flow, high filtration capacity and exceptional overall filtration performance are also guaranteed with this filter.
Although the grip could be a little more non-slip, for most people it will still be good enough to install and remove the filter with ease.
Reliable oil filter brand
Excellent filtration media
High burst strength
Adhesive keesp media in place

Maintains consistent oil flow

---
6. Subaru 15208AA12A - Best Oil Filter for Subaru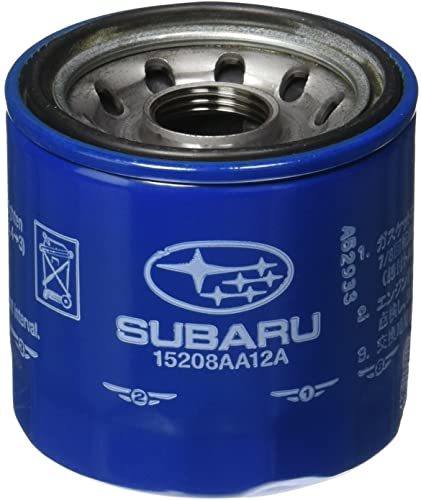 Housing Material: Steel
Weight: 6.4 ounces
If you drive a Subaru, here is an original factory filter for you, and it will be an unbeatable choice as it is from the vehicle manufacturer.
Since it is a genuine Subaru filter you can be confident that it will be an exact fit for your vehicle. What's more, it is also quite versatile as it will fit different models from Subaru Impreza to Subaru Forester.
This Subaru oil filter makes use if a pleated filter media housed in a solid steel housing. Besides being more efficient, this media is also designed to provide a long filter life.
There is a spring-loaded relief valve that allows for smooth flow of oil in cold starts. And the specially designed bottom will ensure you will never have to worry about oil leaks.
While some motorists might not like that the end caps are cardboard, the truth is that this does not in way affect the efficiency or durability of the filter, and should hence not be big concern.
Genuine Subaru factory part
Efficient filter media
Fits perfectly and works for various models
Specially-designed to prevent oil leaks
Excellent flow in cold starts

---
7. Genuine Honda 15400-PLM-A02 - Best Oil Filter for Honda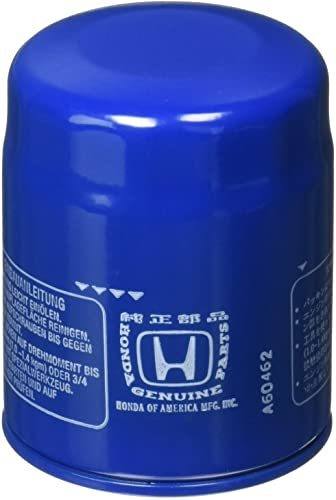 Housing Material: Steel
Weight: 9 ounces
Whether you drive an Accord, Civic, Fit or any other Honda car, the Honda 15400-PLM-A02 is the perfect replacement filter for you as it is an OEM part specifically designed for these cars.
It is a highly efficient filter that will trap up to 99% contaminants to ensure your engine is protected. And you will not have to do frequent filter changes as it lasts up to 10,000 miles.
This Honda filter is made for convenience as it works with any oil. Also, with its exclusive blend media you can be confident of getting even more engine protection.
For some vehicles like the Honda Civic, this filter can be a little hard to remove as there does not seem to be a very good grip for a wrench. However, this should not be a deal breaker given its efficiency and superior build.
OEM quality filter
Efficient filtration and long-lasting
Can work with any oil
Quick and easy spin-on installation
Can be a little hard to remove

Types of Oil Filter
Oil filters will come in many types, and so before you decide to buy any of them, you need to understand what they are all about and what suits your vehicle. Here are 6 of the most common types of oil filters.
1. Mechanical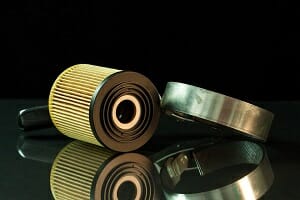 Mechanical Oil Filters
Mechanical oil filters are the standard type and also the most common.
It is the kind that uses filtering media made of bulk material like cotton waste and pleated filter paper to hold the contaminants.
With this oil filter, the tiny contaminant particles are suspended when they pass through the media.
But the greatest shortcoming of this mechanism is that as more and more contaminants accumulate on the filtering media, the flow of oil is affected.
If you are using a mechanical oil filter, you will need to replace it more frequently. For some types, you only need to replace the filtering media but for others, you will need to take out the entire filter and put in a new one.
2. Cartridge and Spin-On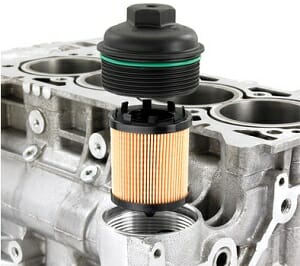 Cartridge And Spin-On
Cartridge oil filters are one of the oldest types, and they consist of a permanent housing and with a replaceable filtering media.
But, the design has been improving and now these filters also feature a spin-on which aims to improve their performance and convenience.
Although the design and filtering material on these oil filters may vary, the best cartridge oil filters use a synthetic material for filtering.
This media offers more long-lasting filtering than traditional filter paper or cardboard.
3. Magnetic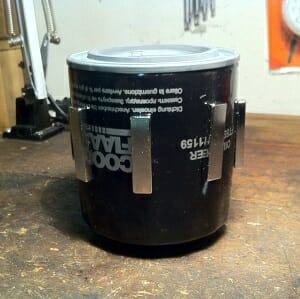 Magnetic Oil Filters
As the name suggests, magnetic oil filters make use of a magnet or electromagnets to suspend the ferromagnetic or tiny metal parts from the flowing engine oil.
The best thing about magnetic oil filters is that you only need to clean out the suspended contaminants to restore the filter to a good working condition.
However, it is also important to note that this filtering component can have some harmful effects.
4. Sedimentation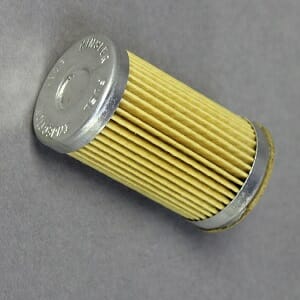 Sedimentation Oil Filters
Sedimentation oil filters are the types that are also often referred to as gravity bed oil filter.
These filters work by allowing the suspension of the contaminants that are heavier than the oil.
The contaminants are maintained at the bottom of the filter using the natural occurrence of gravity.
While these oil filters work good enough, they are not always the most efficient in trapping all the contaminants on the oil.
5. Centrifugal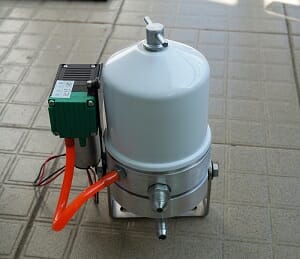 Centrifugal Oil Filter
With a centrifugal oil filter, you also use natural occurring forces. However, instead of gravity as in the sedimentation oil filter, it makes use of centrifugal force.
Centrifugal force is the force that comes from rotating devices.
During the filtration, the pressurized oil will go through the centrifugal filter's housing and through the rotor which has two jet nozzles that settle oil in the inner house to get the drum rotating.
The oil will then pass through the bottom wall of the housing while the contaminants get stuck there.
But you need to clean the housing on these filters from time to time to prevent a heavy build-up of contaminants, which can cause the drum to stop rotating and hence allow unfiltered oil to pass through.
6. High Efficiency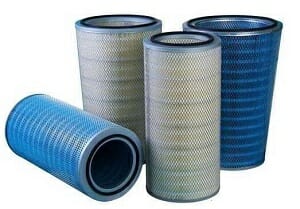 High-efficiency Oil Filters
The high-efficiency oil filters are a type of bypass filter, which is designed to allow for relatively longer oil drain intervals.
These oil filters have a 3-micrometer pore size that helps to minimize engine wear as a result of continuous oil filtering.
For many vehicles, the drain interval can extend by up to 10 times when using a high-efficiency oil filter.
Oil Filter Brands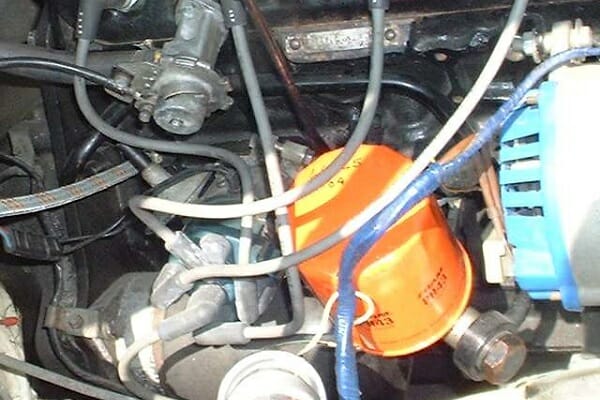 1. Mobil
Mobil has been making oil filters longer than many other companies, and it is known for making high-quality and relatively affordable filters that deliver high mileage like Mobil 1 M1-110.
On average, their oil filters will have an efficiency of around 99.6 which is good enough for most vehicles. And they have a high capacity as they can capture up to 28 grams of engine contaminants which helps to lengthen the change interval.
Because most of their filters use aluminum canister or housings, they can also withstand more operating pressure.
2. Fram
Fram makes some of the cheapest oil filters on the market like Fram XG7317. Hence if you are shopping on a tight budget but still want something high-quality, high-performing and efficient, Fram is a good oil filter brand to buy.
With Fram oil filters, you can pay up to 50% less than what you would pay for Royal Purple or Mobil.
Their filter will often provide a decent efficiency of 95% and a change interval of around 5,000 miles which is still quite good given the cheap price tag.
3. Royal Purple
Royal Purple is famous for being a performance-oriented brand and also for producing long-lasting oil filters.
They have a line of extended life oil filters similar to what Mobil produces, and they also have thicker shells for durability and to ensure they can withstand high pressure.
With a Royal Purple oil filter like Royal Purple 10-2835, you will get an efficiency of up to 99% with filtration of as small as 25 microns.
Dry starts will also not be a problem when using a Royal Purple oil filter as each has an anti-drain back valve to prevent them.
4. Motorcraft
With Motorcraft, you get an oil filter brand that makes use of innovative design to offer great multi-pass filtering efficiency. Their highly-efficient filters are designed to filter out carbon, abrasives, dust, and bits of metal.
There are pressure relieve valves on their filters that ensure uniform oil supply even under cold temperatures.
Durability is also guaranteed with Motorcraft filters as they come with a robust steel casing that is painted to prevent corrosion and rust.
5. ACDelco
ACDelco is another great oil filter brand that is known for making highly efficient filters. Their filters like the ACDelco PF2232 have an efficiency of 98% at 25-30 microns thanks to the multilayer filtering nets that provide excellent filtering.
The aluminum shells and thermosetting adhesive seal on the filter's base give ACDelco oil filters a high burst threshold and great performance in any weather.
These filters will fit most cars, light-duty trucks and SUVs, and are also quite affordable when compared to other top brands.
How to Buy the Best Oil Filters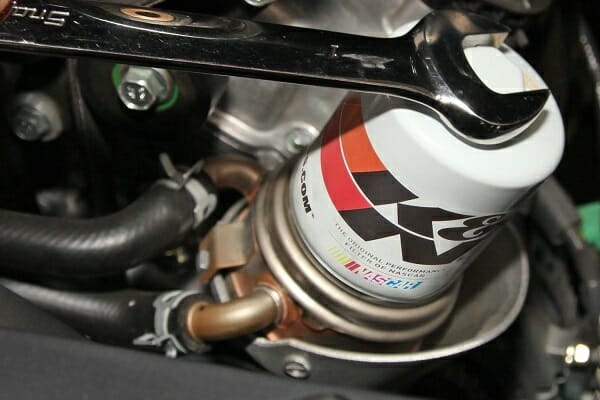 You can be confident of ending up with the best oil filter if you keep the following points in mind when shopping.
1. Size and Model Number
Like everything else that comes with your vehicle, oil filters are available in different sizes, and so you need to choose what fits your car properly.
For some cars, any oil filter will work provided it fits the space left for the filter by the manufacturer while for others you need something that properly matches the car.
Your car's manual should tell you the right oil filter size and model number. If by any chance it does not, your mechanic should help with this or you can search online or contact the manufacturer.
2. Material Types
Oil filters will come with different membranes or filtration media. Because this membrane is what does the actual filtration it is important to make sure that you pick the best. The three most common ones are cellulose, synthetic and micro glass.
Cellulose: The disposable types of oil filters like ACDelco PF2232 are often made of cellulose filtration media. Cellulose can suspend contaminants that are between 8 and 10 microns large and will clean up to 40% of the engine oil.
If you are using an oil filter with cellulose as the filtering media you will need to check and replace it after every 3,000 miles.
Synthetic: Synthetic media are what you are likely to find in the high-quality oil filters. This filtration media is designed to remove 50% of particles that are between 20 and 40 microns large and up to 24% of those that are between 8 and 10 microns.
With the synthetic media, you will need to check and replace your oil filters every 5,000 to 7,000 miles.
Micro Glass: Micro glass is the preferred filtration media for the high-end oil filters. This filter media is made from fibers that can be up to ten times finer than cellulose fibers.
With micro glass filter such as Royal Purple 10-2835, there will be less restriction to oil flow as a result of contaminant buildup. Hence,you will only need to replace the oil filter every 10,000 miles or after 2 to 5 years depending on which comes first in your situation.
3. Capacity
For oil filters, the capacity will refer to its ability to hold contaminants, and it is determined by the filtration media used and the build quality.
The larger the capacity the longer the filter change interval and hence the better it will be for you as it will be a long time before you need to worry about buying a new oil filter.
Most oil filters will provide a capacity of at least 10 grams, and if the capacity is reached the bypass valves come into play to allow the unfiltered oil to pass through.
Some high-capacity ones like Mobil 1 M1-110 will deliver up to 28 grams capacity, which makes it more long lasting.
4. Construction
It is vital to make sure that the oil filter you buy is made from the best quality material as this will ensure that it can withstand high pressures and is also durable enough.
Metals like steel and aluminum make some of the best oil filters and they will not wear out as fast as those made with cheap plastic parts.
Note that buying an oil filter with a low-quality construction is not a good idea no matter how cheap it is as it will wear out fast and cost you more money in the long run.
5. Ease of Use
An oil filter is something that you should be able to replace on your own without any help from a mechanic. And this is regardless of whether you are good with cars or not.
However, they are not all easy to use or install. Hence before you buy any oil filter you should make sure that it will be easy for you to install.
Watch out for factors like the size, weight and housing design as they will all affect the ease of use. And also make sure that whatever oil filter you buy comes with installation instructions.
Oil Filter FAQs
What Makes a Good Oil Filter?
A: Filtration efficiency is what makes a good filter. Here, something that can trap at least 98% of contaminants is perfect. However, the build quality also matters, and something with a heavy-duty steel housing is a good buy.
Can I Use Any Oil Filter with Synthetic Oil?
A: No, some filters are designed to work with conventional oil only, while others are for synthetic oil use only and some can work with all oil types.
x Do I Need to Change Oil Filter Every Time I Change Oil?
A: No, some oil filters have a service life of up to 15,000 miles, while oil is changed every 3,000 miles. However, most experts will recommend you change the filters every time you change oil.
What Happens if Oil Filter is not Changed?
A: It becomes clogged over time, and hence reducing the oil that gets to the engine, which in turn can cause severe engine damage. Also, the filter media can develop holes, which will then allow contaminants to get to the engine and cause damages.
How often Should I Change Oil Filter?
A: Every time you replace your oil. If not possible, you should replace the filter according to the manufacturer's recommendations.
Buy on Walmart
Bosch 3323 Premium FILTECH Oil Filter for Select Acura MDX, RDX, RSX, TL, Chrysler, - Walmart Link
K&N Premium Oil Filter: Protects your Engine: Compatible with Select - Walmart Link
Motorcraft - Oil Filter (FL910S) - Walmart Link
Royal Purple Extended Life Premium Oil Filter 20-500, Engine Oil Filter for Buick, - Walmart Link
FRAM Extra Guard PH3614, 10K Mile Change Interval Spin-On Oil Filter - Walmart Link
Mobil 1 M1-110 / M1-110A Extended Performance Oil Filter - Walmart Link
ACDelco GM Original Equipment PF2232 Engine Oil Filter - Walmart Link
Purolator PL14610 PurolatorONE Advanced Engine Protection Spin On Oil Filter - Walmart Link
Baldwin BT7349 Heavy Duty Lube Spin-On Filter (Pack of 3) - Walmart Link
Toyota Genuine Parts 90915-YZZF2 Oil Filter 1 Case (QTY 10) - Walmart Link
Buy on eBay
Bosch 3323 Premium FILTECH Oil Filter for Select Acura MDX, RDX, RSX, TL, Chrysler, - eBay Link
K&N Premium Oil Filter: Protects your Engine: Compatible with Select - eBay Link
Motorcraft - Oil Filter (FL910S) - eBay Link
Royal Purple Extended Life Premium Oil Filter 20-500, Engine Oil Filter for Buick, - eBay Link
FRAM Extra Guard PH3614, 10K Mile Change Interval Spin-On Oil Filter - eBay Link
Mobil 1 M1-110 / M1-110A Extended Performance Oil Filter - eBay Link
ACDelco GM Original Equipment PF2232 Engine Oil Filter - eBay Link
Purolator PL14610 PurolatorONE Advanced Engine Protection Spin On Oil Filter - eBay Link
Baldwin BT7349 Heavy Duty Lube Spin-On Filter (Pack of 3) - eBay Link
Toyota Genuine Parts 90915-YZZF2 Oil Filter 1 Case (QTY 10) - eBay Link
Conclusion for Oil Filter Buyers

Routine oil filter changes are crucial if you want to prolong the life of your vehicle's engine, and hence its service life. And now you will not need to shop around a lot for one as our review provide excellent recommendations.
From our list, the Bosch 3323takes our best overall spot as it is a highly efficient and well-built filter from a top brand.
But if you use synthetic oil, the Fram XG7317 is what we recommend, while the Mobil 1 M1-110 will be the perfect buy for you if you want a high mileage oil filter.
Oil Filter Sources
Understanding the Different Types of Oil Filters - Your Mechanic