A garage wall paint provides one of the best solutions for keeping your garage looking clean and attractive. With the best garage wall paint, you can easily cover up unsightly stains and imperfection in your garage that come from things like oil, grease, and dirt.
Garage wall paints tend to be more heavy-duty compared to regular paints and will remain clean for longer as well as offer better durability. Better still, they tend to be extremely easy to clean, and for most types, you only need soap and water.
If your garage needs a makeover, our review below provides some fantastic garage wall paint recommendations and explains the important factors to consider when deciding which one to buy.
Editors' Picks: Top Paints for Garage Walls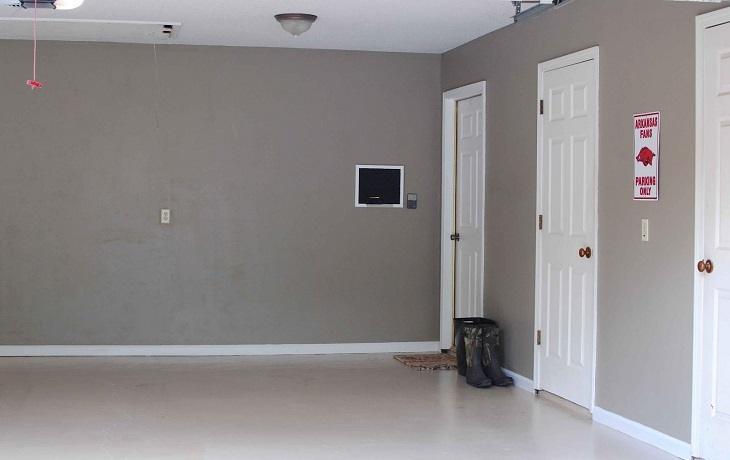 Summary of 5 Best Paints for Garage Walls
IMAGE
PRODUCT
FEATURES

1. Montage 810593030694 (Best Overall)

Superior coverage & long-lasting protection
Extremely versatile
10-year manufacturer warranty

2. Gidden 396934 (Best for the Money)

One coat coverage for excellent value
Exceptional scrubbability & washability
Low odor & low VOC
Lifetime guarantee

3. Diamond Brite 31000 (Best Oil-Based)

Leaves a tough & durable surface
Versatile for various materials, interior & exterior use
Flexible for brush, roller, or spray application

4. Prestige P500-T-HC-162BM (Best 2-In-1)

Works as both paint & primer
Wide variety of colors & styles
Durable & washable

5. KILZ Tribute (Best for All Surface Materials)

Usable on any surface type
Wide coverage area
Works as both paint & primer
100% acrylic formula
1. Best Overall: Montage 810593030694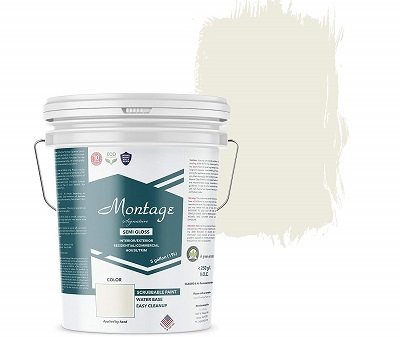 Quantity: 5 gallons
Coverage: 400 square feet per gallon
The Montage 810593030694is our best overall garage wall paint thanks to the highly impressive coverage of up to 400 square feet per gallon, versatility, and durability. With this paint, you can cover a wide area without using a lot of it, and it will give you superior hide characteristics.
What's more, it is an extremely versatile paint that, besides being ideal for painting garage walls, is suitable for a wide variety of other spaces and both interior and exterior use. Better yet, you get to choose between low sheen and semi-gloss finishes.
This Montage garage paint is quite long-lasting, and the manufacturer provides a 10-year warranty to give users some assurances that it will last.
You will never have any issues with the maintenance as it is a scrubbable paint that you can clean without affecting the color or finish. And this is a more eco-friendly paint that uses environmentally safe materials.
The only thing that many users might not like about this paint is the smell, as it is not very pleasant. But, the good news is that it will dissipate completely once the paint is dry.

---
2. Best for the Money: Gidden 396934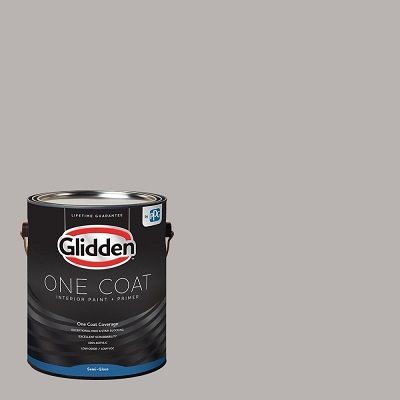 Quantity: 1 gallon
Coverage: 400 square feet per gallon
With the one-coat coverage, the Gidden 396934ensures you will not need a lot of paint to cover your garage walls as a little goes a long way, ensuring you always get great value for your money. You can cover at least 400 square feet with every gallon of this paint.
This garage wall paint provides exceptional stain block and hide, which is what ensures you will not need a lot of it. You will have a less stressful time when painting as this paint is both low in odor and VOCs.
When it comes to maintenance, what separates the Gidden 396934 from the rest of the competition is the excellent scrubbability and washability. These properties ensure you will have an easy time cleaning your garage walls without affecting the finish.
One more thing users will love a lot about this paint is that it has a lifetime guarantee. This should give you some assurance it will last a long time on your garage walls.
Just keep in mind that this paint is not for exterior use, and you do not have a lot of options when it comes to the finish. However, if these are not significant issues for you, it is still an excellent choice for your garage.

---
3. Best Oil-Based Paints: Diamond Brite 31000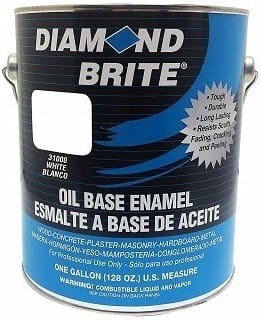 Quantity: 1 gallon
Coverage: 300 square feet per gallon
The Diamond Brite 31000is a top-quality oil-based garage wall paint that ensures you get a tough and durable surface, which will not scuff, crack, or peel easily.
This paint also offers more versatility because, besides being ideal for interior and exterior use, you can apply it on various materials from wood to metal, concrete, and masonry. Hence, it will be suitable for use in almost any garage.
When it comes to the application, this garage wall paint gives you more flexibility as you can spray, roll, or brush it on the surface. And because it dries very hard, this garage wall paint can withstand areas with heavy traffic.
However, it takes more time to cure and may leave an odor for an extended period of time. But, this is typical of most oil-based paints, and the odor should dissipate after some time.

---
4. Best 2-In-1 Paint: Prestige P500-T-HC-162BM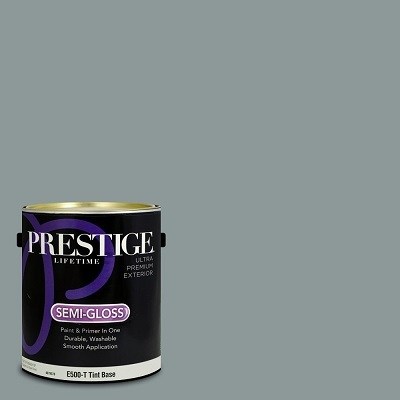 Quantity: 1 gallon
Coverage: 250 to 500 square feet per gallon
There is more to the Prestige P500-T-HC-162BM than just being a regular paint for garage walls. It is a versatile 2-in-1 product that will act as both paint and primer, saving you the cost and time of having to use two separate products.
Another thing that makes this a special product is its wide range of color choices and styles that will suit different needs and tastes. Hence, whether for interior or exterior use, you can be sure there is a version of this paint available for you.
What's more, the paint is extremely durable, and you can also wash it with soap and water as it is 100% acrylic. This is also a low VOC paint that allows for quick and smooth application to different surfaces.
While this paint may need several coats for a good finish, this should not be an issue as it is easy to apply and will also dry quite fast.

---
5. Best for All Surface Materials: KILZ Tribute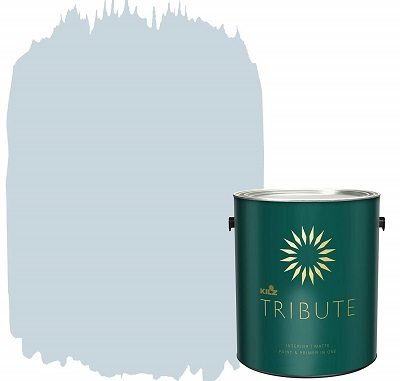 Quantity: 1 gallon
Coverage: 400 square feet per gallon
The Kilz Tribute has been specially formulated to stick to any surface. It will deliver a professional finish regardless of whether you use it on wood or a concrete wall in your garage. And you can apply it smoothly with rollers or brushes.
The Kilz Tribute has one of the widest coverage on our list, as you can get up to 400 square feet of coverage per gallon.
Many users also love that this garage wall paint has a 2-in-1 formula that allows it to work as both primer and paint. Since this is an acrylic-based paint with small amounts of PVC and latex, you are guaranteed to get a durable and long-lasting paint. What's more, the formula makes it easy to clean with just soap and water.
A caveat is that this paint seems to dry in the jar a little too quickly, but you can work around this by pouring out just what you need into a paint tray and then closing the jar.
Note: You can use this acrylic paint on any surface, even furniture. However, the finish quality may be lighter in color, and you may need to apply multiple coats to get the desired coloration.

How to Buy the Best Paint for Garage Wall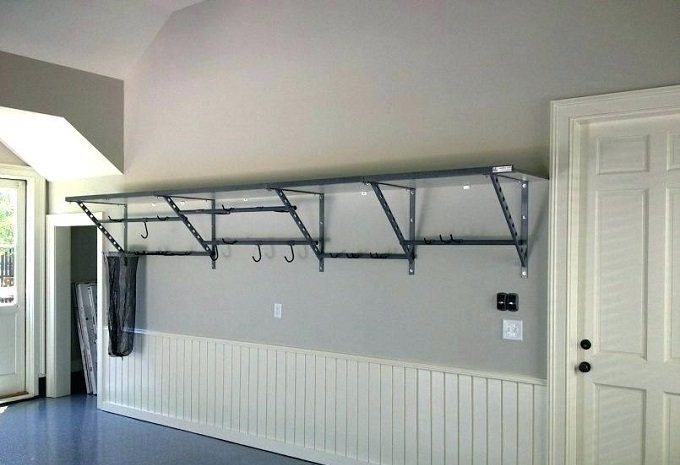 1. Types of Paint
Oil-Based
A garage wall paint that is based exclusively on oil is quite rare. Oil-Based paint is permanent paint that is very difficult to remove once applied.
Furthermore, it requires a specific mixture with a solvent before application. But, with a good oil-based paint like the Diamond Brite 31000, you get one of the toughest and most long-lasting surfaces.
The main disadvantage of oil-based paint is that it has a long cure time of at least 24 hours. Additionally, it is also more expensive when compared to latex and acrylic paint.
Water-Based
The water-based garage wall paint uses solvents that are made mostly from water. This water-based formula ensures that they will release fewer VOCs, making them more eco-friendly.
What's more, the water-based paints will dry much faster than others like oil-based paints and produce less odor. However, these paints are not as durable as acrylic, latex, or oil-based paint and are often not washable.
Acrylic and latex paints are two of the most common types of water-based paints.
Acrylic: Of the two, acrylic is more affordable. With 100% acrylic paint like the KILZ Tribute, clean up is easy as soap and water are all you need.

Latex: Latex paint is one of the most premium and aesthetically pleasing paints available. It produces a beautiful and luxurious finish that you cannot get with acrylic.
Latex paint is mostly made by mixing latex and PVC, which provides a high tolerance to humidity. But, the main advantage of latex paint is its usability indoors and outdoors without color degradation.
2. Primer
Most paints usually require a primer for a good quality finish. However, when deciding whether you need it or not, you need to consider the surface material you will be painting.
If your garage wall surface is non-porous and clean, then you can go ahead and paint it without applying a primer. But, for the best results, it will still be a good idea to use the primer.
An even better idea is to go for a 2-in-1 garage wall paint like the Prestige P500-T-HC-162BM, which will work as both a primer and paint to eliminate the need for using a primer before painting.
3. Finish
Different garage wall paints provide varying finishes, and so as you choose one, you need to decide the finish you want. Here are some of the most common ones.
Matte: The matte paint finish usually looks dull because it normally absorbs light more than it reflects. However, matte paint with a dark color will still look amazing, especially if you have a well-lit garage.

Eggshell: This trendy finish has the color of eggshells with a slight satin finish, and it seems to work well for most garages.

Satin: Satin reflects light quite well in all directions. With satin finish paints, you get a nice velvety surface, and it will be an ideal finish for almost any garage wall.
High-gloss: This type of paint finish reflects a lot of light, which gives it a glossier look. One of the biggest advantages of the high-gloss paint is that it looks great both in low and bright light conditions.
Semi-gloss: The semigloss paint has the best of both worlds. It is a more in-between finish that looks like a combination of matte and high gloss finishes.
4. Eco-Friendly
An Eco-friendly garage paint means that when the paint reacts with air, it will not produce toxic substances. Sometimes, paint oxidizes and creates invisible fumes that can be dangerous for garage users and the environment.
By going with an eco-friendly garage paint low in odor and VOCs made from non-toxic ingredients, you ensure the paint is safe both in the short and long term.
5. Ease of Application
Painting a wall is not a very complicated task. However, some types of paints that are more difficult to apply than others. They require a specific mixture with a solvent, and you need to get the ratio right for a good finish.
Hence, to make sure you have an easy time with the application, the paint you choose should not require any complicated mixing. Also, it should apply more smoothly.
Something that can be rolled, sprayed, or brushed onto the surface is better as it will give you more application options.
Read More: 6 Best Garage Floor Coatings
Conclusion
Garage walls require special paint that can take a lot of abuse and withstand things like oil and grease. From our list above, each option does a fantastic job, and it is up to you to choose what suits your needs best.
However, the Montage 810593030694 is our best overall option, as it will provide wide coverage, is very long-lasting, and is more versatile for different uses.
But, for those that want to make sure they will get the best value for their money, the Gidden 396934 is what we recommend.