Herculiner is one of the most reputable bedliner manufacturers with a wide variety of products in the market. Their HCL1B8 is a fantastic choice for anyone looking for a black roll-on bedliner that will adhere to a wide variety of surfaces such as wood, metal, and most plastics.
This bedliner does not take a lot of effort to apply and besides leaving a thicker and textured finish, it also resists solvents, chemicals, gasoline, and oil to provide maximum protection for the truck bed.
Herculiner HCL1B8 Review - Link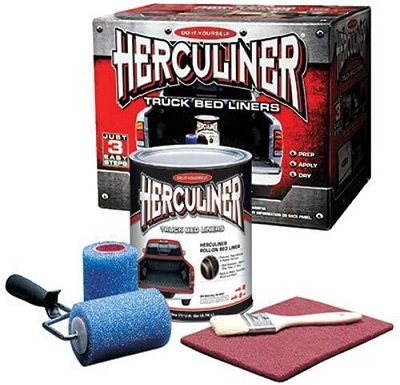 Specs
Product Name:

Herculiner HCL1B8

Product Brand:

Herculiner

Color:

Black

Size:

1 gallon

Kit Composition:

Black protective coating, 2 rollers, and application brush

Applicable On:

Metal, concrete, wood, rubber, asphalt, fiberglass, aluminum, most plastics
Features
Up to 5 times thicker roll-on bedliner
Polyurethane coating is tough & protective
Formulated to add an extra shine
Applicable to a wide variety of surfaces including wood and concrete
Simple 3-step application
Complete kit with rollers and brush
What We Like
Bottom Line
High-quality roll-on bedliner from a highly reputable brand that has been formulated to provide a thicker and highly protective coating. Check out the best spray-on bedliner.
Detailed Features of

Herculiner HCL1B8 by an Expert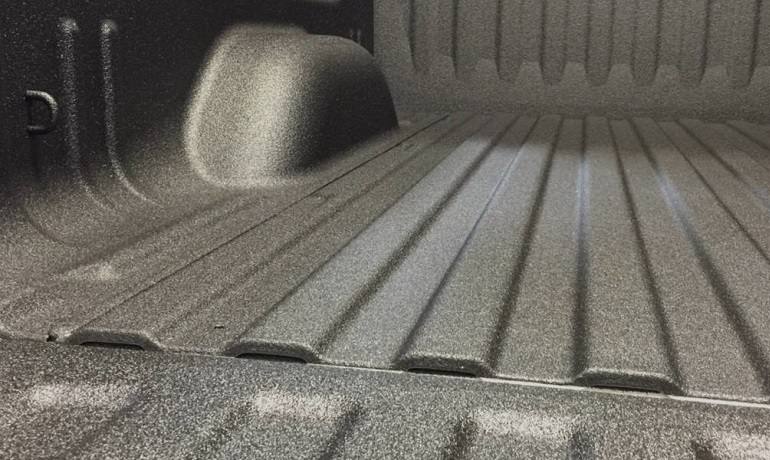 Coverage: Good enough for most truck beds
Coverage will ultimately depend on the truck type you have, and hence the size of your truck bed. But, the good news is that Herculiners makes this roll-on bedliner with all truck bed sizes in mind.
The 1-gallon bedliner is enough to cover a 6-foot truck bed at least twice, and if you have the smaller 5-foot truck beds you can even get three layers if you want. But, no matter what truck bed you have, you will hardly need more than a couple of coats.
For a typical truck bed, a single coat should be more than enough. This bedliner is up to 5 times thicker than other roll-on bedliners out there, which means that a single layer should be thick and protective enough for most truck owners.
If you prefer to look at it from the square feet perspective, you will also get good enough coverage for two coats. According to the manufacturer, "One quart (0.9 L) covers a flat area of about 15 square feet (1.4 square meters). One gallon (3.8 L) covers 55-60 square feet (5.1-5.6 square meters), with a final dry coat thickness of 1/16-1/32 in. (1.6-0.8 mm)."
Surface: Tough and textured
Besides getting a wide enough coverage, it is also important to make sure that the roll-on bedliner that you buy will also provide a good enough surface. The good news is that you will not go wrong with the Herculiner HCL1B8, and it delivers a tough and textured surface.
The protective polyurethane surface created will bond and seal all the surfaces on the truck bed, and hence helping to prevent rust and corrosion. This, in turn, translates to longer service life for your truck bed, and it will be a long time before you need to repair or repaint it.
Also, the surface created is skid-resistant, and because it is super tough it will not chip, peel, or flake no matter what you use it to carry.
Better yet, to ensure even more protection, the surface will also be resistant to chemicals, solvents, oils, and gasoline, which are all components that can damage the truck bed and also ruin its appearance.
The highlight of the surface that you get with this Herculiner bedliner is that unlike others that leave a dull finish, it has a nice and pleasant shine. With proper care, this bedliner will also maintain this pleasant finish for much longer than most other types out there.
Ease to Use: Simple 3-step application
You will not need to pay someone to apply this bedliner for you or even spend a lot of time doing it because the manufacturer makes it to ensure easy DIY applications. It is applicable in 3 easy steps, and even absolute beginners will have an easy time.
The first step for the application will be to prepare the surface, and here you will need to make sure that the surface is free of any debris and dirt. Also, you should prepare the bedliner by adding the thinner.
Once this is done, the other two steps are the application with the roller or brush and then leave the bedliner to dry for a few hours before applying the second coat. 18 to 24 hours later, the truck bed should be ready for light usage.
The good news is that Herculiner will also provide 2 rollers and one handle and a brush to ensure you have everything you need for immediate application. If by chance you have any difficulties, the manufacturer has lots of materials online to help you out.
Weather Resistance: Protective against all elements
Even if you have a truck bed cover, the chances are that your truck bed will be exposed to the elements at some point. But, with a good bedliner like Herculiner HCL1B8, you will never have to worry about exposure to the elements as it will provide enough protection.
First, this bedliner will bond and seal the surface, which will ensure that no water passes through to the surface of the truck bed. Hence, common water problems such as rusting and corrosion should not be an issue. Also, because it does not chip, peel, or flake, it does not let any water in.
You can be confident that this bedliner will maintain a pleasant appearance throughout as it has superior UV resistance. This means that it will not fade or discolor for a long time, and so even as it ages and wears off, it will not create an unsightly appearance.
Other elements like wind and snow will also not have any effect on this bedliner because the tough finish can withstand them for a long time.
Price: Good value for money
There are many other bedliners out there that will cost way much less per gallon when compared to the Herculiner HCL1B8. But, if you are looking to get great value for your money, this bedliner is almost unbeatable.
A little of this bedliner goes a long way and with the 1-gallon bottle, you can easily give most truck beds at least two coats, which saves you the cost of buying several containers.
Also, it just has the right thickness, and so you will not need to thin it, and neither does it require thickening products, which further saves you even more cash.
To ensure you get an even better value, this Herculiner bedliner will come with a couple of rollers and brush, and it also allows for fast and easy DIY application.
This means even if you do not have any experience, you can apply it yourself, which saves you the cost of paying someone to do it.

Conclusion on Herculiner HCL1B8
High-quality bedliner from a leading brand that is thicker than most others out there and allows for simple application.
You cannot go wrong by sticking with a bedliner from a top brand like the Herculiner HCL1B8. This bedliner is easy to apply in 3 steps, 5 times thicker than regular ones, offers superior weather-resistance, and will leave the surface with a tough and textured surface that also has a pleasant shine.
Related Posts for HCL1B8 Herculiner Buyers