Penetrating oil is often a lifesaver to have in your car because it makes loosening bolts, hinges, and locks a piece of cake. As the name suggests, penetrating oil gets into narrow spaces between threads to free up rusted mechanical parts.
What makes this oil very effective at penetrating metal parts is its low viscosity. There are different types of penetrating oils, manufactured and sold by various companies, so you need to choose your product keenly.
With this review, you get a list of the best penetrating oils in the market, plus an in-depth buying guide to help you make a more informed choice.
Top Penetrating Oils of 2021 by Editors' Picks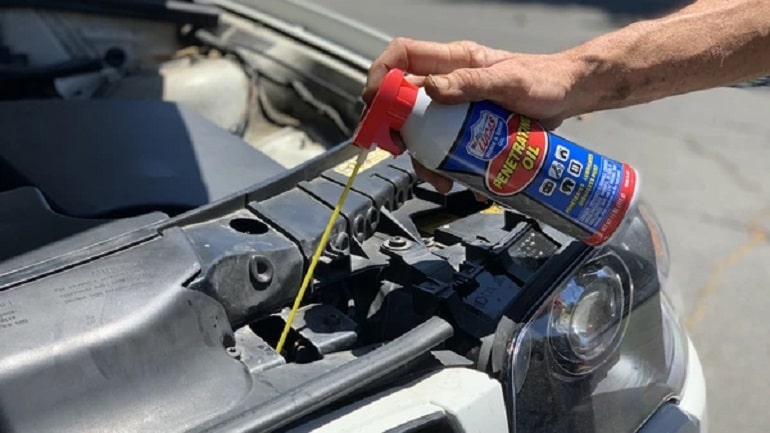 Summary of 7 Best Penetrating Oils
IMAGE
PRODUCT
FEATURES

1. Kano Aerokroil (Best Overall)

Quickly loosens frozen metal joints
Does not attack metals
Aerosol container includes a straw applicator

2. Kano Kroil 24HP (Best for Frozen Metal Parts)

Original super-penetrating Kroil oil

Safe for various surfaces
Container includes a precise application spout
Does not harden or expire

3. Kano Sili Kroil (Best Spray)

Convenient aerosol spray for easy application
Offers Kano Kroil's penetrating power
Includes silicone for more lubrication
Resists wetting to prevent corrosion

4. Gasoila Free RE12 (Best Budget)

More budget-friendly
Silicone-free for maximum safety
Eats away rust, scale & corrosion

5. Castle Thrust C2005 (Deepest Penetrating)

Ion-activation helps deeper penetration
Foamy texture focuses oil & prevents oil runoffs
Wide application range
High-temperature tolerant

6. Loctite 503054 (Best for Rust Prevention)

Includes anti-corrosion agents & lubricants

No ozone-depleting compounds
Fast-acting formula
Ideal for a range of applications

7. CRC Knock'er 03020 (Best Lubricating)

Corrosion-preventing lubricating residue

Loosens both rusted & frozen parts
Unique freeze-shock loosening method
VOC compliant
1. Best Overall: Kano Aerokroil

In the world of penetrating oils, Kano's Kroil oil stands out from the rest. The company owes this success to their laboratory breakthrough, which created the Kroil oil that can creep into a millionth of an inch space, and this is one reason the Kano Aerokroil is our best overall.
Applying this penetrating oil is a breeze as all you have to do is point and spray. When the rust is deep in a confined space, you can easily attach the included straw for simple application.
This oil loosens frozen metal joints and dissolves dried grease, oil, and gum. It will also displace water, and it offers some level of lubrication as well, all without attacking the surrounding metal.
The only issue here is that it has a petroleum base, which means it's not ideal for some applications. But, given its effectiveness, this should not be a big concern.

---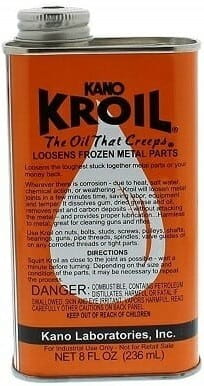 The Kano Kroil 24HP is the original Kroil and is well-known for its ability to loosen the most challenging stuck-together metal parts. Its super penetrating power makes it very ideal when dealing with frozen metal parts.
This oil penetrates as small as a millionth of an inch as it has very low viscosity, making it the go-to oil for all rusty bolt issues. You can use it on various hardware, equipment, and tools. It is also safe on most surfaces and materials, including plastic, rubber, and painted surfaces.
Unlike the earlier Kano product, this one comes in a can with a spout for precise application. Furthermore, you can still improve your precision by turning the oil into a bottle with a needle tip.
It's important to note that having such a low viscosity also means less lubricity for Kroil oil. It does lubricate, though, but not very well. Also, the relatively higher price tag is only a reflection of the superior quality and effectiveness.

---
3. Best for Spray: Kano Sili Kroil

The original Kano Kroil is a good penetrating oil with very low viscosity and good penetrating power. But the Kano Sili Kroil makes things even easier for you as it comes in a convenient aerosol spray for effortless application.
Also, Kano adds dimethyl-silicones to the mix, which increases its lubricating power and makes it easier to loosen old stiff joints that have already been broken apart by the penetrating oil.
The lubrication is also long-term, making this Kano Sili oil one of the best penetrating oil lubricants in the market. In addition to lubrication, the silicon helps resist wetting to keep away moisture, preventing rust and corrosion.
While the price for this penetrating oil seems to be the most significant drawback, the good news is that the quality and performance ensure you get value for your money.

---
4. Best Budget: Gasolia Free RE12

With the Gasolia Free RE12, you will get a more affordable solution for dealing with stuck-on bolts. This Gasolia oil is a useful product for eating rust, and the formulation will be suitable for everything from automotive to general industrial application.
Since this penetrating oil does not have any silicone, it is safe for painted parts, and you can be sure it will not ruin other surfaces in the shop.
The oil is safe for non-metal materials like plastic to ensure it does not damage other vehicle parts. And you get pinpoint accuracy when applying thanks to the provides straw applicator.
While this penetrating oil seems to have quite a powerful odor, it dissipates fast and should not be a big concern. Also, the low straw quality is not an issue since it still does a fantastic job.

---
5. Deepest Penetrating Oil: Castle Thrust C2005

Castle makes the Thrust C2005with an ion-activated formula that uses the oil's affinity for metal to make it penetrate deeper and faster. Hence, it cuts down the time needed to loosen any piece of metal significantly.
Another feature is its foaming nature, which keeps the low viscosity oil focused on a particular area. Regular penetrating oil will run off and spread out immediately, but Castle Thrust's foam helps it seep into the metal well.
It's also highly temperature-resistant, making it ideal for use even when dealing with hot vehicle parts and do not have time to allow them to cool down.
Since this penetrating oil will come in a nice aerosol can, the application is much easier than others that come in regular bottles.
However, this product is highly flammable and will release hazardous flames when it burns. But, besides the minor safety concerns here, these drawbacks do not affect its effectiveness.

---
6. Best for Rust Prevention: Loctite 503054

Loctite 503054 is a fantastic product when you need something that will loosen bolts and provide effective lubrication to prevent rust and corrosion.
This penetrating oil has a fast and deep-penetrating formula that quickly cuts through rust and dirt to loosen any bolt, hinge, or pipe within a short time.
In addition to ordinary rust, it will be ideal for various applications such as freeing frozen items like pipes, valves, and bearings. Also, it is a more environment-friendly product as there are no ozone-depleting compounds in the formula.
Because this is an extremely flammable product, it can be quite dangerous to use. The smell is not the best, but these shortcomings do not take anything away from being a fantastic product.

---
7. Best Lubricating: CRC Knock'Er 03020
The CRC Knock'Er 03020 is a top-rated penetrating oil that will include a lubricating residue that effectively prevents corrosion and rust. Hence, with this product, you will not need to deal with stuck bolts a lot in the future.
Versatility is also at the heart of the formula as you can use this product for both loosening rusted metal parts and frozen components. Better yet, it works on locks, hinges, nuts, bolts, and many other parts.
What's more, it uses a unique free-action system to crack rusted surfaces before seeping deeper and faster than comparable oils. The oil achieves this by immediately dropping the temperature of the area or part. Doing this cracks the blockages to let the penetrating oil seep through and do its job.
This Knock'Er oil comes in an aerosol can that is 360 degrees sprayable, and you can also spray it up or down. The oil is Volatile Organic Compounds (VOC) compliant and certified NSF-H2 for use in meat processing plants.
On the other hand, this is not the kind of penetrating oil you would use on hot parts, especially near your car's engine, because of its highly flammable nature. Although it stains clothes and surfaces easily, this should not be a problem if you use it responsibly.

How to Buy the Best Penetrating Oil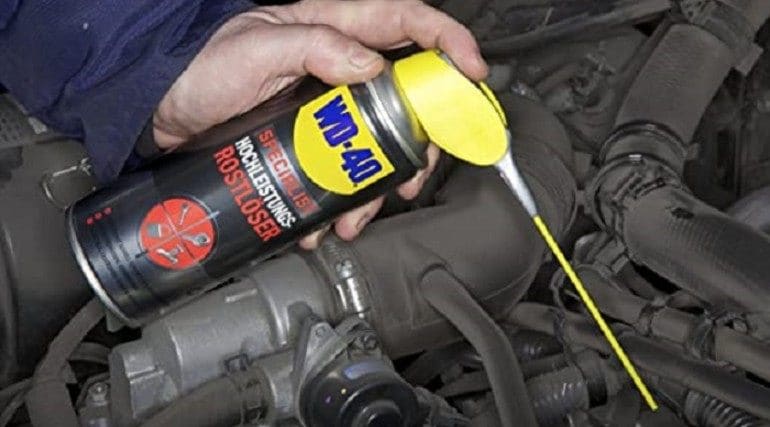 1. Your Purpose
Your purpose is the first consideration you should make because it will help you decide, to a great extent, the right kind of penetrating oil you should buy.
In addition to loosening two metal parts, penetrating oils can also function as short-term lubricants and cleaning agents to prevent any further corrosion.
It matters a lot if you're using the oil on hot metal because some are less fire-resistant than others. The type of surrounding materials also matters as some materials can get damaged by certain types of penetrating oils.
With all that in mind, if you will be using the penetrating oil for various purposes, you are better off with something multipurpose like the Seafoam Extreme DC-14.
2. Penetrating Oil Types
Straight Oil. The name straight oil comes from the fact that this type of penetrating oil does not need any dilution. These penetrating oils are mainly for machine parts. They contain polar lubricants like vegetable oils, esters and fats, and additives like sulfur, chlorine, or phosphorus sometimes.

Water-Soluble/Emulsion Penetrating Oil. The second type of penetrating oil generally features fluids with high water content and are usually diluted to a great extent. These oils have concentration levels below 10% and are mostly for delicate materials like plastic that cannot withstand harsh chemicals.

Synthetic & Semi-Synthetic Penetrating Oils. This third type refers to penetrating oils based on synthetic compounds like silicone, esters, diesters, polyglycol, and different mixtures of synthetic fluids with water. The main advantage of synthetic penetrating oils over the rest is their high level of fire resistance.
3. Ease of Use
When deciding on any particular brand of penetrating oil, also make sure that it's easy to use for your jobs.
Ease of use encompasses many things, but something that is simple to apply and offer good access to hard to reach areas like the WD-40 Specialist 300486 will give the easiest time.
4. Viscosity & Lubricity
Viscosity is a measure of the internal friction in fluids, and it goes from thick to thin. Highly viscous fluids are thicker and can't penetrate well, while low-viscosity fluids are thinner.
Penetrating oils have low internal friction or viscosity and are more penetrating as a result. Additionally, the lower a penetrating oil's viscosity, the better it penetrates.
In addition to penetrating tight crevices and loosening rusty objects, penetrating oil should also offer some sort of lubrication to help nuts loosen from bolts or make hinges swing smoother.
5. Surface Application
As you choose a penetrating oil, you will also need to consider the surfaces with the bolts. Unless you are buying the multipurpose types, most of these products will only be safe for use on specific surfaces.
The good news is that most manufacturers clearly indicate the safe surfaces for their products. And so it should be easy to match the penetrating oil to your job.
Most top-rated penetrating oils are suitable for surfaces like aluminum, plastic, copper, and even rubber. Some are also safe on painted surfaces, but you should check to be sure before buying.
6. Temperature Tolerance
Different materials have varying temperature and fire tolerance, which is often an issue with penetrating oils because sometimes you need to use them on hot parts.
If you think you might have to loosen hot items, investing in a synthetic or semi-synthetic penetrating oil would be a great idea because of their high fire resistance level.
7. Eco-friendliness
If you're the environment-conscious type or if you have to use penetrating oil in an environmentally sensitive area, choosing an eco-friendly penetrating oil will be the right thing to do.
Environmentally friendly lubricants are available in all three types of penetrating oil. They offer you a reduced impact on the environment as they do not contain any harsh chemical ingredients.
Frequently asked questions
Are Penetrating Oils Capable of Preventing Rust?
A: Yes, most will have a formula with compounds that help remove rust and corrosion while still ensuring it does not form again. What's more, the lubricity of these products means they leave a protective layer that prevents rust.
Read More: The Best Rust Prevention Spray for Car
Is Penetrating Oil Flammable?
A: Most are flammable, but the extent depends on the types of penetrating oil. The straight types are more volatile than the water-soluble oils, given the more concentrated formula.
Is Penetrating Oil Harmful to Plastic?
A: Some penetrating oils will be safe for plastic and other materials like PVC and painted surfaces. However, most are not safe on plastic, which is more so the straight types, so you should avoid using them on these surfaces unless the label states it is safe for them.
Conclusion
A penetrating oil provides one of the most effective solutions for loosening stuck bolts, nuts, and hinges. But for good results, you need to find the best penetrating oil, which should be easy with our review above.
And to help you narrow down your choice, the Kano Aerokroil takes our overall spot as it loosens bolts and nuts quickly without ever attacking the metal.
For those shopping on a tight budget, the Gasolia Free RE12 is a more budget-friendly option that will do a great job despite not costing much.