Rust and corrosion are almost inevitable problems for cars. While you can always restore rusted metal parts and components, a better way of dealing with this issue is to prevent it by investing in the best rust prevention spray for cars.
As the name suggests, rust prevention sprays have a unique formula that inhibits the formation of rust. Also, these products keep the metal surfaces lubricated, which makes it harder for rust to form.
With a good rust prevention spray, you maintain the vehicle's aesthetic appeal, keep it safe to drive, and ensure a good reseal value. Here we review some top options to help you pick the right product and provide a comprehensive buying guide.
Editor's Recommendation: Top Rust Prevention Sprays for Cars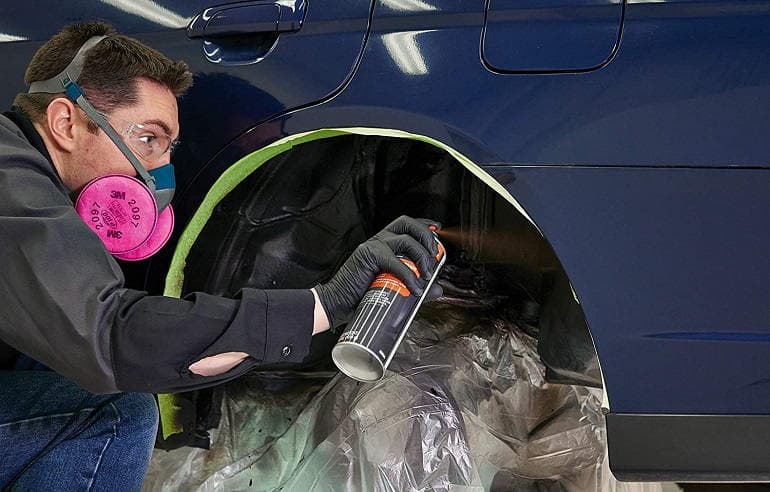 Summary of 7 Best Rust Prevention Sprays for Car
IMAGE
PRODUCT
FEATURES

1. 3M Professional 03584 (Best Overall)

Professional-grade rubberized coat
Multipurpose undercoating
Sound deadening properties
Easy spray-on application

2. Rust-Oleum 248656 (Best Budget)

Budget-friendly
Suitable for both bare & primed metal underbodies
Dries to touch in just 1 hour

3. Boeshield T-9 122182 (High-Performance)

True aerospace technology
Removes rust & corrosion on various materials
Leaves a thin & waxy protective film
Provides waterproof lubrication

4. WD-40 300035 (Best for Metal Surface)

Lubricates & protects metal parts
Protects for up to 2 years
Non-drying formula
Precision straw included

5. CRC 06026 (Best Heavy Duty)

Long-term & flexible corrosion inhibitor
Ideal for preserving various components
Dries fast & nicely

6. Rust-Oleum 248659 (Best Black)

Converts rust to a paintable surface
Helps paint adhere well to the surface
No sanding required
Water-soluble & odorless

7. MowerPartsGroup Fluid Film (Multipurpose)

Suitable for a wide variety of uses
Always active formula
Precise application with provides straw
1. Best Overall: 3M Professional 03584

Quantity: 16 fluid ounces
Color: Clear
The 3M Professional 03584 is our best overall rust prevention spray for cars. It leaves a professional rubberized coat and has a lot more to offer than many others in its class.
With this 3M product, you have a multipurpose undercoating spray ideal for use on cars, trucks, and even motor homes. It provides rust and corrosion protection for the undercarriage to keep your car's resale value high.
Besides rust and corrosion protection, this is also a useful product for deadening noise to ensure quieter drives. What's more, it is ideal for use on everything from wheel wells to interior fenders as it is asphalt-based.
One more thing that makes this such a fantastic product comes with an aerosol dispenser to allow quick and easy spray-on application.
While the coat you get with this spray does not seem very thick, it is still sufficient for rust and corrosion prevention. Furthermore, you can always apply several layers to get the thickness you want.

---
2. Best Budget: Rust-Oleum 248656

Quantity: 15 fluid ounces
Color: Black
For the motorists that prefer a more budget-friendly option of removing and preventing rust and corrosion build-up, the Rust-Oleum 248656 is just what you need.
Another impressive element about this spray is that it has a professional-grade formula. This formula provides superior protection from rust, corrosion, and damages caused by salt, water, and chemicals.
Rust-Oleum makes this product for use on both bare and primed metals, making it ideal for all underbodies. Better still, it dries much faster as it is dry enough to touch in one hour. When it comes to the application, the broader and more comfortable spray tip ensures you have an easy time.
This product seems to run out quickly, but you can easily buy more cans without spending much money, given the highly affordable price tag. And despite requiring a little more prep work, the outcome you get makes it worth the extra effort.

---
3. High-Performance: Boeshield T-9 122182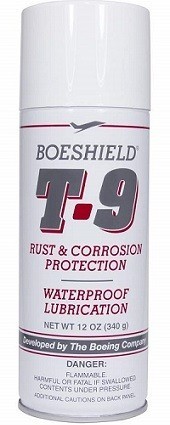 Quantity: 12 fluid ounces
Color: Clear
The high-performing Boeshield T-9 122182 uses a true aerospace technology in its formulation to ensure you get long-term metal lubrication and protection. This product is highly effective at loosening rust, and you can use it on a wide variety of materials, including vinyl and plastic.
The coat you get has a lovely waxy texture and is thin enough to ensure you do not have an annoyingly thick layer over the surface. What's more, it is entirely waterproof to ensure it can withstand several car washes.
You can be sure of an easy time removing the product from the car's surface as it comes out quickly with an emulsifying cleaner or solvent. Better still, you can even spray more of it to dissolve the old product before wiping off.
Although the nozzle seems to clog up easily when applying the product, in most instances, the clogs are easy to remove. Also, the can will not empty before it stops spraying. But, the remaining spray quantity is negligible, and so there is little wastage.

---

Quantity: 6.5 fluid ounces
Color: Clear
When dealing with metal parts, the WD-40 300035 is an unbeatable corrosion inhibitor as it creates a nice coat to lubricate them and keep corrosion in check. And for indoor use, you get protection for up to 2 years, which is highly impressive.
This rust prevention spray uses a non-drying formula. Therefore, it never runs or dries, which explains the long-lasting protection.
You can apply it quickly and with better precision as it comes with a precision straw. Many users also love that it is handy for protecting equipment intended for long term storage.
Although 6.5 fluid ounces seems relatively little, this product's potency makes up for this as you only need to use a bit of it to cover large surfaces.

---
5. Best Heavy-Duty: CRC 06026

Quantity: 10 fluid ounces
Color: Clear
The heavy-duty CRC 06026 has been formulated to provide more long-term protection. This product protects and preserves metal surfaces and is also ideal for use on other things like electrical connections.
CRC 06026rust prevention spray dries nicely and fast while also leaving a thick enough coat. Besides being protective enough, the coating is flexible and takes less effort to remove. And the 10-fluid ounce bottle provides quite a decent coverage.
You can use this product on various car parts, including steering, spindle, shaft, and throttle linkages, making it quite handy to have around.
When dry, this product seems to leave a slight yellowish tint, but this should not be a big deal if you do not use it in highly visible locations. The smell should not be a problem also when applying it in a well-ventilated room.

---
6. Best Black: Rust-Oleum 248659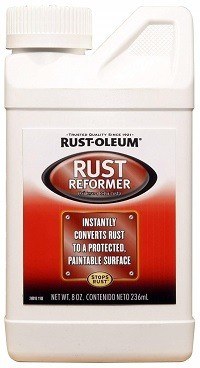 Quantity: 8 fluid ounces
Color: Black
If you want to apply the rust prevention spray on darker surfaces and parts out of sight, a black one like the Rust-Oleum 248659 makes a great buy. This product protects the area instantly and makes it paintable.
What's more, this spray prevents future rusting, and unlike many others, you do not have to sand the surface down to the bare metal, which means you save more time during application.
Besides removing and preventing rust, the Rust-Oleum 248659 helps bond the base coat to the surface, ensuring the paint adheres much better. This spray is water-soluble and does not produce any annoying odors as it is completely odorless.
You will need to apply several coats of this product for the best results, but because it dries quite fast, this should not be a problem. Also, 8-fluid ounces might not look like much, but you will be amazed by the coverage.

---
7. Multipurpose: MowerParts Group Fluid Film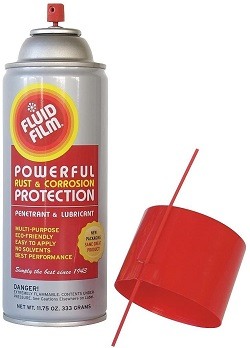 Quantity: 11.75 fluid ounces
Color: Clear
MowerPartsGroup Fluid Film is a more multipurpose rust prevention spray that, besides removing rust and corrosion, is an effective penetrant and lubricant.
Another element making this one of the best rust prevent sprays for cars is that it always remains active without ever drying out to ensure you get long term results.
Because it comes with an application straw, you will get an easy time when applying it, and can also do it more precisely. Better still, it offers deeper penetration, superior lubrication, and is a more eco-friendly product.
Like many other sprays, the nozzle seems prone to clogging, but it rinses easily to minimize downtimes.

How to Buy the Best Rust Prevention Spray for Car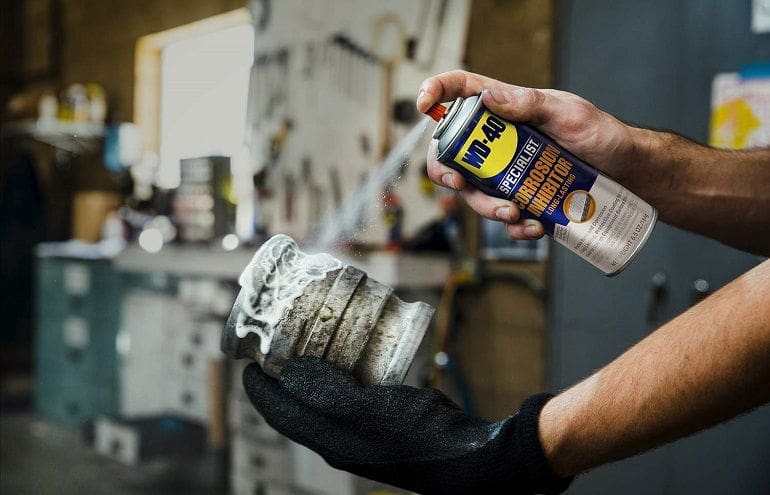 1. Surface
The surface should be one of the first factors to consider as it determines whether the product you buy works for you or how easy it will be to use.
Some products can be applied directly to the rusted area with no scrubbing or cleaning required. For others, you need a lengthy cleaning first before you can spray to ensure it adheres on the surface.
Hence, it is essential to note the surfaces you want to treat and decide how much effort you are willing to put into the job before deciding which product to buy.
2. Types of Rust Prevention
The type also matters a lot when it comes to choosing an anti-rust spray for cars. Here, you typically need to choose between two types, which are inhibitor and primers.
Inhibitor
Rust inhibitors are formulated to prevent the formation of rust on the car's surface. These products work by slowing down oxidation, which is the leading cause of rust formation.
They are excellent preventative measures, especially in very humid areas. But unlike primers, they are not very good for removing rust that has already formed.
Primer
Primers combine with other rust removers to form one of the most potent rust removing and preventing sprays. Also, they form a base on the surface that you can paint over.
Besides removing rust, they are also ideal for preventing its formation. Better still, primers are a binding agent that helps the paint stick well by forming a bond between the surface and the paint.
Read More: The Best Rust Removers
3. Quantity You Need
Besides being effective at removing rust, the spray you choose also needs to be enough to cover the surface you are working on, meaning the quantity of the product matters.
Most of these products come with bottles that contain anything from 5 to 20 fluid ounces of product. Hence, it is up to you to decide how much spray you need.
However, it is essential to note that coverage also matters. For example, the WD-40 300035 comes in a 6.5-fluid ounce container but provides comprehensive cover to ensure just a little of it goes a long way.
4. Drying Time
Drying time matters a lot as it determines how much time you need to dedicate to the job. The faster the drying time, the better the product, as it means you get to finish the job within a shorter time.
A good rust prevention spray for cars should take a maximum of 2 hours to dry. You should avoid those that require you to wait several hours or even days to dry completely. Something that dries to the touch in just 1 hour, like the Rust-Oleum 248656, is an even better buy.
5. Safety
The rust prevention product you choose also needs to be safe for users, the vehicle surface, and the environment.
Something non-toxic that also does not contain any harsh substances is the safest. Also, make sure the product does not have anything that can ruin other vehicle parts or is detrimental to your health and the environment.
6. Color
As you choose a rust prevention spray, you should keep the color in mind. Color becomes even more critical when applying the product on exposed parts of the vehicle because if you do not get it right, you can ruin the vehicle's appearance.
In most instances, clear sprays are the most ideal as they do not leave any pigmentation on the surface, which allows you to use them on any vehicle color. Black sprays like Rust-Oleum 248659 are also quite common, but they are better for black and out of sight surfaces.
Conclusion
Rust and corrosion can be troublesome for various vehicle parts, but with the best rust prevention spray for cars, they should never be an issue for you. With that in mind, there is a product for every motorist in our list above.
From this review, the 3M Professional 03584 is our top recommendation as it provides professional-quality results and has many other fantastic features to offer.
For budget shoppers, the Rust-Oleum 248656 should be an ideal choice as it suits most people's budgets, given the relatively smaller price tag.