Safety should always be on top of your mind when driving any automobile. And besides obviously being a good drive, you also need to make sure that your vehicle has the right tools to ensure road safety such as the best blind spot mirrors.
There are countless advantages of installing a blind spot mirror, but the main one is to increase visibility, especially of the areas that are hard to see from your seat when driving.
Many vehicle owners understand the many benefits that come with a good blind spot mirror. But, where many have some difficulties is picking the right model from the many options available.
Here we aim to make things easier by reviewing 7 top-rated blind spot mirrors and explaining what to consider when shopping for one.
Editors' Picks: Top Blind Spot Mirrors of 2021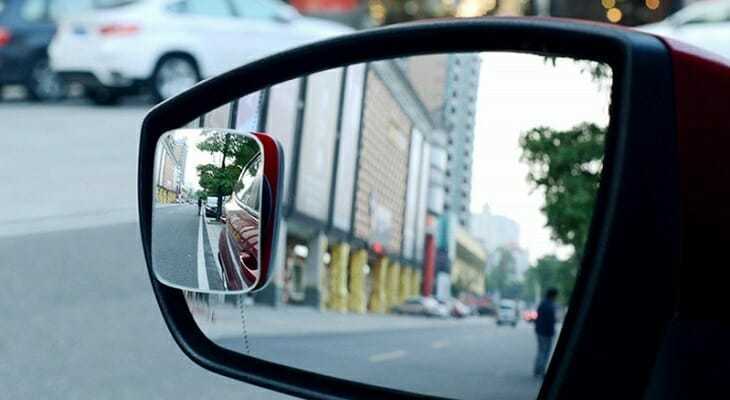 Summary of 7 Best Blind Spot Mirrors
IMAGE
PRODUCT
FEATURES

1. Ampper Am-BSM01 (Best Overall)

Universal fit design
Convex shape for enhanced visibility
Fast and easy installation
Great value for a 2-pack

2. WadeStar RM10 (Best for Trucks)

Perfect for Ram Trucks
Wide view angle
Attaches easily to stock mirror

Upper or lower outside attachment

3. Utopicar 3R-017 (Best Frameless)

Pleasant frameless design
No-fail adhesives
Bigger image size
Durable and weatherproof

4. Liberrway LBWBSMIRROR (Best Wide View Angle)

Wider view angle

Universal fit
High adjustable
Ideal for both interior and exterior use

5. Fit System C0400 (Best Budget)

Budget-friendly
Stick-on installation
Great overall construction
Reduces blind spots greatly

6. Essential Contraptions MA-23 (Best Framed)

Durable aluminum frame
Real glass with no haze
Easy peel and stick installation
Economical 4-pack

7. LivTee PLP-5050 (Slim & Weatherproof)

Slim profile
30-degree sway
Universal fit
Stick-on adhesive
1. Ampper Am-BSM01 - Best Overall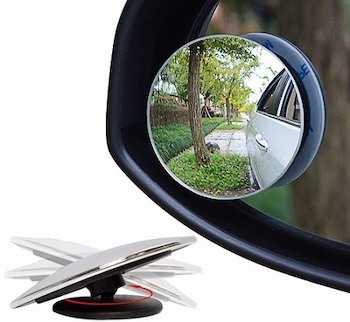 Dimensions: 1.9 x 1.9 x 0 inches
Degree Rotate: 360 degrees
Weight: 0.32 oz
The Ampper Am-BSM01 takes our the best overall blind spot mirror as it has a universal fit that makes it usable on regular cars, SUVs, vans, and RVs.
This model can rotate up to 360 degrees and has adjustable sway. This way, your view is enhanced and maximized in the best possible way.
The mirror is suitable for interior and exterior usage, and it also uses a waterproof and rustproof glass that will not haze even in the worst climatic conditions. And thanks to the flexible convex shape of the mirror, you can freely change lanes while monitoring the road.
While the style of this mirror is not very attractive, this does not take anything away from its functionality.
Note: This product is not suitable for motorcycles.

---
2. WadeStar RM10 - Best for Trucks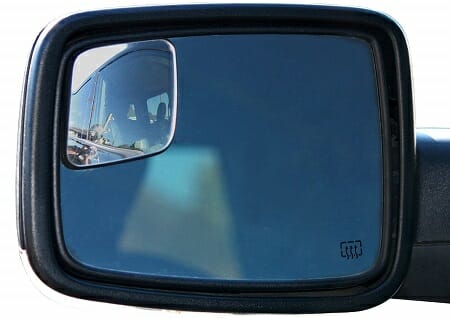 Dimensions: 3 x 0.5 x 3 inches
Weight: 0.8 oz
Different trucks and cars have different needs when it comes to mirrors. While some mirrors are for universal usage, others like WadeStar RM10 are automobile specific as they are built for the 4th Gen Ram trucks.
These mirrors provide a custom fit to the trucks without any towing mirror concerns. This is available in a pair and helps you in enhancing safe driving.
They will also offer wide view angle and can be easily attached to the stock mirror. The installation is too simple and the mirrors can easily be installed in the upper outside and lower outside corner of the stock mirror.
These mirrors are the priciest item on our blind spot mirror review, but they are worth it for their size and quality. Also, they might not fit some trucks as they are not very widely compatible, but this should not an issue as they are specifically built for a certain model.

---
3. Utopicar 3R-017 - Best Frameless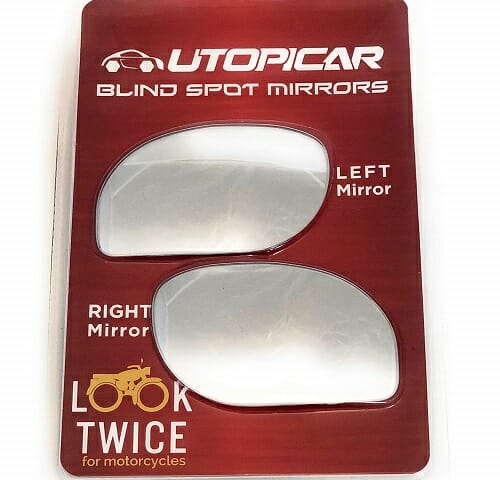 Dimensions: 6.9 x 4.1 x 0.6 inches
Weight: 2.4 oz
Changing the lanes when you are at high speeds can be quite a challenge. But, with the aesthetically appealing Utopicar 3R-017 frameless mirrors, things will always be much easier.
The brand has done incredibly well in making this product which is waterproof and highly durable. The wide-angle view ensures you never miss a spot and these mirrors deliver a bigger picture than most others.
This one is available in universal fit that goes with almost all kinds of cars, SUVs, RVs, trucks, and vans. There are two pieces of blind spot glasses available in this pack that can be installed on both sides of the car.
This is a highly reflective mirror with extreme-quality concave lens, which can improve the vision. And while installation is a little hectic, it should still not take a lot of your time, and the larger size is more of a pro than a con for most vehicles.

---
4. Liberrway LBWBSMIRROR - Best Wide View Angle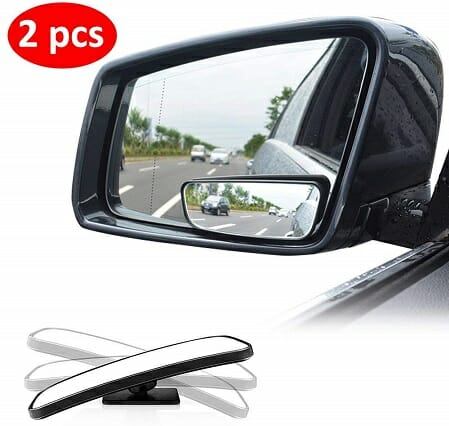 Dimensions: 3.7 x 1.4 x 0.6 inches
Degree Rotate: 360 degrees
Weight: 4.2 oz
Liberrway LBWBSMIRROR can rotate to 360 degrees and has adjustable swivel mounting bracket for a wide view angle to maximize your view to prevent accidents. And with the universal fit, it will be an ideal product for trucks, cars, SUVs, RVs, and vans.
It can be applied on vertical or horizontal side, which makes it more versatile. There is also a high-quality glue applied at the end that firmly sticks the mirror on the surface and does not leave any marks when you take it off.
This is completely waterproof and rustproof product and will not haze, giving you a perfect and clear view of other vehicles on the road, and thus making passing and changing lanes safer than ever.
While these blind spot mirrors might not be the best quality, they still offer many other great features, and for their price, this should not be a deal breaker.

---
5. Fit System C0400 - Best Budget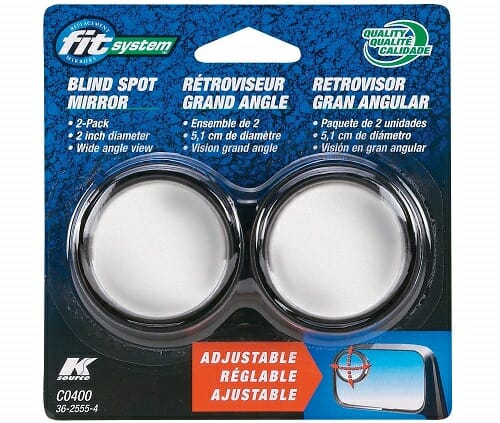 Dimensions: 5.8 x 0.8 x 5.2 inches
Weight: 1.44 oz
If you are not so fond of large face mirrors and are looking for something more affordable but still highly useful, then these ones from Fit System can be a perfect fit for your needs.
The mirrors are small enough to settle on any rear-end mirror of the car. Plus, this grip is strong enough that any vibration caused during the start of engine or driving a car will not take the off.
They are completely adjustable and the convex design provides a wide angle view to the user and the glass quality is also top-notch.
With these on your mirrors, you can drive at high speed and change the lanes or pass through the tight areas with full confidence.
These mirrors are quite small and some users might not appreciate the size, but the good news is that they still do a great job.

---
6. Essential Contraptions MA-23 - Best Framed
Dimensions: 8 x 5 x 0.3 inches
Degree Rotate: 360 degrees
Weight: 1.6 oz
Unlike other options in the list, the Essential Contraptions MA-23 uses an aluminium frame for long service life. This frame is rust-resistant and tough enough to ensure these mirrors serve you for a long time.
Also, these mirrors have a universal fit that means you can install them on all kinds of automobiles. And for the first time in our blind spot mirror review, we have amazing blind spot mirrors that come in a set of 4, which ensures you get the best value for money.
The installation is more straightforward as you simply need to peel and stick them on the mirror. These are non-hazy and rust-resistant mirrors made with real glass that will give you wide angle view in every climatic condition.
Size is also the only notable shortcoming as these are quite small blind spot mirrors, but the good news is that they still provide good enough visibility.

---
7. LivTee PLP-5050 - Slim & Weatherproof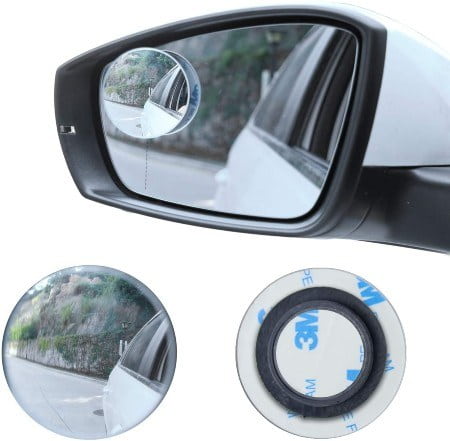 Degree Rotate: 360 degrees
Weight: 0.81 oz
The slim and frameless profile is one of the key highlights of the LivTee PLP-5050, and it is meant to ensure that it will not clutter your side view mirrors. They are also designed to withstand the harshest weather as they are completely weatherproof.
Like most other options on our list, they are 360-degree adjustable, which makes it possible to fine tune the visibility. And to add to this, they have a generous 30-degree sway.
With the 3M stick-on adhesive, installing these mirrors will take little effort as you will only need to remove the backing and stick them to your mirrors. What's more, they come in a universal design that allows you to have them in a wide variety of vehicle types.
These mirrors seem quite small, and this is more so for those that have larger vehicles. However, they make up for what they lack in size with excellent visibility.

How to Buy the Best Blind Spot Mirror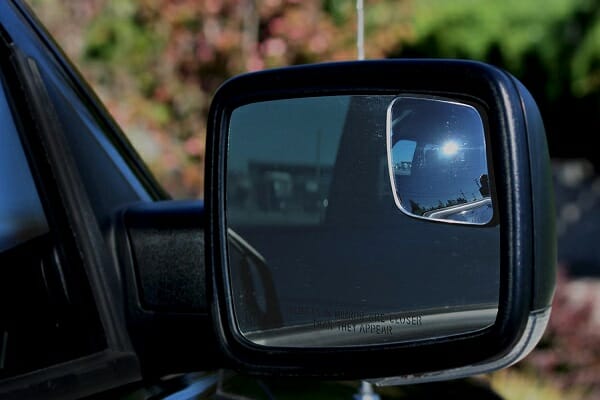 1. Compatibility
For any blind spot mirror to work for you, it first needs to be compatible with your vehicle, and hence compatibility should always be one of the first factors to consider when shopping.
It is important to check the label on the mirror to be sure of the kinds of cars that it is compatible with as you do not want to waste your cash on something you will not be able to use.
And if you are not sure which type and model will suit your vehicle, you can always go for the universal types like Ampper Am-BSM01 that are designed to work on all vehicles.
2. Size & Shape
Blind spot mirrors are available in different sizes and shapes. While round is the most common, you still need to choose a shape that is best suited for your vehicle.
Most of the buyers prefer rounded mirrors for some reason. However, there is no specific technical advantage in this as square ones like Ampper Am-BSM02 still work perfectly. And when it comes to the size, larger ones are always better as they provide a larger field of view.
3. Overall Build Quality
For any product, whether it is related to your safety or not, quality counts a lot. Hence, the overall quality of the blind spot mirror you buy also matters a lot.
Most of the blind spot mirrors are made of plastic material which is available at pocket-friendly cost. Plus, these mirrors are quite light in weight as well. But plastic is not always very durable.
You can also get better mirrors made of aluminum which are more durable than plastic ones. Plus, they are also made to offer great visibility.
4. Adjustability
A good blind spot mirror also needs to be adjustable to allow you to focus on different areas when driving so that you never miss anything.
Besides just being adjustable, the degree of adjustment also matters. Here the 360-degree adjustable mirrors will be your best bet as you can focus them on any direction.
Also, something with at least a 20-degree sway will be more appropriate as it will be easy o focus. And make sure that the adjustment is quick and easy.
5. Attachment Method
You do not want to pay a mechanic to attach something as simple as a blind spot mirror for you. Hence, as you choose these mirrors, you need to consider the attachment method, and make sure it is as easy as possible.
A few types will require you to use some screws or other fasteners to attach the mirrors, but the majority will use the 3M adhesives for attachment. Models that use adhesives are the easiest to attach.
FAQs
Q: Are Blind Spot Mirror Useful?
A: Yes, they are very useful when driving as they will help show the driver parts of the road that are out of their line of sight.
Q: Where Should a Blind Spot Mirror be Placed?
A: It depends on the type and manufacturer specification as some are meant for the lower outside of the side mirror and others for the upper outside. Some can also work in both positions.
Q: Does it Work on Heated Mirrors?
A: Yes, they work perfectly fine on heated mirrors. They will use an adhesive that can take the heat without melting or losing its adhesiveness and causing the blind spot mirror to fall off.
Q: Are Blind Spot Mirrors Safe in a Car Wash?
A: Yes, they should be safe in a car wash provided they are designed to be waterproof. Checking the waterproof rating on the blind spot mirror when buying should give you some assurance that it will be safe for car wash. Something with at least an IP65 rating should be waterproof enough.
Conclusion
Blind spot mirrors will always make driving safer for you as they make all those hard to see places more visible. And with this guide to help you out, finding the best blind spot mirrors for your vehicle should be effortless.
Every item on our list is special, but the universal fit Ampper Am-BSM01 is our best overall product as it has enhanced visibility and takes less effort to install.
For the vehicle owners shopping for a more affordable option, the Fit System C0400 is our cheapest option, and hence a good deal for them.