Trucks are mostly bought for off-road use and therefore, there are higher chances of bringing a lot of dirt and debris inside the cabin as you stop and get out occasionally during your offroad drive.
Because of this, it is important to protect your truck's interior from such dirt and other elements and a great way to start is by installing seat covers. Seats can get easily stained and this might get to the point where the spots stick permanently, ruining the original color of the seat's fabric.
If you are looking for such a cover, here is a listing of the best truck seat covers, from which you can choose the most suitable piece for your truck.
Editors' Picks for Top Truck Seat Covers of 2021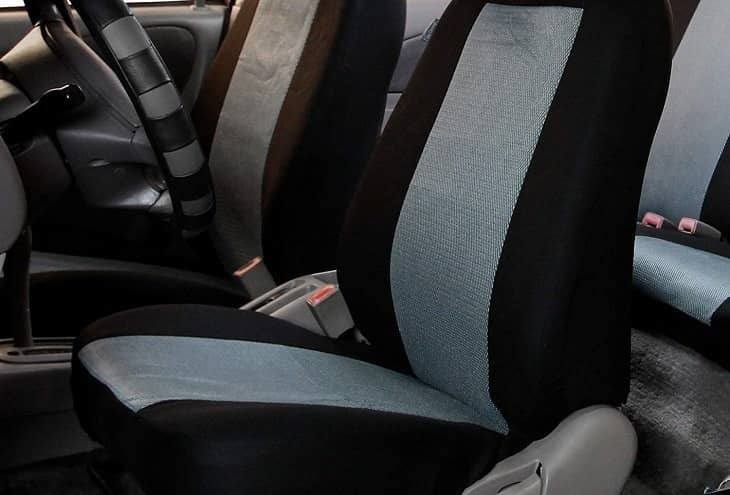 Summary of 7 Best Truck Seat Covers
IMAGE
PRODUCT
FEATURES

1. Leader Accessories 10203 (Best Overall)

Single piece seat cover with a 3-layered structure
Compatible with all vehicles
Machine washable

2. Totally Covers TCCSCTT26-23-0412FROC-CO

Backseat cover with a 60/40 split design
Only compatible with '04-'12 Ford Ranger and Mazda B-Series
Available in multiple colors

3. Copap IASC-009F

4-piece truck seat cover
Colorful Baja-flavor design
Foam padded breathable design
Broad compatibility in most trucks

4. Big Ant 007-CSP-BA-BTQ

Waterproof 3-layered seat cover
Controls body temperature and humidity
Prevents odor build up

5. FH Group FB102102GRAY-AMZ

2, backbench or full set truck seat cover
Highly compatible with different car seats
Breathable fishnet clothing construction
Padded foam interior

6. FH Group PU205BLACKREDTRIM102

Faux leather built truck seat cover
High-density foam interior
Top zipper and elastic edges for snug fitting
Available in different colors

7. FH Group FB050BLACK102-A

Affordable pair of truck front seat covers
Available in multiple colors
Universal fitting design
1. Leader Accessories 10203 - Best Overall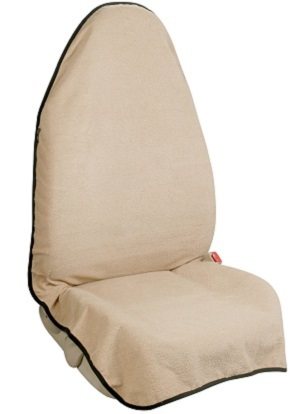 Fits: All trucks
Material: Soft sweat towel
If you are looking for a single cover for your front or rear seat, then this 10203 from Leader Accessories is your best bet. The seat is actually made for the people who sweat a lot, and it has 3 layers that help deal with sweaty bodies.
First is a soft towel top that is breathable and helps in air circulation so as to cool you down. The middle layer is composed of a waterproof film, which prevents all the sweat absorbed by the soft towel from getting to the seat while the bottom rubber layer prevents slipping on the car seat.
After use, the cover is machine washable and is designed for quick removal and installation for simplified maintenance. Also, if you don't want to use it, the cover rolls up easily and has an elastic strap to tie it up so that you can keep it in the glove box or on the seat.
Other features include universal compatibility in all cars, side airbag compatibility, and availability in blue, black, beige, coffee and grey colors so as to match different car interiors. Combined, these features make this the top-rated truck seat cover in our review.

---
2. Totally Covers TCCSCTT26-23-0412FROC-CO Truck Back Seat Cover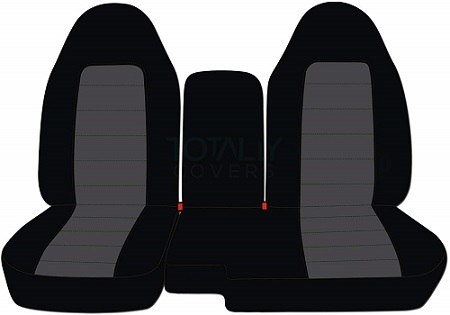 Fits: 2004 - 2012 Ford Ranger, Mazda B-Series
Material: Velour
Though expensive and limited in terms of compatibility, this cover is the ideal piece for the back seat of 2004 - 2012 Ford Rangers and Mazda B-Series. This is because the unit has a 60/40 split bench design, with the larger section containing a center console cover.
There is also the option of the same seat cover with a solid armrest at the same price, so you can choose whichever suits your needs.
However, all these options have a 3 layered design, which consists of a high-quality soft velour top cover, a foam-padded middle layer and a grippy bottom for non-slip fixing on the car seat.
Another benefit that you get is the cover's availability in multiple colors, from which you can choose a piece that fits in perfectly with your car's interior theme color.

---
3. Copap IASC-009F Truck Seat Cover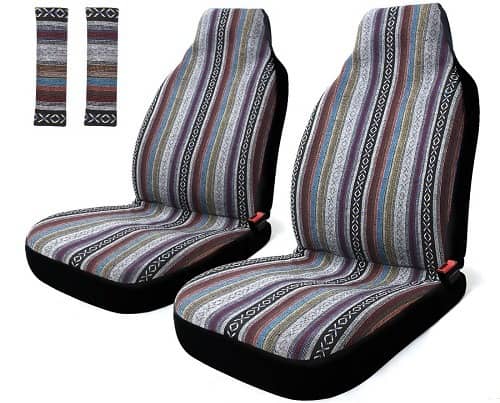 Fits: All trucks
Material: Saddle blanket
Copap's IASC-009F is not only a truck seat cover, but it also brings in some form of decoration into your truck's interior because of its colorful Baja flavor design.
This Baja design is actually imprinted on a saddle blanket material, which forms the top layer, and this is supported by a 3mm foam padding below. Combined, these 2 layers form a comfortable cover that is also breathable for additional comfort.
Coming as a set of two covers and two safety seat belt pad protectors, you get to redesign the appearance of your truck's front driver and passenger seat with color.
Other than that, the covers are widely compatible, having a size that fits most car seat with either built-in or adjustable headrests. However, the two pieces are not waterproof, but they come in 6 different Baja decorative options. Basically, you get color as the main advantage.

---
4. Big Ant 007-CSP-BA-BTQ Truck Seat Cover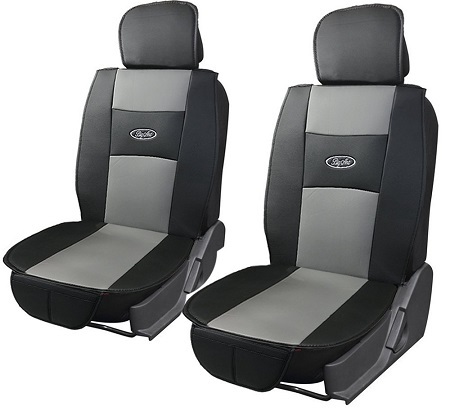 Fits: All trucks
Material: PU leather
With a PU leather construction, this pair of front car seat covers have superior quality construction that is waterproof, which means that they can also be used as pet seat covers.
Even though leather is not as breathable as other cloth-like fabrics, this cover is designed to control your body temperature and adjust your body's humidity, while also relieving fatigue and expediting your body's metabolism.
Apart from the upper leather material, a non-slip rubber sole is included to prevent the cover from moving around its fixed position while a 5mm composite sponge interior keeps you comfortably seated.
Other than being comfortable, this cover is designed to prevent odor build up as well as general wear and tear. Leather is also easy to wipe or dust off any hair or dirt, making it easy to maintain.
On the downside, this pair only comes in a black-&-gray color, but this combination can easily blend in with most car interiors.

---
5. FH Group FB102102GRAY-AMZ Truck Seat Cover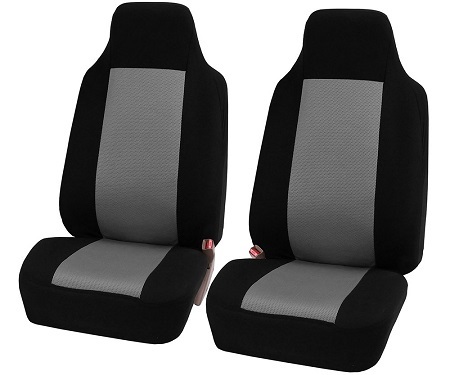 Fits: All trucks
Material: Fishnet cloth
This truck seat cover from FH Group comes as a set of 2 high back front bucket covers that are built as single pieces, and are usable on seats with either removable or non-removable headrests.
The pair is also designed to accommodate traditional or heated seats and fits in all almost all kinds of seats in different cars, vans, trucks, and SUVs.
Although not waterproof, the fabric used to make these two pieces is a highly breathable small fishnet sandwich cloth that is backed by a 3mm foam on the inside, making the entire structure very comfortable, as well as easily machine washable and suitable for air drying.
Other than this, the cover is also available for the back bench seat cover or in a full set for the front and back bench seat, as well as in multiple colors, which means that you will easily get a piece that matches your car's interior.

---
6. FH Group PU205BLACKREDTRIM102 Truck Seat Cover
Fits: Most trucks
Material: Faux leather
Another one from FH Group but this one stands out as the best quality seat cover due to a number of reasons.
For starters, the pair of front seat covers have a high-quality faux leather construction, which will make your truck's interior look very high end. This specific one also has red trims on a black leather canvas, and this adds a sporty feel.
However, there are other multiple options to choose from in different colors so as to match the specific theme of your car's interior.
Whichever color you choose, each cover has a top zipper opening plus elastic trim edges, which offer size adjustments so as to fit the piece snugly over the car seat. This fitting is assisted by a silicone interior, which creates a non-slip surface so as to ground the cover in one place.
Other features include a backrest, headrest, and bottom 3-piece design, a high-density foam interior, and universal compatibility on most car seats, be they traditional or heated.
On the downside, the cover is not breathable because of the leather construction and is also quite expensive, but it has the features to match its price.

---
7. FH Group FB050BLACK102-A Truck Seat Cover for the Money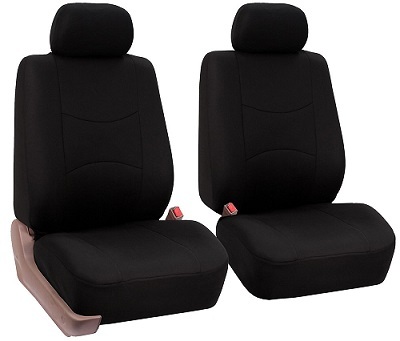 Fits: All trucks
Material: Polyester
If you are on a tight budget, then this black pair of front truck seat covers from FH Group should be your go-to option. That said, the pair is available in multiple other colors apart from black, providing enough options for matching different car interiors.
The cover comes as a set containing two covers for the front seats, and each cover is split into a bucket cover and a headrest cover, and these are designed for universal fitting on seats in all cars, trucks, SUVs, and Vans.
For the top cover material, durable-&-breathable polyester material is used, and though it is not waterproof, it makes the covers machine washable for easy maintenance, as well as suitable for air drying.
Other features include an internal 3mm foam padding for comfort and hidden Velcro adjustable straps for easy installation and removal.

How to Buy the Best Truck Seat Cover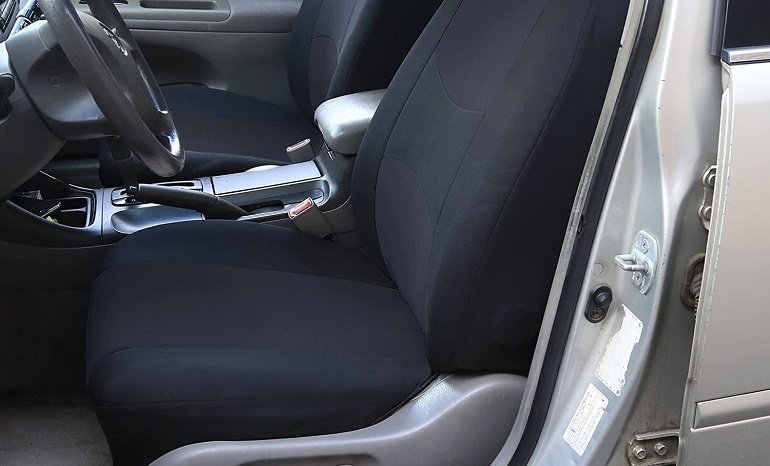 1. Compatibility
Compatibility in these truck seat covers has to do with the fitting. Of course, the seat cover is only useful if it fits in your car and therefore, it is important to check this factor because each type of car has a different seat size and design.
Generally, it is recommended to buy a seat cover that has a universal fitting size so that you can reuse it if you have many trucks, or if you replace your truck with a new one.
2. Material
Material also plays a big role in determining which is the best seat cover for your truck. For instance, leather covers have more of a high-end look but are not breathable and tend to be more expensive than the other types. They are also not machine washable.
For cloth or mesh covers, they are highly breathable, affordable and machine washable, but most are not waterproof and thus, cannot be used as pet seat covers.
However, none can be said to better than the other and selection should be done primarily based on personal preference, depending on the features that you need.
3. Color & Design
Even though the color and design of the seat cover do not in any way affect its performance, it is important to consider these factors so that you can match the cover with the car's interior color theme.
For instance, if your car has a wooden finish on the inside, then it would be appropriate to buy a wooden, brown or black colored seat cover instead of a yellow one.
4. Ease of Cleaning
An easy-to-maintain product is always the better option when it comes to seat covers, the most ideal set should be machine washable because this eliminates any form of manual cleaning when removing the acquired dirt over time.
However, there are other covers that cannot be machine washed, and these mostly include the ones with leather surfaces. If you want such a cover, ensure that it is easy to wipe so that you can have an easier time maintaining its hygiene.
5. Budget
The final thing to consider is the price of the truck seat cover. As much as the expensive ones have multiple features and are possibly very high end, you should not buy them if they are way above your budget.
The recommended selection process is to identify the features you want, look for the products with those features, then select the most affordable one among the shortlisted units. This will help you save a lot for your next purchase.
Ideally, if you want a simple truck seat cover, then you should not spend more than $50 on the single piece or piece set. However, if money is no issue and you want the highest quality cover, then there is no limit.
Conclusion
In conclusion, truck seat covers are very essential if you want to keep your truck's seats looking fresh and new for a long time.
There are plenty of options to choose from as you can see above, and proper selection needs to be done if you are to pick the best truck seat cover.
However, after going through the truck seat cover review above, you should have a much easier time picking the most suitable product that works for you.