The easiest way to add extra storage space to your vehicle is a cargo box. It saves you the cost of buying or driving a larger vehicle and gives you the freedom of using it only when you need it.
Cargo boxes come in different types and sizes, and they are great for road trips, ski trips, camping with the family, and lots more activities.
Still, cargo boxes are an investment and this makes it necessary that you have a good understanding of them, so you can make an informed decision and get the best value for your money.
That's why this cargo boxes and top carriers review provides you with a list of the top offers in the market and then tops it with a buying guide for your convenience.
Editor's Recommendation: Top Cargo Boxes Top Carriers of 2021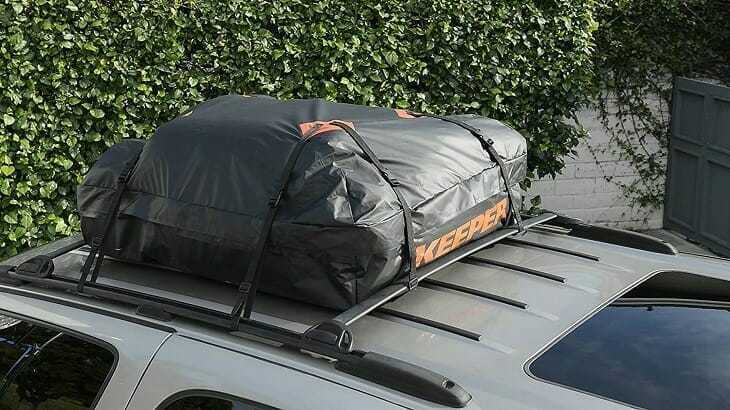 Summary of 7 Best Cargo Boxes & Top Carriers
IMAGE
PRODUCT
FEATURES

1. SportRack SR7018 Vista XL (Best Overall)

UV-resistant and durable ABS construction
Comes with U-Bolt hardware mounting kit
Rear opening for easy access
Backed by a lifetime warranty

2. RoofBag EX15BK

Easy to install cargo bag
Works with and without racks
Completely waterproof and safe

3. Yakima SkyBox

A very sturdy and durable cargo box design
Sleek, aerodynamic, and versatile design
Includes SKS locks
Backed by a lifetime warranty

4. Thule Force 624

Stylish and modern looking cargo box
Aerodynamic design for low fuel economy
Dual opening from both sides

5. Keeper 07203-1

Heavy-duty construction using rubber and nylon
Fits nearly all rooftops
Available in 15 and 11 cubit ft options

6. Rightline Gear 100S50

100% water construction
Attaches with or without a roof rack
Available in 4 sizes from 9 to 18 cu ft

7. Shield Jacket CG03

Designed for use in all seasons
Made with double-walled vinyl & welded seams
Easy to attach and use
1. SportRack SR7018 Vista XL - 18 Cubic Feet Rear Opening Cargo Box

Volume: 18 cubic feet
Dimensions: 38 x 19 x 63 inches
Material: ABS plastic
The SportRack Vista XL is an excellent offer for anyone looking to buy a top-rated cargo box and top carrier. It's 63 inches long and offers 18 cubic feet of storage space.
SportRack makes it using ABS plastic, which is tough and UV-resistant, guaranteeing thereby a long service life. The company also backs it with a lifetime warranty, guaranteeing its quality design and engineering thereby.
For cons, you can get cheaper cargo boxes and its 63-inch length makes it unusable for transporting items that are longer than 63 inches.
It works with SportRack and other aftermarket racks, featuring a tool-free installation that takes just minutes and rear opening for a safe access tot he box, away from traffic.

---
2. RoofBag EX15BK Waterproof Cargo Bag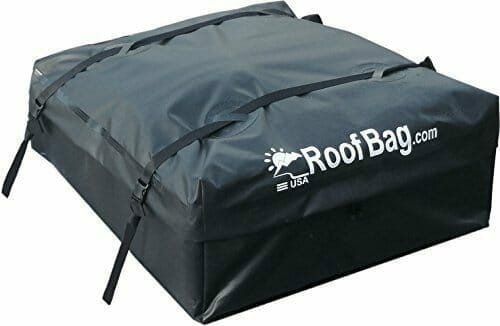 Volume: 11 or 15 cubic ft
Dimensions: 48 x 38 x 18 inches
Material: Canvas
You may not like a hard cargo box, but prefer something that's easy to install and take off, as well as easy to store when not in use.
RoofBag presents the EX15BK, the answer for anyone who wants the best roof cargo box for occasional use. It's easy to install, it's safe on the road, and it stores easily and compact.
What it lacks, obviously, the higher level of protection that hard cargo boxes offer, although it's made from heavy-duty and waterproof canvas material.
These bags are available in standard and premium versions. With premium, you get triple-sealed bags for improved safety, plus a 2-year warranty. Standard bags come with a warranty of only 1 year.

---
3. Yakima SkyBox Carbonite Hard Cargo Box

Volume: 12 to 21 cu ft
Dimensions: 92 x 24 x 12 inches
Material: Carbonite
Yakima is one of the biggest brands when it comes to cargo boxes and that's simply because of the quality products that they make. This Skybox series takes that further with its many innovative features, such as its tough and durable cover material.
The boxes are available in different sizes, so you can get exactly what you need. They are 92 inches long and therefore, offer enough space for all kinds of long items, especially skis and snowboards.
Assembly is not required, each box is aerodynamic and offers a dual-sided opening. The package also includes all the mounting hardware that you need.
What you won't find funny here is the price. The 12 cu ft option is comparably expensive and the price only gets higher as you move to the biggest car top carrier. Quality, however, comes at a price.

---
4. Thule Force 624 Hard Cargo Box

Volume: 13 to 21 cu ft
Dimensions: 78 x 33 x 15 inches
Material: Aeroskin
Thule is another top brand when it comes to the best cargo boxes and top carriers, and so, this Force series comes with many features like a very stylish design that's both good-looking and aerodynamic.
Its Aeroskin cover material is diamond textured and looks really beautiful. Thule also makes the Force cargo box in many sizes, so you can choose. They include Medium with 13 cu ft, Large with 15 cu ft, X-Large with 17 cu ft, and XX-Large with 21 cu ft.
Installation is tool-free and takes less than 5 minutes and Thule includes a large lock that's easy to use, even with gloves on.
The cons here are the high prices and the 78-inch length, which is less than the Yakima Skybox length. Thule, on the brighter side, looks better, also opens on its two sides, and comes with a lifetime warranty.

---
5. Keeper 07203-1 Rubber Cargo Bag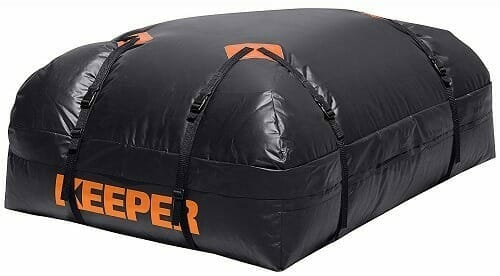 Volume: 11 & 15 cu ft
Dimensions: 44 x 34 x 17 inches
Material: Rubber laminated nylon
Some people also look for the best cargo boxes and top carriers for vans and other vehicles that don't need to stay permanently on the vehicle.
Cargo bags such as this one from Keeper fulfill this need but all cargo bags aren't the same. This one features a rubber laminated nylon construction, making it flexible and heavy-duty at the same time.
This enables it to fit the specific contours of most vehicles and to accommodate odd-shaped objects without a problem. You can also fold it easily and very compactly when not in use.
The bag comes with eight straps for securing it to your roof rack and this is also its downside because unlike the RoofBag offer that works with or without a roof rack, this one only works with a rack.

---
6. Rightline Gear 100S50 Compact Cargo Bag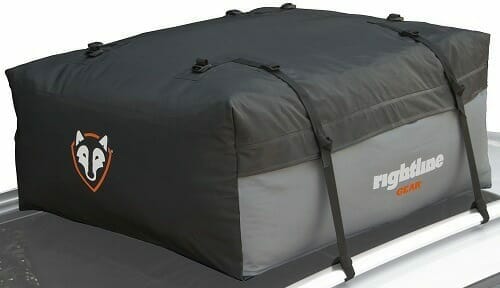 Volume: 9, 12, 15, 18 cu ft
Dimensions: 12.6 x 11.2 x 5.3 (9 cu ft)
Material: PVC & polyester
While most of the other cargo bags in this review withstand water to certain extents, none of them actually claims total waterproofing, except this Righline Gear offer.
The bag features a material mix from polyester, PVC, and mesh. It then includes the ZipRight system which locates the zipper on the inside of the protective flap to completely wade off the water.
Another important feature is that you can use this cargo bag with or without a roof rack, and it works on all types of vehicles, including SUVs and minivans, down to compact cars.
What's missing, however, are the accessories for installing it on vehicles without a roof rack, so you'll need to additionally buy it. There are also cheaper cargo bags, but they are not 100% waterproof.

---
7. Shield Jacket CG03 Weatherproof Cargo Bag
Volume: 15 cu ft
Dimensions: 43 x 34 x 17 inches
Material: Vinyl
The Shield Jacket CG03 is for those who need a truly heavy-duty cargo bag that works in all seasons and weather. It's built tough against rain, stones, and all the elements.
Shield Jacket makes it using double-walled vinyl and additionally uses welded seams to keep out water. Then there are 8 built-in tie straps to secure the bag in all directions.
The only issue here is that you always need a roof rack to tie it down to, so this cargo bag won't work without a roof rack. Another issue is that it's only available in this large size, so it's not ideal for use with smaller vehicles.
If you've got a large off-roader, however, and you need an affordable and temporary way to create more storage space, then this offer might work for you.

How to Buy the Best Cargo Boxes & Top Carriers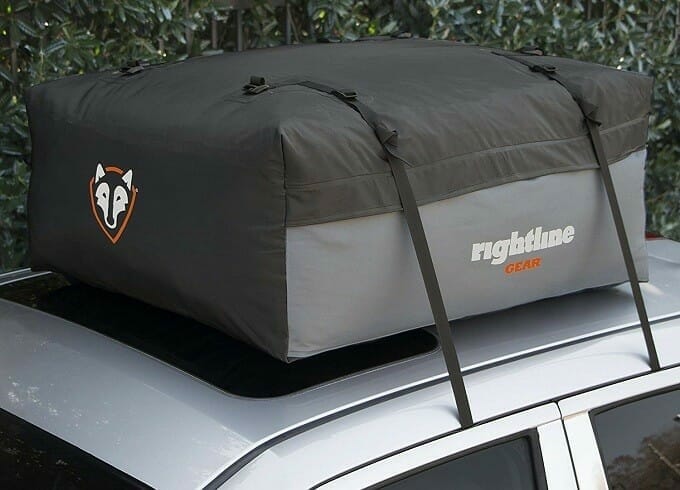 Cargo boxes and top carriers vary widely in shape, size, and application, so if you want to get the best deal that exactly meets your needs, you'll have to know the important aspects to look out for when choosing.
Following is a list of the most important aspects of the best cargo boxes and top carriers. By understanding and considering them, you'll be in the best position to make an informed buying decision.
1. Volume
Cargo boxes come in different sizes and so, volume capacity. You'll need to consider the items that you want to transport in your cargo box and then get a product that fits the physical dimensions.
If you're transporting skis, for instance, then you need to make sure that the length fits. For items from family or friends, 6 cubic ft. will generally do for each person. So, if you've got 3 persons, then an 18 cubic ft box would be a good estimate.
2. Weight Capacity
Weight is another issue to consider when deciding on the perfect cargo box for your vehicle. There are three issues to consider here. The first is the maximum weight that your vehicle can carry. This is specific for each vehicle, so you'll have to find out first.
The second weight consideration is how much weight the cargo box that you're about to buy can handle. Each cargo box also has a weight limit, so you'll need to figure this out as well.
The third weight that you'll need to know is how much real weight you can carry. This is the weight of your load, minus the cargo box's weight, so you'll need to subtract the weight of the cargo box from your car's maximum weight rating.
3. Compatibility with Your Vehicle
Another issue to consider is the size of your vehicle, the roof space that it offers, and the type of roof rack that's already installed or that you're going to install.
These considerations help in deciding the type and size of cargo boxes that you can install. You also want to make sure that you can safely open your vehicle's rear hatch without the box getting in the way.
4. Security
This consideration depends on where you're headed and how safe you consider the area. If you concerned about security, then a hard cargo box with a good lock is probably the way to go.
In case of security not being much of a concern, you can feel free to consider other types of cargo box options, such as cargo bags or cargo baskets.
5. Aerodynamics
Cargo boxes increase a vehicle's physical dimensions and this, in turn, creates more resistance and means more drag while driving. In the end, it simply leads to higher fuel consumption.
So, if you're concerned about fuel economy, then you can consider the aerodynamics of the cargo box that you're considering to buy. It's worth noting here that premium cargo box models generally offer better aerodynamic styling.
6. Quality & Warranty
Speaking of premium models, you can also decide to go for them if you simply want the best and are not interested in saving a little money.
Two major brands here are Thule and Yakima. They both offer high-quality cargo boxes with lifetime warranties and lost-key replacement service.
7. User Friendliness
Finally, you should also consider its ease of use. Are there any extra features that make this particular cargo box easier to use? Does it come with good and simple mounting hardware or does it open from both sides?
Conclusion
We've reached the end of this cargo boxes and top carriers review and you've seen all the different and impressive offers out there in the market.
From hard cargo boxes to soft cargo bags, you've seen the extensive range of offers for all types of vehicles, including SUVs and compact hatchbacks.
It's now your turn to make a choice and this is all up to you because you're the one that knows your cargo volume and how much you're willing to spend.