As a passionate car owner, you try to keep your car in the best condition possible. This includes accentuating the interior with different accessories, including car speakers.
Well, a car speaker forms an inseparable component of any car audio system. This is an accessory that lets you listen to music and even do audio reading in the comfort of your car.
Therefore it is important to get a set of high quality speakers to help you get the best out of this experience. And you know what, you've just come to the right place.
In this article, we've dug up some of the best car speakers and brought them right to you. Just keep on reading to find out what we have in store for you.
Editor's Recommendation: Top Car Speakers 2020 Component and Coaxial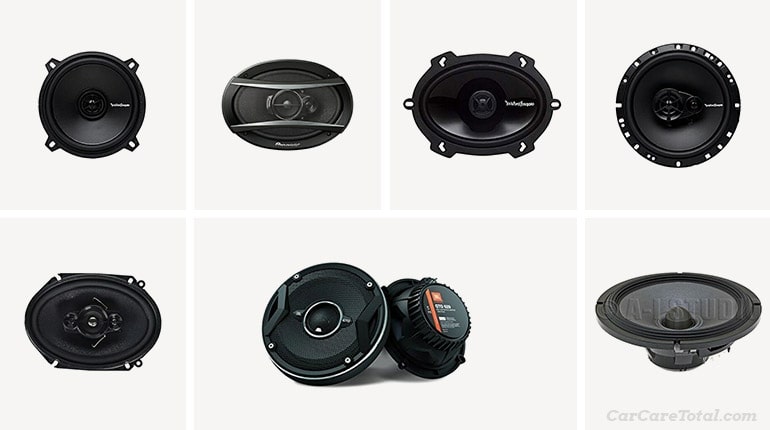 Summary of 7 Best Car Speakers
IMAGE
PRODUCT
FEATURES

Rockford Fosgate R1525X2 Prime 5.25-Inch Full Range Coaxial Speaker

1. Rockford Fosgate R1525X2 Prime (Best 5.25-Inch)

Excellent overall sound quality
Cone is made from polypropylene for better durability
The grille is easy to mount and protects the cone from physical damage
Superior mid-range quality

JBL GTO629 Premium 6.5-Inch Co-Axial Car Speaker

2. JBL GTO629 Premium (Best 6.5-Inch)

The bass is powerful
Directional sound thanks to rotating tweeters
Uses carbon-injected cones. Durable and long-lasting
Easy to install on all compatible cars

Pioneer TS-A6886R 6 X 8 4-Way Speaker

3. Pioneer TS-A6886R (Best 6x8-Inch)

Equipped with big magnets for heavy-duty performance
Does not distort at high volumes
Good resistance to water and humidity

Pioneer TS-A6966R - Best 6x9-Inch Car Speaker

4. Pioneer TS-A6966R (Best 6x9-Inch)

Quality sound that does not distort at high volumes
The bass is rich and deep
Cooling baskets dissipates heat efficiently

Rockford Fosgate Punch P1572 - Best 5x7-Inch Car Speaker

5. Rockford Fosgate Punch P1572 (Best 5x7-Inch)

Superb sound quality
Heavy-duty and decent build quality
Compatible with most vehicles

Rockford Fosgate R165X3 Prime - Best Coaxial Car Speaker

6. Rockford Fosgate R165X3 Prime (Best Budget)

Affordable and value for money
Installation is easy by beginners
Aesthetically pleasing

Alpine SPR-60C - Best Coaxial Car Speaker

7. Alpine SPR-60C (Best Performing)

High performance and heavy-duty
Tuned so as to produce the best quality sound
Equipped with small but powerful magnets
1. Rockford Fosgate R1525X2 Prime - Best 5.25-Inch Car Speakers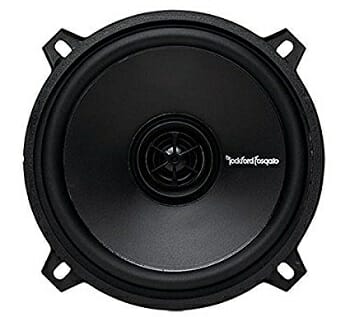 Rockford Fosgate is known for its budget-oriented entry-level speakers. Regardless of whether you want a speaker for marine, home, or automotive use, this brand has got you covered.
Rockford Fosgate R1525X2 is among the signature car speaker models of the brand. This is a 2-way speaker consisting of a woofer and integrated tweeter. Such an arrangement lets the speaker handle both low and high frequencies.
The cone is made of polypropylene for better bass response. A rubber surround is used to deliver best performance and longevity. The tweeter comes in a soft silk material that provides refined highs.
Every product has its drawbacks, right? Well, this speaker has a low power-handling rating, which means it can't be pushed very loud.
Also, it does not have a universal design and if you have pre-cut holes in your vehicle then there is no guarantee that it will fit. You may need to perform some DIY tasks for the installation.

However, despite all this, this model remains one of the best 5.25 inches car speakers based on its price, build quality and reputation.
Read More: The Best 5.25-inch Car Speakers
Low power-handling ratings

---
2. JBL GTO629 Premium - Best 6.5-Inch Car Speakers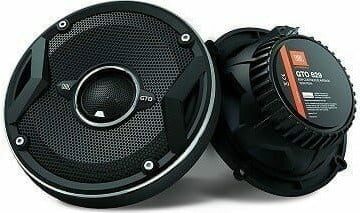 Car speakers manufactured by JBL boast top technology. JBL GTO629 car speaker is no different. This is a high-fidelity speaker that will take your driving experience to the next level.
This innovative speaker is built to cope with the difficult environment. A combination of titanium and Mylar materials used to build it provide maximum power handling with RMS rating of 180 watts. Distortion is reduced drastically resulting into increased efficiency.
Carbon-injected cones, one of the largest in their size category, create more air movement for increased bass. The speaker has a 350-degree UniPivot tweeter designed to direct the sound to your ears for a more realistic music experience.
A dual-lever volume adjustment comes in handy to compensate for incorrect speaker positioning. This means you get to adjust sound quality to match your taste. This low-impedance, 3 Ohms speaker minimizes resistance caused by undersized wires to make the most out of every watt.
High-quality crossovers give clean separation between frequencies. The separation creates cleaner and more efficient sound reproduction without wasting energy. This speaker comes in a set of 2.
JBL GTO629 comes with a minor drawback. It's a one-size-fits-all coaxial speaker meaning you have to first check the size of your installation area before purchasing one.
Also, it is a little bit pricey and for the sound quality that you get, the price could have been a little more competitive.
You must first check size of your installation area before purchasing

---
3. Pioneer TS-A6886R - Best 6x8-Inch Car Speakers
Among Pioneer's next generation TS-A series speakers, Pioneer TS-A6886R is a real catch. This speaker is equipped with performance-driven features that ensure it doesn't miss a beat.
This is a 4-way car speaker dedicated to ultra-high frequency reproduction. It has a higher power handling capacity with RMS rating of 60 watts. This gives excellent, distortion-free performance in high-powered stereo.
The speaker has a multi-layered mica matrix cone designed for wider sound dispersion and deeper bass. Apart from delivering rich sound, the multi-layered construction gives good water resistance while managing to stay lightweight.
An elastic polymer material is used as the surround material to provide more accurate response. The speaker has a built-in heat-resistant coil designed to withstand the high power input.
This car speaker is not without a drawback. You might experience some difficulties during installation, especially if you are a novice or newbie.
Can be a little difficult to replace

---
4. Pioneer TS-A6966R - Best 6x9-Inch Car Speakers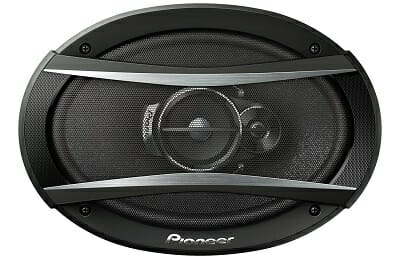 If you're looking for that good hitting bass and perfect mid-frequencies, you might want to consider this 3-way car speaker. Pioneer TS-A6966R is the biggest coaxial speaker in Pioneer's collection.
It cranks out 420 watts of maximum power and has a high power handling capacity rated at 60 watts for distortion-free music experience. This is a next generation speaker featuring a rigid multilayered mica matrix cone for deeper bass.
An elastic polymer surround keeps the weight of the speaker to a minimum. This coaxial speaker boasts a new spider design found in high-end luxurious speakers. This design provides a stiffer suspension for a more accurate response. A cooling power basket is integrated on this speaker for improved power handling capacity.
Pioneer TS-A6966R has a minor flaw. At 100 watts, its continuous power handling capacity is below average. Additionally, this model has efficiency problems and despite being relatively low powered, it consumes more power to deliver a less powerful sound.
Read More: The Best 6x9 Car Speakers

---
5. Rockford Fosgate Punch P1572 - Best 5x7-Inch Car Speakers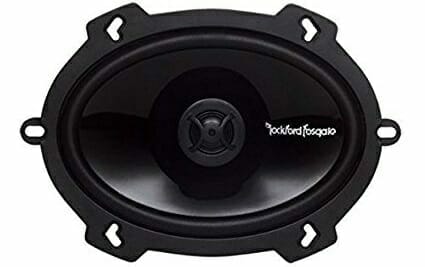 If you're more into audio, then you must have heard of Rockford Fosgate P1572. As the name implies, this is a powerful speaker with a big punch. This speaker is loaded with performance-oriented features to ensure it doesn't miss a single beat.
Long lasting durability and efficiency is one of the best things that this 5x7-inch car speaker has to offer. The dome tweeter and adapter plates are made of durable materials making this speaker a high-end replacement for factory-installed car speakers.
A butyl rubber construction used on the surround gives greater response. The rubber surround combines with a polypropylene injected dome to deliver great sound and bass quality. A flex fit basket integrated on this speaker lets you make slight adjustments when mounting on the car.
The problem with this speaker lies in the assembly. Lack of proper grilles makes mounting a tedious task.

---
6. Rockford Fosgate R165X3 Prime - Best Budget Car Speakers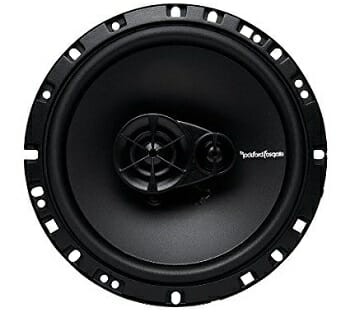 Talking about budget-friendly car speakers manufactured by Rockford Fosgate, R165X3 car speakers truly make the cut. The bass sound clarity and cost efficiency of this speaker makes it one of the best budget car speakers.
This speaker comes in a set of two pushing out 90 watts maximum power. It has a power handling capacity of 45 watts, which is a good replacement for conventional car speakers.
The cone is made of vacuum polypropylene to give accurate response. Combined with a silk dome tweeter, this speaker delivers refined highs for ultimate music experience.
A ceramic coating used on the tweeter helps mitigate bass effects. The package includes grilles and mounting hardware.
One drawback of this speaker is that it can be distorted at high volumes.

---
7. Alpine SPR-60C - Best Performing Car Speakers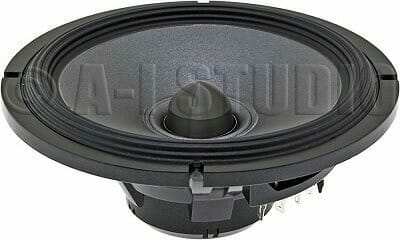 The power and clarity of Alpine speakers result into great satisfaction. Alpine SPR-60C is among the top coaxial car speakers manufactured by Alpine in terms of performance. This is a Type-R car speaker known for high-impact bass and a lightweight, solid built.
A great power handling capacity of 110 watts eliminates distortion, even at higher volumes. The result is a powerful bass kick and wider frequency response. The cone has a wave-guide technology that eliminates phase distortion.
A swivel tweeter allows easy aiming by hand for best staging and imaging at any listening position. This speaker has a powerful, compact magnet and a slim basket for space-saving installation. This compact design gives a perfect fit in a wider range of vehicles.
This coaxial speaker is not the most straightforward to install. Especially if your vehicle does not already have pre-cut holes to accommodate car speakers.

Car Speaker Brands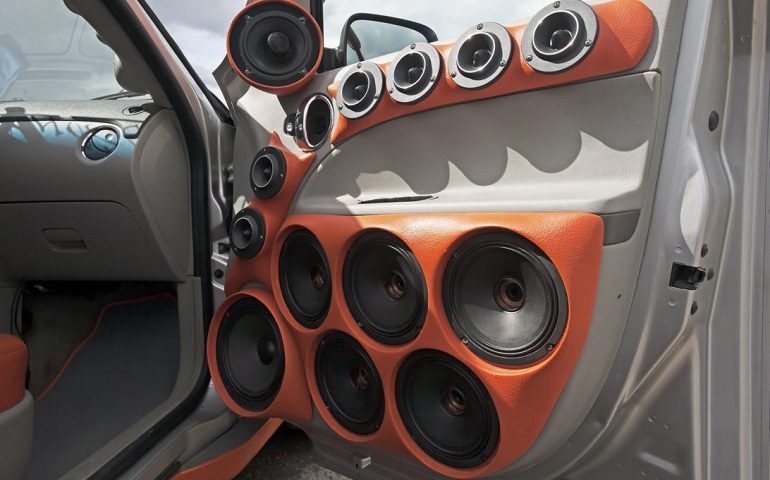 Thinking about new car speakers? Well, you've got a better chance with brand name car speakers compared to factory installed car speakers.
This is because car audio manufacturers make it their top priority to provide the newest and best audio technology.
Below are some of the best car speaker brands known for their consistent performance.
1. Polk Audio Car Speakers
Polk Audio manufactures one of the most stylish speakers on the market. These car speakers have impressive specs in terms of sound quality.
Most car speakers from this brand are rated over 92dB, which is a higher sensitivity rating compared to those of most brands.
Polk Audio car speakers are available in different series namely:
MM1 Series: Next generation car speakers that fit in any type of automobile you have. They have an ultra-durable construction to give a long lasting investment.
DB+ Subs Series: These are sophisticated, marine-tough car speakers designed to deliver rich bass. Apart from the thunderous output, they come in a space-saving design to fit any vehicle.
2. Pioneer Car Speakers
Let's face it, Pioneer is among the biggest audio companies right now. Driven by the slogan " Move the Heart and Touch the Soul " this brand has consistently delivered quality audio system for music lovers at affordable prices.
Pioneer car speakers are categorized into different series. These are:
A-series car speakers: Unique patented speakers known for their durability. They have a power aptitude rating that ranges from 15-80 watts.
D-series car speakers: These speakers are available in two different systems, coaxial and component system. D-speakers come in a broad range with power aptitude rating of 25-80 watts.
G-series car speakers: These are replacement speakers available in power aptitude rating of 20, 25, and 30 watts.
Z-series car speakers: These are car speakers with no compromise. They are crafted using advanced technology and carefully selected materials.
Pro-series car speakers: These are built with street enthusiasts in mind. They deliver some serious sound pressure level.
3. Alpine Car Speakers
This is one of the brands that come to mind when one thinks of premium brand automotive speakers. Alpine manufactures different types of car speakers. These are:
Type-R Speakers: These speakers are built to include 4 full-range speakers and 2 component speakers. They are known for their high-impact bass and a solid, lightweight built.
Type-E Speakers: Most economical combination in Alpine car speakers. These car speakers are available in 3 different sizes that can be adjusted to fit the available space in your car.
Type-S Speakers: These Alpine car speakers consist of 5 full-range speakers and one component speaker. They are equipped with soft tweeters that add more quality to the music. The S-series make perfect replacement for factory installed speakers.
Restyle Speaker Systems: Direct fit package ideal for trucks
X series: First speakers in Alpine's line of component speakers
4. JBL Car Speakers
JBL is a reputable American-based audio company. The brand manufactures premium car speakers for those that are ready to dish out some few extra bucks.

JBL dedicates itself to modern design and durable built, which makes it one of the best car speaker brands out there.
In fact, JBL car speakers have one of the highest power aptitude rating of 125 watts. These speakers are available in different series namely:
GTI Series Car Speakers: Speakers with high power absorbing capability and extensive range of listening competence. They are a great choice for the diehard music lovers.
Ground Touring Series: These are quality, easy to assemble car speakers available at an economical price.
Power Series: Great speakers for those the demand a more realistic music experience. These speakers come with high-bandwidth tweeters great for high-end systems.
GX Series Car Speakers: The GX series strive to deliver the best high and mid sounds that you can get from any JBL speakers.
Club Car Speakers: The club car speakers provide users with many choice. Indeed, this series comes in different shapes and sizes to suit everyone's musical taste.
Stage Car Speakers: As its name suggests, the stage series tries to deliver a concert-like musical experience in your car. It has superior bass and low frequency reproduction of any JBL series speakers.
5. Kicker Car Speakers
Car speaker production is something that has earned Kicker worldwide recognition. This brand is known to be the manufacturer of the first full frequency range speaker designed for cars and trucks. Kicker car speakers are divided into four different series:
QS Series Car Speakers: These are speakers with one of the finest sounds featuring 18dB crossover tweeter.
KS Series Car Speakers: These are heavy-duty car speakers known for their remarkable bass.
CS Series Car Speakers: Speakers with titanium tweeter designed to add a new dimension both in volume and clarity.
DS Car Speaker Series: Versatile speakers designed to fit almost any vehicle. Known for delivering vivid sound.
6. Kenwood Car Speakers
Kenwood is known for manufacturing updated personal entertainment audio systems. Sports series speaker is the signature model for this brand.

This speaker is specially designed as a replacement for the beat-down factory installed speakers. Kenwood car speakers are available within every budget limit.
7. Boston Acoustic Car Speakers
This brand combines performance and elegance to create car speakers that deliver clear authentic sound. Boston Acoustic specialize more in the manufacture of full-range car speakers.
Common Car Speaker Sizes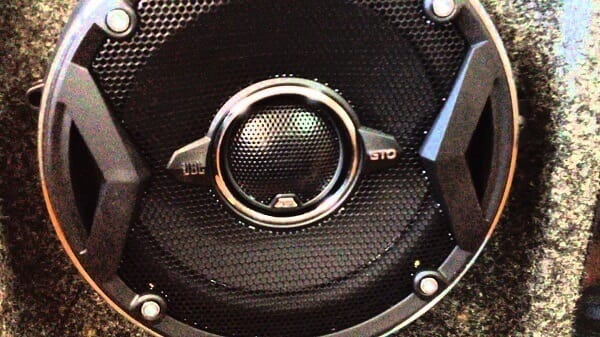 Car speaker size is one of the most important consideration when shopping for the best car speakers. You definitely don't want to buy a speaker that will end up not fitting in the available space of your car.
Generally speaking, the size of speaker you choose for your car greatly determines the sound frequency you get. The good news is that there is always a speaker size to match your personal preference and sound system.
Below we look at common car speaker sizes to give you a better understanding of the sizes available and what they're designed for.
1. 5.25-Inch Car Speakers
This is the most popular speaker size. The versatile size and design of this speaker provide a perfect fit in ports of different cars. This speaker size gives clean and clear highs, a feature that makes it a good choice for playing a wide range of sounds.
One drawback of 5.25-inch car speakers is the poor low sounds and lack of bass.
2. 6.5-Inch Car Speakers
Of all the spear sizes, 6.5-inch speakers are the most commonly available. This speaker is the most versatile in terms of sound range and fit almost all car models.
Like the 5.25-inch car speaker, this speaker size is not good for low sounds.
3. 6x8-Inch Car Speakers
This speaker size is known for its sharp crisp sound. It delivers great high and mid-range sounds. 6x8-inch is also common for car speakers.
The drawback of this speaker size is that it might require port modification to get a perfect fit. Furthermore, it tends to consume a little more power, which might not work well for car owners who want to conserve energy.
4. 6x9-Inch Car Speakers
Those looking to crank up the bass will do great with this speaker size. The rich bass makes it a great alternative to woofers. It is versatile enough to fit a number of car ports.
The drawbacks of this speaker size is that it's a bit larger for some cars and consumes more power.
Component vs. Coaxial Car Speaker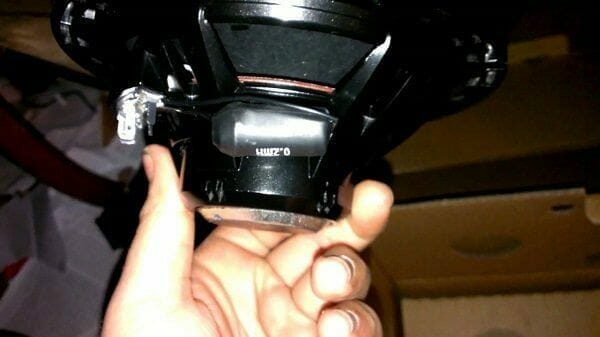 You may have noticed that most car speaker brands offer both coaxial and component versions of the same model. The choice between component and coaxial speakers has always been a great debate.
We are here to outline the similarities, differences, and most importantly, the pros and cons. This will help you make a better purchase decision.
1. Component Car Speaker
Component speakers, also known as separates are designed to give optimal sound quality.
Just as the name implies, a typical component speaker system consists of two woofers, two tweeters, and two crossovers. Though mounted separately, all units work in harmony.
High-end component speakers come with extras, which include mid-range drivers. Such a combination results to better overall sound quality. Further enhancements can be done by including sub-woofers and super tweeters.
2. Coaxial Car Speaker
These are the most common type of speakers pre-installed in cars. Also known as full-range speakers, coaxial car speakers comprise of a tweeter mounted onto a woofer cone. This space-saving design provides a perfect fit, especially in cars with limited installation space.
Coaxial car speakers are available in various configurations based on the number of drivers. These include:
2-Way Coaxial Car Speakers: The most common type comprising of a woofer and a tweeter
3-Way Coaxial Car Speakers: Also known as tri-axial speakers, this type of coaxial speaker comprises of a woofer, tweeter, and a mid-range driver.
4-Way Coaxial Car Speakers: Comprises of a woofer, tweeter, mid-range, and an extra driver known as a super-tweeter.
Read More: 2-way vs. 3-way Car Speaker
As you can see, the choice between coaxial and component car speakers is quite a difficult one.
Component speakers are the better choice in terms of sound quality. On the other hand, coaxial speakers give the convenience of easy installation and cost less.
To settle the debate, coaxial speakers make a good choice if you are tight on budget and have limited car space.
However, if you desire great sound quality and are willing to shell out some extra bucks, the component speakers are the better choice.
How to Buy the Best Car Speaker
Careful consideration should be made to enable you choose good car speakers. Talking about considerations, there are several factors you need to take into account.
These include price, car speaker size, sensitivity, power handling, and build quality. Let's look into detail at each factor and why they matter a lot.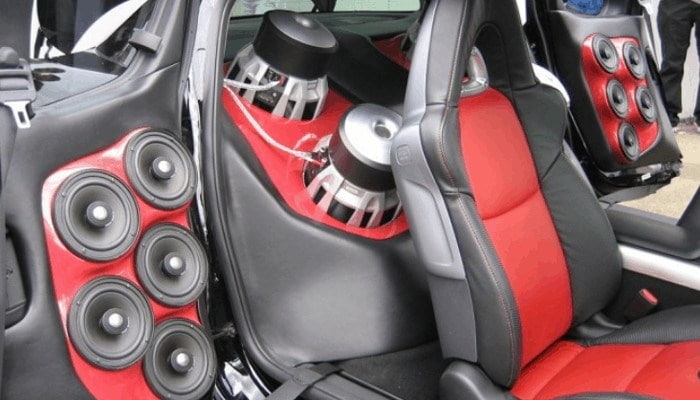 1. Size and Configuration
Prior to purchasing a new set of car speakers, you need to take time and examine the size of the speakers you already have in your car. If possible remove and measure them or take to the stores to help find a perfect replacement.
Alternatively, you can provide the make and model of your car to determine the size and configuration of the existing unit. Getting the right size will make the installation task trouble-free.
2. Power Handling
Power handling determines the amount of power you can pump through your car speaker. Higher power handling allows you to get the most out of your speaker without distortion.
Power handling is measured in root-mean-square or RMS. Alternatively, you can take full advantage of a speaker's RMS rating by installing a head unit or external amplifier.
3. Sensitivity
Sensitivity measures the amount of power a speaker requires to yield a given volume level. Generally, a speaker with a higher sensitivity requires less power.
If you have a low-powered stereo, say 15 watts or les per channel, then you need a replacement speaker with a high sensitivity rating of at least 90 dB.
On the other hand, high-power factory-installed speakers with at least 16 watts per channel will require speakers with low sensitivity ratings.
4. Build Quality
The material design used in a car speaker greatly determines durability and sound quality. High-quality materials will make your investment last longer. Some of the materials to look out for in a car speaker are:
Rubber - a long lasting material used on the surrounds for great sound quality.
Foam and Cloth - used on the surrounds though less durable and cost less compared to rubber.
Polypropylene with Mica/Metal-Coated Synthetic Fabrics - these are stiff, lightweight woofer materials designed to give great bass response.
Polyblend / Silk / Ceramic - these are preferred materials for tweeters
5. Price
Everyone wants to work within a certain budget. So among other things, you have to put price into consideration. In this case, you might want to consider the best budget car speakers available on the market.
Car speakers loaded with some extra features are a great purchase. For instance, you can get those with swiveling or pivoting tweeters. Such tweeters make it possible to direct sound where you need it most.
There are also detachable tweeters you can remove and use in a different vehicle. External crossovers are a good idea if you are looking for a cleaner and more efficient sound reproduction.
How to Set Up a Car Speaker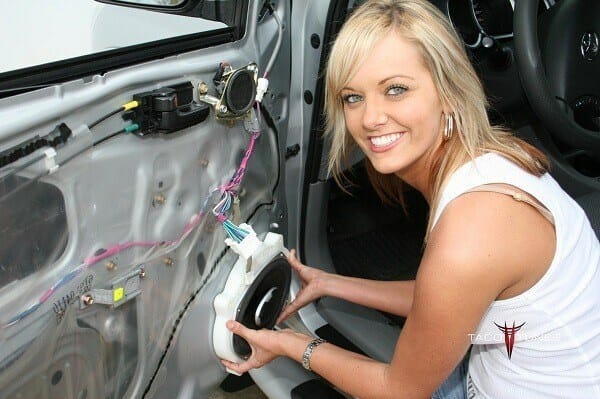 A car speaker is not something you just plug in and call it a day. There are some installation procedures you need to follow. Let's walk you through all the steps.
Step 1. Check dimension of existing speakers - this will ensure that the new speakers fit with minimum or no modification.
Step 2. Check electronic characteristics of speakers - this will let you know the type of wiring needed.
Step 3. Disconnect car battery - by disconnecting the battery you prevent electrical damage and risk of injuries.
Step 4. Take off any panels or speaker grilles - this gives easy access to the factory-installed speakers.
Step 5. Connect to car's electrical system - after removing the old speakers, plug the new speakers into the car's electrical system.
Step 7. Test the connections and if good secure the new speakers in place.
Conclusion
We hope this article has helped you a lot in finding the best car speakers. As you might have realized, we have provided you with a variety of options, so your purchase decision is not limited to just one type of car speaker.