If your car's factory-fitted radio or sound system constantly misses the mark in music performance, then you can enhance it further with one or more 6x8 speakers.
These speaker systems are highly popular for their compactness and ease of installation, in addition to their boosting of existing sound systems.
Sound sharpness and richness are some benefits introduced by these speaker systems. They also offer better dynamic sound and control over it.
In our 6x8 car speakers review, you can explore the leading models and their features, then choose the system that works best for your car.
Top 6x8 Car Speakers of 2021 by Editors' Picks
Summary of 7 Best 6x8 Car Speakers
IMAGE
PRODUCT
FEATURES

Rockford R168X2

1. Rockford R168X2 (Best Overall)

Strong polypropylene cone
The powerful silk dome tweeter
Stamped steel bracket

Pyle PL683BL

2. Pyle PL683BL (Best 3-Way)

Powerful & loud at 180W RMS
Strong magnet & cone structure
Premium ASV voice coil

Rockford Fosgate P1683

3. Rockford Fosgate P1683 (Best for the Money)

VSAT surround technology
Flex Fit basket for flexible installation
Premium surround & cone

Alpine SPR-68

4. Alpine SPR-68 (Most Powerful)

High-performance power handling
Bass-boosting multi-later woofers
Specially-ridged subwoofer surround

Pioneer TS-A6880F

5. Pioneer TS-A6880F (Best 4-Way)

Dynamic high-impact bass
Open & Smooth sound transitions
Easy OE-driven installation

Kenwood KFC/D681C

6. Kenwood KFC/D681C (With Excellent Distortion Reduction)

Distortion-reducing array cone
Wider sound field production
Acoustic sound harmonizer

Infinity Reference 8632CFX

7. Infinity Reference 8632CFX (Loudest Sounding)

Loudness-boosting textile tweeter
Oversized cone for higher bass
Durable hi-roll rubber surround
1. Best Overall: Rockford R168X2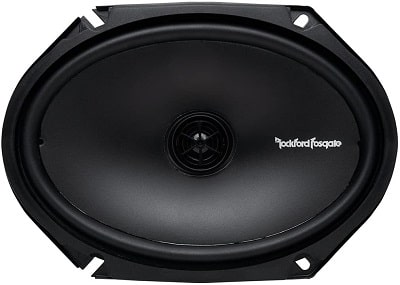 Power Handling: 110W (Peak), 55W (RMS)
Sensitivity: 87 dB
Frequency Range: 51Hz - 20kHz
Rockford R168X2, our best overall 6x8 car speaker features a premium construction, strong plastic cone, and high-performance tweeter to produce a rich and high-quality music experience.
They are the perfect speakers for replacing the factory-installed ones that your car came with. Featuring a high-quality polypropylene cone, the sound they produce is distortion-free, even at high volume.
The speakers' surround is made of rubber and excels flawlessly at absorbing all the vibrations produced at high 55W RMS output power. Every component is held together firmly by a stamped steel basket, which adds to the unit's durability.
There's also a silk dome flush mounted tweeter and integrated tweeter crossover to deliver high-frequency sounds in the 51Hz - 20kHz range, more accurately, and support an all-inclusive audio output.
Because the speakers are offered as a kit, all the required mounting hardware has been included to facilitate hassle-free installation.
Something the Rockford R168X2 misses out on is a speaker grille. Bass output is not extraordinary, but it doesn't disappoint either.

---
2. Best 3-Way: Pyle PL683BL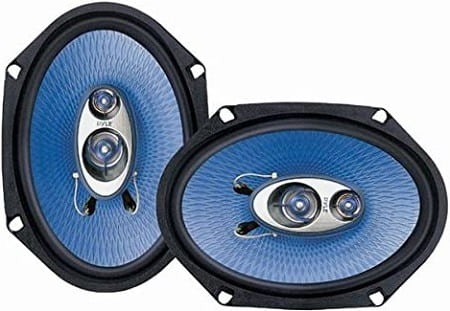 Power Handling: 360W (Peak), 180W (RMS)
Sensitivity: 91 dB
Frequency Range: 70Hz - 20Khz
Being a 3-way system, the Pyle PL683BL speaker can hit high loudness levels while still producing clear and high-quality audio in your vehicle.
The key highlight of this 3-way system is a high sound-boosting 91 dB sensitivity, and a 40-oz magnet structure to handle the enhanced 180W RMS power coming in through the 4-Ohm voice coil.
Speaking of the voice coil, it is a 1-inch ASV type, built to withstand high temperatures, maintain enhanced performance, and boost operating efficiency. They give you extended and intensive play time even when operating temperatures increase.
With an impedance of 4 Ohm, the speaker can compensate for the undersized wire that's common in many default car units today. There's the blue-poly injection cone that is not only aesthetically appealing but also a booster of music clarity.
If you're looking for punchy bass at high volume, the Pyle PL683BL speakers may not meet these expectations fully. Also, the blue cone color may not appeal to all users.

---
3. Best for the Money: Rockford Fosgate P1683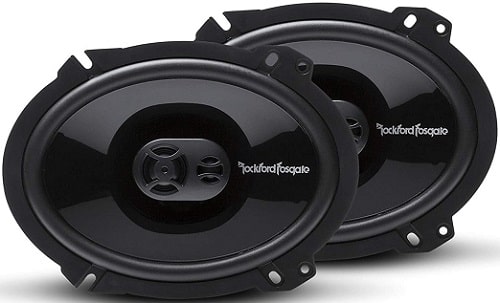 Power Handling: 130W (Peak), 65W (RMS)
Sensitivity: 90 dB
Frequency Range: 65Hz - 24kHz
The Rockford Fosgate P1683 car speaker set gives you the exact performance you pay for, through advanced technologies such as the VAST-based design and premium cone.
The speakers' VAST design expands the cones' effective radiating area by up to 25%, boosting sound quality and music enjoy ability. Its tweeter also implements an integrated concealed crossover, which hides this component inside the basket to achieve a much cleaner look.
If you're trying to fit the speakers in odd-shaped slots, this process is aided by the units' Flex Fit basket, which allows for custom fitting.
You'll also note that frequency reproduction is consistent and accurate, thanks to butyl midrange rubber surround and polypropylene injection-molded cone.
You may, however, need an amplifier to maximize the power and sound quality that the Rockford Fosgate P1683 speakers offer.Speaker grilles are also not included with this set.

---
4. Most Powerful: Alpine SPR-68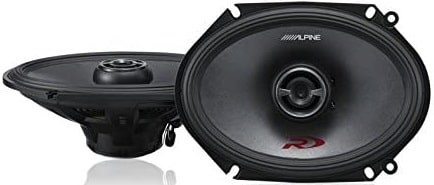 Power Handling: 600W (Peak), 200W (RMS)
Sensitivity: 89 dB
Frequency Range: 63Hz - 29kHZ
Even at high volume, the powerful Alpine SPR-68 car speaker set will deliver exceptional performance because of its size, strength, and versatility.
If you desire punchy bass combined with high volume, in your car, this is the pair of speakers to get. The two have a total peak power of 600W and RMS of 200W, making this set the most powerful on our list.
Some components boosting these speakers' premium bass response include the multi-layer hybrid fiber woofers fitted in them. The implementation of small neodymium magnets makes the speakers compact, and support fitting into smaller frames.
They also implement ridged surround, which was initially developed for subwoofers. When added to these speakers, they can produce extended cone movement for increased air displacement.
You may need a separate onboard amp to complement the power of the Alpine SPR-68 speakers. The set's price may also prove high and out of reach if you're on a budget.

---
5. Best 4-Way: Pioneer TS-A6880F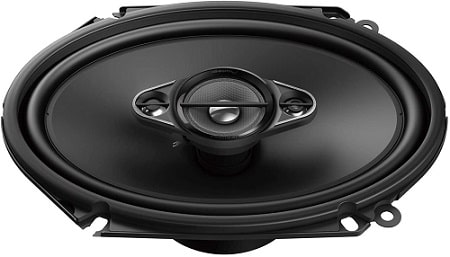 Power Handling: 350W (Peak), 80W (RMS)
Sensitivity: 88 dB
Frequency Range: 34Hz - 34kHz
The 4-way system on which Pioneer TS-A6880F is built helps the speaker produce smooth audio, a uniform frequency response, and punchy bass.
Underlying the 80W system is Pioneer's Open and Smooth™ sound concept, which seeks to deliver seamless transitions across midrange and tweeter drivers. The outcome is a uniform off-axis frequency response.
This speaker also implements Pioneer's A-series sound design, which is capable of matching subwoofer loudspeaker performance thanks to optimized 88 dB sensitivity and a wide 34Hz - 34kHz frequency range working in harmony.
You'll also find the installation of this speaker quite easy because it comes with original equipment (OE) custom-fir installation adapters that help fit the unit in locations that will improve audio performance.
Unlike many of the 6x8 speaker models we've reviewed, which come in pairs, the Pioneer TS-A6880F is a single unit. Some may find this limiting and consider 2-unit models.

---
6. with Excellent Distortion Reduction: Kenwood KFC/D681C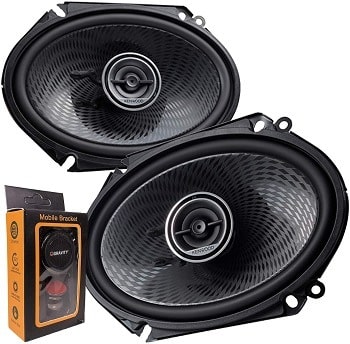 Power Handling: 360W (Peak), 81W (RMS)
Sensitivity: 88 dB
Frequency Range: 58Hz -24kHz
The unique woofer cone design of Kenwood KFC/D681C boosts the speaker's distortion reduction capacity, enhancing sound accuracy and smoothness.
It features a premium diamond array pattern woofer cone that reduces distortion while enhancing sound output.
This speaker implements a unique tweeter shape that generates both a powerful frontward sound and a wider sound field in high frequencies, starting from 5kHZ and above.
You also get an acoustic sound harmonizer from this speaker. The feature supports the production of a smooth and mature sound through the efficient control of woofer sound waves. This harmonizer is built to allow only certain frequencies to escape through the tweeter panel holes.
Another thing you'll notice is the low twitter height design. This will allow easy fitting of this speaker in many factory-defined slots.
Even with excellent distortion reduction, the Kenwood KFC/D681C speaker is not huge on bass. It also misses out on a speaker grill.

---
7. Loudest Sounding: Infinity Reference 8632CFX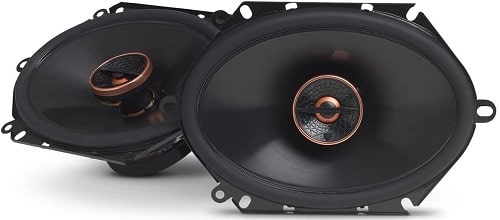 Power Handling: 180W (Peak), 60W (RMS)
Sensitivity: 93 dB
Frequency Range: 49Hz - 21kHz
Optimized tweeters combine flawlessly with high sensitivity to make the Infinity Reference 8632CFX speaker very loud, smooth, and clear.
This speaker is fitted with an edge-driven textile tweeter, which helps enhance sound smoothness, and produces clear highs, of course, while being aided by a high 93 dB sensitivity. It can get amazingly loud without sound distortion.
If you're concerned that the loudness will suppress bass, the speaker addresses this issue by implementing an oversized Plus One+ woofer cone, which provides a high surface area for elevated bass output and enhanced mid-range performance.
There's the durable hi-roll rubber surround, which ensures long-lasting reliability for as long as the speaker's performance is needed. The cone is also oversize to allow extra air movement.
Even though the Infinity Reference 8632CFX speaker works great with a default or aftermarket stereo, getting more power from the system. You also don't get any grilles with the speaker.

How to Buy the Best 6x8 Car Speaker
1. Power Handling
Power handling impacts the performance of your car's 6x8 speakers significantly. It determines sound quality and consistency across different playback durations.
Your speaker(s) will come with two power handling ratings: peak (or max) power and RMS power. The former tends to be higher than the latter, even though RMS is what you should focus on when choosing a speaker.
The higher the RMS, the more power your speaker will handle over long durations, which is what you want from a speaker. Alpine SPR-68 one such speaker pair with a combined RMS output of 200W, which translates to loudness, bass, and performance resilience.
2. Build Quality
Build quality affects speaker resilience across different operating conditions. You want 6x8 car speakers that will last a long time even when constantly pushed to their limits.
Speakers' construction materials have a significant bearing on build quality. The basket, for instance, is responsible for holding everything together. Thus, if it is made of steel or strong plastic, there's a high chance the speaker will last long.
Cone materials also count. Most durable cones are made using strong polypropylene, which is a plastic well known for its dexterity. The JBL Club 8620 takes build quality a notch higher by implementing a UV-resistant cone that reliably withstands high car temperatures and humidity.
3. Sensitivity
Speaker sensitivity determines how loud the unit can get per given input power. It is measured in decibels (dB). High-sensitivity speakers can get quite loud.
An ideal sensitivity for 6x8 car speakers should not go below 85 dB, especially if loudness is a priority for you.
Many of the best-performing speakers in this class have a sensitivity of 90 dB or above. These can reach peak loudness without requiring high amplifier power, which is demanded by lower-sensitivity models requiring to achieve the same loudness.
It's worth noting, however, that sensitivity does not act in isolation to determine sound quality. Other factors such as impedance and frequency range count as much if not more.
4. Aesthetics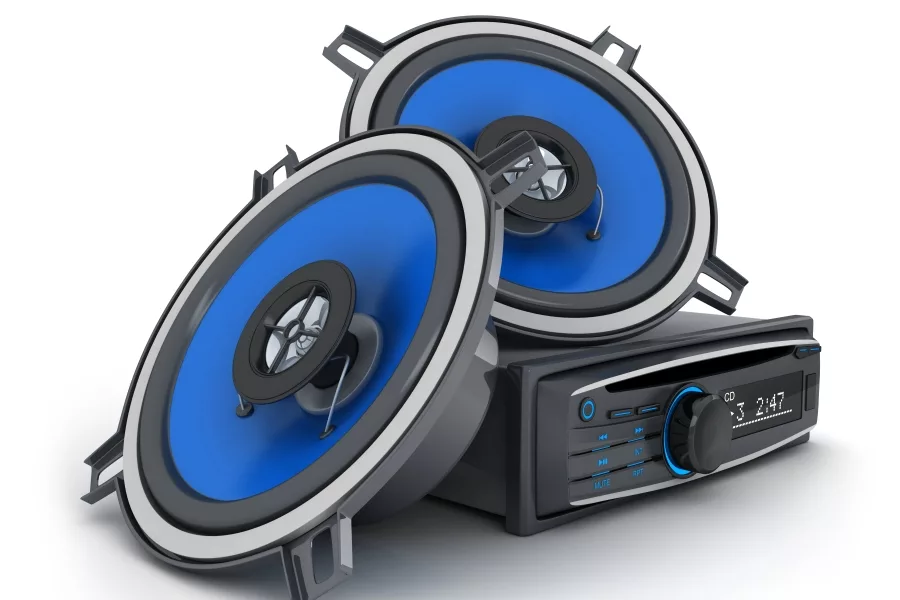 It may prove counterproductive to acquire a speaker that improves your car's sound performance, but sacrifices aesthetics.
Since the speakers you install will sit in locations that may be in your line of sight, it pays to get units that look nice and fit perfectly.
Speaker colors, cone designs, and grilles all impact the general appearance of these units. Since most of the current models don't come with grilles, you can buy these additional components separately.
Lastly, when choosing speakers, ensure they can fit in the desired slots/locations so that they don't leave conspicuous spaces unpleasant spaces.
Conclusion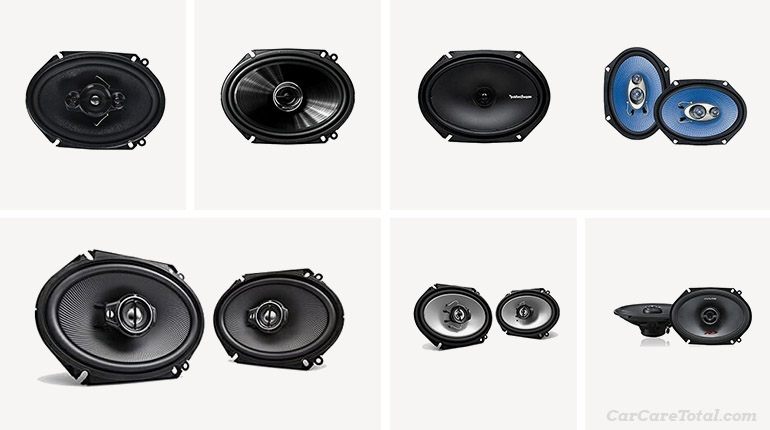 Undoubtedly, 6x8 speakers are great upgrades to your factory-installed music system, especially if it doesn't reach your desired performance.
If you're looking for the best-performing 6x8 car speaker choose our top pick, the Rockford R168X2. It is a durable set that produces distortion-free sound and premium bass.
If you want premium value for your money, the Rockford Fosgate P1683 speaker set features a VSAT design that enhances sound quality with excellent frequency reproduction.
And if you're an audiophile, the Alpine SPR-68 car speaker set packs a punch with its superior power handling.