When it comes to giving your vehicle's sound system an upgrade, the 6x9 is one of the best aftermarket speaker options. The size allows it to fit most cars without modifications and is powerful enough to deliver excellent sound quality.
With the best 6x9 car speaker, you get other advantages such as wide frequency response to ensure all the notes across the frequency spectrum are captured. These speakers provide a high sensitivity of at least 89 dB and are easy to set up thanks to their simple and compact construction.
If you are looking forward to enjoying the superior quality sound of a 6x9 speaker, here we help you pick a great model with a review for recommendations and a handy buying guide.
Editors' Picks for Top 69 Car Speakers of 2021
Summary of 7 Best 6x9 Car Speakers
IMAGE
PRODUCT
FEATURES

JBL 9603

1. JBL 9603 (Best Overall)

Injection-molded polypropylene cone
Balanced dome tweeter
Piezoelectric super tweeter

Boss CH6930

2. Boss CH6930 (Best Inexpensive)

Highly affordable
Full-range 3-way speaker
Poly injection cone & rubber surround
High-temperature voice coils

Rockford Fosgate R169X3

3. Rockford Fosgate R169X3 (Best 3-Way)

Full-range to capture all frequencies
Integrated high-pass crossovers
Durable materials & construction

Kenwood KFC-6965S

4. Kenwood KFC-6965S (Best Brand)

Highly efficient top brand speakers
Durable polypropylene woofer
2" PEI cone tweeter & 1/2" ceramic supertweeter

Rockford Fosgate R169X2

5. Rockford Fosgate R169X2 (Best 2-Way)

Great-sounding 2-way coaxial speaker
Integrated high-pass crossovers
Stamped steel basket

Kicker 43DSC69304

6. Kicker 43DSC69304 (Zero-Protrusion)

Zero tweeter protrusion
Ribbed & UV-treated foam surrounds
High-sensitivity DS motor

Alpine SPE-6090

7. Alpine SPE-6090 (Loudest)

Super-loud with 600-watt total peak power
Pearl mica-injected polypropylene cone
Soft dome tweeter
1. Best Overall: JBL 9603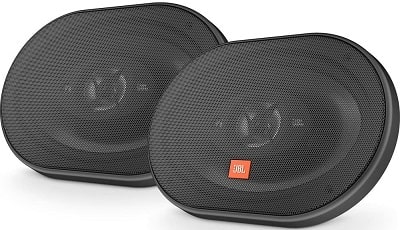 Peak Power: 420 watts
RMS Power: 140 watts
Impedance: 4 ohms
Sensitivity: 92 dB at 1w/1m
Frequency Range: 45 Hz to 20 kHz
JBL 9603 takes our top overall spot as it offers an exceptional sound quality. The speaker has a high-quality cone and comes in a 3-way design that delivers an excellent output with lows, mids, and highs.
The construction includes an injection-molded polypropylene woofer cone that is guaranteed to provide a long service life and superior performance as it can hold up well against anything the 420-watt peak speaker throws its way.
The 6x9 speaker comes as a pair to give you better value for cash. Also, it has a 92 dB sensitivity, which is high enough for optimal clarity.
For the tweeters, you get a balanced dome tweeter that gives you smooth highs and the piezoelectric super-tweeter that enhances sound detail. When you buy the speakers, you get grilles, which are quite convenient and cost-saving.
Given that the lowest frequency is 45 Hz, these speakers might not be the best for bass as they will not pick up the very low frequencies, but they are unbeatable for mids and highs.

---
2. Best Inexpensive: Boss CH6930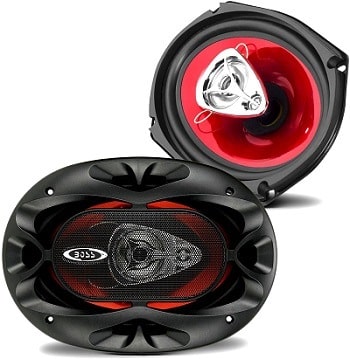 Peak Power: 400 watts
RMS Power: 200 watts
Impedance: 4 ohms
Sensitivity: 92 dB at 1w/1m
Frequency Range: 50 Hz to 20 kHz
The small price tag of the Boss CH6930 is one of the key reasons it has a spot on our list of the best 6x9 car speakers. It is hard for a pair of top-quality speakers to get more affordable than this. Therefore, it is a great choice for motorists who want to spend the least amount of cash.
These speakers provide a combined peak power of 400 watts that is excellent for their price. Also, they have a sensitivity rate of 92 dB and are made from durable, resilient materials that include a rubber surround and poly injected cone.
With these speakers, you get a stamped basket that provides a rigid and robust platform to ensure you always get clear music output. Because they are full-range 3-way speakers, they have dedicated drivers for highs, lows, and mids. What's more, they use some high-temperature voice coils to ensure longer playtimes.
The 50 Hz to 20 kHz frequency range is the smallest on our list, but besides missing the very low-frequency bass output, it still captures most others. The mount holes should not be a problem as you can easily enlarge what you have on your car.

---
3. Best 3-Way: Rockford Fosgate R169X3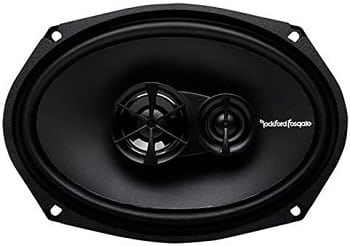 Peak Power: 130 watts
RMS Power: 65 watts
Impedance: 4 ohms
Sensitivity: 90 dB at 1w/1m
Frequency Range: 47 Hz to 20 kHz
For those that prefer the 3-way speakers, the Rockford Fosgate R169X3 is a perfect choice. This full-range speaker includes polypropylene woofer cones, silk dome Piezo tweeter, and midrange to ensure that it captures the highs, lows, and mids.
Besides being a full-range 3-way speaker, it is well-built with some high-quality components and materials to ensure maximum durability. They include a stamped steel basket that provides a more rigid platform and a durable rubber surround.
Managing the different frequencies is made easier by the inclusion of an integrated tweeter crossover. Apart from the crossover, you also get the mounting hardware and grilles to ensure you have everything you need.
The 130-watt peak power handling is relatively lower than others on our list, but the good news is that it is still better than many stock speakers. Therefore these speakers are a nice upgrade.

---
4. Best Brand: Kenwood KFC-6965S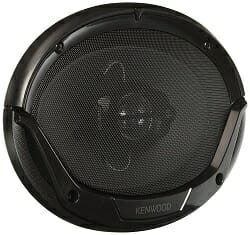 Peak Power: 400 watts
RMS Power: 45 watts
Impedance: 4 ohms
Sensitivity: 92 dB at 1w/1m
Frequency Range: 30 Hz to 22 kHz
Kenwood is a global industry leader for the manufacture of speakers, and the brand is always one of the top options for most motorists. Hence, if you want to give your sound system an upgrade with a 6x9 speaker from a top brand, the Kenwood KFC-6965S is perfect.
These top brand speakers are 3-way to ensure you get lows and highs in dedicated drivers. And with a wide frequency range of 30 Hz to 22 kHz, the speakers hardly miss any notes. Better still, with the 2-inch PEI cone tweeter and a 1/2-inch ceramic supertweeter, you can be sure of the smoothest transition from lows to highs.
When you buy this pair of speakers, you also get grilles for a custom installation, and the package includes the mounting hardware you need.
Although the directions seem a little unclear in some sections, the installation and use should be a breeze once you understand them. Despite the magnet being smaller than expected, these speakers still sound amazing.

---
5. Best 2-Way: Rockford Fosgate R169X2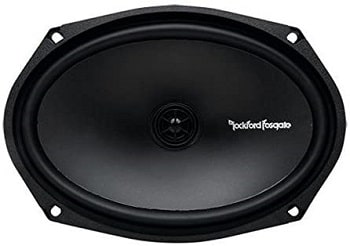 Peak Power: 130 watts
RMS Power: 65 watts
Impedance: 4 ohms
Sensitivity: 90 dB at 1w/1m
Frequency Range: 48 Hz to 20 kHz
The Rockford Fosgate R169X2 is a fantastic 2-way 6x9 car speaker that will be perfect for any motorist who prefers to run a coaxial set up as it sounds way much better for such systems than the 3-ways.
Another element that makes this an excellent choice for those looking for a great sounding 6x9 car speaker is the built-in tweeter crossover that ensures the frequency is split perfectly between the two drivers.
The drivers include a vacuum polypropylene woofer cone and a silk dome flush mounted tweeter for the highs and lows. There is also a durable rubber surround on the speakers and a stamped steel basket. Better still, the speakers come with the grilles and mounting hardware.
The 130-watt output is the main drawback for this model, given it is one of the lowest on our 6x9 car speaker review, but you will be amazed at the sound quality you get. Bass is also lacking given the frequency response. However, you should be okay with a decent amplifier.

---
6. Zero-Protrusion: Kicker 43DSC69304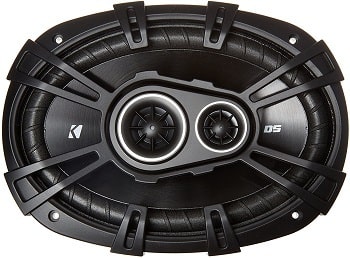 Peak Power: 360 watts
RMS Power: 90 watts
Impedance: 4 ohms
Sensitivity: 92 dB at 1w/1m
Frequency Range: 30 Hz to 20 kHz
The top-rated Kicker 43DSC69304 has a slimmer profile that ensures it will never stick out too much or look out of place in any vehicle. Better still, it has a zero to minimal tweeter protrusion to ensure that you get crisp and clean music without having to cover your grilles.
These coaxial speakers fit most vehicle doors, and they are made to withstand a lot of abuse. They include stiff polypropylene cones and with ribbed and UV-treated foam surround that also offers more flexibility.
Installing these speakers is a breeze as you only need to drop them in the factory speaker compartment with no drilling required.
When it comes to the actual performance, they can handle a peak power of 360 watts, provide a sensitivity of 92 dB and 30 Hz to 20 kHz frequency range, all of which are good enough. With the high-sensitivity DS motor, you get increased volume when using both an amplifier and the factor head unit.
These speakers do not provide a lot of bass at the high volume settings, but this is an easy issue to fix by pairing them with an amplifier.

---
7. Loudest 6x9 Car Speaker: Alpine SPE-6090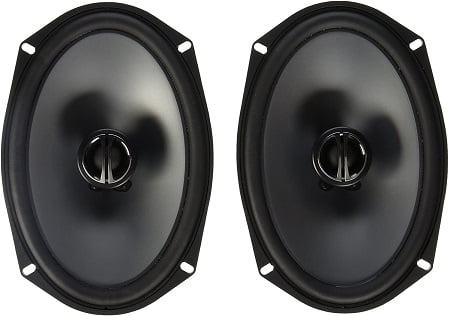 Peak Power: 600 watts
RMS Power: 150 watts
Impedance: 4 ohms
Sensitivity: 91 dB at 1w/1m
Frequency Range: 65 Hz to 18 kHz
With a combined power output of 600 watts, the Alpine SPE-6090 is one of the loudest 6x9 car speakers on our list, and if you love cranking up the volume, this model will impress you.
The sound output is loud enough and of excellent quality as the speakers use a mica-injected polypropylene woofer cone to give the music a nice oomph. And with the soft dome tweeter, you never have to worry about harsh highs.
These speakers come with grilles to ensure they have a sleeker look and allow for more customization during installation.
The 65 Hz to 18 kHz is not the best as it is quite narrow compared to what others on our list offer, meaning you can miss out on some notes. But, given the high-quality sound output, this is hardly noticeable. Also, the mounting hardware still works well despite the inferior quality.

How to Buy the Best 6x9 Car Speakers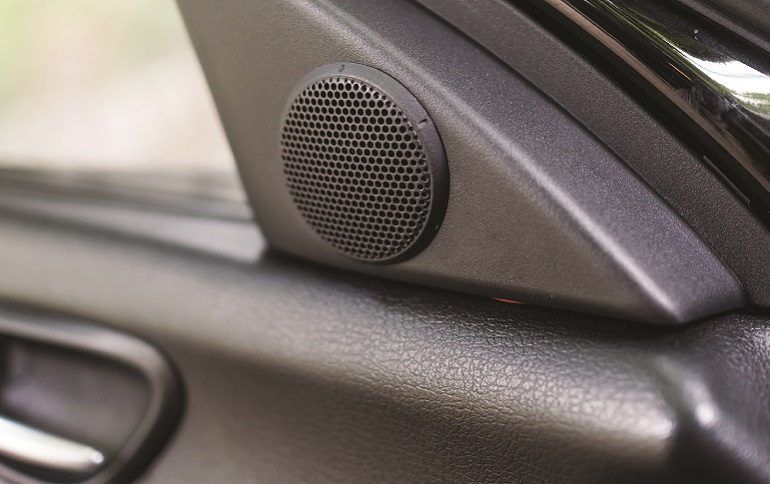 1. Sound Quality
The sound quality should be one of the most crucial and perhaps the first factor to consider when choosing 6x9 speakers. Keep in mind that the main reason for buying these speakers is to give your sound system an upgrade.
When it comes to the sound quality, you need to make sure the speaker you get provides enough clarity as this is what ensures you get to enjoy your music.
It is important to note that the sound quality you get is not always apparent before you try out the speakers. However, other things like construction, sensitivity, and power handling should give you a clear idea of what to expect.
2. Power Handling
Power handling determines how much power the speaker can take with no distortion or damage. The rating is usually in watts, and here you need to consider both the peak and RMS power handling.
For the peak power, good 6x9 car speakers have a rating of between 100 and 1,000 watts, depending on the model and brand. However, something with a 600-watt rating like the Alpine SPE-6090 is often perfect as it strikes the right balance between price and power.
The RMS or nominal power, which is the speaker's actual operating power, can be as low as 45 watts, and for most of these speakers, it hardly goes beyond 300 watts.
It is also essential to make sure your sound system's head unit can handle the speaker's power because if it cannot, you need an external amplifier or have to upgrade the head unit.
3. Construction
The speaker's overall construction determines both performance and durability and is hence a crucial factor to take into account.
It is vital to ensure all speaker components from the cones to the surround and tweeters use high-quality materials for long service life. The speaker basket and coils should also be made from sturdy materials that can withstand abuse and vibrations.
4. Impedance
A speaker's impedance is the effective resistance to the flow of electric current, and it determines how much power you will need to run through the speaker. The higher the impedance, the more power you need to run the speakers.
Most 6x9 speakers have 4-ohm impedance, but you can get a few models rated 2 or 3 ohms. However, it is vital to make sure that the impedance matches your head unit's rating to ensure optimal performance.
5. Sensitivity
The sensitivity rating measures how loud a speaker will be to cancel out external sound and enhance the clarity of what you are listening to in the vehicle.
When shopping for 6x9 speakers and most other types, any model with a sensitivity of at least 87 dB at 1w/1m is often preferable. Something that delivers an even higher sensitivity than this, like the 93 dB at 1w/1m that you get with the Polk Audio DB692, is even better.
6. Frequency Range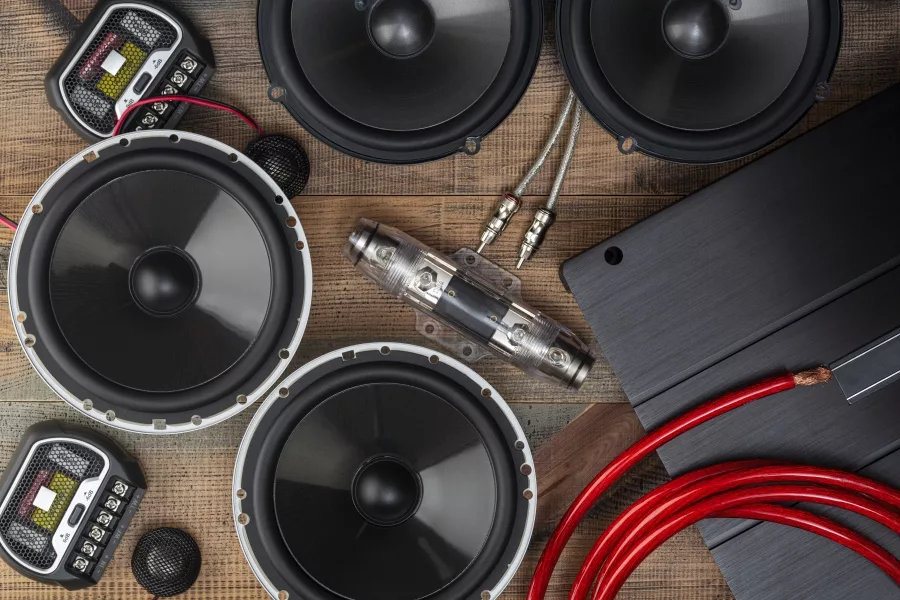 Frequency response measures the range of highs and lows that the speaker's drivers, which are often a woofer and tweeter, can produce.
6x9 speakers that can capture most sound notes across the frequency spectrum are always the best. Most models have a frequency response of anything between 30 Hz and 25 kHz.
The lower the range can go, the better, as you can enjoy more of the subsonic frequencies like shallow bass notes.
Conclusion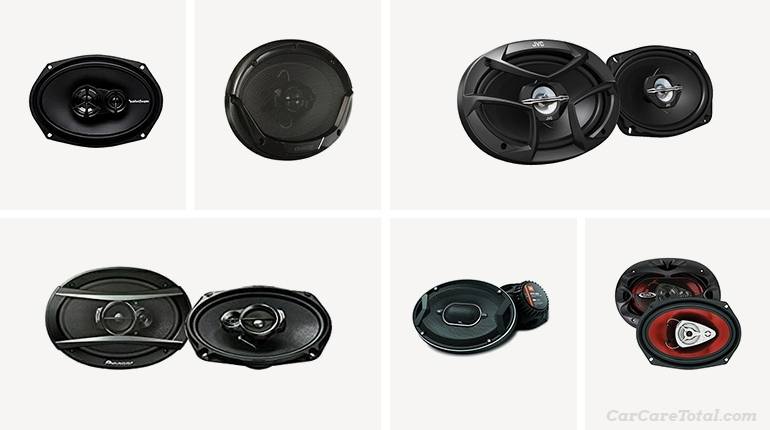 With the 6x9 car speakers, you get a powerful and space-saving product for upgrading your car sound system. These speakers provide high-quality sound and a myriad of other benefits. And now, choosing the best 6x9 car speaker is as simple as picking one option from our review.
From our list, the JBL 9603 is our top recommendation as it is a well-built pair of 3-way car speakers that deliver an exceptional sound output and listening experience.
But, for those looking to give their sound system an upgrade without spending much, the Boss CH6930 is a great inexpensive option.