Bluetooth is one of the technologies that is widely used for safety when it comes to driving because it helps you keep your eyes on the road while still attending to important issues via phone calls.
Apart from this, some Bluetooth car kits are also designed to stream music from your phone to the vehicle's sound system, thereby expanding your infotainment system.
That said, there are many things that these kits can do and if you want one for your car, you may be spoilt for choice since there are lots of them in the market.
For this reason, below is an in-depth look at the best Bluetooth car kits, with a view of making it easier for you to pick the one that suits your needs.
Editor's Recommendation: Top Bluetooth Car Kits 2021 Headsets Speakerphones and More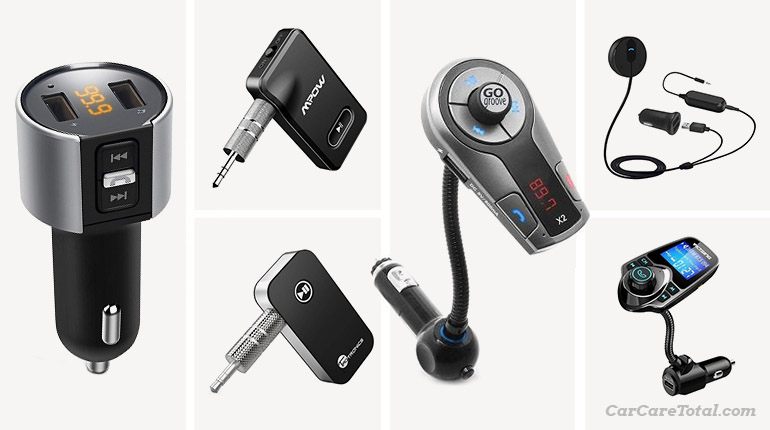 Summary of 7 Best Bluetooth Car Kit
IMAGE
PRODUCT
FEATURES

1. Besign BK (Best Overall)

Bluetooth receiver with dual USB charging ports
Ground loop noise isolator for noise cancellation
Siri and voice-command for easy use

2. SoundBot SB360

Bluetooth car receiver with 3 USB charging ports
Built-in echo and noise cancellation technology
Wearable clip and magnetic plate for easy mounting

3. GOgroove FSX20100GYEW

Bluetooth FM transmitter with a flexible gooseneck design
Built-in microphone for hands-free calling
Can pair with 2 devices at a time

4. Imden Bluetooth FM Transmitter for Car

Small and compact Bluetooth FM transmitter
2 built-in USB charging ports
CVC noise suppression technology

5. Nulaxy KM24

Bluetooth FM transmitter with a voltmeter function
Large 1.44-inch LCD display
On/off button prevents battery drain

6. Plantronics 205300-01

Bluetooth headset with 4 built-in microphones
Proprietary DSP and 6 layers of Windsmart technology for noise cancellation
Ergonomically designed to fit perfectly on the ear

7. Jabra 100-46000000-02

Bluetooth speakerphone with 3 speakers for virtual surround sound
FM transmitter for linking up with the head unit
Dual mic noise cancellation technology
1. Besign BK - Best Overall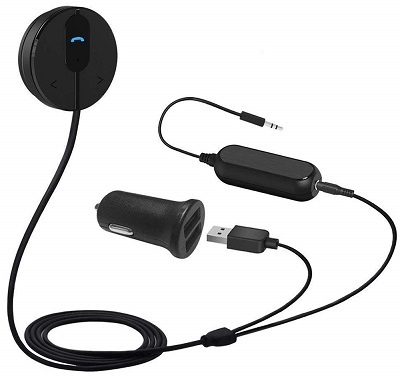 Besign's BK01 is a Bluetooth receiver that incorporates the use of a 3.5mm audio cable to connect to your car's stereo system, making it Bluetooth enabled.
However, a unique feature is included in the form of a ground loop noise isolator, which can be used optionally if you find that there is too much noise as you engage in calls or stream music from your Bluetooth enabled device.
This noise usually occurs when the audio source and speaker use the same power source, which can happen many times as the BK01 comes with a dual USB port car charger that can power both the receiver and your phone or tablet.
Bluetooth version 4.1+ EDR is used for the pairing connection, delivering superior performance, wider compatibility, and lower power consumption. You can also connect to two devices at a time due to its multipoint technology, giving you more entertainment options.
Other features include magnetic or adhesive sticker mounting options and Siri or voice command plus a few shortcut buttons for easy use. However, it does not have a built-in display.

---
2. SoundBot SB360 Bluetooth Car Kit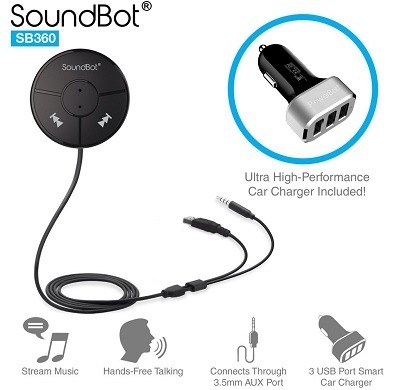 SoundBot's SB360 is one of the best hands-free Bluetooth kits because, apart from featuring the backward compatible Bluetooth 4.0 and A2DP profile for smartphones and other media players, it is very practical, coming with a cigarette lighter adapter that has 3 USB charging ports.
This means you can power up the kit as well as 2 phones at the same time, enabling you to remain online and ready to make or receive all your important phone calls each day.
When making calls or streaming music via this receiver, you get to experience a crystal-clear listening experience due to the incorporation of an echo and noise reduction technology into its circuitry.
On top of this, the unit features a wearable clip for mounting on your shirt (just below your throat) for optimal voice capturing by the in-built mic as you converse during phone calls. A magnetic mounting plate is also included for attaching it to metallic surfaces.
However, the unit does not have an LCD display and the included adapter does not fast charge your devices via the USB ports.


---
3. GOgroove FSX20100GYEW Bluetooth Car Kit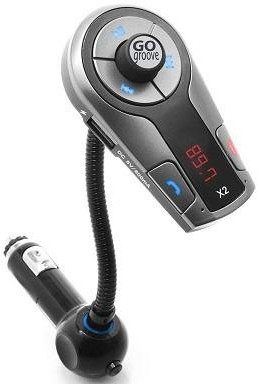 This FM transmitter features a flexible gooseneck design that lets you plug the DC adapter into the cigarette lighter, then position the actual transmitter at your most preferred angle, regardless of the dashboard layout in your car.
Once installed, the X2 can pair with up to 2 devices at a time, allowing you to call or stream audio from either gadget for convenience purposes, then transmits a custom FM frequency that you pre-set for connecting to your car's stereo.
Controls are done using a few buttons for adjusting the volume level, receiving or rejecting the incoming call, play/pause and skipping to the previous/next song, and all of them are clearly marked for easy use.
Other features include a built-in microphone for enhanced voice capture and a USB charging port for powering up your phone as you stream or talk.
On the downside, the unit features Bluetooth version 2.1, which is not very new, and unlike other transmitters, it does not show the car battery voltage status.

---
4. Imden Bluetooth FM Transmitter for Car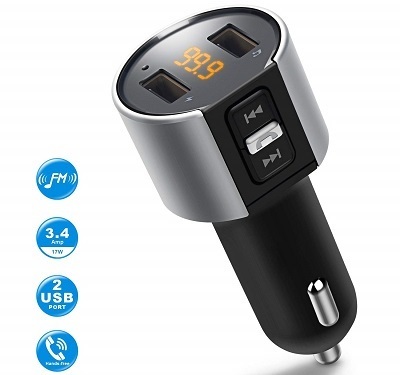 If you are looking for a compact FM transmitter, then consider Imden's Bluetooth kit. This is because it literally encompasses every piece of its circuitry into the cigarette lighter adapter, leaving you with an almost dongle-like shape once plugged in.
However, this small size should not fool you into thinking that it does not perform. The kit features 2 USB ports which, apart from enabling you to charge your phone or tablet, can be used to play MP3 files stored in a USB flash drive.
Even though it has the older Bluetooth version 2.1, the kit is compatible with quite a number of Bluetooth enabled devices (iPhones and Android devices), thereby enabling you to make hands-free calls as well as stream MP3 or WMA music formats through your car's stereo.
CVC noise suppression technology is also built-in, enabling you to communicate in a crystal-clear connection with the person on the other side of the phone.
However, the unit has no on/off button, which means that you must eject it from the lighter port to avoid draining your battery on switching off the car.

---
5. Nulaxy KM24 Bluetooth Car Kit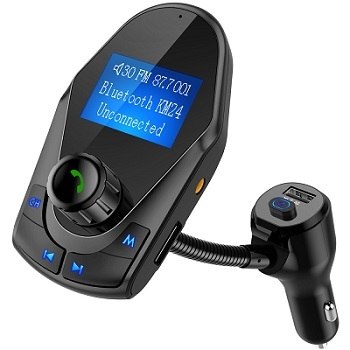 Before going on any road trip or even simply driving to work, it is important to know the health status of your car and this involves checking the battery level. Nulaxy's kit helps you do this using a voltmeter function, which shows you the battery status before heading out.
The unit does so on its large 1.44-inch LCD display, which also lets you better visualize other information such as call details and music file titles as you use the hands-free or music streaming features.
A big issue with most cigarette-lighter-port transmitters is that they can drain the battery if left plugged in while the car is not running. However, this unit deals with this by having an on/off button, which gives you the convenience of not pulling it out every time you park the car.
Other features include a folder reading capability for scrolling through the files of the connected device and noise cancellation technology for improved audio quality.

---
6. Plantronics 205300-01 Bluetooth Headset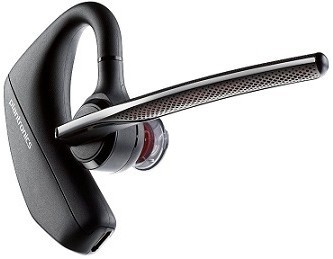 This product is for those people who want to keep their phone call conversations private as opposed to hearing the response via the car's stereo speakers.
Though very expensive, this small Bluetooth headset features cutting edge noise cancellation technology, which comprises of 4 microphones and a proprietary DSP. When combined, these cancel out disruptive traffic, crowdy, and other background noises, leaving clear audio.
In addition to this, the 5200 also features six layers of WindSmart technology, which detect wind direction and respond accordingly, leaving your voice much clearer.
The headset supports HD voice over wideband networks and devices, ensuring that you get a high-quality transmission for better audio reception.
Other features include a talk time of up to 7 hours on a full charge and a comfortable design that is tested for stability on a wide range of ear shapes.
Six layers of WindSmart technology for eliminating wind noise

---
7. Jabra 100-46000000-02 Bluetooth Car Kit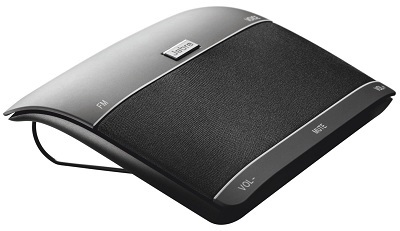 Jabra's Freeway is quite an expensive Bluetooth kit but it has the features to show for it. Though bulky, this size means that it accommodates a lot of features inside, and these include 3 speakers, which create a virtual surround sound that is very crisp and clear.
Inside there is also a dual-mic noise cancellation technology, which filters out background noise such that as from honking cars, leaving only your voice to be sent over to the other person.
The unit also features an FM transmitter, which can be used to expand your car's infotainment system by playing or streaming music directly from your phone or any other Bluetooth enabled music player.
This feature can also send calls to your car's stereo system so that you can utilize the car's speakers for receiving calls.
Other features include multipoint technology for connecting to up to 2 devices at a time, 14 hours talk time on a full charge, voice assist subscription for hands-free use and voice guidance for providing caller id, spoken battery level, etc.

How to Buy the Best Bluetooth Car Kit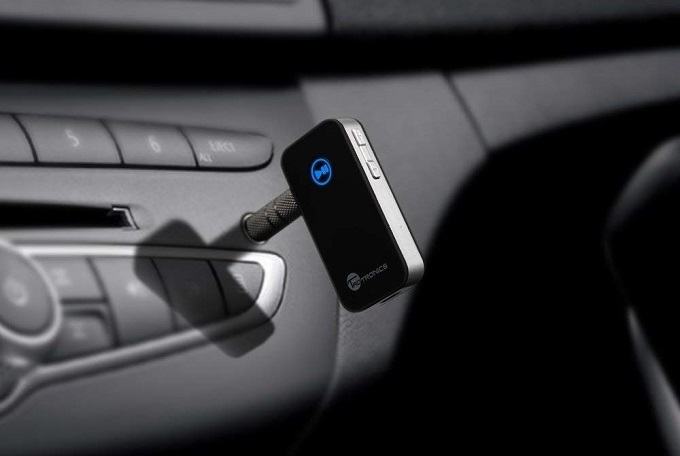 1. Popular Bluetooth Car Kit
There are 4 main types of Bluetooth car kits. These are:
Hard wired devices
This kit requires to be installed permanently into your stereo system and is basically like having a car head unit with Bluetooth connectivity built-in.
It is a good setup but works best if you use the same car every day. If you switch cars often, say for the case of a company car, then this is not the best option to consider.
Speakerphones
Bluetooth speakerphones are portable and give you the benefit of having independent speakers, which means it's not a must that you connect them to the stereo system.
However, they can be easily forgotten as you leave for work and require charging every once in a while.
FM transmitters
This type offers a cheaper alternative of having Bluetooth in your car but the problem is that their call quality is not that good as compared to the other types.
On the bright side, most of them are powered through the cigarette lighter port and therefore, you don't have to worry about running out of charge.
Headsets
Just like speakerphones, headsets require recharging and can be easily forgotten at home. However, this type is very compact, features good noise canceling technologies and enables you to keep your conversation private as opposed to running through the car's speakers.
Buying Guide : the choice between these 4 is down to personal preference and your needs. All of them do a pretty good job at keeping your eyes on the road and your hands on the wheel so pick the one you prefer most.
2. Compatibility
This basically refers to the devices that can connect to the Bluetooth kit successfully. Ensure that the product you buy can pair with as many devices as possible so that even if you change your phone or mp3 player, the kit will still be relevant.
Newer kits are usually highly compatible so you can at least rest easy if you buy one with the latest Bluetooth version.
3. Bluetooth Technology
This is a no brainer. The kit that features the latest Bluetooth technology will give you the best performance in terms of compatibility, signal strength, noise cancellation and the like.
Newer Bluetooth versions, especially from 4.0 also have the benefit of lower power consumption, and this is ideal if the kit you are buying is either a speakerphone or a headset (because they are battery powered).
4. Performance
A key factor that affects performance is the Bluetooth technology, as well as other technologies used.
Apart from that, it is recommended to consider looking at the customer reviews before settling down on buying any Bluetooth kit because this will inform you of the actual problems or issues that you will have to deal with if any.
Generally, you should give the highly rated units top priority because they are tried and tested to be good by a majority of people.
5. Call quality
This factor also has a lot to with the technologies involved. Apart from ensuring that the kit features the latest Bluetooth technology, look for noise cancellation features, wind cancellation and many others.
Also, consider the placement or mounting of the unit because, for high-quality voice capture, the in-built mic should be close to your mouth.
This means that kits mounted on the sun visor or on your shirt will capture your voice better as compared to the FM transmitter on the cigarette lighter, which is further away. With such, you have to talk a little bit louder in order to be heard.
Conclusion
Deciding which is the best Bluetooth car kit can be a challenging task because there are a lot of variables to put into consideration.
From in-built technologies to compatibility, type, and personal preference, you should factor all these into the selection process.
The good thing is that the Bluetooth car kit review above gives you all the relevant information required for you to easily determine which is the most suitable Bluetooth piece for your car.