The 5.25-inch car speakers provide the perfect balance between size and power. They are small enough to fit almost any vehicle and are still powerful enough to ensure you never compromise on the sound output since most have an RMS power rating of at least 25 watts.
But, for a good listening experience and to ensure great value for your cash, you need to pick out the best 5.25-inch car speakers from the countless option out there. Besides considering the power output, other factors like the speaker type, configuration, and build material are vital.
If you are looking for some 5.25-inch speakers to take your vehicle's entertainment system a notch higher, our review and buying guide below will make shopping easier.
Editors' Picks for Top 525inch Car Speakers of 2021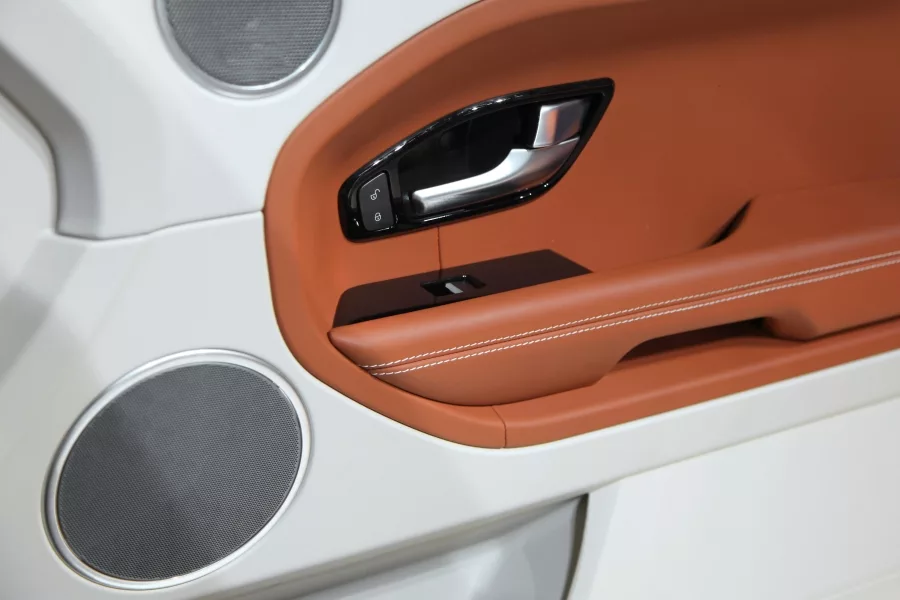 Summary of 7 Best 5.25-Inch Car Speakers
IMAGE
PRODUCT
FEATURES

Rockford Fosgate R1525X2 Prime - Best 5.25-Inch Car Speaker

1. Rockford Fosgate R1525X2 (Best Overall)

Complete speaker assembly
Durable vacuum polypropylene cone
Silk dome tweeter
Grille & mounting hardware provided

Rockford Fosgate P152

2. Rockford Fosgate P152 (Best for the Money)

Great value for cash
PEI dome tweeter with built-in crossover
Butyl rubber surround
FlexFit basket design for a perfect fit

Polk Audio DB522

3. Polk Audio DB522 (Best Coaxial)

High-performing coaxial speakers
Marine certified
UV-tolerant polypropylene cone
Drop-in installation

Pyle PL53BL

4. Pyle PL53BL (Best Looking)

Pleasant overall look
More budget-friendly
Non-fatiguing rubber surround
1-inch ASV voice coil

Alpine Sps-510

5. Alpine Sps-510 (Best 2-Way)

2-way for superior all-round performance
Silk dome tweeters
Mineral-fortified polypropylene cones
Resilient rubber surround

Pioneer TS-A1370F

6. Pioneer TS-A1370F (Easiest to Install)

Easy drop-in installation
High peak power handling - 300 watts
Open & smooth sound concept
Durable cone & tweeter

Kicker 43DSC504

7. Kicker 43DSC504 (Low-Profile)

Low-profile speakers
Zero-protrusion tweeter
Ribbed polyester foam surround
Polypropylene woofer cones
1. Best Overall: Rockford Fosgate R1525X2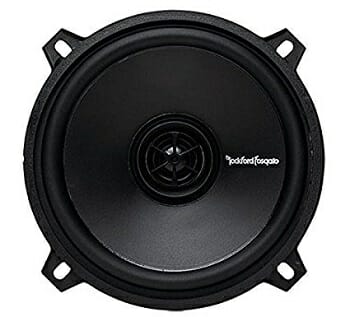 Output Power: 80 watts
RMS Power: 40 watts
Impedance: 4-Ohm
The Rockford Fosgate R1525X2 is a coaxial 5.25-inch speaker that has everything built-in to eliminate the need for the external tweeter, woofers, and crossovers, which makes it our best overall. Besides being complete, it will deliver a high-quality sound with minimal distortion thanks to the integrated tweeter crossover.
Instead of foam, this speaker uses a high-quality rubber surround that will be more durable. With the provided grille and the silk dome flush mounted tweeter, the speaker will look as good as it sounds.
Apart from providing the grille, the manufacturer also provides the mounting hardware, which will ensure you have everything you need to mount and start using it immediately.
The bass seems to be a little lacking and is more dependent on the amp that you have. But the good news is that with a good amp or subwoofer, these speakers can still deliver quite a powerful bass. While some motorists might not like having to drill their doors to install this speaker, if done correctly, this should not be a big issue.

---
2. Best for the Money: Rockford Fosgate P152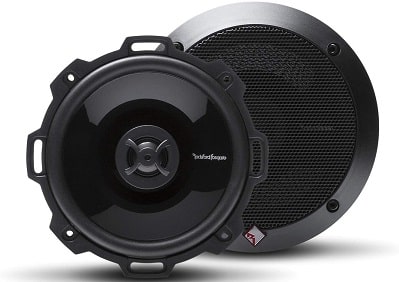 Output Power: 80 watts
RMS Power: 40 watts
Impedance: 4-Ohm
For the build quality of the Rockford Fosgate P152 speakers and the sound quality that you get, it will be hard to get anything better without spending way much more cash. Hence, these are the best 5.25-inch speakers for the money on our list.
These speakers will feature a PEI dome tweeter that also has a built-in crossover. This tweeter works with the polypropylene cone to provide high output sound and ensure more accurate frequency reproduction.
Because the two speakers will include the FlexFit basket design, you can quickly line them up when mounting to ensure you get a perfect fit. To ensure you can mount and use them immediately, they will also come with the mounting hardware, grills, and OEM adapter plates.
The bass is still not strong enough or at least not as good as what you get with other larger vehicle speakers. However, for 5.25-inch speakers, it is almost as good as it can get. What's more, a good amp should help make it a little more robust. And the extra weight should not be a concern as it is an indication that these are well-built speakers.

---
3. Best Coaxial: Polk Audio DB522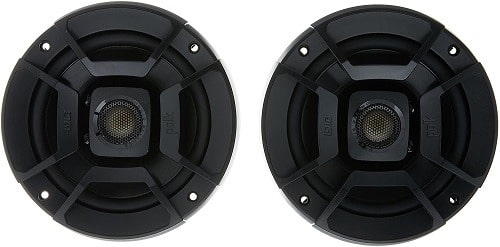 Output Power: 300 watts
RMS Power: 100 watts
Impedance: 4-Ohm
If you prefer the coaxial speakers, the Polk Audio DB522 will be a fantastic choice for you as these are well-built and high-performing speakers that deliver exceptional sound quality.
Besides being high-quality upgrades for your stock sound system, they are also marine certified with an IP55 rating to give you assurances that they are dirt and water-resistant.
The cones are a durable polypropylene material that is also UV tolerant to ensure long service life. With the simple drop-in installation, you can have the speakers in place in no time. Because the tweeter has zero protrusion, you will get a flush and more seamless look.
For this car speaker, the bass seems to be a little lacking, but you can always boost it with a subwoofer. Also, the grille appears to have fitment issues for some vehicles, but you can check whether it will work for your car by comparing it to your stock speakers.

---
4. Best Looking: Pyle PL53BL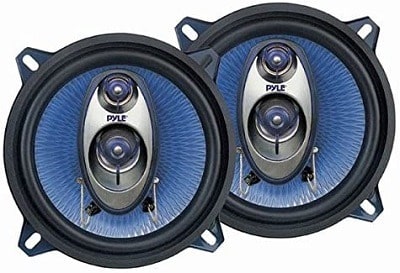 Output Power: 200 watts
RMS Power: 100 watts
Impedance: 4-Ohm
Like with any other vehicle accessories, looks matter when it comes to speakers. If you are on the hunt for the best looking 5.25-inch speakers, the Pyle PL53BL is an excellent pick thanks to the blue poly injection cones that give them a very eye-catching appearance.
Besides the pleasant look, the more affordable price tag also helps make these some of the best 5.25-inch car speakers as it means they will be a perfect choice for motorists shopping on a tight budget.
When it comes to the actual performance, these 200-watt peak power speakers will include a 1-inch high-temperature ASV voice coil that will provide a rich sound and ensure minimal distortion. There is also a rubber surround that keeps the speaker more secure and is highly durable. You will get all the mounting hardware, grills, and wires on your purchase.
These 5.25-inch speakers seem to be lacking enough volume. Also, the treble and high pitch sounds are not very good. But, for their price, what you get is still acceptable.

---
5. Best 2-Way: Alpine Sps-510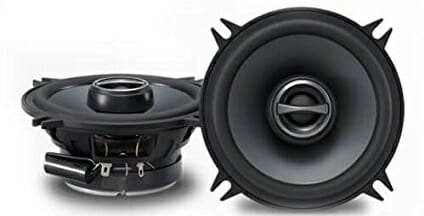 Output Power: 170 watts
RMS Power: 55 watts
Impedance: 4-Ohm
If you are looking for an outstanding all-round speaker performance of the 2-way 5.25-inch car speakers, the Alpine Sps-510 is our best option for you.
These exceptional quality 2-way speakers will include mineral-fortified polypropylene cones that are lightweight but still stiff enough to deliver a more accurate upper bass and a clear midrange.
The rubber surrounds offer greater resilience and will help keep the woofer centered so that the cone moves more accurately, and hence minimizing sound distortions.
With the silk dome tweeters, you are sure of getting some warm high notes that bring out the character of the music's vocals and instruments.
While these speakers might not come with the grilles or covers, you can order them separately on your purchase as the manufacturer makes it clear they are not part of the package.

---
6. Easiest to Install: Pioneer TS-A1370F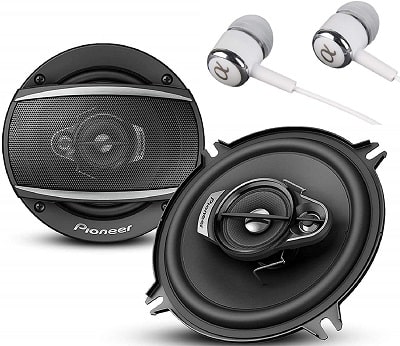 Output Power: 300 watts
RMS Power: 50 watts
Impedance: 4-Ohm
The quick and easy drop-in installation is the highlight of the Pioneer TS-A1370F. Anyone can install this speaker as there is not a lot to do, and if you follow the provided instructions, you can be sure of getting a perfect fit.
These Pioneer speakers are designed to handle more power before burning out as they have a peak power handling rating of 300 watts. Because they use the company's open & smooth concept, they deliver a smoother frequency response and clear high frequencies.
The hard dome tweeter and cone are made from some highly durable materials to deliver a long service life and exceptional sound quality. And you can be confident that there will be low distortion with these speakers even at the highest output.
These speakers could do with a little more bass, but like with most other 5.25-inch speakers, a good subwoofer should fix this for you. To ensure that highs are not too overwhelming, you can make fair use of your equalizer.

---
7. Low-Profile: Kicker 43DSC504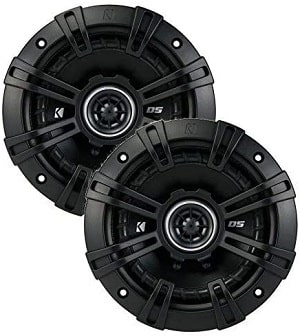 Output Power: 200 watts
RMS Power: 50 watts
Impedance: 4-Ohm
Kicker 43DSC504 is a pair of some fantastic 5.25-inch speakers that will come in a low-profile design to allow you to get a flush mount. Better yet, they have zero-protrusion tweeters that will make them even more low profile.
Unlike many others on our list that use rubber surrounds, these have polyester foam surround with a unique ribbed design. This surround will allow for an extended cone excursion, which in turn provides an extra bass output.
The cone is a durable polypropylene that will provide extra rigidity and is also lightweight enough to enhance the overall sound quality further. When you buy the speakers, you will also get the grilles and the necessary mounting hardware.
These speakers have a smaller magnet and are not very loud, but if you pair them with a powerful amp, they can still give a nice kick. Also, the distortion at high power is typical of most small and budget speakers when pushed a little too hard.

How to Buy the Best 5.25-Inch Car Speaker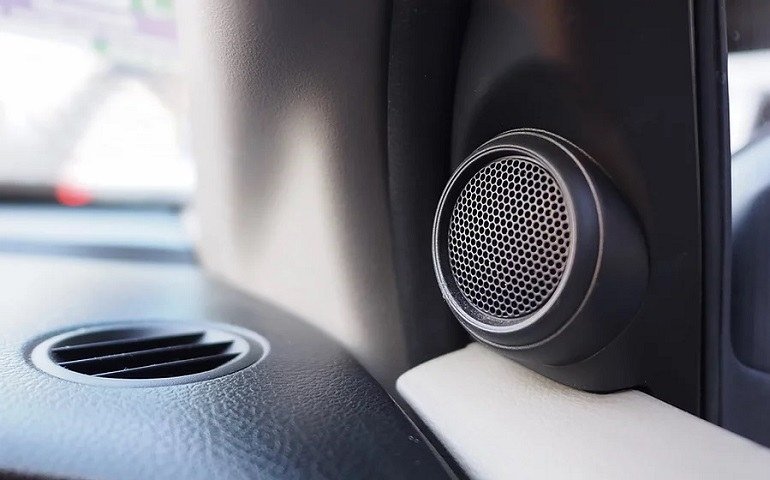 1. Component or Coaxial
As you shop for the best 5.25-inch car speakers, you will often come across two main types, which are component and coaxial. Hence, your first decision will be to pick between these two, as each will be ideal for different situations.
Component
Component speakers or separates, as they are also fondly referred to as, are famous for delivering an impressive sound reproduction. They are small speakers that will get their name from the fact that they separate the different sound frequencies.
These speakers need to paring with crossovers, subwoofers, and tweeters. Component speakers will give out high-quality audio as they are more efficient at sound imaging and will produce relatively more bass from the woofer.
The component speakers like the Infinity Kappa 50.11CS are ideal for those that are looking for a more custom sound system setup. However, the component speakers tend to be more expensive when compared to the coaxial types.
Coaxial
Coaxial speakers like Polk Audio DB522 are also known as the full-range speakers, and they tend to be more affordable when compared to the component speakers. But unlike component speakers, all the elements will be combined into the speaker.
These speakers typically have the crossovers built-in, and a tweeter mounted on the woofer cone. Coaxial speakers are what you are likely to get with most factory vehicle audio systems.
Although these speakers can still handle all sound frequencies, there is a high possibility of interference given that drivers tend to be very close. They are also less customizable when compared to component speakers.
Buying Advice: If you prefer a speaker system that will allow for greater customization, and generally deliver superior sound quality and do not mind spending more cash, go for the component types. However, if you are shopping on a small budget and also want a speaker that does not require external tweeters, crossovers, or woofer, the coaxial types are your best pick.
2. Power Handling
The maximum power handling capability of a speaker is always among the most crucial elements to consider when choosing one as it will determine how much power it can tolerate before it blows out.
Besides the maximum power handling, you will also need to pay attention to the RMS, which is the ultimate power the speaker can handle continuously. For the best quality and full-range sound, it is a great idea to keep the RMS and peak power close, such as 100 and 200 watts, respectively, for example.
That said, a peak power of between 80 and 300 watts should be good enough for 5.25-inch speakers. For the RMS, on the other hand, 40 to 100 watts should be enough for these speakers.
3. Configuration
Speaker configuration also matters when it comes to choosing a 5.25-inch speaker, and here the most common options are the 2-way, 3-way, and 4-way speakers.
2-way speakers will provide excellent all-round performance while 3-way speakers will be perfect for midrange, and 4-way will give you superior performance in the highs.
Read More: 2-way vs. 3-way Car Speakers
4. Build Material
While the 5.25-inch speakers might generally be more affordable, you still need something that gives you value for money by serving you long enough. One of the main ways to ensure this is by choosing one that is well-built using high-quality materials.
You need to check both the woofer frame and cone materials and other things like the magnet used. There is a wide variety of materials used for these different elements.
For example, the cone can be made from synthetic fibers with metals coatings if it is a high-end model or polypropylene for the cheaper ones. All in all, the most important thing is to ensure the materials are tough enough for the speaker to serve you well for long.
Conclusion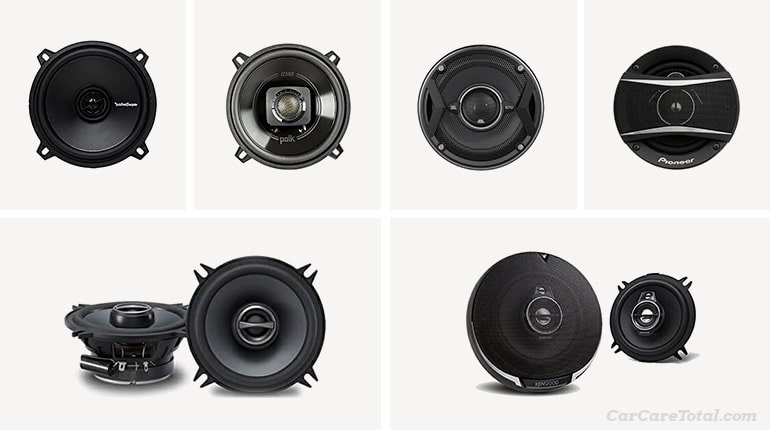 The 5.25-inch car speakers provide an easy and inexpensive but highly effective way of upgrading your music system. Now, finding the best 5.25-inch car speaker requires you to pick what suits your vehicle from our list above.
But, to make your choice even more comfortable, the Rockford Fosgate R1525X2 is our best overall product. This model has a lot to offer, from the fact that it is a complete speaker assembly to other things like silk dome tweeter and a vacuum polypropylene cone.
However, if you are looking for something that will give you the best value for your money, the Rockford Fosgate P152 speakers are perfect.