Getting new 6.5-inch speakers for your car to replace the factory units will go a long way in improving your driving experience. They will give you better sound quality so that you can enjoy tunes and beats in a very crisp output.
However, with sound technology, there are a lot of technical terms that might confuse you when shopping for a set of these audio units.
For this reason, we have looked at the various offerings in the market, then compiled an in-depth review of 7 best 6.5-inch car speakers. Let's have a look!
Editor's Recommendation: Top 65inch Car Speakers of 2021
Summary of 7 Best 6.5-inch Car Speakers
IMAGE
PRODUCT
FEATURES

Rockford Fosgate R165X3

1. Rockford Fosgate R165X3 (Best Overall)

3-way full-range system
Reasonably priced
Low sound distortion

JBL GTO629

2. JBL GTO629 (Best for the Money)

Price worthy
Large carbon-injected Plus One cone
Dedicated octave crossover components

Boss Audio Systems CH6530

3. Boss Audio Systems CH6530 (Best Full Range)

Powerful 3-way system
High-temperature voice coils
Overload-resistant Piezoelectric tweeter

Pioneer TS-A1670F

4. Pioneer TS-A1670F (Best for Sound Clarity)

Multilayer mica matrix cone
Deep 37 Hz bass
High-volume optimized tweeter

Pyle PL63BL

5. Pyle PL63BL (Best for Smooth Sound)

3-way system with a high RMS rating
Non-fatiguing butyl rubber surround
Low 4-ohm impedance system

JVC CS-J620

6. JVC CS-J620 (Hybrid Surround)

Flexible hybrid surround materials
Deep bass 35 Hz woofer
Easy to install

Polk Audio DB652

7. Polk Audio DB652 (Waterproof)

Waterproof, marine-certified & UV tolerant
Removable sport grille
Dynamic balancing technology
1. Best Overall: Rockford Fosgate R165X3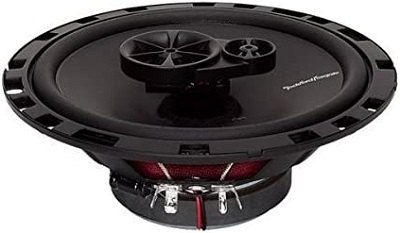 Power Handling: 45W RMS, 90W Peak
Sensitivity: 91 dB
Frequency Range: 52 Hz - 20 kHz
Rockford Fosgate's R165X3 is our best overall product in this 6.5-inch car speaker review because it is a 3-way full-range system that comes at a very reasonable price.
The pair generates sound using a woofer, a silk-dome Piezo tweeter, and a midrange. This gives you a balanced output with low frequency, high frequency, and mid-frequency sounds.
On top of this, the unit features a rubber surround and a vacuum polypropylene cone that does not absorb moisture. As such, you get very low sound distortion.
A high-pass crossover is built-in to prevent bass and midrange frequencies from being sent to the tweeter, which helps to enhance the sound quality.
Overall, the system has a power handling of 45W RMS, which gives you a decent sound and does not require an external amplifier. At 91 dB, the set is also very loud. A stamped steel basket and grille make the speakers look as good as they sound.
That said, if you want a full set for your car, check out the 4-piece Rockford Fosgate R165X3. However, both options lack a low-pass crossover to prevent high and mid-range frequencies from being sent to the woofer.

---
2. Best for the Money: JBL GTO629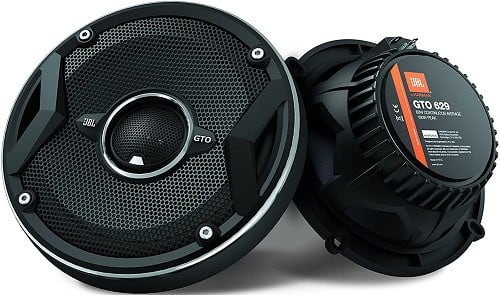 Power Handling: 5 - 125W RMS, 180W Peak
Sensitivity: 93 dB
Frequency Range: 53 Hz - 21 kHz
This pair of coaxial speakers have high-quality features that are worth the price. These features improve sound quality, and they include large carbon-injected Plus One cones, which move more air to create more bass.
Dedicated octave crossover components are built-in to direct the high and lows to the tweeter & woofer, respectively, creating the best sound.
That said, the units have a 125W RMS, which is relatively high. This gives you better clarity and increases their reliability over their lifetime.
A patented UniPivot tweeter is included, and this allows you to aim the sound at your ears, even if they are installed down on the doors. This tweeter has dual-level volume adjustment, which helps to compensate for imperfect speaker placement.
The speaker's coils are inserted in vented magnet assemblies that keeps them cool for better power handling and increased reliability.
These components are housed in a carbon-composite non-magnetic frame, which maintains their integrity under demanding conditions. However, the speakers are expensive, and they don't have a midrange.

---
3. Best Full Range: Boss Audio Systems CH6530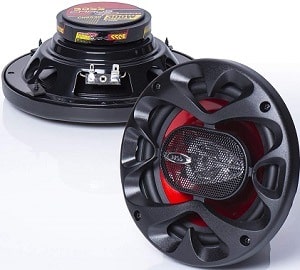 Power Handling: 150W Peak
Sensitivity: 90 dB
Frequency Range: 100 Hz - 18 kHz
Boss Audio Systems' CH6530 is the best full-range set because it is a powerful 3-way system. It comprises a woofer, midrange, and tweeter, with a peak power-handling rating of 150W. This delivers crisp sound, and the system is more reliable.
Additionally, the speakers have high-temperature voice coils that can withstand elevated temperatures and fatigue. This enhances their performance and efficiency during heavy-duty playtimes.
That said, the tweeter is a Piezoelectric type, which is more resistant to overloads. As such, it can be used without a high-pass crossover due to its electrical properties.
You also get a rubber surround that can endure more vibrations and punishment without tearing, a durable polyurethane cone that is flexible enough to produce great sound, and a rigid stamped basket.
On the downside, with a minimum frequency of 100 Hz, this set does not have a very powerful bass output.

---
4. Best for Sound Clarity: Pioneer TS-A1670F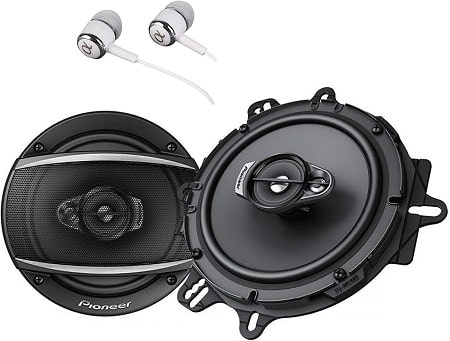 Power Handling: 70W RMS, 320W Peak
Sensitivity: 87 dB
Frequency Range: 37 Hz - 24 kHz
With its multilayer mica matrix cone design, the TS-A1670F gives optimum sound reproduction and responsiveness, making it one of the best 6.5-inch car speakers for clarity. It disperses the sound widely while also delivering a deeper bass with low frequencies of up to 37 Hz.
That said, the product is a 3-way set of speakers that contain a woofer, a 1.625-inch cellulose fiber cone midrange, and an 11mm polyethylene terephthalate hard dome tweeter that has a high-frequency output of 24 kHz. These have a power handling of 70W RMS, which enables them to deliver clear, balanced sound.
The tweeter optimizes sound at higher volumes because it delivers an improved range of mid to high range frequencies.
An elastic lightweight polymer surround is built-in to allow the cone to vibrate more freely and alphasonic earbuds are included as accessories. The only issue is that the set is not very loud because it has a sensitivity rating of 87 decibels.

---
5. Best for Smooth Sound: Pyle PL63BL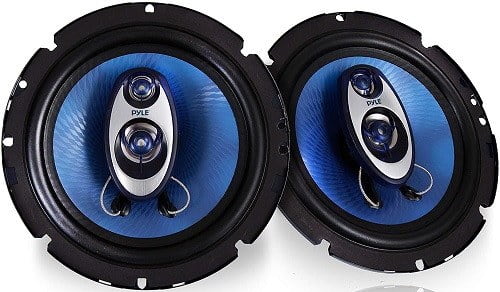 Power Handling: 180W RMS, 360W Peak
Sensitivity: 89 dB
Frequency Range: 90 Hz - 20 kHz
A combination of a high 180W RMS rating and a 3-way full-range system ensures the Pyle PL63BL gives you a smooth, detailed sound.
This system includes a 1-inch neodymium film dome midrange and a 0.75-inch Piezo tweeter, which combine forces with the stiff, eye-catching blue-poly injection cone to make this one of the best sounding 6.5-inch speakers.
That said, the cone is held in place by a non-fatiguing butyl rubber surround that is durable enough to withstand sunlight, extreme temperatures, and moisture.
The speaker has a 20-oz magnet structure, which has a durable voice coil that can handle high temperatures and fatigue to ensure low sound distortion.
A low-impedance 4-ohm component system compensates for the undersized wire found in most cars, while also making the most of the 360W peak power.
Grills and mounting hardware are included, but with a 90 Hz minimum frequency though, this set of speakers does not produce very deep bass.

---
6. Hybrid Surround: JVC CS-J620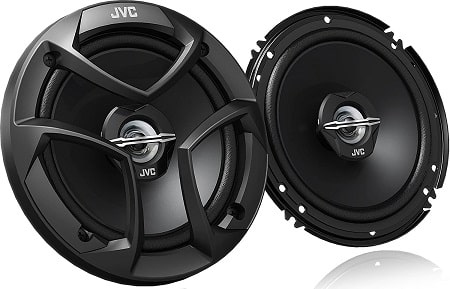 Power Handling: 30W RMS, 300W Peak
Sensitivity: 92 dB
Frequency Range: 35 Hz - 22 kHz
JVC's CS-J620 is fitted with hybrid surround materials (rubber and cloth), which give good movement, and support the lightweight Mica Injected Polypropylene (MIPP) cone. Overall, these two components move more air to create a deep bass with a low 35 Hz frequency minimum.
That said, the speakers are a 2-way coaxial type, and have a ferrite-magnet as part of the woofer. The second component is a neodymium magnet tweeter that is shallow-mounted with a 1-inch poly-ether balanced dome.
Another benefit you get with this 2-piece set is that they are engineered for easy installation. They have a shallow 1.8125-inch frame that won't hit the window track or glass in the door panel. Pre-arranged hole patterns are also drilled through the frame's rim to fit in most vehicles, making it one of the best 6.5-inch door speakers.
Mounting screws and tabs are included for installation purposes, as well as wire extension cables with quick disconnects. On the downside, the product has a low RMS rating of 30W, which means you may get distorted sound. Also, there's no midrange.

---
7. Waterproof: Polk Audio DB652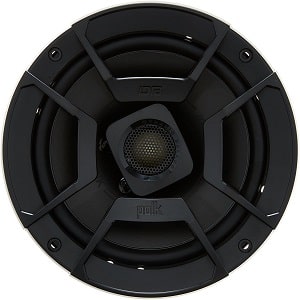 Power Handling: 100W RMS, 300W Peak
Sensitivity: 92 dB
Frequency Range: 40 Hz - 22 kHz
With its marine-certified (IP55) polypropylene cone and waterproof rubber surround, Polk Audio' DB652 can withstand harsh environments in your car. Additionally, the cone is UV tolerant, which makes the speakers ideal to use in other vehicles such as boats.
The product comes as a set of two speakers, and each has a removable sport grille that you can use to customize its look.
Dynamic balancing technology is built-in to deliver signature sound quality, which is further enhanced by its high 100W RMS rating. This gives you a smooth, undistorted sound, but you might need to add-on an extra amp to provide sufficient power.
A 0.75-inch silk-dome tweeter is included to deliver smooth highs, while a built-in crossover keeps the low and high frequencies flowing to the right drivers. That said, you don't get a midrange driver to give a smooth output of the medium frequencies.

How to Buy the Best 6.5-inch Car Speaker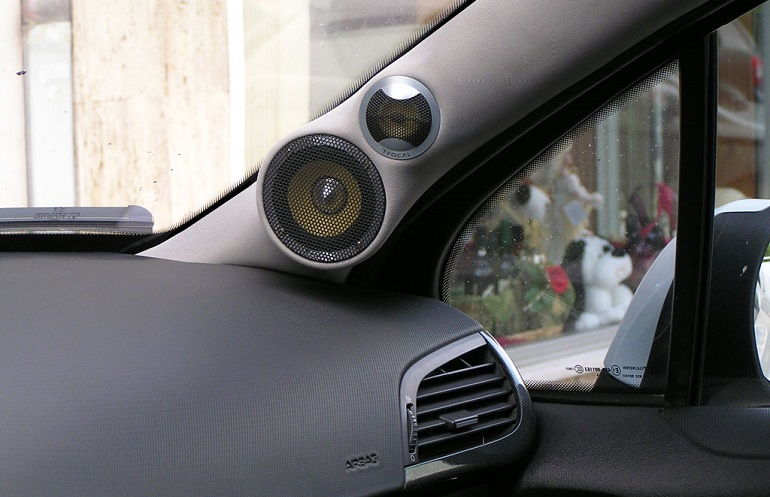 1. Coaxial vs. Component Car Speaker
Coaxial speakers are 2-way or 3-way speakers that have all the components (woofer, tweeter, midrange, and crossover) in one piece. They are more compact and are ideal if you have limited space in your car.
Read More: 2-way vs. 3-way Speakers
On the other hand, component speakers come as separate pieces. These take up more space and can be difficult to install, but they give you better sound quality. They usually have a larger, more effective crossover that distributes the frequencies more efficiently to each driver.
2. Power Handling
Power handling is a measure that shows how much power a speaker can handle. Measured in watts, this factor is usually given in RMS and peak values.
RMS shows the amount of power the speaker handles continuously. However, peak rating indicates the power that the unit can withstand in short bursts.
Peak power is always higher than RMS, but it is more important to consider the RMS value because this is the continuous power handling.
That said, a high RMS rating means the speaker produces clear sound with no distortions and is more reliable over time. We highly recommend this, even though you might have to add-on an amplifier to supply enough power.
With that in mind, 30W is good enough, but 50W and above is better. However, any rating above 100W is best.
3. Sensitivity
This is a measure of the sound level (volume) produced by a speaker from the power fed to it. Given in decibels, a rating of about 84 - 88 dB is average, but we recommend above 90 dB. You should not buy any speaker with a sensitivity below 84 dB because this will perform poorly.
4. Frequency Range
The frequency range shows the frequencies that the speaker emits and is measured in Hz or kHz. That said, the wider the range, the better because this means you get low frequencies for bass and highs for the tweeter. This will give you a more balanced sound.
In this case, you should check out Kenwood KFC-1666S, which has a wide 35 Hz - 22 kHz range.
5. Material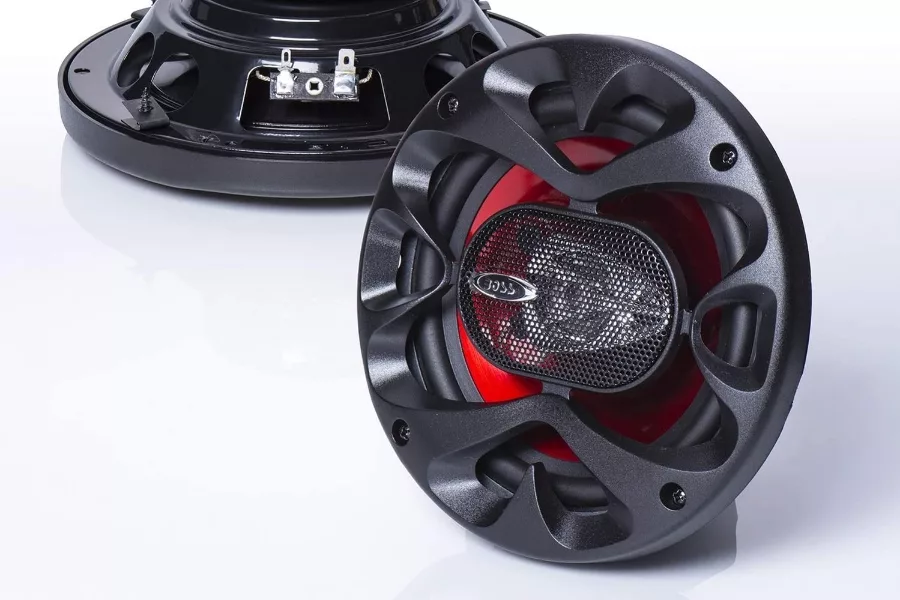 It is important to consider the cone's material for durability and sound quality purposes. This section should be water and UV resistant so that it withstands the harsh hot and humid environment in your car.
Aside from that, it should be large and flexible so that it pushes a lot of air to create more bass. The surround should also be flexible to give the cone more room to move.
Conclusion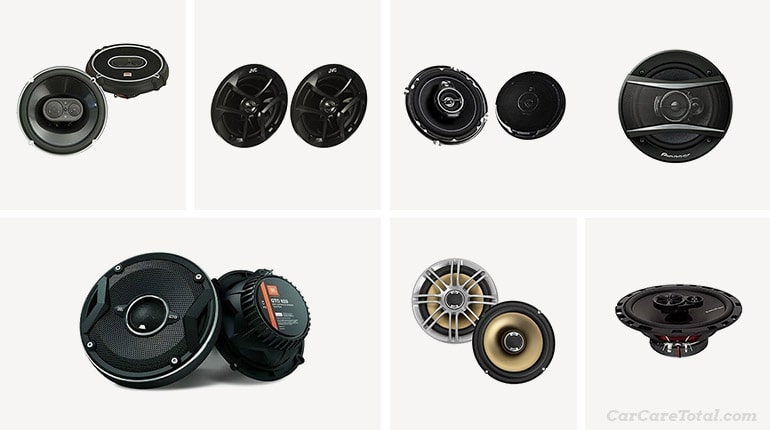 As you can see, Rockford Fosgate's R165X3 is our best of the best 6.5-inch car speaker because it has a reasonably priced full-range 3-way system. It offers low sound distortion and has a built-in high pass crossover.
If you don't mind spending though, we recommend JBL's GTO629 because it has large cones for bass and dedicated crossovers for directing the high and low frequencies to the respective drivers.
For the best full-range speakers though, you should check out Boss Audio Systems' CH6530. The product has a powerful 150W peak 3-way system, a durable high-temperature voice coil, and an overload-resistant Piezoelectric tweeter.