From DIY enthusiasts to automobile techs, anyone who has ever dealt with fasteners will find an air ratchet an indispensable tool in their tool kit.
This little machine saves you the trouble of having to use a hand-powered ratchet when fastening or removing bolts. Air ratchets are also handy when working in confined spaces and cannot get a good swing for your hand ratchet.
However, to get all these benefits, you first have to find the best air ratchet. Here we help make this easy with a review of some top models and a buying guide.
Editors' Picks: Top Air Ratchets of 2021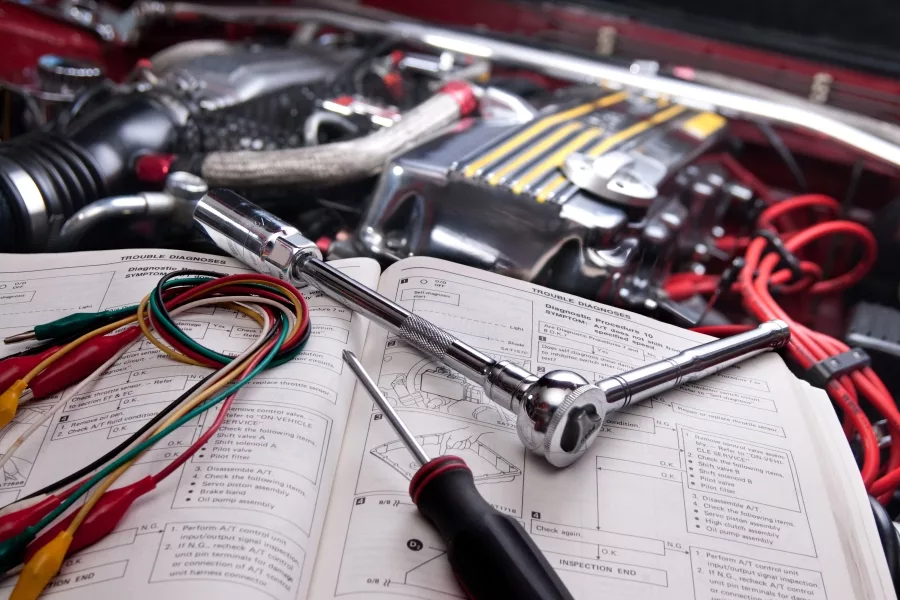 Summary of 7 Best Air Ratchets
IMAGE
PRODUCT
FEATURES

1. Ingersoll Rand 170G (Best Overall)


Great for multipurpose use
More durable ratchet head
Ergonomic grip

2. Ingersoll Rand 109XPA (Best for the Money)


Great value for a 70 ft-lb/300 RPM air ratchet
Exceptionally durable head
360-degree adjustable exhaust

3. AirCat 805-HT (Best 3/8 inch)


High torque output - 130 ft-lb
Low-profile & lightweight
Ergonomically contoured grip

4. AirCat 800 (Best 1/4 inch)


Good speed output of 320 RPM
Patented quiet exhaust technology at just 82 dB
Ergonomic handle & trigger

5. Ingersoll Rand 105-D2 (Smallest)


Compact, low profile design
Super comfortable grip
Unique head construction

6. Neiko 30119B (Highest Speed)


Delivers up to 350 RPM
Small & lightweight
Easy direction switch

7. Tooluxe 31456L (Handy Reversible)


Reversible for fast action & versatility
Built-in air regulator
Front air exhaust
Best Air Ratchet Reviews
1. Best Overall: Ingersoll Rand 170G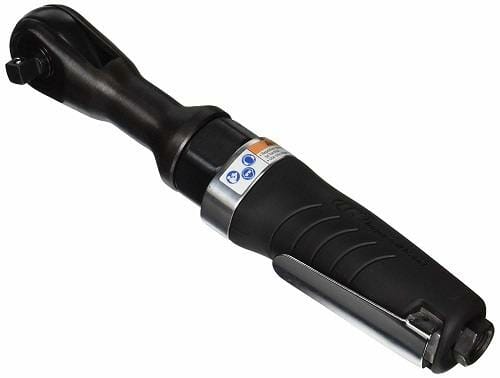 Drive Size: 3/8-inch
Torque: 55 ft-lb
Speed: 170 RPM
The Ingersoll Rand 170G is our best overall product as it is a versatile and highly durable air ratchet that will be a very useful tool in your garage. You can use the 3/8-inch drive head ratchet for everything from engine repair to general home projects.
The heat-treated ratchet head guarantees durability as it can take a lot of abuse from regular use. Additionally, you can use this tool for extended periods with minimal hand fatigue as the grip is more ergonomic and super comfortable.
The motor on this tool delivers up to 55 ft-lb in torque, which might not be as high as other products on our air ratchet review but is still quite good.
Additionally, the air ratchet is packed in a more compact frame as the tool is just 10.4 inches, which allows you to use it in very confined spaces. At just 2.6 lbs, it is a lightweight ratchet that will be easy to pack and carry around.
While a higher speed would have been preferable, the 170 RPM you get with this air ratchet is still good enough for various light assembly jobs.

---
2. Best for the Money: Ingersoll Rand 109XPA

Drive Size: 3/8-inch
Torque: 70 ft-lb
Speed: 300 RPM
If you are like many mechanics that prefer to use the 3/8-inch air ratchet, the Ingersoll Rand 109XA will give you a good value for money. It delivers 70 ft-lb torque and up to 300 RPM to allow it to handle almost any fastening job.
The exclusive IR twin pawl plus head design is created to provide an additional durability factor. Its 360-degree adjustable exhaust directs air away from the operator to make this tool more comfortable and safer to use.
The tool starts with a simple push-button throttle to ensure users have an easy time. And it also has a highly durable drive head for long service life.
When compared to others on our list, this air ratchet is quite large. However, provided you are not using it in very confined spaces, it should still be okay. Also, the extra weight should not be a problem as the tool still feels balanced enough.

---
3. Best 3/8 Inch: AirCat 805-HT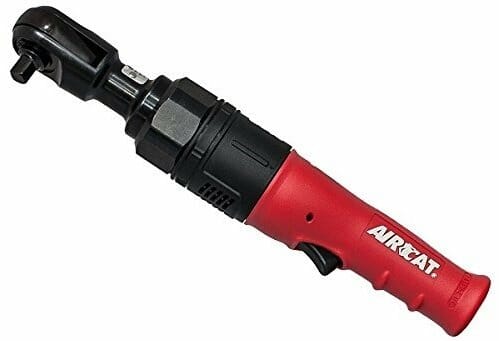 Drive Size: 3/8-inch
Torque: 130 ft-lb
Speed: 90 RPM
AirCat 805HTis all about delivering a high torque output of up to 130 ft-lb. Hence, it can handle even the most demanding applications, making it one of the best 3/8-inch air ratchets out there.
The comfortable and ergonomically designed grip allows you to hold it for extended periods with minimal hand fatigue. Additionally, this high torque air ratchet is also fairly low-profile and lightweight at just 12.4 inches long and a little over 3 lbs, respectively.
Noise is hardly a concern when using this air ratchet as its 84 decibels noise rating makes it one of the quietest on our list. What's more, it uses the latest ratchet head design to ensure there is no head spreading.
Given the high torque output, the speed could have been much better, but 90 RPM is still enough for various applications.

---
4. Best 1/4 Inch: AirCat 800

Drive Size: 1/4-inch
Torque: 35 ft-lb
Speed: 320 RPM
AirCat 8000 is a top-quality 1/4-inch air ratchet that delivers up to 320 RPM. The high-speed output ensures you get the job done faster and makes this ratchet more versatile as it can handle various applications.
This AirCat air ratchet uses a patented quiet exhaust technology that allows it to run more quietly and has a noise rating of just 82 dB.
The superior internal mechanics make this model one of the best in its class as far as performance and durability are concerned. What's more, using the ratchet is guaranteed to be comfortable and with minimal hand fatigue thanks to the ergonomically designed handle and trigger.
The 35 ft-lb torque is quite low, but this is still a decent output for a budget 1/4-inch air ratchet.

---
5. Smallest Air Ratchet: Ingersoll Rand 105-D2

Drive Size: 1/4-inch
Torque: 25 ft-lb
Speed: 250 RPM
With the Ingersoll Rand 105-D2, you get a compact and more low-profile air ratchet that fits easily into the most confined spaces, making this an ideal tool for use in almost any situation.
It provides a decent speed of 250 RPM, which should be enough for simple tasks or when handling smaller and shorter fasteners.
The air ratchet includes a unique head construction that provides extra durability and more consistent performance. Plus, it has a forward and reverse toggle button to give you the freedom to use the machine the way you like.
The ergonomic coupling nuts and handle ensure the most comfortable grip, and there are no sharp edges. Also, this small air ratchet is exceptionally quiet for even more comfortable use.
Compared to other models on our air ratchet review, the 25 ft-lb torque seems quite low. But, for a 1/4-inch model, it still gets the job done. Another drawback is the lack of a safety stop on the trigger, but this offers the advantage of making the tool easier to use and not a big concern.

---
6. Highest Speed Air Ratchet: Neiko 30119B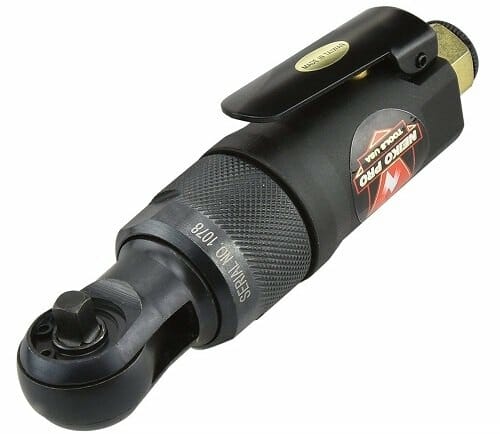 Drive Size: 1/4-inch
Torque: 30 ft-lb
Speed: 350 RPM
Neiko 30119B is one of the best air ratchets in the 1/4-inch class when it comes to speed as it delivers up to an impressive 350 RPM, which is the highest speed on our list.
The high-speed output makes it a great all-round tool that is ideal for various applications, and it always finishes the tasks faster than most others.
With the latch handle controls, the operation is a breeze, and there is also a nice switch that makes it easy to move between clockwise and anticlockwise directions.
The handle is ergonomic and non-slip, making this an extremely comfortable tool to operate for extended periods. Also, it weighs under 1 lb, making it super lightweight.
The 30 ft-lb torque you get with this air ratchet is one of the lowest on our list, but this model makes up for this with its high-speed output. Although the ratchet can get quite loud, it finishes the job fast to ensure you do not have to bear the noise for long.

---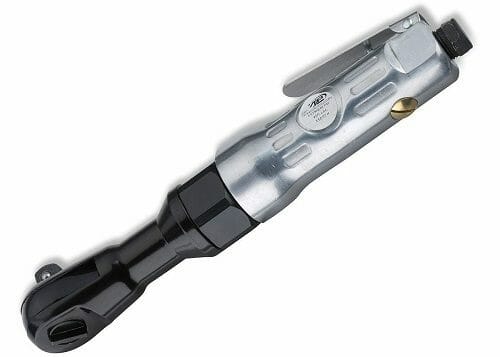 Drive Size: 1/2-inch
Torque: 45 ft-lb
Speed: 150 RPM
Tooluxe 31456L is a perfect tool for mechanics and DIYers looking for something fast and versatile. The reversible four vane pneumatic motor ensures you get fast actions for all fasteners, whether you are using clockwise or anticlockwise motion.
This 1/2-inch air ratchet comes in a compact size as it is just 10.83 inches long, making it small enough to fit into confined spaces.
There is also a built-in air regulator for simple touch-trigger control and to make it easy to decide how much torque you want. The unit has a front exhaust that directs the dirt and debris away from the user's face for a safer operation.
This air ratchet is a little on the heavier side, and it has a lower speed output of just 150 RPM, but for its price, these are small issues you can live with.

How to Buy the Best Air Ratchet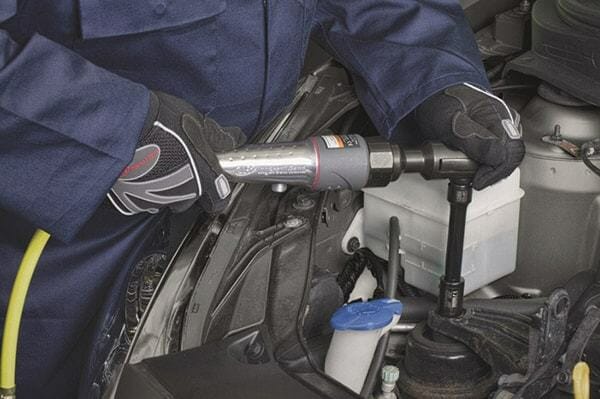 1. Drive Head
When choosing an air ratchet, it will be important to consider the drive head. Here the anvil size is what matters most, and the standard ones are 1/2-inch or 1/4-inch.
However, some models have 3/8-inch or larger drive heads. What you choose depends on the type of task you are doing with the air ratchet.
The 3/8-inch air ratchets are ideal for light to medium duty applications, while the 1/2 and 1/4-inch models are the best for heavy-duty jobs.
2. Torque
The torque that the tool generates is another crucial factor to consider as it determines what you can use the tool to fasten or unfasten. Torque is measured in foot-pounds (ft-lb), and the higher it is, the more powerful the ratchet.
You can get air ratchets with a torque of as little as 10 ft-lb or as much as 200 ft-lb or even more.
If you are only using the tool for fastening small and basic fasteners, you do not need to spend a lot of cash on the high torque tools as you can end up with a lot of wasted power. Even a 16 ft-lb model like the Astro Pneumatic Tool 1119A can be enough.
However, for heavy-duty jobs, you need something that provides more torque, such as the 130 ft-lb AirCat 805HT.
3. Speed
The next important factor is the speed of the air ratchet, which is measured in RPM. An air ratchet's speed is the rate at which the drive head spins and screws or unscrews the bolts.
These days, you can find models with adjustable speed like the Dynamic Power Reversible, which are ideal for multipurpose use.
High-speed air ratchets are preferable as they help speed up the job. And this is more so when driving larger and longer fasteners. Most top models provide speeds of anything between 150 and 400 RPM.
4. Noise
Most traditional air ratchets produce a lot of noise while in operation. While these tools cannot be completely noiseless, you should still go for a model that is as quiet as possible.
To determine the amount of noise that the model you intend to buy produces, you only need to look at its noise rating, and the lower it is, the quieter the air ratchet.
Something with a noise rating of 80 dB like the Astro Pneumatic Tool 1119A is as good as it gets, but it is still possible to get a few models that are a little quieter than this.
5. Length & Weight
An air ratchet is a handheld machine, and so its length and weight are crucial since they affect the ease of use.
A shorter machine can easily get into confined areas and work seamlessly. This is especially important when working on car engines where space is limited. The lengths for these machines will vary from under 10 inches to around 20 inches.
Weight, on the other hand, determines how long you can hold the air ratchet before your hands get tired. A heavy ratchet tires your hand within a short time, meaning you cannot do a lot of work. Therefore, a lightweight machine like the 0.8-pound Neiko 30119B is ideal for extended period use with little to no hand fatigue.
6. Warranty
A warranty is your assurance that the air ratchet you buy is well built and designed to last.
The longer the warranty, the better as it means you get longer protection. You can get an air ratchet with a warranty that is as short as 1 year to as long as 5 years.
Besides the warranty length, you need to make sure the brand you buy has a reputation of honoring the terms to avoid disappointments.
Conclusion on Best Air Ratchets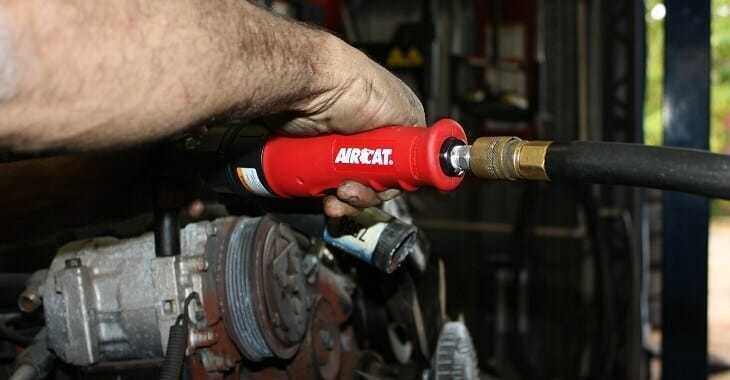 An air ratchet is one of those irreplaceable tools for both DIYers and professional mechanics, but like any other power tool, you need to get the best one to ensure top-notch service.
Read More: The Best Mechanic Tool Set
We have you covered when it comes to recommendations as there is something for everyone on our review. From this list, the Ingersoll Rand 170G is our best overall as it is a well-built and multipurpose model with a lot to offer.
However, the 70 ft-lb torque and 300RPM speed Ingersoll Rand 109XA is our recommendation for those looking for a model that offers the best value for money.