It goes without saying that when fixing your car, you will want to have the best tools so that you can better results and have an easier time in the process.
However, building and expanding your toolkit can be very expensive and therefore, you have to pick the right tools that are high quality and most importantly, will be useful across a wide application area.
For this reason, we have come up with a list of the best mechanic tool sets that are highly reliable, and whether you are a beginner or a pro, you will definitely find one kit that meets all your needs.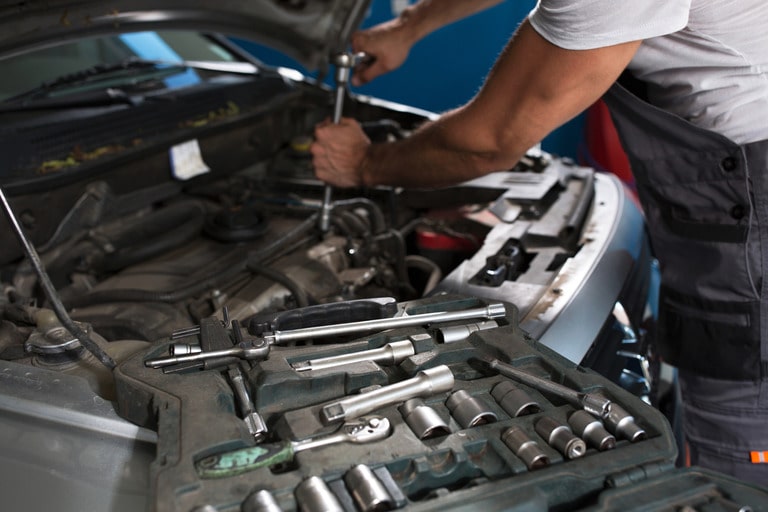 IMAGE
PRODUCT
FEATURES

1. Crescent CTK170CMP2 (Best Overall)

170 assorted tools for a wide application area
SAE and Metric measurement system
Meets the new ANSI and ASME specifications
Full satisfaction guarantee

2. DeWalt DWMT73803 (Low Profile Directional Lever)

168-piece tool set with hand stamped markings
Polished chrome vanadium finish
Direct torque technology
72-tooth gear system ratchets

3. Stanley STMT71654 (With Drive Socket)

201-piece set with multiple drive sockets
Ergonomically designed ratchets
Chrome vanadium construction with a chrome finish
Quick-release mechanism

4. Craftsman 50230 (Silver-Finished)

230 varied mechanic tool pieces
Alloy steel construction with a silver finish
Packed in a strong carrying case

5. DeWalt DWMT81535 (Chrome-Finished)

247-piece tool set with polished chrome finishes
DirectTorque technology
Comfortable anti-slip screwdriver
Sturdy blow mold case

6. Stanley STMT73795 (Set in Tri-Fold Case)

210 pieces with pliers and a measuring tape
Blow-molded tri-fold case with a twist lock
Chrome vanadium forged body
Full polish chrome finish

7. Apollo Tools DT9408 (Best for the Money)

Affordable 53-piece toolset
Multi-purpose kit
Includes pliers, hammer and level
1. Crescent CTK170CMP2 - Best Overall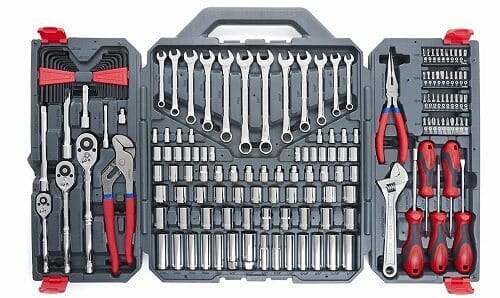 Number of Pieces: 170
Measurement Systems: SAE & Metric
Warranty: Lifetime
This toolset takes the overall best spot specifically because it is packed with a carefully selected assortment of hand tools that are designed to be useful in most consumer, mechanical and industrial applications.
With 170 pieces, you get SAE and Metric 1/4, 3/8 and 1/2-inch drive tools, drive type 6 and 12-point, a pair of pliers and many other tools. However, a level and tape measure are not included.
Each of these tools is built to meet the stringent new ANSI and ASME specifications, which basically means they meet all the relevant standards of mechanic tools worldwide for universal compatibility.
Other features include a new, stronger blow-molded folding plastic storage case for organized storage with a carry handle for easy transportation, the inclusion of crescent screwdrivers, which diversify the application area of the kit, a lifetime warranty, and a full satisfaction guarantee.

---
2. DeWalt DWMT73803 - Mechanic Tool Set with Low Profile Directional Lever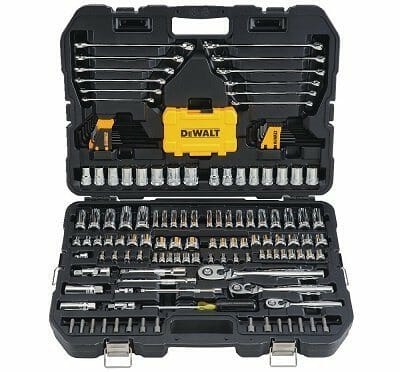 Number of Pieces: 168
Measurement Systems: SAE & Metric
Warranty: Lifetime
DeWalt's DWMT73803 is the top-rated mechanic toolset in this review and this can be attributed to the quality of the kit. For instance, low-profile directional levers are included inside and these are designed to help you reduce catch points for easy one-hand operation.
Other than this, the included ratchets feature 72-tooth gear systems, which are very good at high torque ratcheting, especially in tight spaces.
You also get multiple wrenches, hex keys, sockets and more, with the sockets and wrenches featuring direct torque technology, which helps in preventing the rounding of fasteners while also providing better grip.
The pieces have hand stamped markings showing the size for easy selection and have a polished chrome-vanadium finish for durability purposes. However, no pair of pliers is included in the kit.

---
3. Stanley STMT71654 - Drive Socket Mechanic Tool Set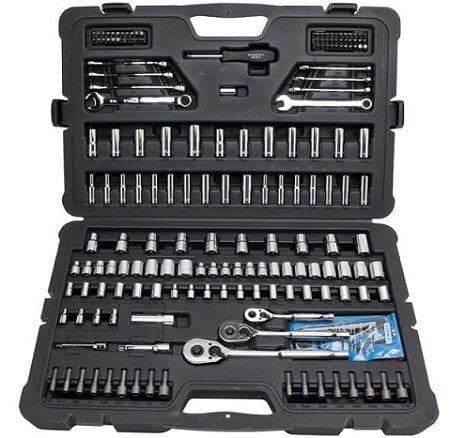 Number of Pieces: 201
Measurement Systems: SAE & Metric
Warranty: Lifetime
With 20 3/8-inch and 1/4-inch six-point drive sockets, as well as 20 1/4-inch drive deep sockets and many others, this mechanic toolset is mostly a drive socket kit that is designed for reaching down into nuts that are hidden in engine blocks and other car parts.
Other than this, the set also contains 8 combination wrenches and a number of ratchets, which are actually ergonomically designed with an easy-to-use thumb operated reverse switch mechanism.
These pieces are made of a forged chrome vanadium material for strength and durability and are then covered in an anti-corrosive chrome finish for additional durability.
Other features include a quick-release mechanism on the socket drive and a tough, durable carry case for mobility and storage purposes. However, pliers, a level and a measuring tape are not included.

---
4. Craftsman 50230 - Silver-Finished Mechanic Tool Set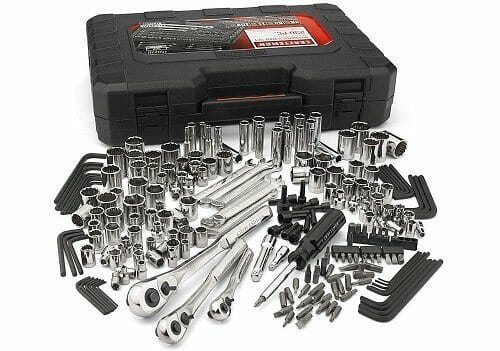 Number of Pieces: 230
Measurement Systems: SAE & Metric
Craftsman 50230 is quite packed because it contains 230 tool pieces, and each of these has a durable alloy steel construction with a silver finish, which makes them even more durable.
That said, the set contains universal joints, extension bars, 6 combination wrenches in both standard and metric, easy-to-use quick-release ratchets, 40 screwdriver bits and magnetic handles with nut drivers, among many others.
All of these are packed in a sturdy carrying case that is meant for easy transportation and organized storage. On the downside, you don't get a pair of pliers, level or measuring tape in the 230 pieces.

---
5. DeWalt DWMT81535 - Chrome-Finished Mechanic Tool Set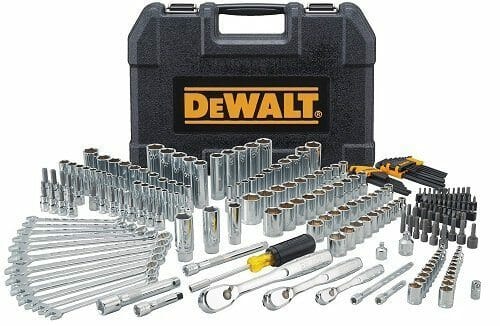 Number of Pieces: 247
Measurement Systems: SAE & Metric
Warranty: Lifetime
DeWalt is one of the best mechanic tool set brands in the market and with kits such as this DWMT81535, it is easy to see why. For starters, the unit has a total of 247 pieces and all have full polish chrome finish for corrosion resistance.
Additionally, all the pieces are packed in a durable blow mold case that is designed to keep your tools safe in storage and easier to transport to site.
Sockets and box-end wrenches are included inside, and these incorporate the use of DeWalt's DirectTorque technology, which allows for better contact with fasteners and with greater torque, making it quick and easy when loosening or tightening.
Other features include a comfortable anti-slip screwdriver, a 72-tooth ratchet that allows for a 5° arc swing in high torque tightening on tight spaces, and many other components. However, no pliers, measuring tape or level is included.

---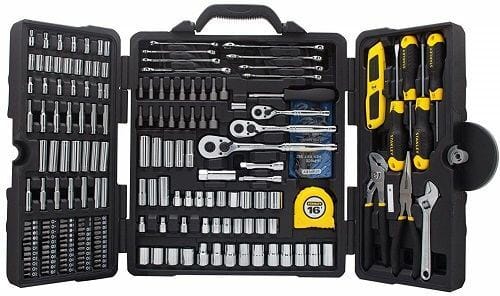 Number of Pieces: 210
Measurement Systems: SAE & Metric
Warranty: Lifetime
With 210 tools, this kit comes packed in a durable blow-molded tri-fold case, which gives better organization and has a twist-lock mechanism that is more secure.
All the components are designed to meet or exceed ANSI's specifications, which means they are fully standard and compatible to use on almost all cars.
Apart from the regular ratchets, screwdrivers, and sockets, you also get a pair of pliers and a measuring tape, which makes the kit very versatile and practical.
A chrome vanadium forged body ensures that all the pieces are strong and durable enough for high torque applications while a full polish chrome finish protects against corrosion.
However, a hammer and level are not included, but you still get enough varied pieces for complete car maintenance.

---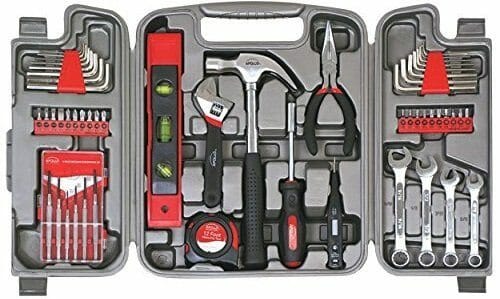 Number of Pieces: 53
Measurement Systems: SAE & Metric
Warranty: Lifetime
If you are on a tight budget, you should go for this DT9408 from Apollo Tools because it is very affordable and despite this, it has all the basic tools for most DIY car repairs, making it the best starter mechanic toolset.
These tools include an adjustable wrench, long nose pliers, combination wrenches, hex keys, claw hammer, tape measure and level among many others.
The hammer and tape measure actually make this a multipurpose kit that can also be used for hanging pictures, cutting, measuring, etc.
On the downside, you only get a few tools, which total to 53, and no sockets are included for accessing deep, hidden nuts.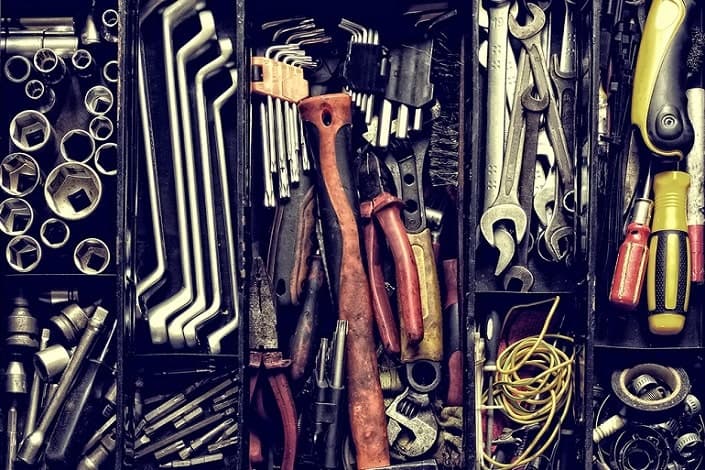 1. Your Purpose
Before even going to the selection or shopping process, you must know or have an idea of what exactly it is you want. This is because not all toolsets are exactly the same with regard to the tools contained inside.
For car repairs, you will need items like sockets, wrenches, Allen keys, etc. However, if you want a set that can help you hang wall paintings or other DIY projects at home as well, then you need a hammer, a level and also a tape measure.
That said, getting a set that contains all these kinds of tools is quite difficult and therefore, you have to select based on the tools that are useful to your work.
As stated earlier, it is quite difficult to get a toolset that has them all. However, it is recommended to get a kit that has a wide variety of tools as you begin, then buy the extra tools as and when you need them.
You can also choose to begin with a small kit, especially if you are short on cash, then build your set slowly as your needs increase.
All of the above tools are packed in their own boxes and these help in keeping the pieces well organized while also protecting them from damages and helping you to transport them with ease.
As you choose your toolset, it is also important to consider the toolbox and ensure that it is strong enough, possibly even rust and dent-resistant, so that it keeps your tools safely stored inside.
4. Measurement System
The measurement system factor is important to consider for compatibility purposes. Basically, SAE and Metric are the most common measurement systems, and they are very different.
SAE stands for Society of Automotive Engineers and this system is designed to be compatible with domestically (USA) made cars. Measurements are given in inches or fractional inches under this system.
On the other hand, the Metric measurement system uses millimeters to show the socket sizes, and this is used on imported cars.
That said, if you get a toolset with an SAE and Metric system, then it has individual pieces that can be used in both domestic and imported vehicles, making it the best.
5. Comfort
In this case, comfort refers to grippy handles with some form of cushioning. Most people usually look at the usefulness of the tools and forget the other small things such as comfort and ease of use.
Therefore, when doing the selection, always choose the tools with grippy surfaces that feel comfortable enough for you.
6. Warranty
A good warranty is also very important for your toolset because as you rotate nuts and bolts if the pieces are not strong enough, they may bend or crack due to the high torque pressure. In such a case, a warranty will ensure you get a refund or an entirely new set.
If your set lacks this, then any damage will be on you. Luckily, most of the above mechanic toolsets have a lifetime warranty, and this usually only covers the tools only; if the storage case gets damaged, expect no refund.
7. Price
There is not much to say about the price factor. The more the number of tools per kit, the higher the overall price. If you have the money, then go for more pieces as this will give you an expanded application area.
If you are on a tight budget, then go for a few pieces and upgrade later on or build up your kit by buying additional tools with time.
Conclusion
In conclusion, there is no definite way of determining which is the best mechanic tool set but rather, this mostly depends on you as the mechanic and your intended use.
Considering that there are many different types of these toolsets containing different pieces inside, there is a lot to chose from.
However, after going through the mechanic tool set review above, you should be in a better position to pick the most suitable toolset that meets your needs.