A tire repair kit is a set of tools that allows you to mend punctures in tubeless tires without removing them from the rim or the wheel from the car.
It is very easy to use and is perfect for DIY repairs. You can learn how to mend punctures in no time using the manual guide, and you do not need any experience to do it.
To help you pick the best tire repair kit, we selected the top ones in the market and did an in-depth review. Without delay, let's see how they perform!
Top Tire Repair Kits of 2021 by Editors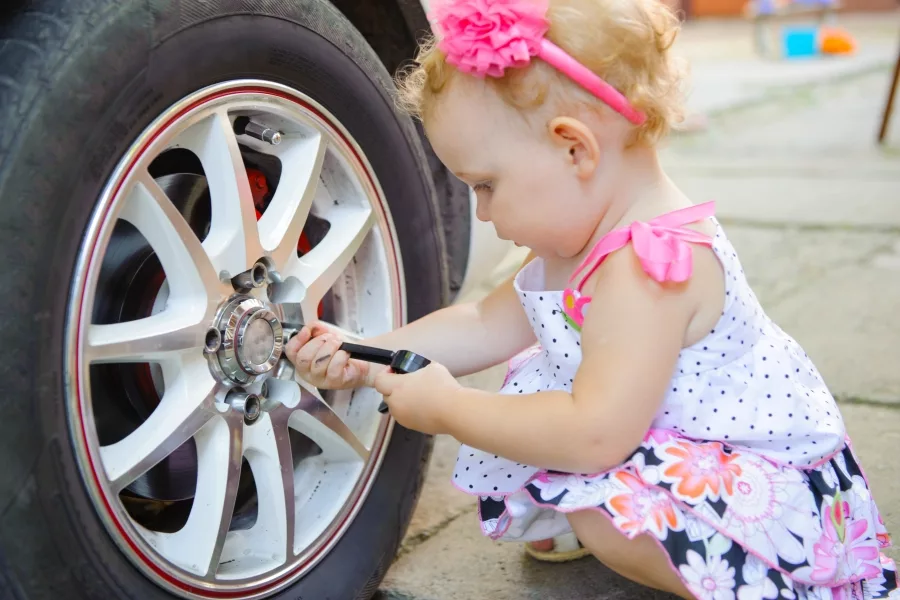 Summary of 7 Best Tire Repair Kits
IMAGE
PRODUCT
FEATURES

1. Boulder Tools BT4001 (Best Overall)


Versatile 56-piece tool set

Premium heavy-duty parts
Ergonomically-designed handles

2. Tooluxe 50002L (Best Budget)


Reasonably priced
Hardened rasp & needle
Plastic carrying case

3. Safety Seal KAP30 (Most Durable)


Sturdy metal reamer & needle
Extra insertion needle
Ergonomic T-handle

4. Slime 50107 (Best Flat Tire Repair Kit)


Powerful tire inflator
Built-in pressure gauge
Tire sensor safe sealant

5. Blackjack KT-340 (Best Professional)


Textured custom form-fitted case
Sturdy solid steel T-handle
Permanent live butyl rubber plugs

6. Slime 1034-A (Best for ATVs)


Compact 8-piece kit
Heavy-duty plugs
Affordable

7. Betooll HW9007-1 (Best for Tubeless Tires)


Universally compatible
Durable heavy-steel T-handles
Manufacturer defect warranty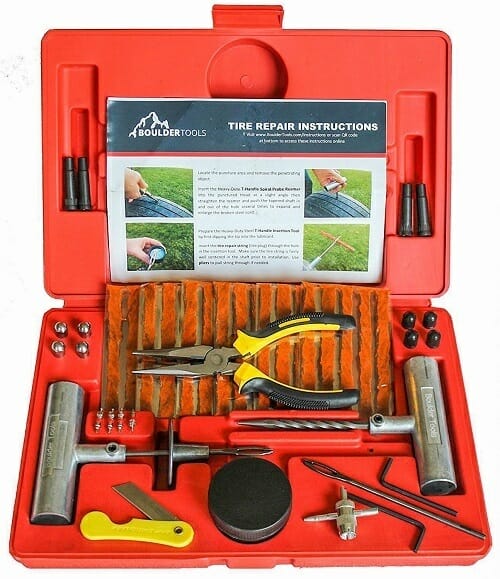 Boulder Tools' BT4001 is our best overall tire repair kit because it is versatile and contains premium-quality parts with ergonomic handles.
The product consists of a wide array of tools such as heavy-duty T-handle insert tools & spiral probes, a needle, needle-nose pliers, 30 repair strings, and many more. These make it versatile enough to mend punctures in almost all vehicle tires (car, ATV, trucks, trailers, etc.).
As shown above, the set includes premium heavy-duty parts, and apart from the T-handle tools, you also get brown heavy-duty strings. These create a super-strong safety seal to prevent any leaks from the mended hole.

The T-handle tools are ergonomically designed to fit comfortably in your palm for easy use, while the pair of pliers has a rubber molded handle to give a soft touch.

Overall, you get 56 pieces in total, which are neatly organized in a durable plastic case. However, the kit is designed to mend only radial tires, but these are the most common tires in almost all vehicles.

---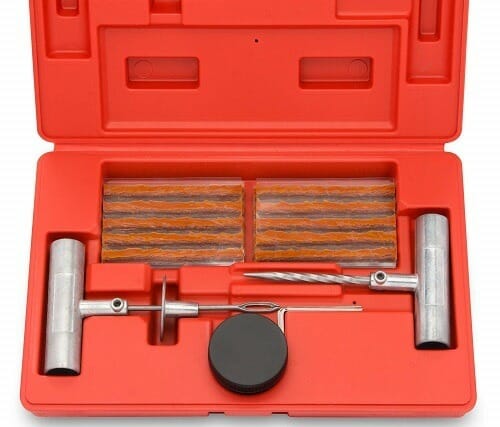 One of the best things about the Tooluxe 50002L is its reasonable price. Indeed, you get no less than 35 pieces in a relatively affordable tire repair kit.
Key among these pieces are hardened sand-blasted spiral rasp and insert-needle tools. These are very durable and resist dirt & grime so that you can simply wipe them after use.
You also get an ergonomic T-handle grip that gives you a firm and secure hold of the rasp and needle when prepping & mending the puncture.
Two hex keys are included, and these are used on the T-handle plugger to remove the rasp and needle for compact storage.
For the mending, you get thirty 4-inch string plugs to carry out multiple repairs. This set is housed in a red plastic carrying case for better organization.
On the downside, no blade or pliers are included for cutting the excess string after sealing the puncture and pulling out the piercing object from the tire, respectively.

---
3. Most Durable: Safety Seal KAP30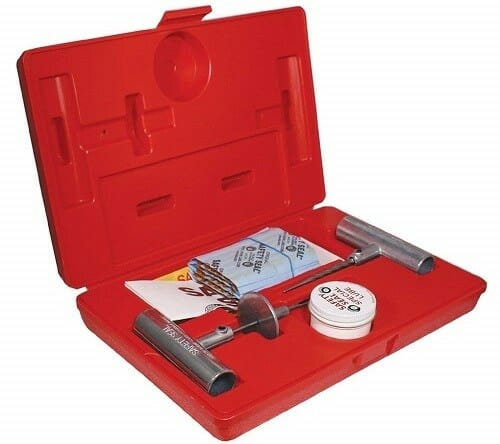 If you are looking for a durable tire repair kit, Safety Seal's KAP30 is the ideal pick. Indeed, this tire repair kit is quite basic, but it focuses on build quality. The reamer and needle are both made out of a strong metal, which makes them very durable.
You also get an extra metal insertion needle and a tough ergonomic T-handle grip. The reamer & needle are removable from the T-handle for compact storage, and a wrench is included to loosen the tightening screw.
Other than that, the repair kit comes with 30 rubber strings that measure 4 inches in length each. You can use these to repair a wide range of vehicle tires. The pieces are organized in a molded carry case for better organization.
However, the kit is expensive, but with its build quality, it is worth the money.

---
4. Best Flat Tire Repair Kit: Slime 50107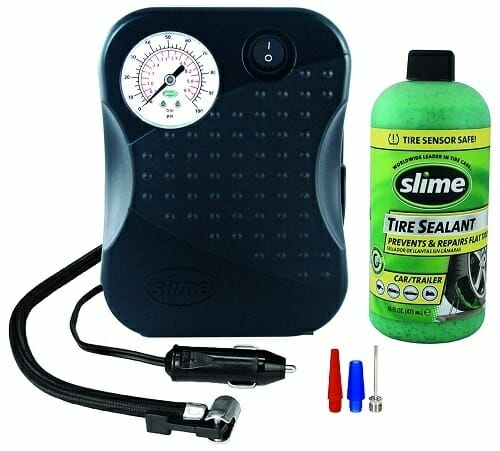 With its powerful tire inflator, Slime's 50107 comes in very handy if you have a flat tire. This plugs into your car's 12V accessory power outlet and has a quick-connect air hose that connects to the tire's valve. The inflator also has a built-in 0 - 100 PSI dial-gauge for accurate pressurization.
The second component of the kit is a repair sealant, and this should be squeezed into the tire's valve. Overall, this repair process is hassle-free and takes only 15 minutes. Also, you don't need jacks or tools.
It is important to note that this repair process must be done with the tire fully deflated, unlike strings where you only need to plug them into the puncture with air inside the tire.
That said, the sealant uses a special formula that penetrates any puncture up to 1/4 inches wide. It is non-toxic, non-corrosive, non-flammable, and tire-sensor safe.
These two components are packaged neatly in a zippered case for convenient storage. However, you don't get a pair of pliers for removing the nail or any other piercing object. This is an affordable tool though that you can buy separately.

---
5. Best Professional Tire Repair Kit: Blackjack KT-340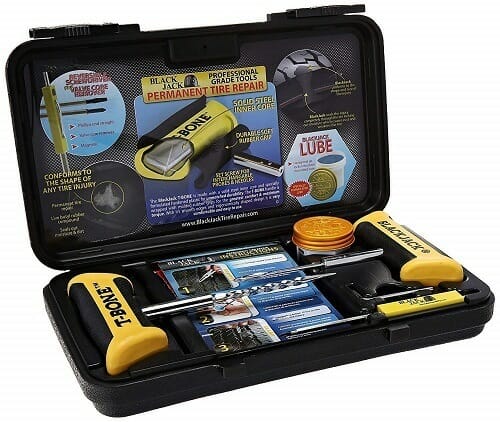 From its packaging to the components inside, Blackjack's KT-340 is clearly designed for professional use. The tools come packed in a black custom form-fitted case, with a textured exterior to give you a good grip when carrying it.
As for the components inside, you get a sturdy solid-steel T-handle with a rubber embedded PVC grip. This enables you to apply maximum pressure with precise control when prepping and mending the puncture.
The plugs are built using high tensile strength fibers, whereby each fiber is impregnated using live butyl rubber.
This compound is primarily developed using carbon black material for better strength and wear resistance. It also conforms to the size & shape of the hole. As such, the plugs seal out moisture and dirt to create a permanent repair.

That said, 40 plugs are included in the set. These are split into twenty large-diameter strings for repairing 1/4-inch-wide punctures and twenty small-diameter pieces for holes not exceeding 3/16 inches in diameter.
On the downside, the kit is relatively expensive, but it is worth the money.


---
6. Best Tire Repair Kit for ATVs: Slime 1034-A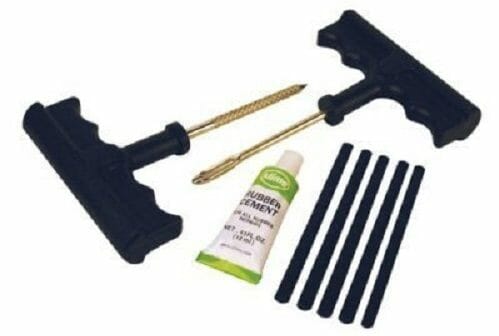 All-terrain vehicles usually don't have a lot of storage space onboard, so a compact kit is ideal. This is why we recommend Slime's 1034-A.
The product contains only the eight necessary components. These include a T-handle plugger & reamer for cleaning the hole and inserting the string, respectively. The handles are ergonomic for easy pressure application, with finger grooves for good grip.
You also get five heavy-duty plugs and a 0.41-oz tube of rubber cement. Another benefit you get with such a few pieces is a very affordable price tag.
The kit is quite versatile because it is ideal for mending punctures in wheelbarrow, lawn-mowers & other off-road tubeless tires. However, you can't use it on on-road tires and the rubber cement is very harmful to your body. It must be handled with care because it causes skin & eye irritation.

---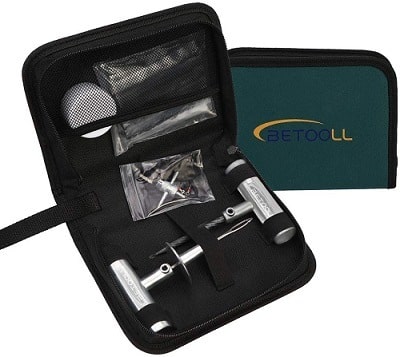 Betooll's HW9007-1 is the best repair kit for tubeless tires due to its universal compatibility. The set is suitable for cars, jeeps, ATVs, tractors, lawnmowers, and many others.
It is a simple 22-piece kit that contains T-handle insert & spiral probe tools, an L hex key, 15 self-vulcanization plugs, lubricant, etc.
The T-handles are made using heavy steel for maximum strength & durability and have an ergonomic design that feels great in your palm.
If any of these components has a manufacturing defect, you will get a full refund. You also get a thick & durable storage bag, which has a handle for easy carrying.
On the downside, a pair of pliers is not included for pulling out nails, and you don't get a knife for cutting any excess plug from the tire.


How to Buy the Best Tire Repair Kit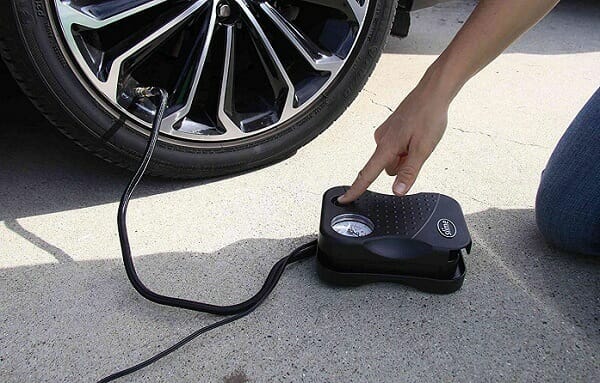 Even though the basic mending tools will do the job, a kit with more pieces gives you more to use.
For instance, you don't need valve caps for the repair, but these pieces help to replace any worn out or lost caps so that dirt and mud do not get to the valve. In general, we recommend getting a kit with the most pieces and is within your budget.
2. Size and Storage
Since the tire repair kit comes with many accessories, it is important to have a carry case. This helps to organize the tools better, prevent them from getting lost, and make transportation easy.
Most cases are made from molded plastic, which is ideal due to its toughness & durability.
3. Versatility
One of the most important factors to look for when trying to find the best tire repair kit is versatility. Indeed, you want a tire repair kit that can repair all types of punctures, regardless of the vehicle.
That said, Betooll's HW9007-1 is very versatile because it can be used to mend punctures in all kinds of tubeless tires.
4. Ease of use
Tire repair kits are very intuitive to use. However, some features improve the ease-of-use factor. These include an ergonomic T-handle, gloves for non-slip handling, and soft, rubber-molded pliers handles. For this, be sure to check out Autown's 8542044243.
5. Price
The price of tire repair kits is usually determined by the components inside. Ultimately, the more the pieces, the better, and if you don't mind the cost, we recommend getting a plug kit and an inflator kit. Otherwise, consider the features you need, then buy the one that works for you.
Frequently asked questions
A: You usually get a T-handled reamer & needle, a pair of pliers, repair plugs/cords/strings, a knife, spare valve cores, caps & stems, lubricant, and a storage case. However, with the sealant kit type, it includes a tire inflator and the slime sealant.
How long do Car Tire Repairs Last?
A: A properly plugged repair can last up to 10 years. This is usually longer than the time it will take to wear out the treads.
What is the Best Flat Tire Repair Solution?
A: Plugs are easy to use. However, you cannot apply them to a tire's shoulder or sidewall. On the other hand, patches require more work because they are installed inside the tire. They last longer than plugs, though, and can be fitted on the shoulder or sidewall.
A good compromise is the slime sealant. As compared to plugs, it takes more time to complete the repair process but mends holes in all areas of the tire. When compared to patches, you don't have to remove the tire from the rim. Only deflate the tire, squeeze the sealant through the valve, then inflate it.
How many Repair Plugs can I Use in a Puncture?
A: Just one. Plug repairs are limited to punctures that don't exceed 3/8 of an inch in diameter.
Conclusion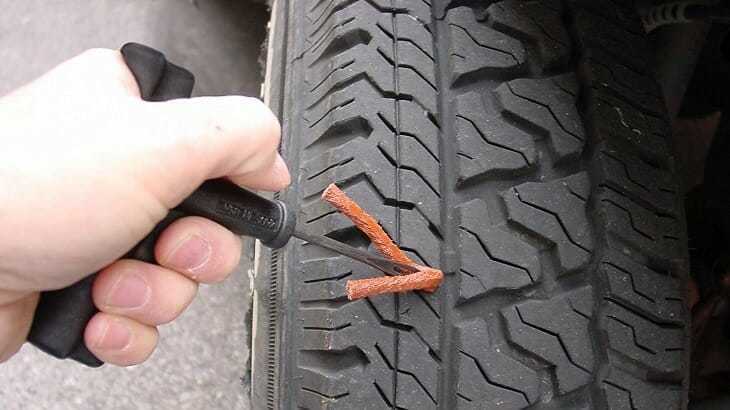 As you can see, we recommend Boulder Tools' BT4001 as our best overall tire repair kit because it is a versatile 56-piece set. These are heavy-duty pieces, and they are housed in a durable plastic case for better organization.
You could opt for Slime's 50107 if you already have a flat tire because the kit comes with a powerful tire inflator. This component has a built-in pressure dial gauge and a quick-connect air hose.
On the other hand, the Tooluxe 50002L is ideal if you want a budget kit. It is reasonably priced, but still has all the components you need to mend a puncture.