Washing a car by hand is always an excellent way to take care of it as you can clean it more thoroughly and without scratching the surface. However, to get good results, you first need to find the best car wash soap.
A good car wash soap will get rid of all the dirt and other surface contaminants and is also gentle on the paint. What's more, it can help restore the paint's luster and save you money as you never have to visit a car wash.
With plenty of car wash soaps out there, here we help make it easy to choose a good one with a review of top options and a buying guide.
Editor's Recommendation: Top Car Wash Soaps of 2021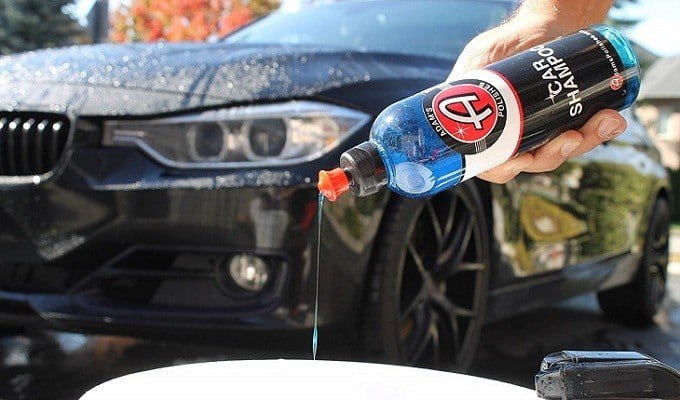 Summary of 7 Best Car Wash Soaps
IMAGE
PRODUCT
FEATURES

1. Meguiar's G7101FFP (Best Overall)

One-step cleaning & conditioning
Advanced cleaning formula
Ultra-rich conditioners
Foamy canon ready

2. Chemical Guys CWS_402 (Best Inexpensive)

More affordable
Residue-free rinse
Gentle, pH-neutral formula

3. Chemical Guys CWS_101 (Best Smelling)

Enticing cherry scent
Highly concentrated formula
Enriched with foaming agents

4. Chemical Guys CWS_110 (Best Multi-Surface)

Safe on all vehicle surfaces
pH neutral formula
Fresh natural smell

5. Adam's D001 (Best for Pressure Washer)

Spot-free pH neutral formula
Safe for all vehicle surfaces
Pleasant blueberry smell

6. Turtle Wax T-472R (Best Car Wash & Wax)

Washes & shines vehicle
Smart shield technology for extra shine

Rich, lubricious foam

7. Chemical Guys CWS_808 (High Gloss)

Gives your car an instant shine
Super-slick formula
Rinses clean with no residue
1. Best Overall: Meguiar's G7101FFP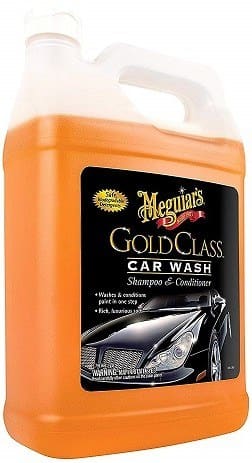 Meguiar's G7101FFPis our best overall product as it cleans well, is multifunctional, protects the paint surface, and is also easy to use.
This multifunctional soap offers a 2-in-1 solution because besides cleaning the surface, it also conditions it in just one step. Better yet, the conditioner is ultra-rich to ensure the paint job maintains a pleasant look.
The advanced formula effectively removes dirt from the car's surface without stripping off the wax. And it is also biodegradable, making this a more eco-friendly product.
Meguiar's G7101FFP is foam cannon ready. For foam cannon use, you need a dilution ratio of 5:1, meaning the 1-gallon container can make up to 5 gallons of cleaning product.
If you prefer something highly concentrated, this soap is not the most potent. However, it still does a fantastic job and can deal with common vehicle surface contaminants.

---
2. Best Inexpensive: Chemical Guys CWS_402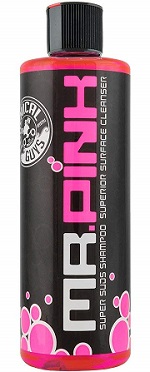 The Chemical Guys CWS_402 is one of the cheapest items on car wash soap review, making it a great choice for anyone looking for an inexpensive option.
This affordable product cleans well as it has quite a potent formula. Better still, you can use it with both buckets and foam cannon. You only need to add 1 fluid ounce of it to 5 gallons of water for bucket cleanups, and a fluid ounce should also be enough for a typical foam canon.
With this car wash soap, you can be sure of ending up with a more attractive surface as it leaves no residue. Better still, it offers a smooth, scratch-free washing experience, and is pH neutral as well, making it safe for your car's tires, wax, wheel, and plastic parts.
This car wash soap could be a little foamier, and this is more so when using it on a foam cannon, but it still cleans well. Also, the scent takes some getting used to, but it should not be a problem since it is not very strong.

---
3. Best Smelling: Chemical Guys CWS_101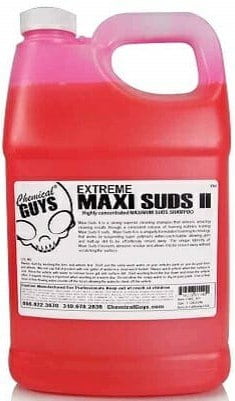 If you want your vehicle to smell nice after washing, the Chemical Guys CWS_101 is the ideal product for you as it has an enticing cherry scent.
In addition to the pleasant smell, this car wash soap also cleans well. The soap has some fantastic foaming agents that loosen the dirt safely and gently to allow you to remove it from the surface.
Better still, it is easy to use, does not strip your car's wax or any sealants, and it is ideal for both hand-wash and with power tools. Additionally, it is pH-balanced, and so, it is gentle on your car parts and paint job.
Given the highly concentrated formula, you need just 1 fluid ounce of the soap for 4 to 5 gallons of water, whether you are cleaning with a bucket or foam cannon. Hence, a little of it always goes a long way.
The bottle feels weak, but a little care is all it takes to ensure you do not damage it before you finish the product.
Notes: It's also available in smaller bottles like 64 and 16 fl. oz.

---
4. Best Multi-Surface: Chemical Guys CWS_110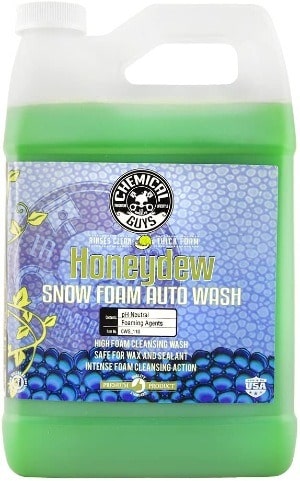 Whether you will be cleaning glass, rubber, vinyl, or any other material on your vehicle, the Chemical Guys CWS_110 is perfect as it is safe and effective for use on almost any car surface.
Besides its effectiveness, the car wash soap offers a high enough concentration to ensure a small amount of it goes a long way. Just one cup is enough for five gallons of water. What's more, it is also suitable for foam cannon and touchless wash.
Since this is a pH neutral car wash soap, it does not harm sealants or wax, making it ideal for your regular weekly washes. Better still, it has a pleasant natural scent that leaves the vehicle smelling nice for many hours.
Although this car wash soap seems a bit pricier, there is lots of product in the 1-gallon container. Also, the suds' consistency is not the best, but this is hardly a significant issue, given that it does not seem to affect the overall effectiveness.

---
5. Best for Pressure Washer: Adam's D001
Adam's D001 is a fantastic car shampoo for those looking for something they can use with their pressure washer. It creates some nice suds and is very easy to use with your foam gun or foam cannon.
Additionally, it has a gentle and pH balanced formula, making it safe for your paint job and wax. Also, it is ideal for all vehicle surfaces, including glass and plastic.
This soap does not leave any streaks no matter the surface you are cleaning. But, motorists will love that it leaves behind a pleasant wild berry scent.
You will need about 2 fluid ounces of this soap per 5 gallons of water when using buckets for the cleaning job. However, when cleaning with your pressure washer, use around 4 fluid ounces for optimal foam.
Although it seems you need to use relatively a lot of this product than others, the outcome is worth it.

---
6. Best Car Wash & Wax: Turtle Wax T-472R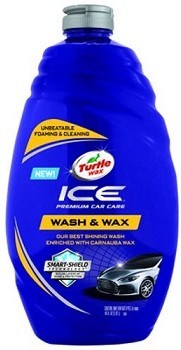 Turtle Wax T-472R is a top-rated car wash soap that you need to take a look at. Besides cleaning vehicle surfaces effectively, it also waxes them to ensure they end up neater than before.
The car wash soap makes use of the finest natural ingredients to ensure it cleans effectively and is safe for use on any surface, including the most delicate automotive finishes.
This Turtle Wax product is pH-balanced, so you don't need to worry about your car's coats. Additionally, it produces a thick foam that loosens and cleans up grease and grime with ease.
With the synthetic blend of shine enhancers, this car wash soap leaves a spot-free shine on all surfaces. Better still, it makes use of a smart shield technology to build protection layers over the paint.
When it comes to the application, you need to mix 1 fluid ounce of the product with a gallon of water. And with a little agitation of the mixture, you should get more than enough foam.
The scent is relatively weak, and you will hardly smell it unless you are super close. But since this does not affect the soap's effectiveness at cleaning, it should not be a deal-breaker.

---
7. High Gloss Car Wash Soap: Chemical Guys CWS_808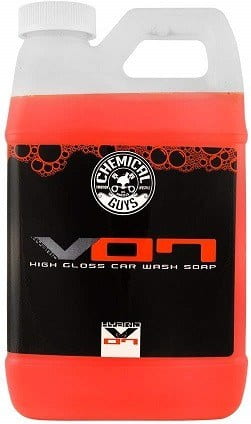 If you are looking for a car wash soap that will give the car surface the most shine, the high gloss formula Chemical Guys CWS_808 is a good buy.
This car wash soap is pH-balanced, making it safe for wax and sealants. Better still, it can work for all car paint colors and surfaces.
With the car wash soap's super slick formula, you can be confident the surface will never have any swirls or scratches. Besides cleaning and shinning the vehicle, this soap provides advanced UV protection.
Application is also quite flexible as you can use the two-bucket, foam cannon, or foam bucket method. Just 1 fluid ounce is enough for mixing with every 5 gallons of water. And the soap rinses clean without ever leaving any residue.
The formula is not the most concentrated, but it still gets the job done and should not be a big concern. Provided you do not use the soap under direct sunlight, you also never have to worry about water or soap marks.

How to Buy the Best Car Wash Soap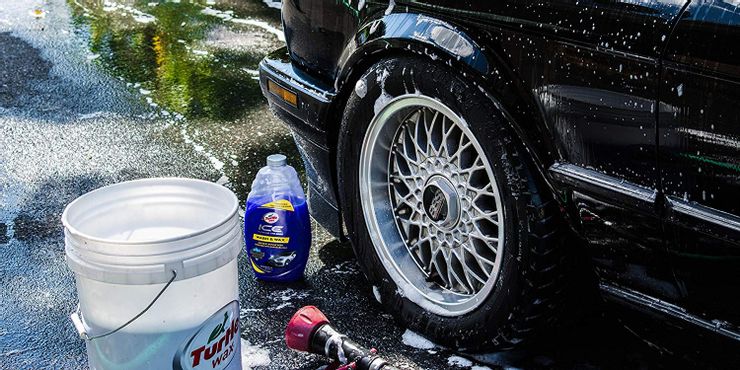 1. Types of Car Wash Soaps
There are four common types of soaps you can use to wash your vehicle.
Conventional Car Wash Soap. This is your plain car wash soap with no extras. It simply foams and helps you get the dirt off your car. It can be scented or colored, though.

Car wash Soap with Conditioner. This second type of car wash soap will both clean and condition the vehicle's surface. An excellent example of this is the Meguiar's G7101FFP.
Car Wash Soap with Wax. With this type, car detailing entails cleaning dirt from your car and protecting the paint job with a wax layer. Wash and wax soaps like Turtle Wax T-472R will save you the extra time you need to wax the car.

No-Rinse Car Wash Soap. Another revolutionary and time-saving feature of auto wash soaps is the no-rinse feature. When using a no-rinse soap like the Optimum NRWW2012Q, you can skip the rinsing part and just buff the car clean and dry.
2. Concentration & Dilution
Another important factor to pay attention to is the wash shampoo's concentration. This is because 1 gallon of concentrated soap wash offers better value than 1 gallon of a diluted version of the same soap.
As it is challenging to measure each car wash shampoo's concentration, the next best thing is to pay attention to the manufacturer's guidance on dilution.
The more water you can add to the soap, the more concentrated it is and the longer it lasts. A good dilution ratio is 1 fluid ounce of washing soap to 1 gallon of water.
3. Foaming Properties
Another vital quality of a washing soap is the type of lather it makes. You want a soap that produces foam that is as thick and rich as possible.
The lather is what determines how effectively the soap will pick up dirt particles. An excellent example of this is the Karcher 9.558-146.0that provides a rich and luxurious foam to loosen and remove dirt quickly.
4. pH Level
pH is a measure of the alkalinity or acidity of a solution. You want a shampoo formula that is neither too acidic nor too alkaline, but still slightly alkaline.
A slightly alkaline solution breaks up dirt easily. On the other hand, if the soap is too alkaline or acidic, you run the risk of damaging your car's paint job. Hence, you are better off with a pH-neutral product like the Chemical Guys CWS_110.
5. Eco-Friendliness
If you care about the environment, you should go for 100% biodegradable car soaps. With such soap, you can clean your ride with a clear conscience, knowing you will not hurt the environment.
6. Water Spot & Streak Resistance
You will find lots of car soaps leaving water spots and streaks after washing, and also find those that dry off quickly, leaving nothing behind.
The best car wash soaps are those that do not leave any water spots or streaks behind. These products ensure you end up with a more pleasant appearance and minimize the buffing you need to do afterward.
7. Scent
Different car wash soaps and shampoos come with different scents like lemon, orange, and berries. The choice here is personal as it is only you that knows the kind of smell you like.
That said, something with a pleasant scent like the Chemical Guys CWS_101 is always more favorable as it leaves the vehicle smelling great for a long time after the wash.
Must-Have Items for Washing a Car
Sponge. You need a quality sponge such as those made from microfiber, wool wash mitts, and sheepskin. The sponge should be firm enough to clean the car and soft enough not to scratch or damage the paint job in any way.
Brush. Although you could also use a sponge, a brush remains the best tool for washing your car's tires. Soft bristles don't work well, so go for one with medium-strength or stiff bristles.

Buckets. You need at least two buckets to wash a car effectively. The first bucket is for the soapy water, while the second is for the clean water for rinsing.
Drying Towel. There are different types of drying towels and their alternatives out there. These include chamois, water blades, squeegees, and microfiber towels.

Wheel Cleaner. This one is optional because you can clean your wheels with ordinary soapy water.
Bug & Tar Remover. This is another optional item, and it is useful when you want to remove bugs and tar from the surface. Just spray the bug and tar remover on your car, give it a few minutes to work, and then wipe with a cloth.

Wax. If you love your car's paint job and want to maintain the shine for as long as possible, you need to wax it from time to time to protect the glossy top-coat.
Polish. If the top coat does happen to get dull, then you need to polish the area. A polish is simply a fine abrasive that evens-out the tiny imperfections on your car's top coat to bring back its shine.
How to Properly Clean your Car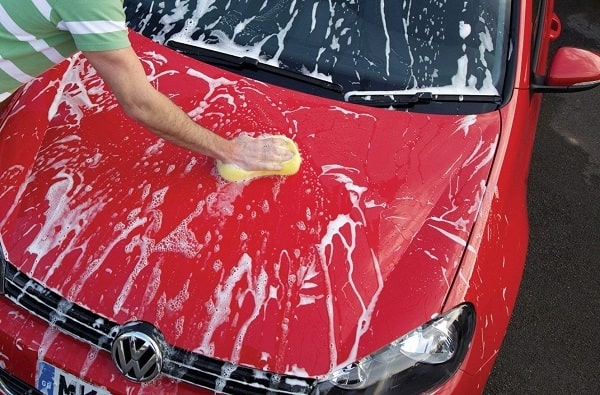 Here are the steps to follow when cleaning your vehicle.
Step 1: The Pre-Wash
Before starting with the wash, make sure the engine is cool and that the car isn't under the hot sun.
Step 2: Wheels First
After spraying the entire vehicle with water, you should first wash the four wheels and tires before the car body. This is because you don't want your wheel-wash solution splashing on your paint job and probably not getting washed off if you wash the wheels after the body.
Read More: The Best Wheel & Tire Cleaner
Step 3: The Right Mix
Before washing the car, make sure you mix the soap according to the manufacturer's directions. Doing this ensures you get the potency right for the best results.
Note: You need at least 2 buckets to properly clean your car. One bucket contains the soap mix, while the second is for clean rinsing water. You can even have a third one for the tires if you want.
Step 4: Wash & Rinse in Parts
Once you are all set up, start to wash and rinse the car in parts. You don't want the soap drying on the car, so try cleaning a door or two at once, then rinse the area off before moving to a different spot.
Step 5: Final Rinse & Drying
After washing and rinsing the car, you can now give it a general rinse with a hose, for instance. Next, you should dry the vehicle. Dry it as quickly as possible and make sure no water dries on the car. Here you can use drying towels or blades.
Step 6: Wax & Polish
The last phase for a perfect car cleaning session is waxing. Waxing is optional and offers no immediate visual improvement to your car's paint job, but it does protect the top-coat.
FAQs
Can I Use Dish Soap or Dishwasher Detergent to Wash my Car?
A: While it is not unheard of for people to go cheap and use dish soap or dishwasher detergent to clean vehicles, it is never a good idea. Because these products are not formulated for the car's paint job they can strip off the wax and sealant or even damage the paint job as some can be quite harsh.
Do Different Colored Cars Need Different Types of Soap?
A: Most car wash soaps are safe for all vehicle colors. In case a particular soap is meant for a specific color like black only or dark colors, the manufacturer often makes this clear in the description.
Conclusion
Whether all you need is a car wash soap that provides a super shine, protects your paint job, or is simply the most cost-effective, there is something for you on our list above.
Ultimately the best car wash soap for you depends on your needs. Still, Meguiar's G7101FFPis our best overall option as besides cleaning various surfaces, it is easy to use and delivers exceptional results.
If you are on a tight budget and prefer something inexpensive, go for the Chemical Guys CWS_402.
Sources
How to Clean Your Car - WikiHow