Cabin air filters are very crucial components in a car's air conditioning and general air circulation system. Air from the outside is usually filled with dust, pollen, and other debris and if these get into the car, they can lead to allergies while also making your interior a bit dirty.
However, an air filter traps all these so that you get clean air on the other end but this component does not last forever. Due to constant filtration, the unit accumulates debris and when it gets to the point that they interfere with air flow, a replacement is due.
If you need such a replacement part, here are 7 best cabin air filters that you should consider.
Editor's Recommendation: Top Cabin Air Filters of 2021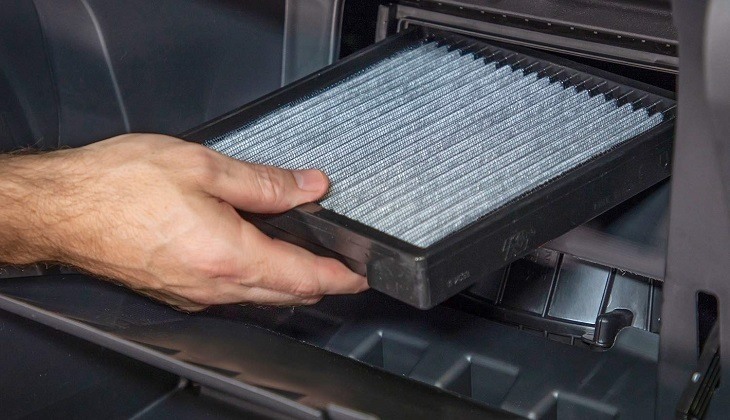 Summary of 7 Best Cabin Air Filters
IMAGE
PRODUCT
FEATURES

1. EPAuto AUTO-CF-002V2 (Best Overall)

Widely compatible filter
Soda and activated carbon
Enhances HVAC performance
Easy to install

2. EPAuto AUTO-CF-006

Easy-to-install filter for Honda and Acura
Soda and activated carbon
Enhances HVAC performance

3. ACDelco CF188

3-layered cabin air filter for GM cars
Non-woven material with long, separated media
Reduces bad odor

4. Mann Filter CUK 29 005

Activated carbon filter for Mercedes Benz cars
Carrier layer for structural strength
All round seal

5. Fram CF11809

Activated carbon filter
Arm and hammer baking soda
Ideal for some Cadillac, GMC and Chevy models
Traps 98% of airborne allergens

6. K&N VF2040

Reusable pre-treated cabin filter for Chevy cars
Long 50,000-mile lifespan
Electrostatically charged to grab dust particles
Durable construction

7. EcoGard XC36080

Active carbon filter for a few Honda models
99.5% filtration from its electrostatic media
Easy install
Does not interfere with the airflow

8. Beck Arnley 042-2180

Charcoal activated cabin filter for the Mazda 3
Durable, high-quality construction
Long 50,000-mile lifespan

9. Motorcraft FP-67

Multilayered cabin air filter
Ideal for Ford Fusion, Lincoln MKZ, Mercury Milan
Polyester seal reduces unfiltered bypass
Strong polyester frame

10. TYC 800001P2

Affordable filter for a few Honda and Acura models
Easy to install
Eliminates nearly 100% of exhaust pollutants
1. EPAuto AUTO-CF-002V2 - Best Overall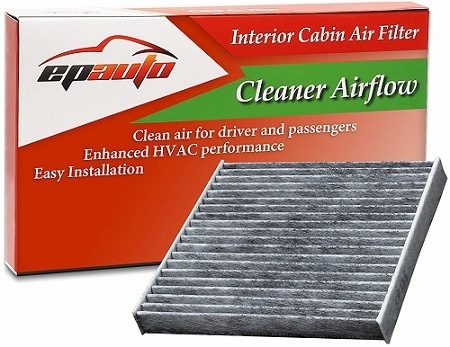 Compatibility: Toyota, Lexus, Scion, Subaru, Pontiac, Land Rover
Lifespan: 12000 miles/ 12 months
One major benefit with this EPAuto cabin air filter is that it can fit in multiple car-makes, making it widely compatible.
The product actually fits as a replacement component for multiple Toyota and Lexus cars, Range Rover (2014-2016), Pontiac Vibe (2009-2010), Subaru Legacy and Outback (2010-2018) and a couple of Scion models.
Soda and activated carbon are included in the filter's structure. These help generate a fresh breeze of air because the chemicals provide a large surface area for trapping contaminants, which is basically through chemical absorption.
Other features include an easy installation process, enhanced HVAC performance and a lifespan of 12000 miles or roughly 1 year, after which the piece is not reusable and must be replaced with a new one.

---
2. EPAuto AUTO-CF-006 Cabin Air Filter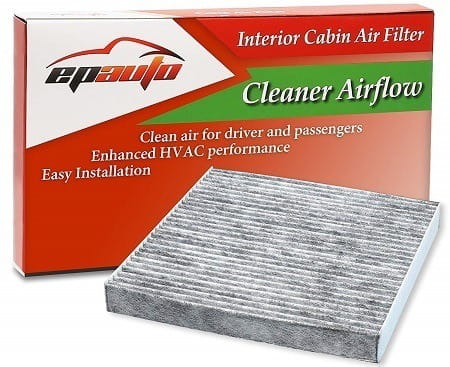 Compatibility: Honda, Acura
Lifespan: 12000 miles/ 12 months
Coming from one of the best cabin air filter brands in the market, this Auto-CF-006 is a replacement part for several Honda and Acura models, and though it is a bit less compatible; it covers a wider range of models from these 2 car-makes.
However, this filter's design is quite similar to its counterpart above, with activated carbon and soda for chemical filtration, and this generates a fresh and clean breeze of air for the driver and passengers.
In addition to this, the component enhances your car's HVAC performance, is very easy to install and has a lifespan of 12000 miles or 1 year. However, it is not reusable and must be replaced if the vents emit a musty odor or if the HVAC starts performing poorly.

---
3. ACDelco CF188 Cabin Air Filter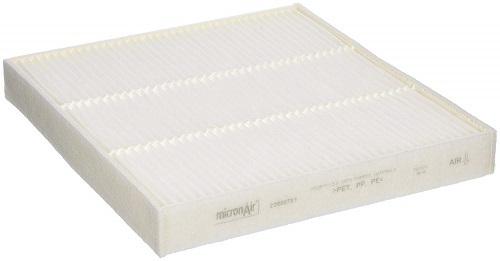 Compatibility: GM Vehicles
ACDelco's CF188 has a 3-layered design, which consists of an outer layer for capturing all the large airborne particles while the middle inner layer traps the smaller particles such as allergens from passing through.
The third layer does not really do any filtration, but it provides the structural strength that holds all the others in place.
That said, these layers are actually composed of non-woven materials, which contain long, separated media for capturing more airborne particles while not interfering with the air flow.
Other features include a durable, reliable and high-quality construction, and the component is actually designed as an OE replacement part for most GM vehicles.
When installed, the part keeps your car's vent system free from mold and bacteria, and also helps to reduce odor. However, it is not reusable and should be replaced as soon as smoke or bad odor starts to penetrate through.

---
4. Mann Filter CUK 29 005 Cabin Air Filter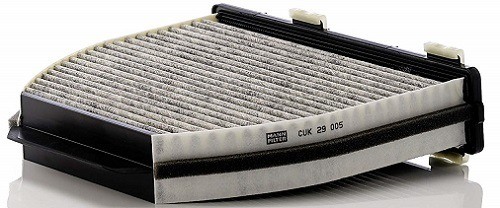 Compatibility: Mercedes Benz
If you drive a Mercedes Benz (excluding trucks), then this Mann Filter CUK 29 005 should be your go-to option as a replacement cabin air filter component.
That said, the part is designed to act as a sponge and contains an activated-carbon (charcoal) layer embedded in the structure of the non-woven filter material.
This layer contains very tiny pores that are up to 10,000 times smaller than a human hair, and these trap odor, harmful gases such as ozone, hydrocarbons and nitrogen oxides, resulting in a fresh and healthy stream of air passing through into the cabin.
Apart from the non-woven and carbon layers, a carrier layer is included for improving stability by holding the other 2 firm and steady for the job.
However, the component is quite expensive but it does a complete filtration job and contains a seal all round that ensures all the air passes through the media in the middle.

---
5. Fram CF11809 Cabin Air Filter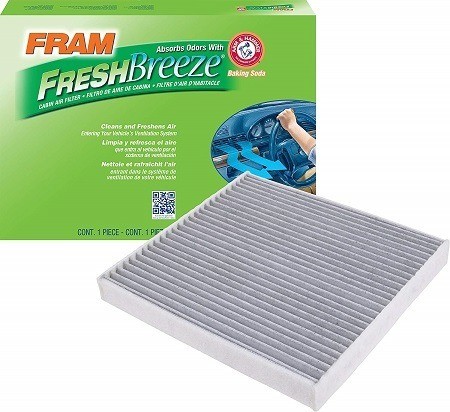 Compatibility: Cadillac, Chevrolet, GMC
Lifespan: 15000 miles/ 12 months
Aside from having activated carbon as part of its air cleaning arsenal, this cabin filter contains arm and hammer baking soda, and the two combined clean and freshen the air by trapping all the bad odor and harmful gases.
Other than this, the filter traps up to 98% of dirt, dust and other airborne allergens, effectively reducing the driver and passenger's exposure to such contaminants, which might cause asthma.
While trapping this dirt, the component does not block airflow, resulting in improved circulation inside. However, for the best and optimal filtration, it is recommended to change the unit every 15000 miles or roughly after 1 year to a new one since it is not reusable.
Other features include compatibility with Cadillac Escalade (2014-2019) and Escalade ESV (2015-2019), as well as a number of Chevrolet and GMC models.

---
6. K&N VF2040 Cabin Air Filter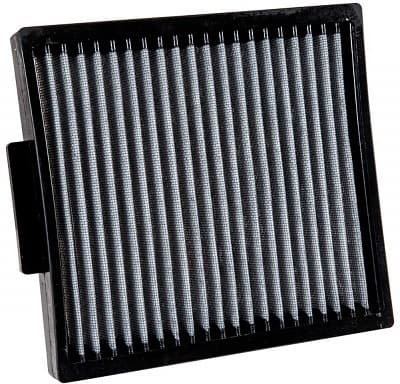 Compatibility: Chevrolet
Lifespan: 50000 miles
Though very costly, this VF2040 stands out from the rest because it is reusable and also very easy to clean.
Basically, the filter is made up of a durable polyurethane frame that goes around a premium synthetic filter media, which is factory fit, ready and easy to install, and has a washable structure that is highly durable, lasting up to 50,000 miles between servicing.
This filter media is also pre-treated to capture bad odor, as well as spores, bacteria, germs, mold, mildew and other small micro-organisms.
Other than that, the surface of the filter media is electrostatically charged to grab and hold onto dust particles so that they can be easily washed off later on. However, the part is only designed for Chevrolet vehicles and thus, is not widely compatible.

---
7. EcoGard XC36080 Premium Cabin Air Filter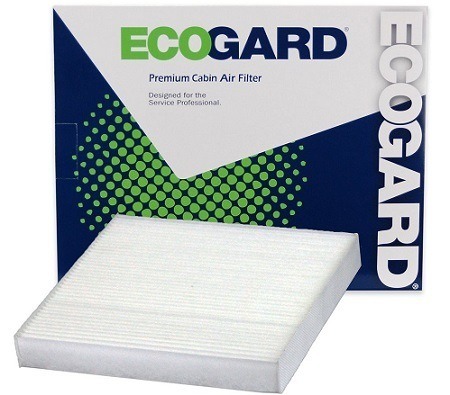 Compatibility: Honda CR-V, Fit, Civic, HR-V, Insight, CR-Z
Lifespan: 15000 miles
EcoGard's XC36080 is a premium cabin air filter that is designed for Honda cars, specifically the 2017-2019 CR-V, 2018-2019 Odyssey, 2010-2019 Insight, 2009-2019 Fit, 2011-2015 CR-z and 2016-2019 Civic and HR-V.
Although quite limited in terms of compatibility, the filter is quite effective, with the capability to remove and filter 99.5% of dust, pollen, pet dander, and other airborne allergens, which is due to its electrostatic media.
Other than this, active carbon media is included on the filter's material, and this helps to deal with bad odor and harmful gases, resulting in a clean and fresh stream of air going into the cabin.
The filter is also designed to maximize on airflow, which helps prevent premature wear on the HVAC system.
However, the piece is not reusable but it gives you a 15000-mile lifespan and is very easy to install as a new replacement.

How to Buy the Best Cabin Air Filter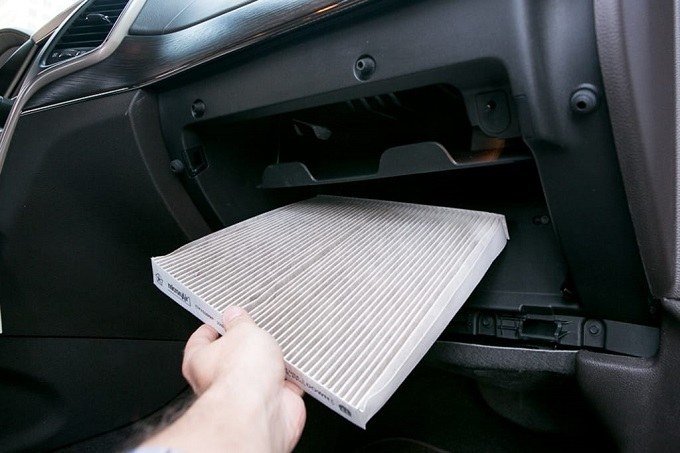 1. Compatibility
The first and most important thing to check before buying a cabin air filter is whether it is compatible with your car or not. Even though some filters are widely compatible, it is impossible to find one that fits in all types of cars.
Therefore, always check this property because the filter can only be useful to you if it fits. Otherwise, it will be a waste of money.
2. Particle or Activated Carbon Cabin Air Filter
These are the two main types of cabin air filters to consider. Particle cabin filters are designed to trap tiny particles (measured in microns) and usually have pores that are way smaller than the diameter of a human hair.
With such small pores, this type is ideal for trapping pollen, smog, dust, mold and other small airborne allergens.
On the other hand, activated carbon cabin filters add chemical filtration, which enables them to filter out odors and harmful gases such as nitrogen oxides and carbon monoxide.
They are designed to provide a large surface area of this active carbon so that it can bind to the elements of these harmful gases or odor, leaving a fresh and clean stream of air to flow through the other side of the filter.
This type is definitely better than a particle type air filter because of the additional chemical filtration function.
3. Lifespan
A long-lasting product always gives you more value for money and therefore, the longer the air filter's lifespan, the better. Measured in miles or months, this distance or time lifespan is usually given by the manufacturer and should be strictly followed.
However, when buying, always consider the one that has the longest service time, for instance, a 50,000-mile air filter is better than a 12,000-mile unit.
4. Brand
It is always recommended to give first priority to a brand you are well aware of because of quality issues.
Considering this, even if it is more expensive, it is better to buy an air filter that you are sure of its quality than a cheap one, which may turn out to be disappointing.
That said, all the above carbon air filters are from well-known and trusted brands but you can choose according to the one you know best.
5. Ease of Cleaning
This only applies to the reusable and washable cabin air filters in which, they should be easy to clean so that they can be reinstalled back into the vehicle quickly for continued use until their lifespan gets to an end.
Considering K&N VF2040 above, it has a washable structure that is very easy to clean and thus, only some drying time is required before putting it back into use.
6. Ease of Installation
While it may be easier to pay a professional to do the installation for you, you can always save up this money by doing it yourself and one the best ways to achieve this is by buying an easy-to-install cabin air filter.
Whether it is under the glove box or below the windshield, ensure the product takes a short time to set up and most importantly, it should come with an installation manual for step by step guidance.
When to Change Cabin Air Filter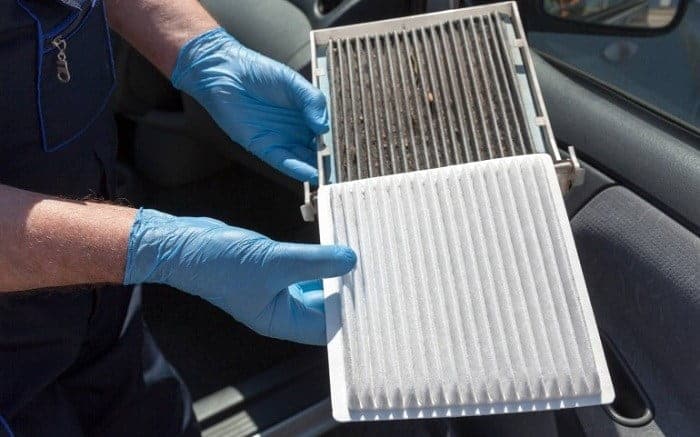 A cabin air filter does not remain useful forever. At some point, it will require to be changed and this is usually indicated either as a number of miles or months by the manufacturer.
However, this figure or lifespan is not fixed; it varies depending on your driving location. For instance, if you constantly drive in heavy traffic, say on a daily basis, then the smog and exhaust fume build-up in the filter will result in more frequent changes.
Similarly, if you drive on dusty roads or even in a desert climate area, the constant sand and dust particles being blocked by the filter will make it fill up much faster and hence, require more frequent changes.
Basically, the best indicators that the filter's time is up are a reduced airflow in the HVAC system and consistent bad odors. Once you experience these, its time for a replacement.
Conclusion
In conclusion, most cabin air filters have similar features and the most important thing to check is compatibility. Once you find some compatible pieces, you can then compare other features such as type, lifespan, and price, then buy the most suitable one.
With that in mind, having gone through the cabin air filter review above, you should be in a better position to select the best cabin air filter that matches all your needs and is best for your car.
Sources:
Do I Need to Change the Cabin Air Filter in My Car? - Angies List