Keeping your drinks and food cool while driving for a weekend adventure or a day-long trip can enhance the experience by a great deal.
Since most vehicles don't come with an integrated cooler, the best alternative is a car refrigerator.
These handy portable fridges are designed to plug into your car's regular 12-volt outlet. In a matter of minutes, they will start cooling their contents, without needing any ice. Some even double as food warmers when required.
Check out our car refrigerators review to learn more about these appliances, including their top features' suitability for your cooling needs.
Editors' Picks for Top Car Refrigerators of 2023
Summary of 10 Best Car Refrigerators
IMAGE
PRODUCT
FEATURES

1. Costway 23499-CYPE (Best Overall)

Superior 55-quart capacity
User-friendly control panel
Reliable battery protection

2. AstroAl M040W (Best Inexpensive)

Affordable & adaptable
Robust cool/warm function
Low 25 dB noise output

3. Alpicool C15 (Best for Dumpy Roads)

Shockproof for dumpy roads
Low 45W power consumption
Reliable car-battery protection

4. Wagan EL6206 (Best Compact)

Compact & space-economical
Dual cooling/warming function
Convenient carry strap

5. Whynter FM-45G (Most Versatile)

High 45-quart capacity
Multi-application versatility
Strong steel housing

6. F40C4TMP JSOUN002 (With Superior Insulation)

High-performance insulation
Convenient user interface
Integrated USB port

7. Joytutus TIAICMF003 (Ideal for Rapid Cooling)

Rapid 15-minute cooling
3-stage battery protection
Stable & shockproof

8. Alpicool CF35 (Perfect for Off-Road Adventure)

Vibration-resistant design
Reliable battery protection
Power-efficient running modes

9. ARB 10800472 (Easy to Use)

Convenient front-opening lid
Rear-facing internal LED
Large superior-grip EZ latch

10. Dometic CDF-11 (Most Durable)

High-impact & strong exterior
User-friendly control panel
Efficient power management
Top 10 Best Car Refrigerators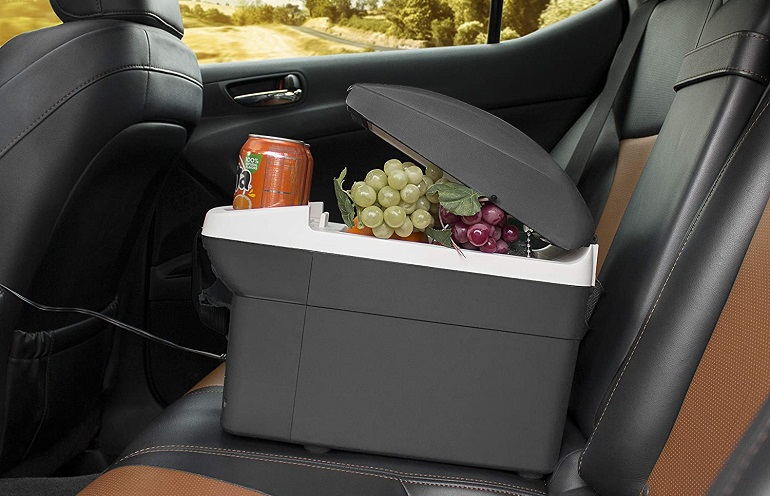 1. Best Overall: Costway 23499-CYPE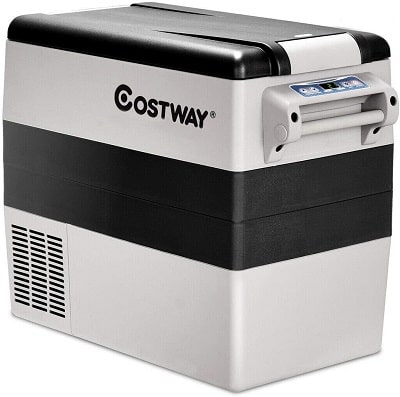 Power: 12V/24V DC, 100V/240V AC, 50W
Capacity: 55 quarts
Temperature Range: -4°F - 50°F
Dimensions: 27.0 x 13.5 x 21.0 inches
Weight: 36 pounds
Costway 23499-CYPE, our best overall car refrigerator, offers you a superior storage capacity, operation versatility, battery protection, and user-friendly controls.
With its massive 55-quart capacity, this fridge can hold up to 84 bottles of 330ml beer, 19 standard wine bottles, and up to 60 half-liter water bottles. Even with such elevated performance, the fridge is very power-economical thanks to its ECO and Max modes.
Because the fridge supports dual 12V/24V DC and 120V/240VAC power inputs, you can use it both at home, and in the car for your outdoor adventure. With its 3-level intelligent battery protection, you won't be worrying about depleting the car battery.
It offers convenient user controls thanks to a combination of digital buttons, and an LCD panel. Setting desired temperatures and adjusting compressor speed is very easy.
Since the Costway 23499-CYPE car fridge is a high-capacity one, it is chunky and not ideal for cars with limited spaces. Its price is also not pocket-friendly if you're looking to save money.
Superior storage capacity
Power-efficient operation
Convenient user controls
Reliable battery protection
Not suitable for space-limited cars
Pricey for the budget buyer

---
2. Best Inexpensive: AstroAl M040W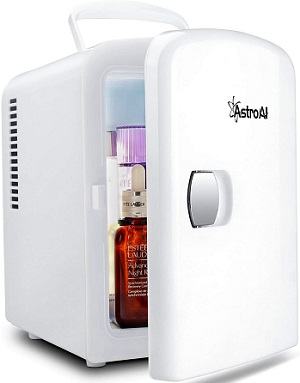 Power: 12V DC, 110V/220V AC, 32W - 48W
Capacity: 4.2 quarts
Temperature Range: - 32℉ - 150℉
Dimensions: 9.45 x 6.89 x 10 inches
Weight: 4.29 pounds
AstroAl M040W, our best inexpensive car refrigerator, offers you performance robustness, application adaptability, and low-noise operation, at an affordable price.
This low-cost fridge offers robust performance through its dual cooling and warming capacity. A temperature range of -32℉ - 150℉ allows the fridge to both cool and warm its contents within a very short time.
Versatility is another area where the fridge excels. It has a removable shelf, which simplifies the separation of different items such as food, medication, cosmetics, and breast milk, among others.
The fridge is surprisingly quiet during operation. With a reduced noise output of 25 dB, the unit will preserve your comfort while in the car. Its refrigeration chip is freon-free, making the entire appliance very eco-friendly.
Disappointingly, the AstroAl M040W's 4.2-quart capacity is rather low, especially compared to those of other rival models. The cooler also misses out on any form of battery protection, hence requiring you to run it only when the car is on.
Affordable & efficient
Robust cool/warm performance
Minimal noise output
Eco-friendly running
Capacity could be higher
Lacks battery protection features

---
3. Best for Dumpy Roads: Alpicool C15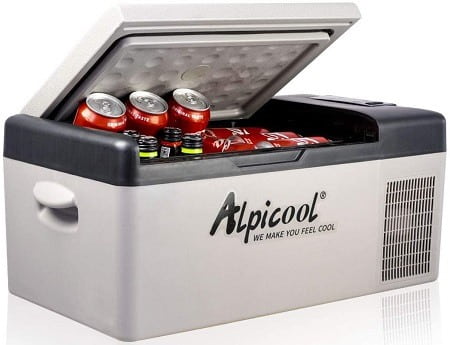 Power: 12V/24V DC, 100V/240V AC, 45W
Capacity: 16 quarts
Temperature Range: -4°F - 50°F
Dimensions: 23.5 x 12.6 x 10.2 inches
Weight: 19 pounds
The ruggedness, anti-shake, and shockproof performance of Alpicool C15 make the car refrigerator the best fit for dumpy roads.
It is built on a tough robust design, which persists through dumpy roads, allowing the fridge to maintain optimal cooling performance in slopes of up to 45 degrees.
This fridge is very user-friendly. It is fitted with a simplified LCD control panel that boosts operation convenience. On the panel, you can monitor the unit's performance, increase/decrease the temperature, and switch between different battery protection modes.
Another impressive feature of this 45W power-efficient fridge is its 3-stage battery protection capability. It has high, medium, and low (H, M, L) setting to safeguard your car's battery without depleting it.
During initial use, however, you may encounter an elevated plastic smell from the Alpicool C15 car fridge. The temperature gauge may also exhibit some inconsistency. Getting a fridge thermometer can help with this issue.
Tough for dumpy roads
Simplified control panel
Power-economical running
Reliable battery protection
Initial use may produce a plastic smell
Finicky temperature gauge

---
4. Best Compact: Wagan EL6206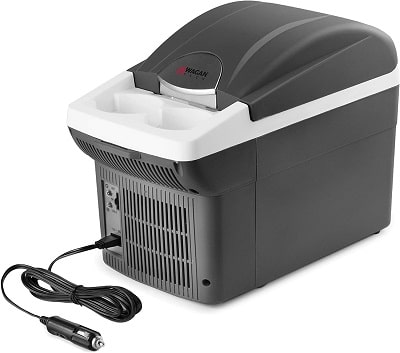 Power: 12V DC
Capacity: 6 quarts
Temperature Range: -36°F - 140°F
Dimensions: 15 x 11 x 8 inches.
Weight: 5.5 pounds
Wagan EL6206's compact build ensures you get to enjoy cooled drinks and other necessities even if your vehicle's interior space is limited.
The electric cooler measures just 15 x 11 x 8 inches in size, making it very compact. The unit's limited footprint leaves enough space for passengers and other essential items needed for your trip.
Its dual-function feature is very impressive. With a temperature range of -36°F - 140°F, this fridge not only cools food items, but it also warms them. At the end of your trip, simply switch to the warming function and your foods get heated.
Moving convenience is enhanced by a combination of compactness and a built-in carry strap. Portability becomes easy and less cumbersome.
The fridge has no refrigerant of CFCs. It is very eco-friendly. There is no risk of leakages or ozone-depleting emissions.
An issue that was disappointing about Wagan EL6206 is its lack of dual-voltage support. You can't power the unit using AC power.
Compact & space-saving
Dual cooling & warming
Simplified portability
Eco-friendly operation
Lacks dual-voltage support

---
5. Most Versatile: Whynter FM-45G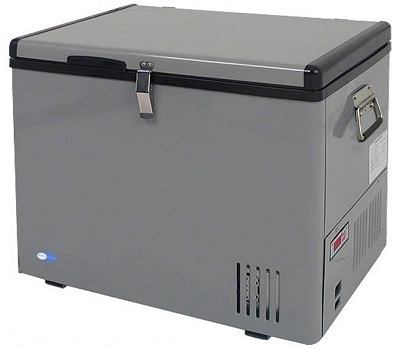 Power: 12/24V DC, 110V AC, 65W
Capacity: 45 quarts
Temperature Range: -8°F to 50°F
Dimensions: 16.5 x 23.5 x 20.5 inches
Weight: 45 pounds
The large capacity, multi-use capabilities, and strong build quality of Whynter FM-45G easily make it our most versatile car refrigerator.
This portable fridge boasts of a 45-quart capacity, which makes it one of the most spacious models available. For this reason, it is great for the car, home, and even outdoor use, during camping, for instance.
Versatility is further boosted by the fridge's dual-voltage capacity. You get an 8-foot AC and longer 10-foot DC power cord to maximize reach and boost positioning convenience. Its outer housing is made of powder-coated steel for toughness, strength & durability.
For easy and convenient usage, the unit has a power-low indicator, drain plus for hassle-free cleaning, and strong stainless steel handles to help with transportation.
We didn't like the fact that the Whynter FM-45G car fridge is chunky and heavy, at 45 pounds. It's also pricey, especially if you're on a budget.
Very spacious
Multi-purpose reliability
Strong metallic housing
Convenience-boosting feature
Weighty & not the most portable
Not very pocket-friendly

---
6. Superior Insulation: F40C4TMP JSOUN002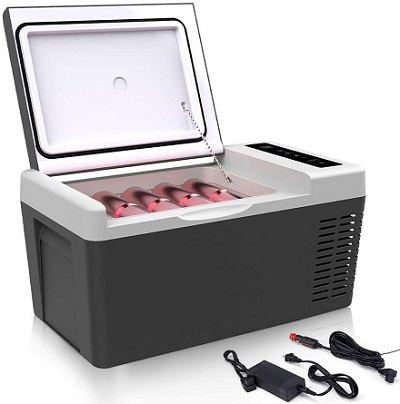 Power: 12V/24V/DC, 100V/240V AC, 45W
Capacity: 20 quarts
Temperature Range: -7℉ - 50℉
Dimensions: 22.4 x 12.6 x 11.2 inches
Weight: 27.6 pounds
Because of the superior insulation offered by the F40C4TMP JSOUN002 car refrigerator, the appliance will keep its contents cooled long after disconnecting from a power source.
This 2-in-1 fridge is both a cooler and a freezer. Because it uses an aluminum alloy in the internal chamber, cooling is very rapid. In just 15 minutes, the temperature drops to 32℉. It stores foods such as cheese, vegetables, dairy, and drinks while keeping them fresh.
The fridge minimizes power draw to the level of a car navigator, while the freezer function keeps your items frozen even after disconnecting the unit from power, by capitalizing on its high-performance insulation.
A user-friendly LED display complements the thermostat control to simplify fridge operation and temperature adjustments.
There's also an integrated USB port, which offers an outlet for recharging your smartphone or other supported devices.
On the downside, the F40C4TMP JSOUN002 fridge is bulky, at 27.6 pounds in weight. It is not optimized for portability.
Superior insulation
Rapid cooling
Simplified controls
Handy USB port

---
7. Ideal for Rapid Cooling: Joytutus TIAICMF003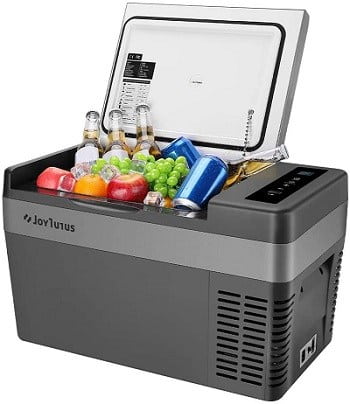 Power: 12V/24V DC, 110V/240V AC
Capacity: 26 quarts
Temperature Range: -7.6℉ - 50℉
Dimensions: 22.44 x 13.4 x 12.4 inches
Weight: 24.7 pounds
When you need your foods and other items cooled rapidly, the Joytutus TIAICMF003 car refrigerator gets the job done within a short time.
In just 15 minutes, the fridge's temperature lowers to 32℉, thanks to an aluminum evaporator in the unit's interior. The fridge will keep your food and drinks frozen even after you unplug it from the power source, using a reliable rubber seal strip.
You also get battery protection from this fridge. It's 3-stage protection system kicks in to prevent your car's battery from draining when powering the cooler.
Operating the cooler is very easy, thanks to LED touch controls, and a USB charger to keep your other compatible devices juiced up. Also, it is shockproof.
A potential issue you may encounter with the Joytutus TIAICMF003 car refrigerator is its rubber feet, which may offer great stability, but may also stick to some surfaces after extended use.
Fast cooling performance
Included freezing feature
Reliable battery protection
Simplified controls
Rubber feet may stick to some surfaces

---
8. Perfect for Off-road Adventure: Alpicool CF35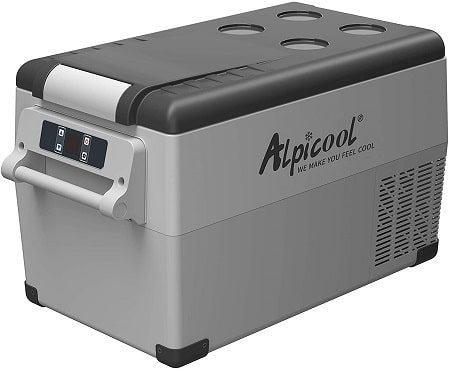 Power: 12V/24V DC, 110V/240V AC, 45W
Capacity: 37 quarts
Temperature Range: -4°F - 68°F
Dimensions: 27.2 x 15.0 x 13.6 inches
Weight: 28 pounds
The Alpicool CF35 car refrigerator adopts a vibration-reducing design which stabilizes the unit during off-road and 4WDing adventures.
Because of the dependable vibration resistance, this fridge is safe to operate even on angled roads of up to 45 degrees from the horizontal ground.
When not off-roading, you also use the fridge at home because it is compatible with 110V/240V AC input power, which is standard in most houses.
To prevent draining of battery power when the car isn't running, the fridge comes equipped with a 3-stage battery protection system that turns off the unit in cases a potential drain is detected.
And for low-power running, the fridge is driven by a high-efficiency compressor with ECO and HH modes to help with dynamic performance.
An issue we encountered with the Alpicool CF35 is its weak latch mechanism. Exercise caution when closing the fridge to prevent latch weakening.
Reliable off-road performance
Versatile for multiple applications
Battery protection capability
Efficient power consumption

---
9. Easy to Use: ARB 10800472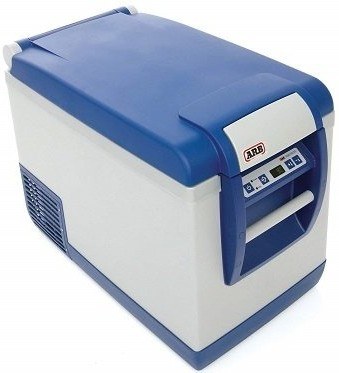 Power: 12V/24V, 100/240V AC
Capacity: 50 quarts
Temperature Range: - 0.4℉ - 50℉
Dimensions: 27.75 x 20 x 14.96 inches
Weight: 53 pounds
The spacious ARB 10800472 car refrigerator is one of the easiest to use because it offers a user-friendly interface, an internal LED, and an ergonomic latch.
It comes equipped with a front-opening lid that grants you unrestricted access to the fridge's contents. The lid is built on a robustly-engineered hinge, which is also patented.
On the lid's front is a full-grip EZ large latch that's big enough to secure the entire component and provide a good seal.
When it comes to temperature control, the fridge makes this process easy through electronic settings, which are optimized by an easy-access control panel. And for internal illuminations, there's a rear-facing internal LED.
To facilitate easy cleaning, the fridge has a drain plug that helps with the hassle-free removal of melted ice.
At 53 pounds, however, the ARB 10800472 car fridge is heavy, and not very portable especially when loaded.
Conveniently-placed lid
Large & secure latch
Simplified temperature controls
Easy to clean

---
10. Most Durable: Dometic CDF-11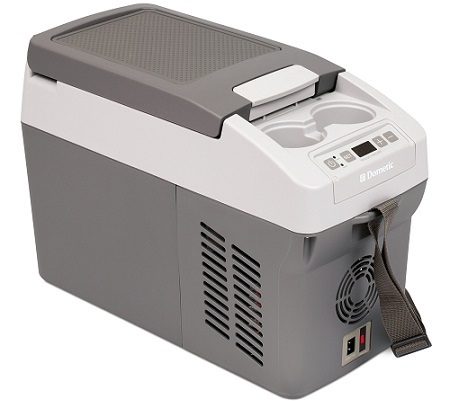 Power: 12V/24V DC
Capacity: 10.5 quarts
Temperature Range: -0.4℉ - 50℉
Dimensions: 21.26 x 14.09 x 9.25 inches
Weight: 18 pounds
The Dometic CDF-11 car refrigerator is built for long-lasting reliability, thanks to its adoptions of a strong plastic exterior.
This fridge's exterior is made of high-impact polyethylene that makes the unit both durable and weather-resistant. Its reliability will persist even through the toughest outdoor conditions. The exterior constitution also makes the fridge attractive.
It's very easy to operate the CDF-11 through its simplified control panel comprising LED indicators and soft-touch panels.
You'll be impressed by the fridge's efficiency in power management, which is made possible by performance-optimized compressors. And if you want to save on energy costs, the fridge is compatible with solar power, especially if you're camping out in the woods.
Disappointingly, however, the Dometic CDF-11 is very expensive for the 10.5-capacity it offers. Also, the handle design is a bit lacking because it doesn't enhance grip.
Durable exterior construction
Simplified controls
Efficient power management
Solar-power compatible
Very expensive
Sub-optimal handle design

How to Buy the Best Car Refrigerator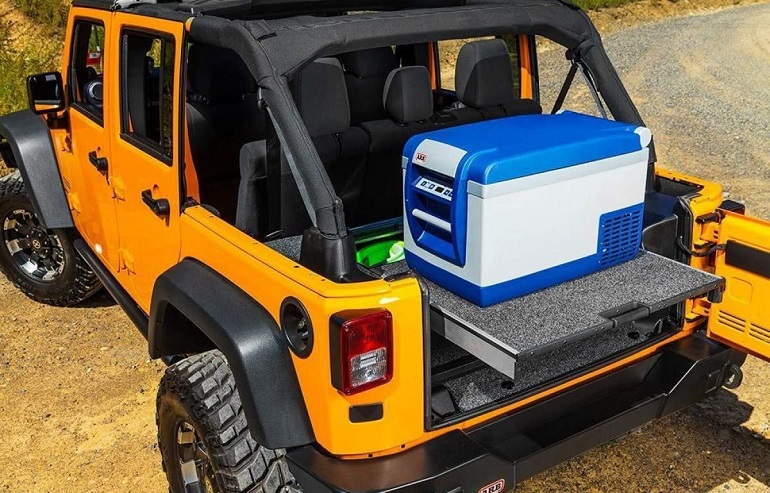 1. Total Capacity
Capacity is a top priority when choosing a car refrigerator. You want a fridge that holds all the items you need cool (and/or warmed later).
If you intend to cool a lot of foods or drinks for extended outdoor adventures, the high-capacity models such as the 55-quart Costway 23499-CYPE or 50-quart ARB 10800472 should provide the needed space.
It's worth noting, however, that even though high-capacity fridges offer ample cooling room, they take up considerable car space, which is considered precious.
Lower-capacity fridges may not store a lot of items, but they save your car space, for other items or your passengers' comfort. Ultimately, get a fridge whose size matches your cooling/warming needs.
2. Power Supply
The power supply specifications of different car refrigerators determine their compatibility with vehicles and other power sources.
Since almost all cars come with 12V DC power outputs as standard, your fridge choice should support a similar input power, to be fully car-compatible. All the models we reviewed support 12V DC power input.
If you want to use your fridge in the house, which is typically wired with 120V AC outlets, then get a model that supports a similar input power.
Some fridges also allow for dual 120V and 220V AC input, which offers additional power source flexibility, beyond the car.
3. Temperature Range
Cooling is the primary purpose of a car fridge. But some go a step further to support warming and even freezing, as additional features.
The capacity of a fridge to perform all these functions depends on its temperature range. For cooling and freezing purposes, a standard range of -7℉ to 50℉ is adequate. It allows for efficient varying between cooling and freezing.
Car fridges supporting dual cooling and warming tend to have wider temperature ranges than regular coolers. The AstroAl M040W and Wagan EL6206 fridges have wide 32℉ to 150℉ and -36°F to 140°F, respectively.
If you want more control over the cooling or warming temperature of your fridge, look for a model that supports adjusting the same.
4. Noise Output
While not very obvious, the noise output of a car fridge can affect your comfort levels when on the move.
If you're used to quiet rides, then a noisy fridge may disturb your peace. And while fridges cannot be completely noiseless, you can always get one that minimizes noise output.
Since loudness is measured in decibels (dB), the lower the dB rating, the quitter the unit runs. The AstroAl M040W, for instance, runs very quietly, thanks to its minimal 25 dB noise output.
You should make the same noise output considerations for a fridge intended for use in both the car and house.
Buy on Walmart
Car Refrigerator - AUTOOMMO 19 Quart/21 Can Portable Car Fridge for Vehicle, RV, Truck, - Walmart Link
BODEGA 12 Volt Car Refrigerator, Portable Freezer, Car Fridge Dual Zone APP Control, 38 - Walmart Link
BougeRV 23 Quart 12V Portable Refrigerator Car Freezer Fridge with Compressor,12/24V DC - Walmart Link
Dual-Zone 42-Quart Freezer/Refrigerator, Heavy-duty Car Cooler, Quickly Cool - Walmart Link
Euhomy 12 Volt Refrigerator, 45Liter(48qt) Car Refrigerator, RV Refrigerator with 12/24V - Walmart Link
F40C4TMP Portable Refrigerator Freezer 20 Quart 12 Volt Car Freezer Refrigerator 18L - Walmart Link
AstroAI Portable Freezer 12 Volt Car Refrigerator 16 Quart Fridge for Car, RV, Van, - Walmart Link
Buy on eBay
Car Refrigerator - AUTOOMMO 19 Quart/21 Can Portable Car Fridge for Vehicle, RV, Truck, - eBay Link
BODEGA 12 Volt Car Refrigerator, Portable Freezer, Car Fridge Dual Zone APP Control, 38 - eBay Link
BougeRV 23 Quart 12V Portable Refrigerator Car Freezer Fridge with Compressor,12/24V DC - eBay Link
Dual-Zone 42-Quart Freezer/Refrigerator, Heavy-duty Car Cooler, Quickly Cool - eBay Link
Euhomy 12 Volt Refrigerator, 45Liter(48qt) Car Refrigerator, RV Refrigerator with 12/24V - eBay Link
F40C4TMP Portable Refrigerator Freezer 20 Quart 12 Volt Car Freezer Refrigerator 18L - eBay Link
AstroAI Portable Freezer 12 Volt Car Refrigerator 16 Quart Fridge for Car, RV, Van, - eBay Link
Conclusion for Car Refrigerator Buyers

It's evident from our car refrigerator review, that for avid outdoor enthusiasts, a portable fridge is essential.
If you're looking for the best of them all, pick Costway 23499-CYPE, a high-capacity and user-friendly fridge, which also offers reliable protection for your car battery.
If you're on a tight budget, the AstroAl M040W car fridge is inexpensive, versatile, and impressively low-noise.
And if compactness is a priority for you, then grab the small and lightweight Wagan EL6206's, which saves you precious cabin space in your car.