Battery jumper cables are often a lifesaver for those times when you end up with a dead battery and the car just won't start. If you've ever been in such a situation, then you should know that they're a must-have.
They don't take up much space in your vehicle, they are affordable, safe, and relatively easy to use, so long as you understand and respect the laws of electricity.
Given that most people are generally not experts when it comes to cables and electricity flow, some may find the choosing or buying process a little difficult or confusing.
This jumper cables review, therefore, focuses on helping you to make the best choice by providing a list of the top offers in the market, plus a buying guide to help you make sense of it all.
Editors' Picks: Top Jumper Cables of 2021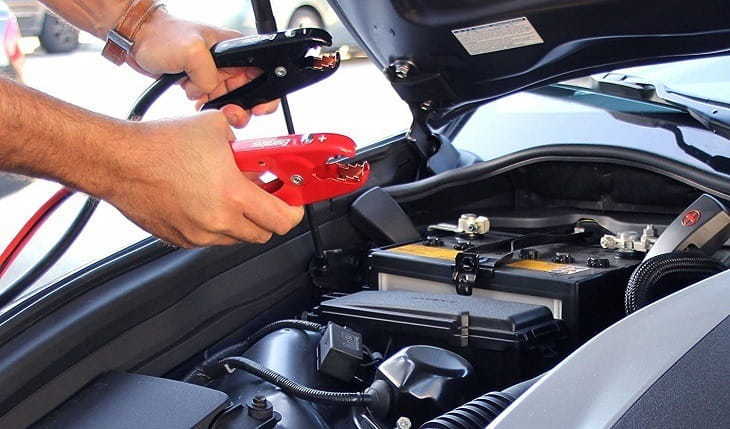 Summary of 7 Best Jumper Cables
IMAGE
PRODUCT
FEATURES

1. Cartman BC0420K (Best Overall)

Heavy-duty jumper cables
Available in different sizes
Comes with a 5-year warranty

2. EPAuto AA-002-1

Heavy-duty cables up to 25-ft long
Available in three gauges
The package includes gloves and a bag

3. Energizer ENB-220

Jumper cables from a popular brand
Vinyl-coated cables for safety
Backed by a 2-year warranty

4. TopDC TD-P0420

Good performance 4-gauge jumper cables
Made using copper-coated aluminum
Very affordable price

5. Kodiak KOD0201

A 1-gauge cable with 800 Amps capacity
Heavy-duty design for all vehicles
The package includes a bag and LED lamp

6. ABN 9012

Heavy-duty cables built to last
2-gauge cable allow up to 600 Amps
Comes with a 1-year warranty

Amazon Basics Jumper Cable for Car Battery, 4 Gauge, 20 Foot

7. AmazonBasics BC120725A

Set of cable from the AmazonBasics budget brand
Comes in different gauges and lengths
Backed by a 1-year warranty
1. Cartman BC0420K - Best Overall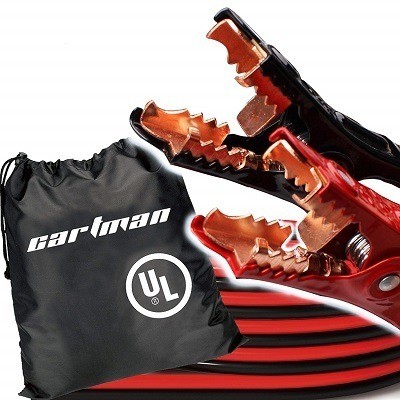 Gauge: 2, 4, and 6
Length: 16 to 20 feet
Peak Current: 600 Amps
Featuring a patented design, Cartman offers you the highest quality jumper cables, coated with thermoplastic rubber material and available in different lengths and gauges.
The lowest cost option is the 6-gauge and 16-feet long version, followed by the 4-gauge version, which is available in both 16 and 20-feet lengths.
There's also a 2-gauge version of this offer, which comes in a 30-feet length, offers a current capacity up to 600 Amps, and is the costliest version.
Features that differentiate this 2-gauge version from the others include better-shielded clamps for improved safety and a patented design of the inside tongue, which provides double connection points to the battery terminals.
Cartman guarantees cold temperature resistance for the cables down to -13 degrees F, and it additionally backs the package with a 5-year warranty. Each cable package includes a free carry bag from Cartman.

---
2. EPAuto AA-002-1 Jumper Cable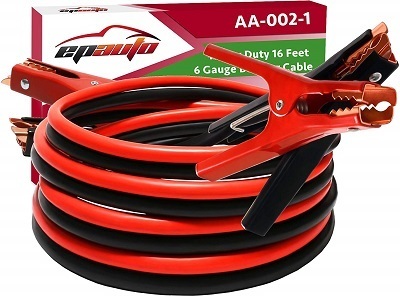 Gauge: 1, 4, 6
Length: 16, 20, 25 feet
Peak Current: 800 Amps
EPAuto makes some of the best booster cables in the market and offers its range of cables here. There are three different options here with different gauges and cable lengths.
The cheapest option is a 6-gauge and 16-ft long cable, which is ideal for jump-starting most sedans and light-duty vehicles. The second option is a 4-gauge and 20-ft long cable with a current capacity of up to 500 Amps.
With the third option, you get a 1-gauge cable that's a full 25 feet long and comes with an 800-Amp current capacity. This is the option to jump-start all kinds of vehicles and it's also the costliest.
Each of these options comes with a carrying bag and a pair of gloves for improved safety, although a lamp would have been a great accessory too.

---
3. Energizer ENB-220 Jumper Cable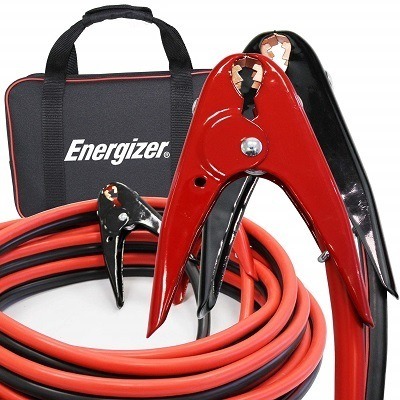 Gauge: 1, 2, 4, 6
Length: 16, 20, 25, 30 feet
Peak Current: 800 Amps
Energizer is a top-rated and global brand, known for making quality products like batteries and other energy-related tools like these jumper cables.
This offer is for a range of heavy-duty jumper cables, available in different sizes and wire gauges. They range from 1 gauge to 2, 4, and 6-gauge cables, and are available in lengths of 16, 20, 25, and 30 feet.
You should note that while Energizer's higher-gauge cables are competitively priced, the lower gauge or thicker cables are not as competitively priced.
You get a free travel bag in each package anyway, and Energizer backs it with a 2-year warranty.

---
4. TopDC TD-P0420 Jumper Cable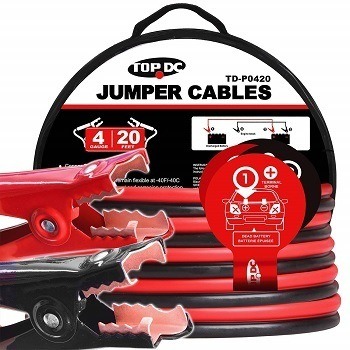 Gauge: 4
Length: 12, 20 feet
Peak Current: 200 Amps
It's not always everyone that wants the best cables, sometimes there are people who are just content with a cable that's good enough and comes at a good price.
TopDC offers you a good jumper cable here that you can rely on. The cable features a 4-gauge copper coated aluminum and is 20 feet long, with a current tolerance of 200 Amps.
A second option with 100% copper wires offers a current capacity of up to 500 Amps but at a higher cost. Another option even comes with a battery tester that includes indicators for reverse hookup, alternator, charging, good and bad battery.
Although it's not the perfect heavy-duty jumper cable, its PVC insulation helps it keep flexible between temperatures from -40 to 167 degrees and TopDC backs the package with a 5-year warranty.

---
5. Kodiak KOD0201 Jumper Cable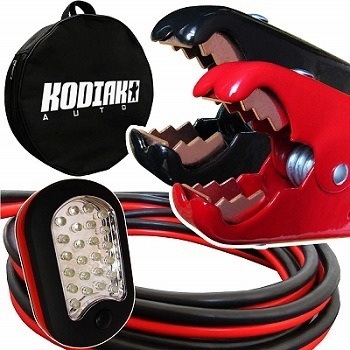 Gauge: 1 gauge
Length: 25 feet
Peak Current: 800 Amps
Here's an interesting offer for those searching for the best heavy-duty jumper cables. It features 1-gauge wires and is a full 25 feet long, giving you lots of flexibility in using it.
You can jump-start all kinds of vehicles with this cable, from small hatchbacks to large trucks and tractors, its 1-gauge large size and 800-Amp current capacity make it the ideal heavy-duty jumper cable.
Kodiak also implemented lots of safety features into the design, including heavy cable insulation and well-insulated safe clamp design for a proper grip.
Cons include its relatively high price and the fact that a 1-gauge jumper cable is too much for most cars.

The package also includes a carrying bag and a magnetic LED flashlight to make it easier to jump-start your vehicle in the dark. Kodiak backs it with a lifetime warranty and additionally includes a free instructional PDF e-book with each order.

---
6. ABN 9012 Booster Cable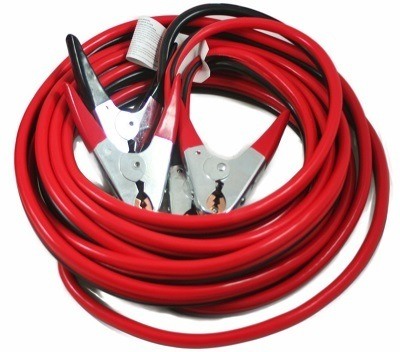 Gauge: 2
Length: 25 feet
Peak Current: 600 Amps
This ABN offer is another interesting product for those looking for a top-rated jumper cable with impressive features. It's 25 feet long and perfect for all kinds of jump-starting scenarios.
Being a heavy-duty jumper cable, it features 2-gauge cables that allow up to 600 Amps of current to flow through, heavy enough to jump-start a range of vehicles from sedans to heavy trucks.
The cable and the clamps are color-coded to prevent an accidental crossing of wires but the clamps are not completely insulated as is often the case with heavy-duty jump cables.
ABN guarantees that it works beautifully in both warm and cold weather, protected by a PVC jacket that additionally makes the cables oil-, water-, and chemical-resistant. The package comes covered by a 1-year warranty.

---
7. AmazonBasics BC120725A Jumper Cable
Gauge: 2, 4, 6, 8, 10
Length: 12, 16, 20 feet
Peak Current: 320 Amps
AmazonBasics is a budget-friendly brand that belongs to Amazon.com. So, you're always getting an affordable product that meets industry standards but doesn't go over the top.
There are five different cables to choose from here, starting from the 10-gauge and 12-ft long cable that's ideal for small cars and motorbikes. Then there's the 16-ft long 8 gauge cable, the 16-ft long 6 gauge cable, the 20-ft long 4-gauge, and the 20-ft long 2 gauge.
A good choice here would be the 20-ft long 4-gauge cables because it offers a 300-Amp capacity, which is only 20 Amps less than the 2-gauge wires, but it costs nearly half the price.
For cons, these cables are not heavy-duty and they also look a little cheap.

Whichever choice you make, just make sure it's the best jumper cable for your vehicle, considering lengths and power needs. Each package comes with a carrying bag and AmazonBasics backs it with a 1-year warranty.

How to Buy the Best Jumper Cable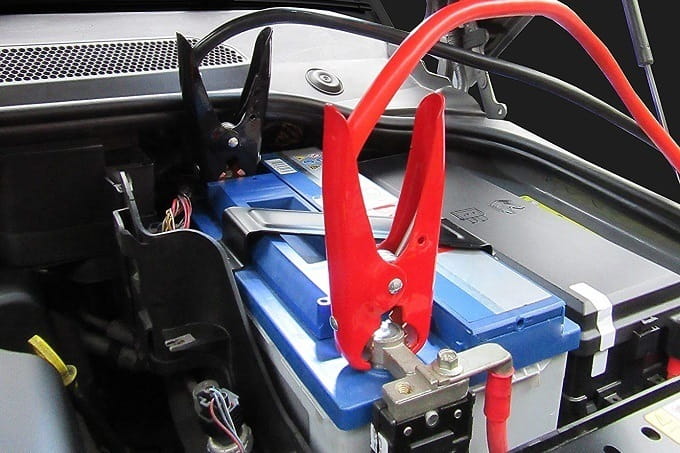 There's no lack of offers and alternatives when it comes to jumper cables in the market, so it's necessary to understand their basic aspects and features, so you can make a more informed decision when choosing.
Following are these important aspects of jumper cables and how they relate to your needs and decision.
1. Wire Gauge
A wire's gauge is a measure of its thickness. This refers to only the thickness of the metallic part and excludes any insulation.
Gauge is given in numbers, with lower numbers being thicker than higher ones. This means for instance, that a 4-gauge cable is thicker than an 8-gauge cable.
When it comes to jumper cables, an 8-gauge is usually enough for most cars, while a 6-gauge is better, but if you're dealing with a large truck, then you may want to consider a 4-gauge.
The reason for a lower-gauge or thicker cable is that it allows more current to flow through it when you're jump-starting the vehicle. A thinner cable may get hot and may not allow enough current to pass, making it thereby, unable to start the car.
2. Cable Length
You'll also need to consider a cable length that matches your vehicle. Length is important because it helps in determining how both cars align with each other during a jump-start.
The recommended minimum length for jumper cables is 12 feet, but this only guarantees that you can jump-start a car with both vehicles facing each other.
If one car gets parked behind the other, then you'll be looking at 16 feet of cable length, but if you're driving a van or a truck, then consider getting 20-ft long cables.
3. Thickness & Insulation
Asides from wire gauge, another important factor is the cable's thickness with regards to its insulation material. Insulation is necessary because it cuts down on the heat generated during the jump-start and protects the operator from hurting himself.
You should note that while two cables may have an equal thickness, the cheaper ones often have thinner metallic wires inside, so it pays to buy from a reputable brand or to know the exact specifications of what you're getting.
4. Clamp Material & Construction
The red and black cables of a jumper set need to have high-quality clamps on each end that can both attach themselves well to the batteries and additionally offer enough insulation.
Important features here are size and material. You need heavy-duty clamps with strong jaws to hold on to the batteries' terminals and thick enough to allow current flow without getting too hot.
5. User Friendliness
Each manufacturer makes its product in its own unique way and some often add extra features that make it easier to use. Some offers come with a carrying bag, while other may additionally include a small lamp for working in the dark.
Some also fuse the black and red cables together, while others leave them separate. It's left for you here to choose the product with the right features for you.
Read More: 12 Best Jump Starters
Conclusion
We've come to the end of this best jumper cables review and you've seen all the top offers in the market, including the heavy-duty cables and those designed for smaller cars and motorbikes.
You've seen the 10-feet, 12-feet, and longer cables, up to 25 and 30 feet, including cables from 1 gauge all the way to 10-gauge wires.
Given this wide variety, you'll understand that it's up to you to make your choice by yourself, based on which of these top offers best meets your needs.